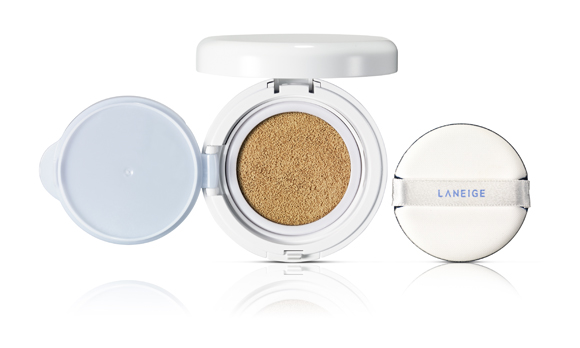 Hi hi!
This is an overdue review entry... but I hope it will be helpful anyway.
In this entry, I will be reviewing the new Laneige Snow BB Soothing Cushion.  For my previous feature entry containing the full detailed product information, click here.
The product retails for S$59 and comes with a refill pack.
I used this everyday for almost 3 weeks, and I must say that I thoroughly enjoyed using it.
In terms of application:
The product is all inside the cushion - or rather a piece of sponge.  How I applied it is that I pressed the puff that comes with the product, and it picks up enough product to use on an area of my face.  I need to go back and forth several times for my face to be evenly covered.  The liquid soaked sponge will deliver the right amount of product when you apply it.   I do like how compact the packaging is, and it is in a solid chic white compact, with a mirror, the puff is stored separately from the cushion itself.  After a week of using the puff, I sort of got tired of this method (took too long) and I switched to dabbing my buffer brush into the cushion to pick up the product - which also works just as well, if not better.  I also find that using the puff kind of mess up the compact, some of the product gets onto the casing, which irks me a little.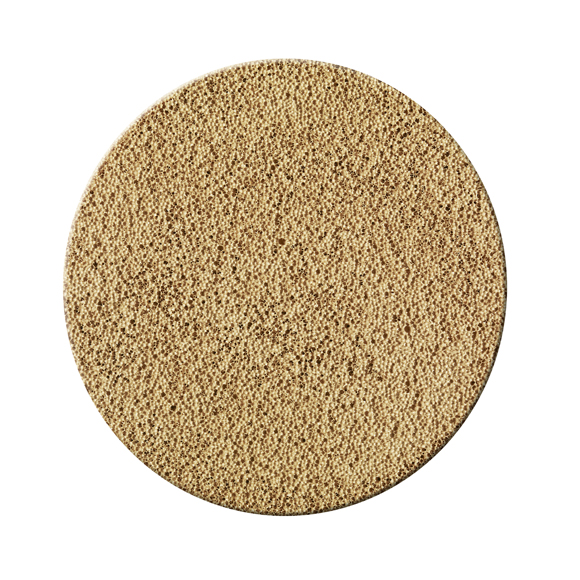 In terms of texture and coverage
The Laneige Snow BB Soothing Cushion is quite unlike any other BB cream type of products I have ever used.  It is very liquidy (which you can feel and also tell when you press the puff onto your face.  The coverage is tinted, very light, and if you have good clear skin, that alone is sufficient as a base for your face.  The high SPF factor is another added advantage for me, so when I am using it, I skip my usual sun protection.
What I really love about this product, and how I use it, is as a makeup base.  I personally prefer more coverage for my daily work and going out, so I will apply a thin layer of the BB Soothing Cushion, then followed by my liquid foundation.  Because my skin is already prepped and evened out by the Laneige BB soothing cushion, I didn't have to use as much foundation.  I noticed that on the days, and the whole week where I was using this as a base, my makeup really did stay on longer, and fresher (and also less oily).  Because it is so light, and liquidy (unlike usual creamy bb creams) I don't feel like I am adding a layer to my foundation routine.  But yet the similar effects are there -making  my foundation last throughout the day, evening out my skintone and all that good stuff.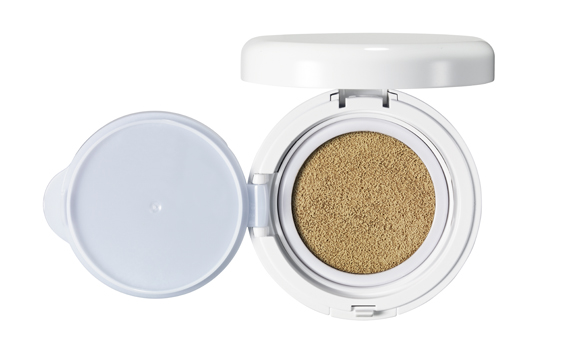 My overall thoughts:
My LOTDs from late Jan to early Feb probably featured me using this product as base and I do enjoy using it. The outstanding factor to me, is that it really make my makeup lasts --- and do note, I am not always in air-conditioned comfort and I perspire a lot during the course of the day, but this product also evens out my skintone quite significantly.   For the price and what you get, it is a pretty good deal, and if you are constantly on  the go, and need to touch up, I think this product definitely stands out, it's like you get what you need in a liquid base, in a compact .. and I didn't show any actual product application here.. (well, I did take some pictures of application process, but currently that particular memory card decided to go MIA, so I do apologise for the use of press images -- will most probably update images once I managed to find that set of pictures!).
Click click click to see the above mentioned 'flawless' base I did with the Laneige Snow BB Soothing Cushion
Lastly, I do recommend you checking out this product - have a swatch at the counter to see the product for yourself.  You will be quite intrigued by the texture, and also the finish of the Snow BB Soothing Cushion.
I hope this has been helpful, and thanks for looking!!