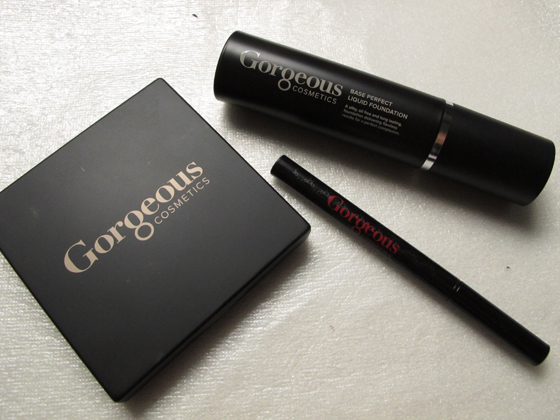 Hi hi!
This will be a review entry of two Gorgeous cosmetics items.  There are a ton of stuff which I need to sit down and do a proper review of... but it is always exciting to find something I like, and have been constantly using, and excited to share!  I have really enjoyed using both, for over the past 2 weeks.  The eyeshadow palette, makes me want to slap on some eye colors every morning, because they are a dream to use. 
Gorgeous Cosmetics are exclusively available at Zalora.Sg  [Link link link] in case you aren't aware.  I have previously featured Zalora.Sg in this entry here.
For my swatches and introduction to Gorgeous Cosmetics, click HERE
Firstly, we have the Gorgeous Base Perfect Liquid Foundation.  I got mine in the lightest neutral shade 1N.  
It has a rather light texture.  It feels velvety powdery texture.  It looks rather dark at the back of my hand and even on my face, as you will see in the application step by step later.  But it settles and blends perfectly into my skintone.  
Here's what I LOVE, yes LOVE about the foundation:
The fresh slightly citrus-y scent.  Feels great when I am blending out the foundation, and catch a whiff of the scent.  But it doesn't linger on, and didn't cause any irritation to my skin. 
It blends very quickly, and I usually use a buffing brush to work the foundation into my skin.  It doesn't dry too quickly so I can take my time to buff and blend the foundation. 
The coverage is light to medium, and I doubt you can build it up to a full coverage without streaks and patches.  I usually set my foundation with the usual Chanel loose powder, or the La Mer loose powder.
The finish is a satin smooth texture, which is one of my favourite features of this foundation.  It just makes me look like I have very smooth skin, and my pores look significantly soothed out. 
I like the consistency.  It is not the flowy liquidy type but rather a rather creamy texture.  I usually pump out one and a half glob of foundation out. 
It is very long-lasting, on a work day, where I sweat, and go in and out of the air-conditioned office and out into the hot humid afternoons.  I can say that I still look fresh after a long day (yes, of course, I had to dab and blot my face but after that, my skin looks good as new). 
I still need to blot my oily t-zone every few hours.  But I definitely don't look oily at all when I wear this foundation. 
It did not oxidise on me, which is another plus. 
I really don't have anything bad to say about this foundation.  Except perhaps that initially, I wasn't too used to the pump dispenser, and I either got too much product out, or I have to make a few 'false' pumps before anything comes out.  Other than that, the product itself is of superior quality, and I really enjoy using it for a variety of occasions, and with great results.  I really recommend this foundation to those with oily complexion, and also those who want a great everyday skin perfecting foundation.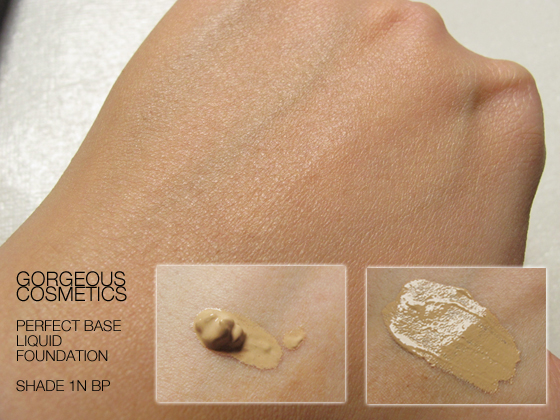 applying the foundation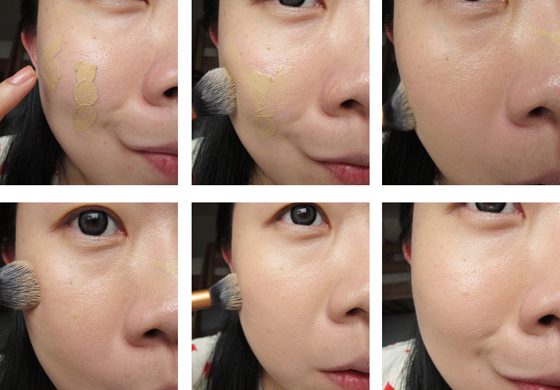 after blending, and before any concealer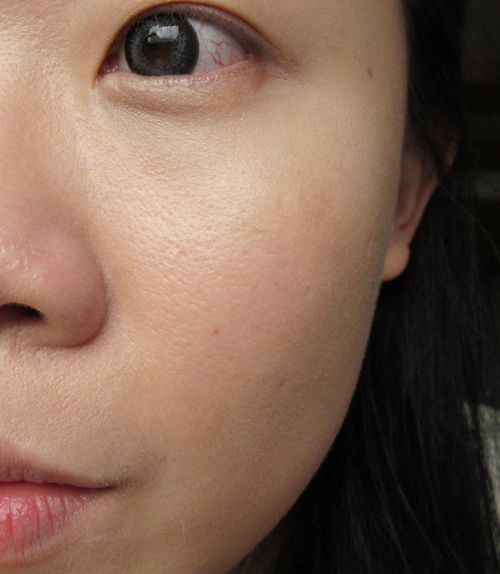 Next, we have the eyeshadow palette.  To be honest, I have only constantly been using the two lightest shades in the quad.  I just slap on these two colors on my lids on a daily basis, over an eyeshadow primer.  And I love the lightest peachy brown shade. 
What is so impressive about this quad, or at least the two colors that I have been using, is that they are a dream to apply.  There is no fallout, and the eyeshadows just blend themselves out, so smoothly, and the colors is so rich, and intense.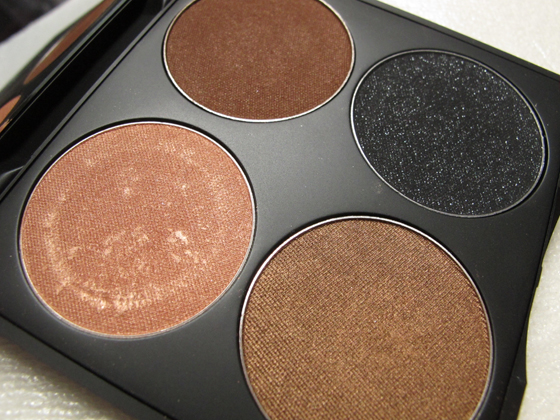 you can see the amazing texture and payoff in this picture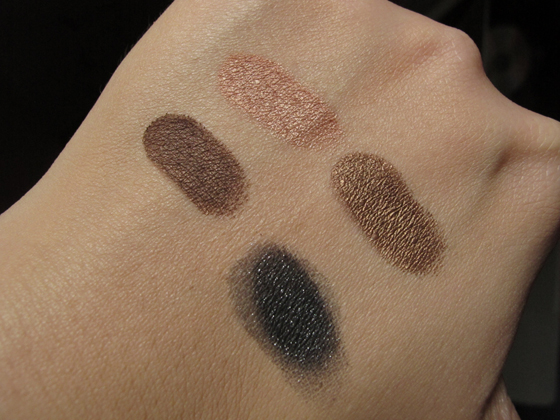 and my step by step everyday look
I just use the same MAC217 brush to pick up the eyeshadows and blend them onto my lids.  
I use abit of the darker brown to give some definition to the outer corners of the eyes.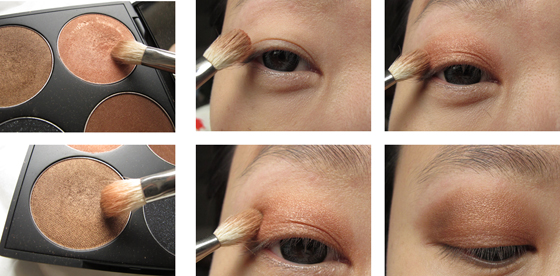 but for an actual LOTD, I lined my eyes and put on falsies.
I did not use any browbone highlight shade at all. 
The eyeshadows are equally long-lasting, and there is no fading and no creasing of colors.  
This palette is a very flattering and wearable one for me.  
I shall attempt to do a darker smokier look using the black eyeshadow in a future LOTD, hopefully!
I haven't gotten to use the liquid eyeliner, but if I do, I will mention my thoughts in subsequent entries.  
On my lips, I am wearing MAC MarquiseD' lipstick, and on my cheeks, I am using Guerlain Blush G and MUFE Mat Bronze.
Eyeliner used is Solone Black.
Overall, these two products I got to try out did not disappoint me at all.  I truly enjoyed using them, and if you are intrigued, head on over to Zalora.Sg to check out the rest of the range (pssss... their blushes are very lovely too!) 
That's all, and thank you for reading!
p/s Gorgeous Cosmetics featured here were given to me for consideration.