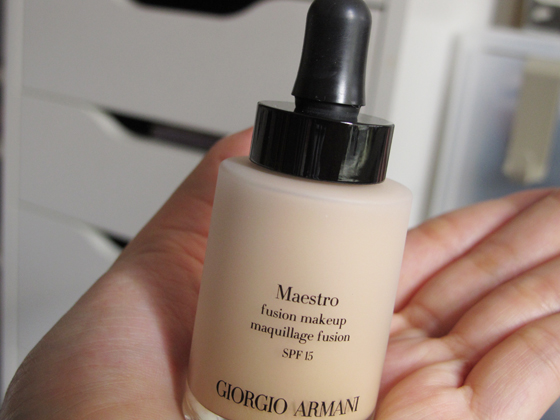 Hi hi, 
This will be a review of the latest Giorgrio Armani Maestro fusion makeup - a weightless perfect liquid foundation.  I have previously detailed the features of this foundation in this entry here.  
It will be retailing for SGD$100, and will be available at the GA counter at DFS Galleria from October onwards. 
Just a quick recap on the foundation - 
An unforgettable and unique texture created by patented Fusion Technology. An ultra-fine oil-pigment suspension that perfects the complexion.
This high slip fluid spreads evenly over skin for a blendable, faultless complexion worthy of a professional make-up artist every time. Maestro instantly ignites skin's natural luminosity. No make-up feel guaranteed.
"It's a whole new generation of foundation that feels incredible, looks invisible and makes skin appear luminous every time. Anyone can wear it!!!". (Linda Cantello, International Make-up Artist for Giorgio Armani Cosmetics) 
Here I will show the swatches, and share with you how it wears on me, and my overall thoughts on this foundation.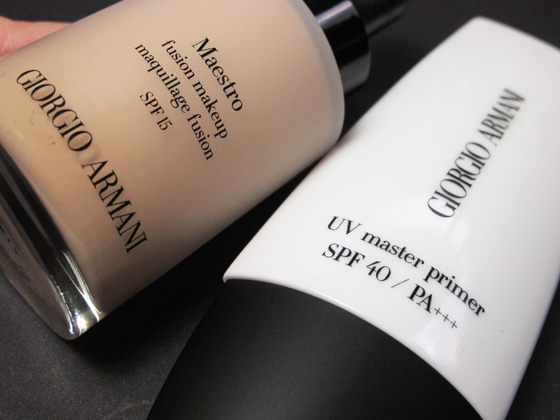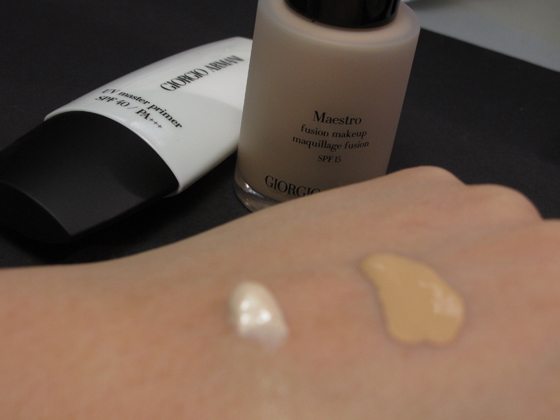 The packaging of the Maestro is a sleek simple frosted bottle with a dropper type dispenser.  I found that 3 - 4 drops of this foundation gives me sufficient coverage for my whole face.  It contains 30ml of product, and I am wearing shade 04 for your information.  I also wear shade 04 in all other GA foundations.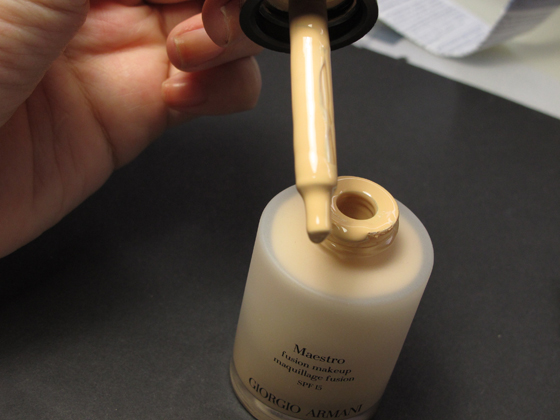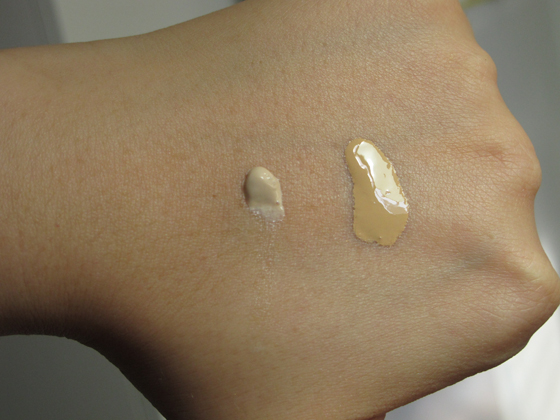 Here I swatched Maestro next to the UV Master Primer (do let me know if you are keen in a separate review on this). 
I have also swatched the entire shade range of the foundation in this entry here.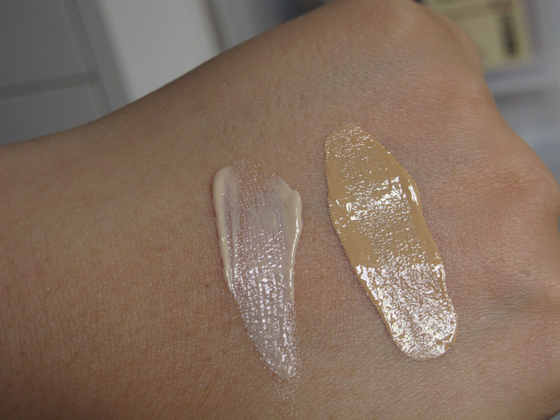 Application & Consistency: 
It is a very fluid foundation, and I found that the best way to apply it is to spread it thinly from the centre of the face outwards.  
The best way to use this foundation is to blend using your fingertips.  The warmth of your fingers helps the product to fuse into your skin, and gives the most flawless application. 
The most outstanding feature of this foundation is you will feel like you are applying some kind of a rich luxe serum on your face.  It really does not feel like a foundation at all.
There is a slight refreshing scent to this foundation - a little herbal fresh, very very light scent - which goes away after you finished blending the foundation. 
I find that you don't really need to set this foundation.  It just glides onto your skin, and your skin texture just looks finer and smoother, making a setting powder almost redundant.  If you want a more finished look and are concerned about oily skin, a light dusting of powder would help.
It feels a little like Chanel's Vitalumiere Aqua foundation - but that's more gel like consistency, and this is truly like a serum silky consistency. 
Coverage & Finish:
The coverage is light, and best suited if you have good skin days. On a scale of 1 - 10, I would rank the coverage of this foundation as a 3 to 4.  It is easily buildable without feeling heavy at all, but even so, I don't recommend layering and building up.  That seems to defeat the point of this ultra light fusion makeup. 
It gives my skin an almost translucent luminosity - which is seen in daylight setting.  And that's always a welcome point. 
If you do want more coverage, I recommend using a light layer of  tinted makeup base, such as a BB cream, or the UV Master Primer.  
The lasting power of this foundation is about 6 hours - it is not the longest, but given our hot and humid weather conditions, this is quite decent. 
You really do feel like this is a weightless feel foundation.  No cakiness, no sticky feeling. 
I might compare the lightness to the UD Naked foundation - but that has more coverage and suited for oily skin.  
In the picture below, I did not set the foundation (I did dust some Benefit powderflauge under my eyes to brighten up the area) and I didn't use any concealer at all (hence you can see some faint spot marks on my forehead). 
For another set of LOTD pic when I used the foundation, click here.
I really do enjoy using this foundation - especially on days when I am just out and about, and I know I would be indoors most of the time.  If you are in a place with a less humid environment, and with the fall season coming, the Maestro would be the foundation to take you into the colder months ahead.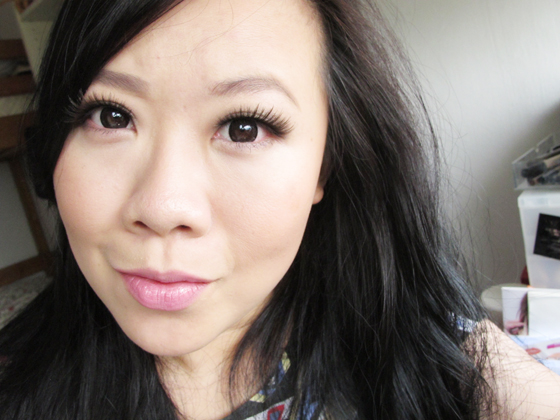 Overall thoughts: 
It is pricey, but if you enjoy good makeup (and don't have much skin concerns), you won't be disappointed by the Maestro fusion makeup.  It didn't break me out, and makes me look like I have very a very nice complexion (granted, my recent skincare routine is a major contributing factor).  
Do have a look and swatch when the product launches at DFS in OCT!  
 I hope this entry has been helpful, and thank you for reading!