Hi!
Just thought I would do a random chat, catching up with things kind of entry.  A little inspired by Hazel's SMILE posts...
Well, in no particular order..here we go:
I had this super generous portion of Earl Grey & Fig ice-cream at Cedele yesterday.  It's supposedly a double-scoop, but look at how everything is piled, and stuffed into the bowl - it is like having 4 scoops instead of a double!  We couldn't finish it, there's just way too much ice-cream going on.  The next time I dine there, and order this, they better serve me the same amount, because if not, I am going to whip out this picture, and show them!!
Last week, I had dinner at Hard Rock Cafe, enjoyed the super nice daiquiri (on the rocks please) they served there.  The refreshing lime, and the intoxicating rum makes me smile.  And I was in great company too, with my aunt, cousin and niece, we shared our food, and everyone was laughing and relaxed.
You might have 'seen' her before from previous entries... she is such a darling, and her favourite place is prolly my makeup drawers...she loves to run her fingers through my rows of lipsticks and powders...here, she is showing me her Barbie rings.  We totally bond over all things girly.
The past couple of weeks, I was in this area of Singapore a few times..for various reasons, and I am amazed with how my iphone can capture the beauty of this city jungle, and there are really quite a few nice places of interest around here...you just need the time and money to go explore and enjoy.
view of the esplanade
hotel lights at the Fullerton Bay Hotel
I was invited to the Rachel K 1st year anniversary launch of her products, so it was quite a nice evening catching up with her and other bloggers who were present.  More details on this event and new products coming soon.  And the berry mojito champagne is delish!
Current obsession - arm candy, arm party, whatever you call them... I am hooked.  Studs, spikes, balls, colors, skulls... put everything together, who says less is more?  As far as this is concerned, bring them all on!  I have been acquiring them from various locations, from ASOS to Balenciaga to H&M to Shopbop...and some are DIY by my gf.
I will be putting together an entry with a collection of all my arm candy pieces...soon soon soon!
Gymming starts! Over this short weekend, I woke up early - well, I wake up early usually anyway, but when I actually step out of my bedroom is another story.  So instead of snoozing and lazing about, I made my way to my neighborhood gym, do the threadmill routine, and put in a good 60 minutes of cardio, and some circuit training. I am about to sign up for a 6 month membership (cheap than paying per entry) in order to stick to the routine.  Hope to gym at least 5 times a week.  I will go early morning on weekends, and late afternoon/evenings for weekdays.
Right now, my body feels quite sore and beaten from the two days of working out, but I love it!  I just need to get some kind of a routine back in order, and starting my project!  Haha.  I just hope I can stick to it and not give up halfway.
Need to get in shape, and feel more energised.
What motivate me?  Clothes that I can't fit in now which were LOOSE on me just a couple of years back.  People like my cousin and sister who have lost weight recently in their own ways.  And my old pictures.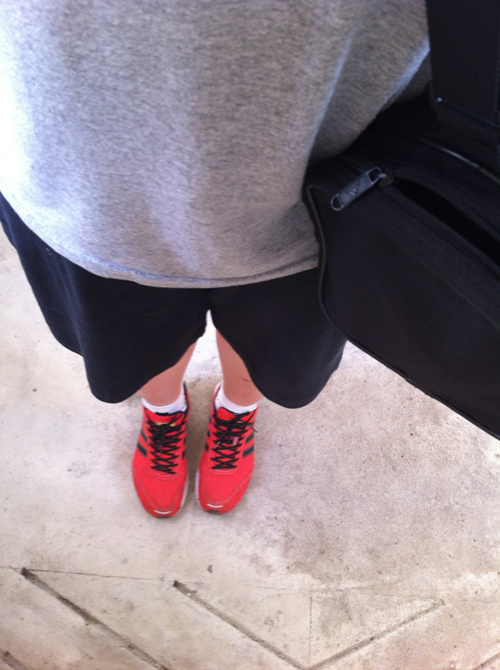 Black is Black - trimed my bangs, and I wanted to leave the rest of my hair for as long as they can be without looking limp and lame.  Had them colored super jet black at my regular salon.  Yup, a huge zit erupted on my chin, hence the awkward hand covering action going on.  Haha.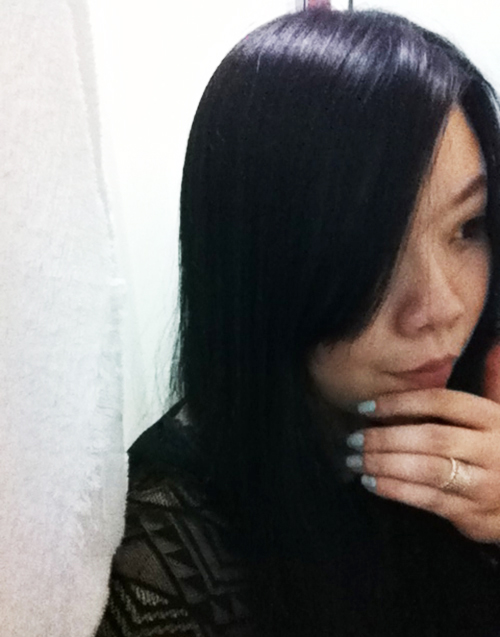 Also I made a friovolous wish with this bracelet I got at Origins they are having this event going on to commemorate Earth Month... do check out the Origins counter at Isetan Scotts to find out more about how you can do your part to save the environment.  I noted their range of eye creams...and I think I want one, or two or more!!  They all look so good!
Ideas for upcoming entries (besides my regular product feature and reviews):
Nail Polish collection
Arm Candy collection & combinations
Perfume collection
any more ideas or requests for reviews??
Do let me know in the comments below.
Thank you for reading!