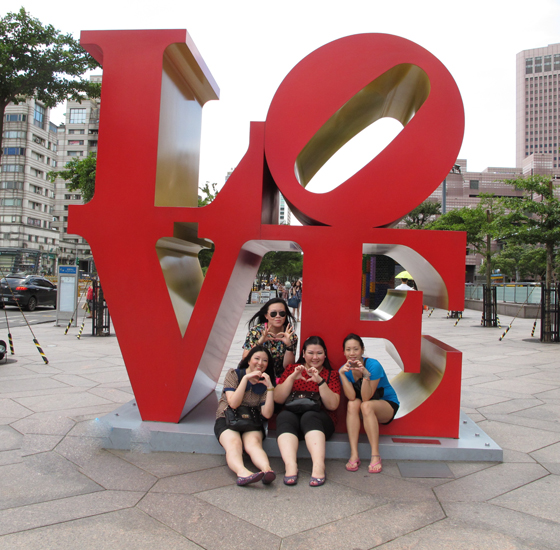 Work started almost immediately after I got back from my TW trip, and I haven't been able to properly blog and post this entry up til now.  Even then, it took me quite a bit of time to select the pictures, sort them out, and all that.  I am glad for my long weekend, just to catch a breather, catch up on some rest, and also update the blog with lots of exciting entries (I hope).
I went to Taipei with Kimberly, Jerlaine and Amy.  We had planned the trip quite sometime back (via Jetstar), and stayed in Wonstar hotel, which is very central, and offers plenty of dining and shopping opportunities.  This is our second time travelling together (the last time was back in September, where we went to KL for the weekend).  Jerlaine knew the city pretty well, and taking into account all of our 'priorities' she managed to plan a fantastic intinerary.  There was plenty of time for sight-seeing, shopping, and eating.  When it comes to food, we would share smaller portions throughout the day, so as to make full use of our 'stomach space' and try out whatever we love to eat without feeling too full. 
We had fantastic steamboat (buffet style, near our hotel), and even more fantastic giant pieces of sushi and sashimi.  Eating isn't very expensive in Taipei, and you get quality local food. Usually our day starts around 10 (after we showered and did our makeup), and we would conquer a place of interest, or to hunt down a specific shop.  Then we would roam around a mall, do some shopping, find a cafe, have some drinks, venture into random shops... and when our shopping gets too much to take, we would cab back to our hotel, dump our bags, rest for a bit, and head out in the evening for night market & dinner, or night market and & supper. 
I know that Taipei is an extremely popular holiday location among Singaporeans (we could hear them everywhere we go), but I have never been there. It is definitely a place I would want to go back again and again, I think of it as a larger version of Hong Kong, more 'user-friendly' than Japan because we speak their language.  The Taiwanese are generally friendly, warm and helpful. I think my spoken Mandarin has even improved after this trip!
This trip has been totally nothing but lots of fun moments, and we were very 'cooperative' the whole trip, being patient, understanding, and willing to try out new things. Travelling with 3 other like-minded girls also meant that we didn't get sick of going into almost every makeup store, shopping mall, eating joints just to browse, shop, swatch and just soak in the atmosphere.  There are lots of priceless moments throughout the trip, and it's impossible for me to list down everything here.. so I hope you enjoy the pictures (I realise we didn't take much, because half the time, we took lots of pictures on our own iphones, and the other half of the time, it was raining quite heavily and it wasn't convenient to whip out my camera). 
Getting ready every morning is a fun ritual, as we have the Taiwanese talkshows playing on the TV, we switched up our makeup items with one another, and did our makeup and hair in the same room.  At the end of each day, we have our nightly de-briefing sessions, planning and confirming the plans for the following day, followed by admiring our daily loots, and lots of girly talk!  We didn't sleep til around 2am every night, groaning about our tired legs, but since we are on vacation, we wake up the next morning full of energy to enjoy the city.  It was just awesome. 
We have been spamming our instragram feed with our live updates from Taipei, so if you are following us in IG, you would have seen all our foodporn pictures and shopping along the way.  You can search on instagram the hashtag #twfrenzy, or #twfrenzy0612 for a collective photostream of the whole trip - from our pre-holiday Gelish manicure, our luggage packing, our food, our hotel and all that good stuff. 
I couldn't have asked for better travel companions - and we were saying our monthly JB trips have 'conditioned' us to be quite good travel-mates to one another!  
I hope you enjoy this photo-gallery, and for details on the exact locations we went to, you can see our photos on instagram, most of them are appropriately geo-tagged with the locations and maps.   I will also be posting separate haul entries featuring the stuff which I bought in Taipei, some of the have already been posted, so there will be more little stories in those entries.
Thanks for reading! 
Photos!
Click on the smaller thumbnails to view larger images, and also individual photo captions/ descriptions.