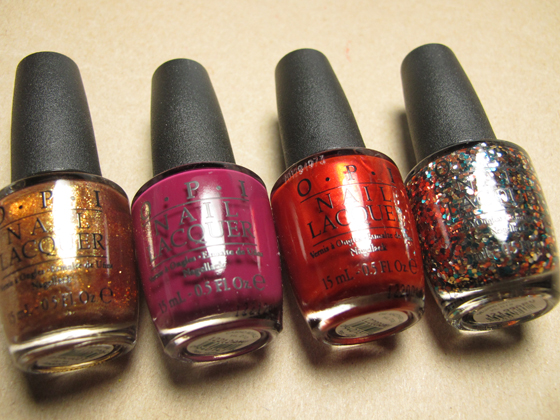 Hi hi!
I got 4 out of the 12 shades released in conjunction with the OPI James Bond Skyfall collection (it seems any decent movie these days must have a corrosponding nail polish collection eh?).   Well, I love James Bond Danial Craig (total hubba hubba material) so I just kind of got a little suckered into getting a few shades from the collection.  Actually what I really wanted is the 18k topcoat (which I just saw on Temptalia that Zoya is also releasing a 18k topcoat... is that the next nail polish trend after the crackle/shatter/magnetic gimmicks?).
So anyway, I got 4 colors, one cream, and the rest have varying degree of shine and sparkle.  I passed on all the gunmetal shades, and it is very temping to collect all the colors just for the names alone...but....no no I shall be good.  Jennifer just posted a very useful swatch and review entry on this collection too, and she picked totally different colors from me so you will get a good feel of the whole collection, do check out her entry here here here. 
  FYI, I bought my OPI and Essies from Tammy here http://timtam00.blogspot.sg/
  OPIs are usually $10 each, Essies about $11 each, inclusive of normal postage. She stocks Orly and China Glaze too.  Fast response, and super fast postage.
Firstly, we have Casino Royale - a purple plummy eggplant purple... hmmmm... it is a warm purple.. not one of those royal cool toned purple.  From the name, I had thought that it would be one of the rich reds from this collection.  Anyway, it is super glossy, and I am very impressed by the color payoff, and the high shine finish.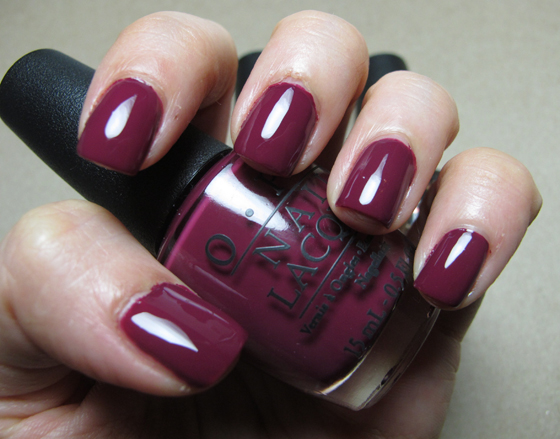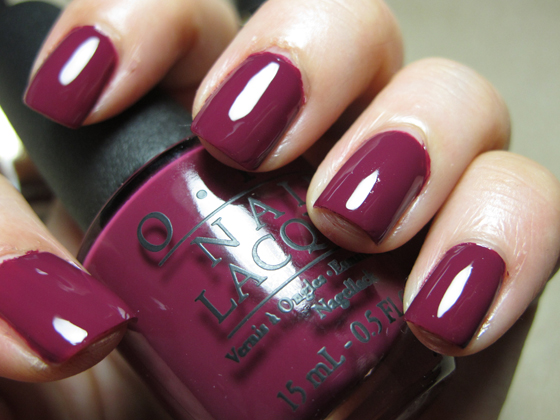 DIE ANOTHER DAY - A bright bright warm red, very metallic, reminds me of Christmas.  I didn't paint a topcoat in my swatch pictures, but you can see the almost mirror shine.  I suggest painting 2 even coats, and wait for each coat to dry to avoid any brush strokes.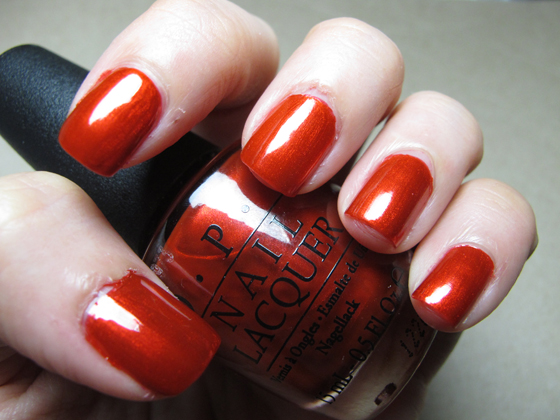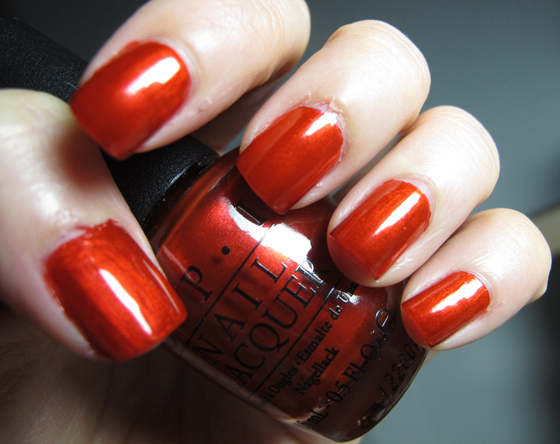 GOLDENEYE - I wanted this because when I saw pictures of it, I totally think that it would be a dupe for my favourite gold polish (SpaRitual Solstice) but this contains multi-color bits among the predominantly golden bits.  It is not as dense as Solstice but the overall look, after 3 coats is comparable. I like to use this on its own, but in Jenn's entry, she swatched it over a darker shade, and you can see a different effect.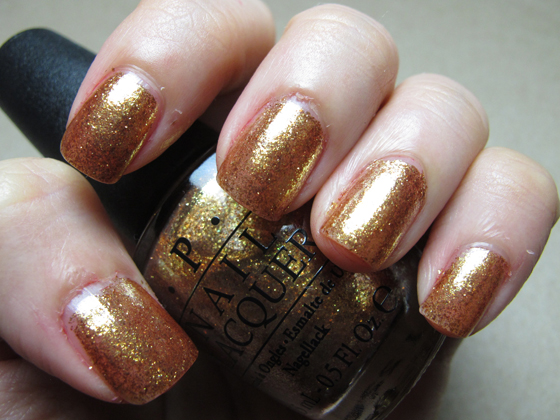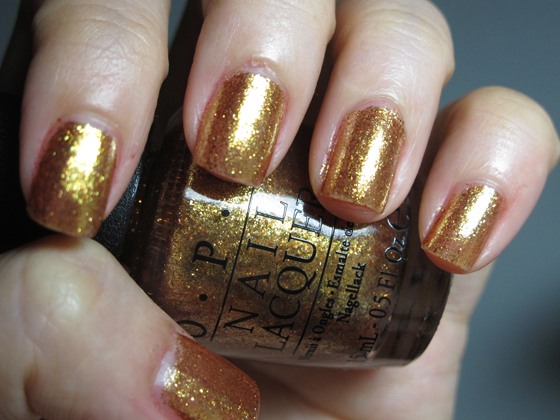 Here you can really see the true beauty of Goldeneye. 
OMG!!!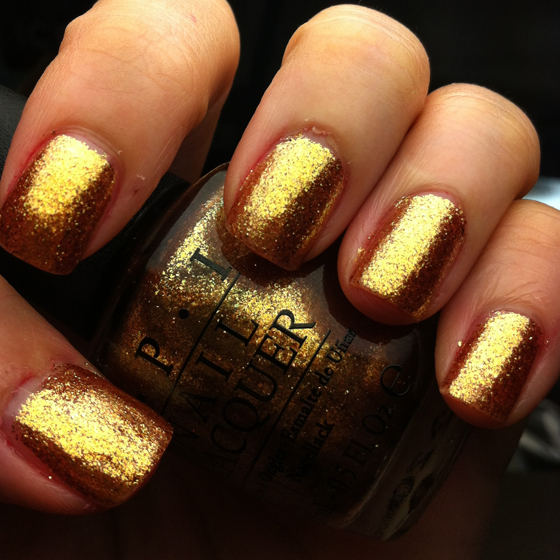 Lastly, we have The Living Daylights, a multi color glitter topcoat.  Large bits of teal, silver, gold and orange glitter suspended in a clear base.  I literally slapped on the polish for the purpose of the swatches, but in reality, the polish is quite densely packed with the glitter, and if you 'arrange' the glitter bits as you are applying, you do get quite an even and dense coverage.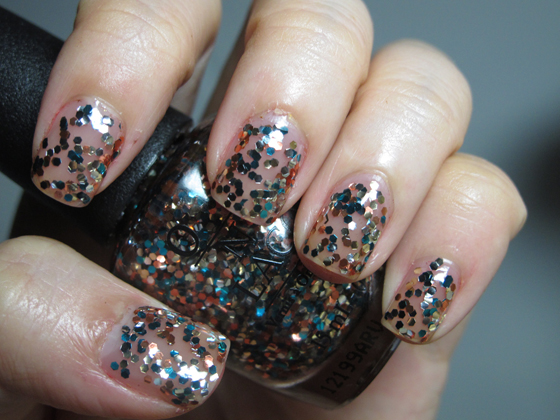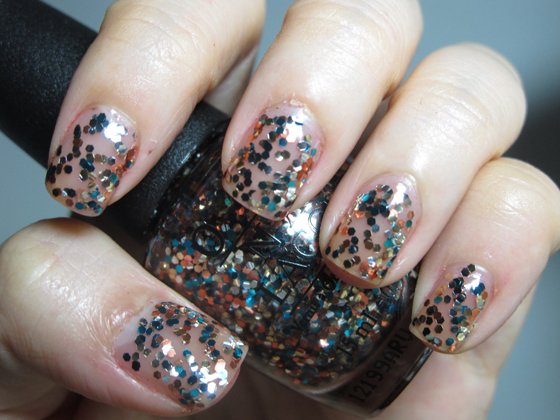 This is what I want, but stocks aren't currently available yet.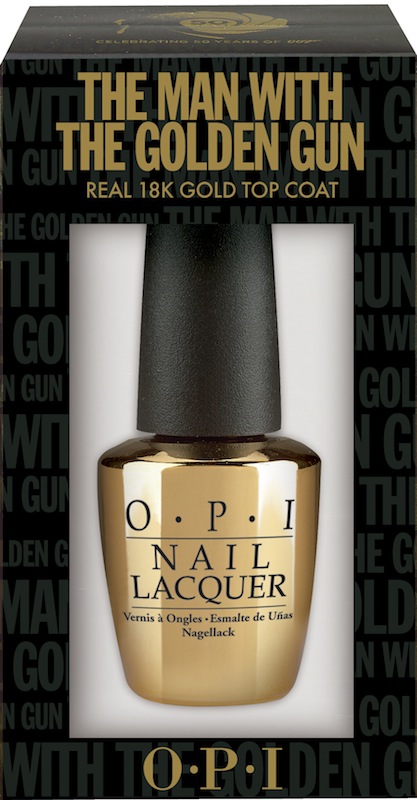 Can't wait to watch this in the theatres!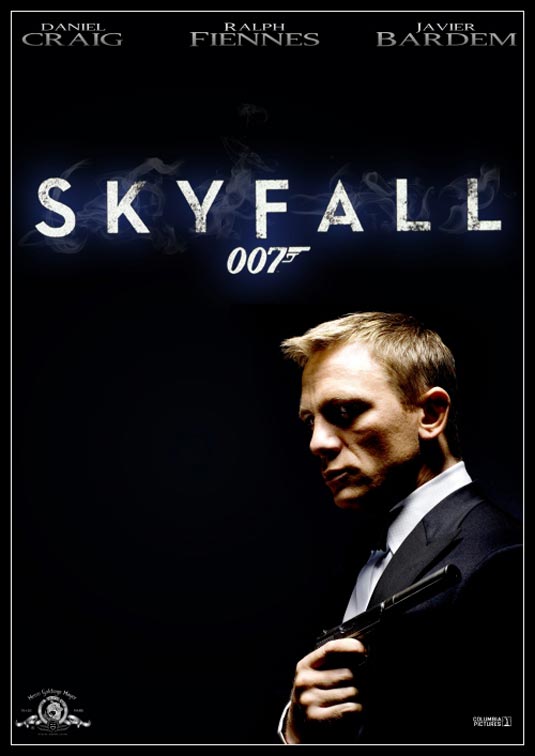 Hope these swatches have been helpful, and thanks for reading!