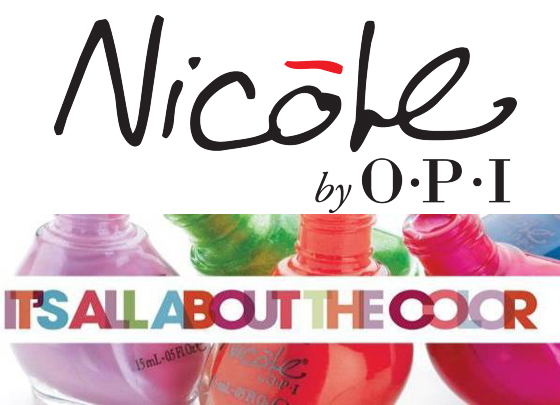 Nicole by OPI offers a salon-quality range of bold, fashion-forward nail lacquers. The brand's heritage is based in OPI's well-established foundation of excellence in both color and technology, providing premium products to a broad range of consumers looking for trendsetting nail lacquers. Nicole by OPI was developed to meet demand at the retail level for products with OPI's high standards. With a strong focus on accessorizing fashion, Nicole by OPI serves as the color authority for the younger demographic.
Since its official inception in 2007, Nicole by OPI has grown exponentially, with an increased international market presence planned for 2013. In the US and Canada, the Nicole by OPI range boasts over 120 shades, including retailer-exclusive lacquers. Internationally, the line includes over 65 shades. Nicole by OPI Executive VP & Artistic Director Suzi Weiss-Fischmann, who has created every OPI nail lacquer since 1989 when the company entered the world of color, is also the designer behind every Nicole by OPI hue.
In 2010, Nicole by OPI announced the brand's first celebrity collaboration featuring lacquers inspired by Justin Bieber. Within less than two months, the line's initial run of one million bottles sold out, and Nicole by OPI tripled this number to meet consumer demand. Since this successful launch, Nicole by OPI has partnered with reality television stars Kris Jenner and her five daughters – Kourtney, Kim and Khloé Kardashian and Kendall and Kylie Jenner – to launch Kardashian Kolor. In January 2013, the brand will release two exciting new collections with celebrity and television partners Selena Gomez and ABC's Modern Family. These new ventures bring excitement and notoriety to the Nicole by OPI brand, as seen most recently in top US national publications including Allure, Cosmopolitan, Marie Claire, Lucky and <span>Seventeen.
</span>
<strong>In Singapore, Nicole by OPI is available in an extensive palette of 30 shades, and is available exclusively at Watsons. Price: $12.90 each 
</strong><span style="background-color: #ff99cc;">I have these ten shades, so expect a series of swatches coming up in the next few days!<strong>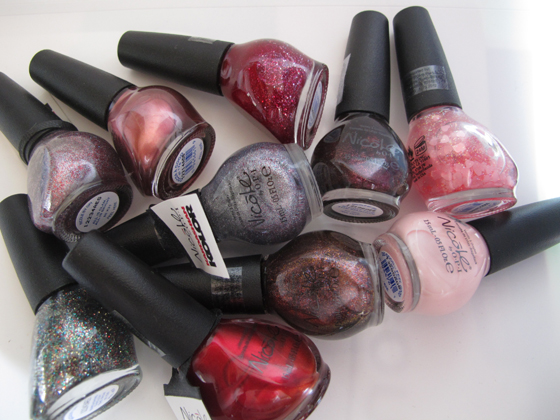 </strong></span>
<span>
</span>
Nicole by OPI and Twentieth Century Fox Consumer Products Announce Collaboration with
Hit ABC Comedy Modern Family
Nicole by OPI, in partnership with Twentieth Century Fox Consumer Products, launches 14 new nail lacquers inspired by ABC's award-winning comedy, Modern Family. The nail line features shades created to capture the show's colorful personalities, from a classic taupe named after family patriarch Jay, to a sparkly pink hue fitting for toddler Lily.
"Modern Family is not only one of the funniest shows on television, it features a great ensemble cast of rich characters that inspired a range of shades, from pastel hues like sea foam green and periwinkle to brighter colors of cobalt and red-violet," remarks Suzi Weiss-Fischmann, Nicole by OPI Executive VP & Artistic Director. "From studious Alex to bombshell Gloria, to classic (and neurotic) Claire, to flirty Haley, there are shades to represent each of these uniquely fabulous women – and everyone else in the blended family.
"The Nicole consumer embraces the same spirit of diversity and individuality that's apparent on the show," explains Weiss-Fischmann. "The colors inspired by Modern Family offer a perfect way to express that spirit!"
Modern Family is produced by Twentieth Century Fox Television and licensed through Fox Consumer Products. Jeffrey Godsick, President of Fox Consumer Products added, "Modern Family is a series that has a massive following. In partnering with Nicole by OPI, we're not only able to reach our show's large fan base, but deliver a product that captures the trend-forward elements and unique characteristics of the series."
The Modern Family Collection <span>available in Singapore includes:
</span>Am I Making Myself Claire?
She's Lily Something
My Jay or the Highway!
Stand by Your Manny
Alex by the Books
Nicole by OPI Nail Lacquers and Nail Treatments contain no DBP, Toluene, or Formaldehyde. Nicole by OPI formulas are long-lasting, fast-drying, and salon-quality.
Modern Family lacquers will be available beginning April 2013 for $12.90 each, exclusively at Watsons stores. 
<strong>
Here are some pictures I snapped at the presentation.
Enjoy!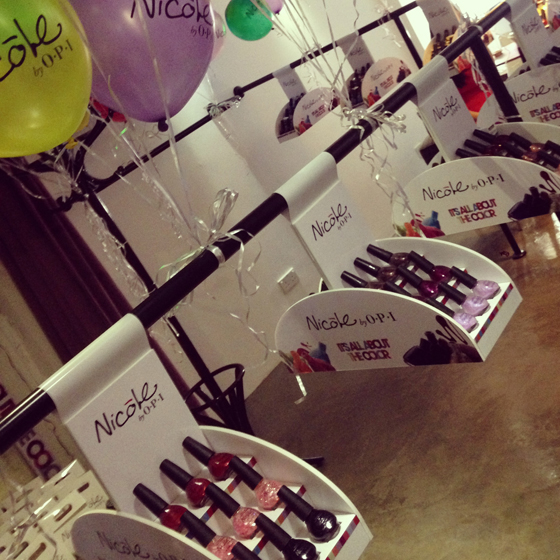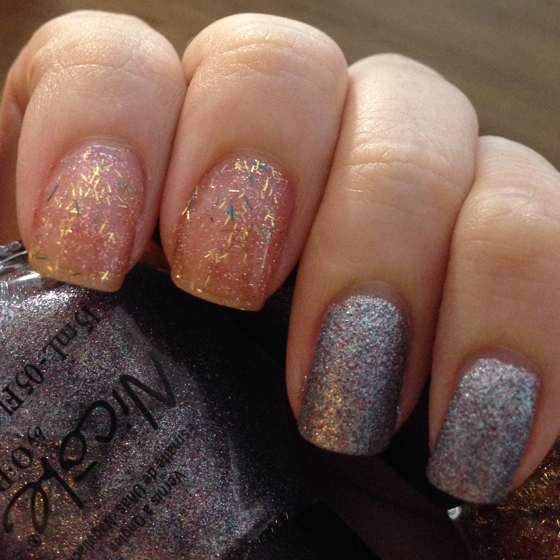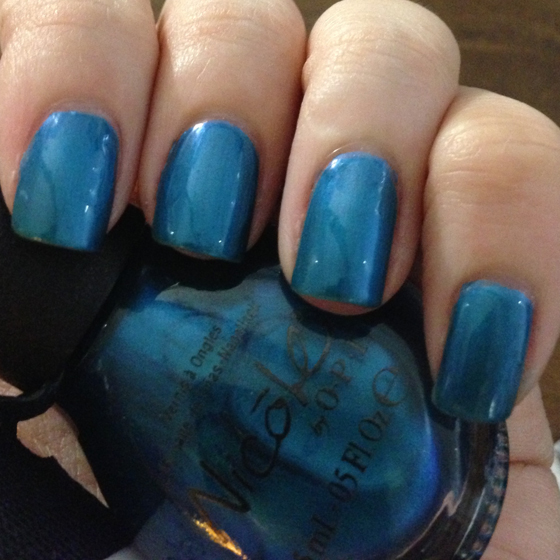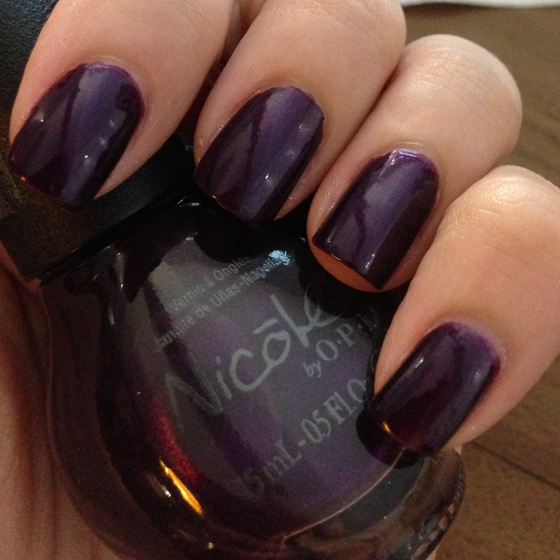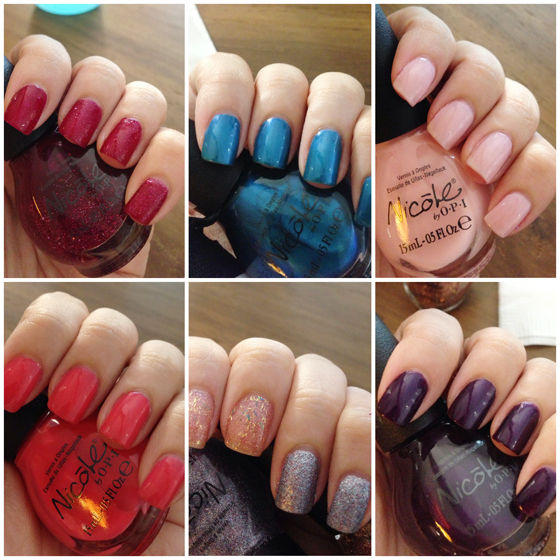 </strong>Hope this sharing is useful, and thanks for looking!<strong>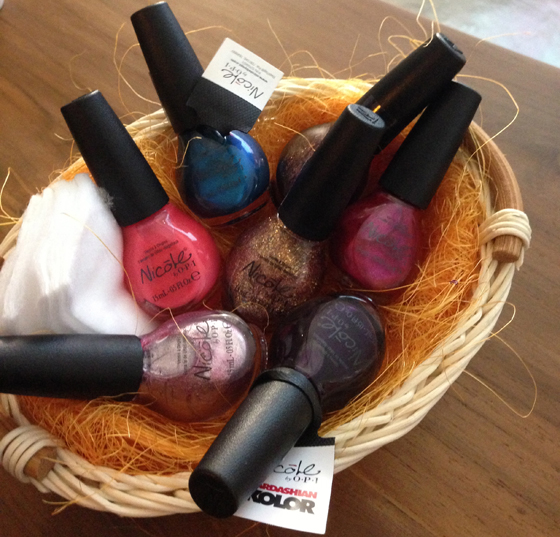 and of cos, I had to get busy swatching!  
Sarah picked the colors, and I tried them on:

</strong>