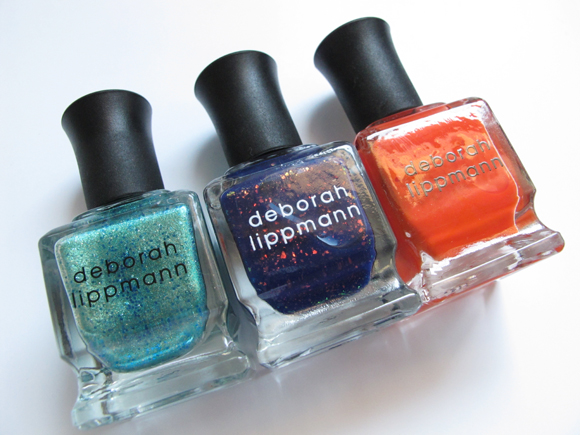 Hi!
Last week, I purchased two polishes from Luxola.com, where they re-stocked the new Deborah Lippmann colors.  Since I am only getting a couple of these, it is the fastes and best way to get my hands on them.  The third color is actually a free gift with above $50 purchases, and it is quite a good deal, since you are getting 3 DL polishes for the prices of 2 (but the free nail polish shade is already pre-fixed).
The two colors that I am keen on, are the new summer (or spring) shades - Mermaid's Dream, and Ray of Light.
Mermaid's Dream is a beautiful shimmery, glittery golden teal color.  It contains specks of blue glitter, and finer bits of gold glitter.  It really does look like fish scales, very oceanic, and very unique, IMO.
Ray of Light is a cool toned navy blue (a little sheerish but not streaky) with orange/green/red flakies inside.  It is certainly something interesting...although not entirely unique.  I think you can paint a blue as base, and finish off with a flakie nail polish, and would end up with the same, if not better effect.
Lara's Theme is a nail polish shade inspired/ or perhaps created by Lara Stone (my model girl crush) it is a reddish orange - not orangey red okay!  Heheh.  The formula is great, and creamy, and looks intensely opaque in two coats.
Photos & swatches: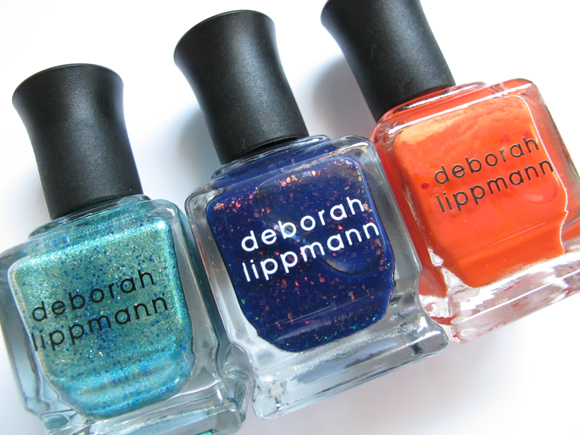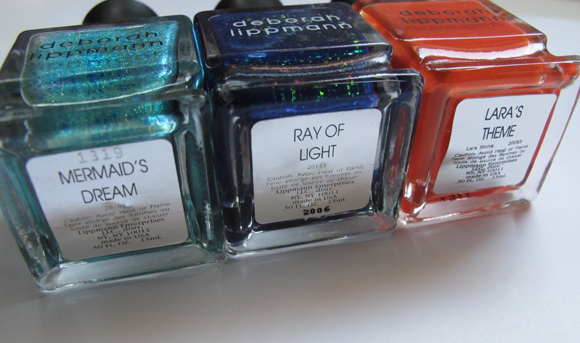 All swatches in this entry are done with a coat of Butter London Flawless Basecoat, two coats of polish, and finish with Butter London Quick Topcoat.