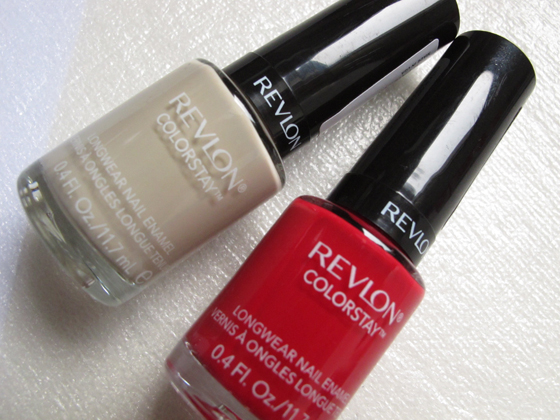 Hihi, 
I think sometime last week, the Revlon Colorstay nailpolishes came out in Singapore... and we got a range of maybe 10 colors.  There are more in the US release of course... nothing very very unique in terms of color range, and I just picked 2 classic shades whenever I try out a new range of nail polish - the red, and the nude.   These retail for $13.90 each, which isn't the very cheapest, considering that you can get OPI and China Glaze, and even my fave Essies at under $12, and sometimes under $10. 
These polishes are touted to have 11 days of wear and a gel like finish.  While I cannot attest to the longevity of these polishes (because, frankly, who wants to wear the same color for more than 10 days?).  In my swatches, I do find them very glossy indeed, even before the topcoat.  However, I would still wear a topcoat anyway, for the quick-drying factor. 
Both colors are opaque in two coats, even though the red shade look a tad jelly-ish in the bottle.   What I do like, is the brush of these polishes.  They have a slight rounded tip, and the brush is also quite flat.  It is not too big (i find the OPI ones too big for my liking at times), and it's very smooth and easy to paint.  If only we have more shades in this range, that would be even better.
120 Red Carpet is a classic red that leans slightly cool-toned.
300 Bare Bones is a nude that leans slighty grey-ish.  No pink hues in this at all.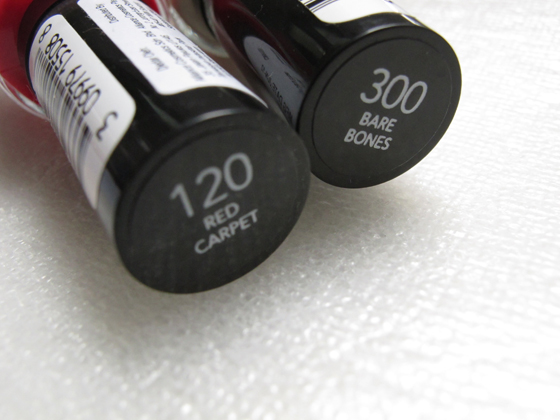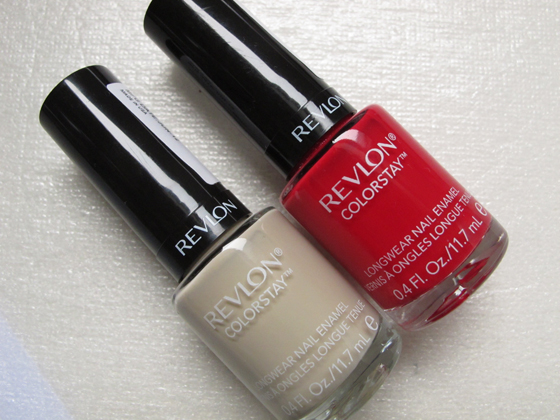 300 Bare Bones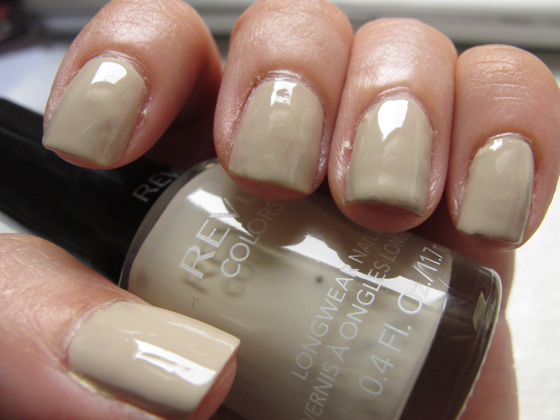 Some comparisons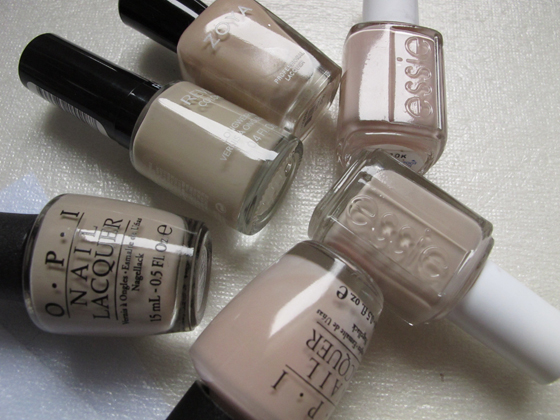 OPI Did you ear about Van Gogh is an exact dupe (well, 99% I guess)...if you have this, skip Bare Bones.  Formula on both are similar. 
very very similar to Essie Sand Tropez too. 
Zoya Shay is beige-r.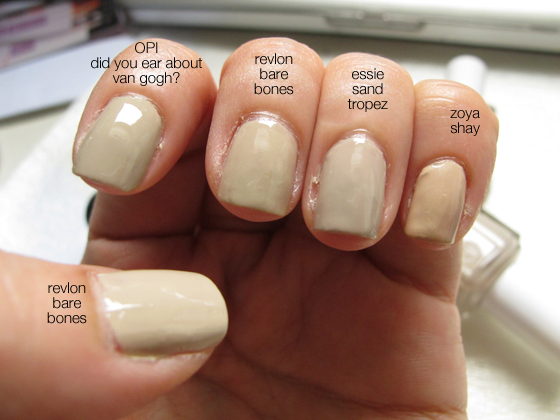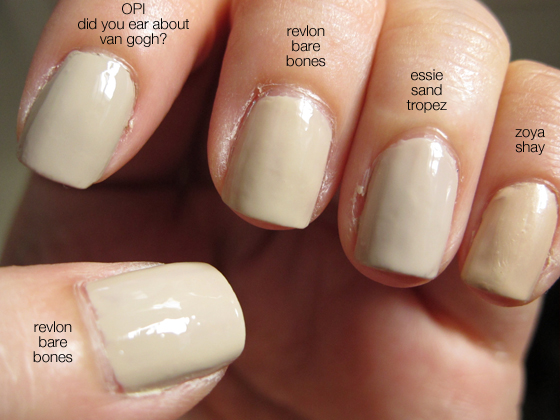 120 Red Carpet
grabbed this pic off my Instagram, cos I forgot to take a pic of it with my camera...duh
it is looking very very bright here in the pictures....almost blinding my lens
but in real life, it is slightly muted, and is cool-toned bright red, especially when compared to some other reds later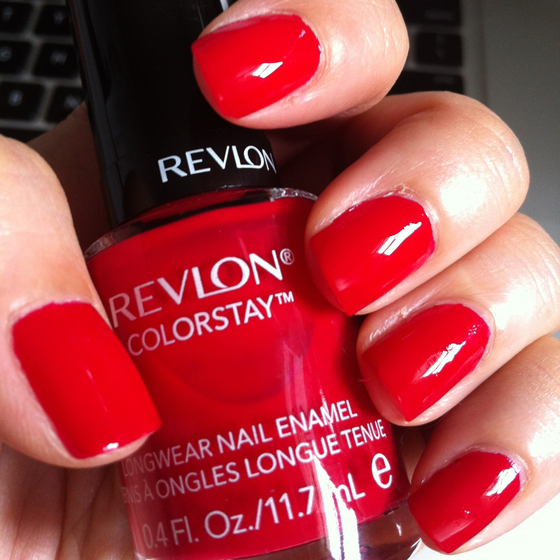 some comparisons
this pic shows the actual colors in the bottle...but all got washed out and looked the same when I swatched on my fingernails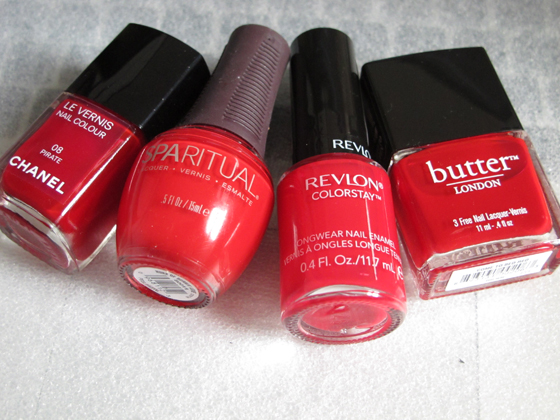 Sparitual Red is slightly orangey compared to the rest, 
Butter London Come to Bed Red (to be featured in a later entry) is a true red, quite neutral
and Chanel Pirate is slightly deeper in tone
though they all look the same here
it's not like anyone would be able to tell the difference, if you were to tell them, there are four different colors here
but for comparison's sake, here we go. :)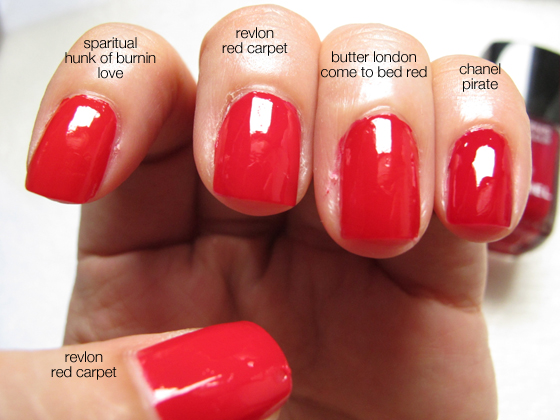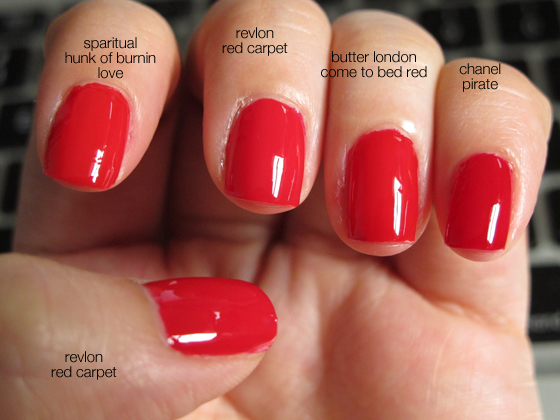 Do check out the range, I think some of the blacken glittery green ones (I think?) are quite pretty, there is a bright cheery orange too, and a couple of pinks that look quite cute too. 
Hope this has been helpful, and thank you for looking!