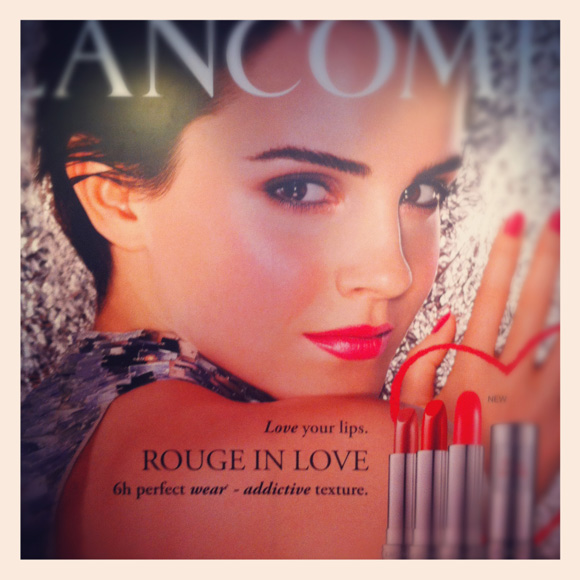 Rouge In Love will be priced at S$40 and available at all Lancôme counters from 1 June 2012.
Everyone is waiting for it... A friend at all times, for any occasion, available in a multitude of stunning shades.
Its talents? Making colour a game, an amusement, a whim.
Being able to adapt at will and custom change to match your every desire or mood. Delightfully sophisticated one day, wickedly flirtatious the next...
The look? A cute, yet luxurious design. In short: love at first sight.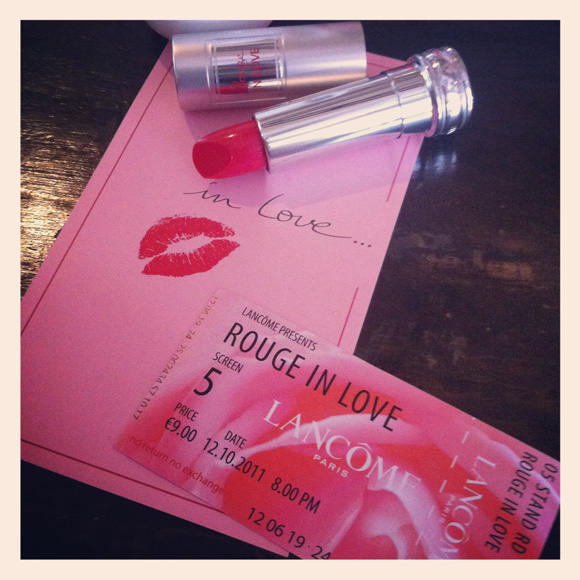 Lancôme presents an instant must-have: a lipstick able to follow women through an entire day and night, wherever life might take them. An irresistible 'prêt a porter' lipstick: Rouge In Love.
Rouge In Love's irresistible design evokes love at first sight. More than just a lipstick, it's a true fashion accessory.
As if cast in silver, the contrast of the blushed metal cap and its shiny base give the case an ultra modern silhouette. A real gem, it nestles perfectly in the palm of the hand. Although the case is smaller than traditional ones, the bullet is actually the same size.
Like a love note written with the tip of the lipstick, the case features a mirror inscribed with 'Rouge In Love'. With real attention to detail, the back of the case is marked with red top stitching, drawing inspiration from the intricate weave of couture stockings... Deliciously sexy.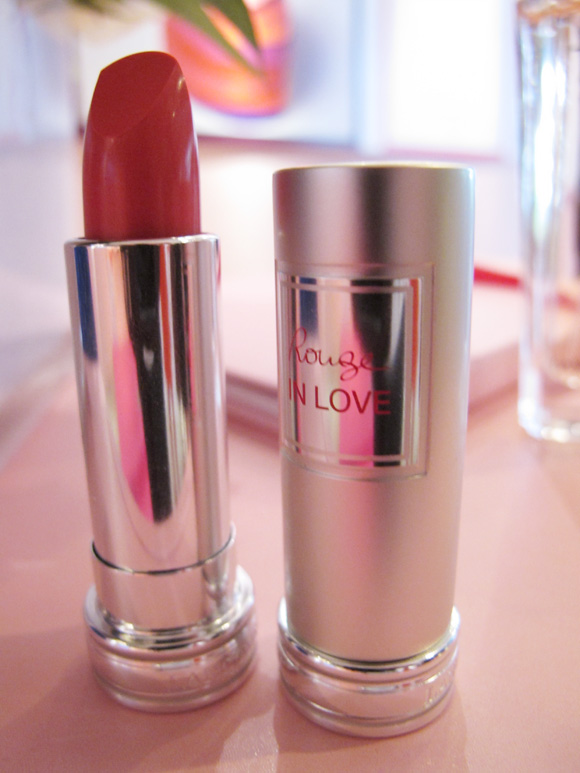 If Rouge In Love is so indispensable, it's because it achieves the perfect balance: radiant shades in a surprisingly light texture.
Its secret? The texture melts on application, leaving a concentrate of colour on the lips. At the heart of its formula lies a colour protecting creamy wax that forms a fine film on the surface of the lips on which pigments and satiny agents are shielded. With stunning colour, enduring hydration and striking shine, lips feel smooth and soft thanks to the nourishing and protecting oils.
Rouge In Love plays with the whole spectrum of pearl particles: tone-on-tone for luminous natural colour; more intense particles to add shine and play with contrasts; golden pearls for a deeper and more sophisticated glossy effect.
As comforting as a balm, as colourful as a lipstick. A featherlight texture for endless tailor-made looks, Rouge In Love is like a second skin that satisfies your every desire thanks to its adjustable make-up effect.
A wardrobe for the lips, Rouge In Love is available in 27 captivating shades. Each one has its own name, its own story... Inspired by three different moments during the day of a modern and stylish young woman the colour palette is divided into three colour universes.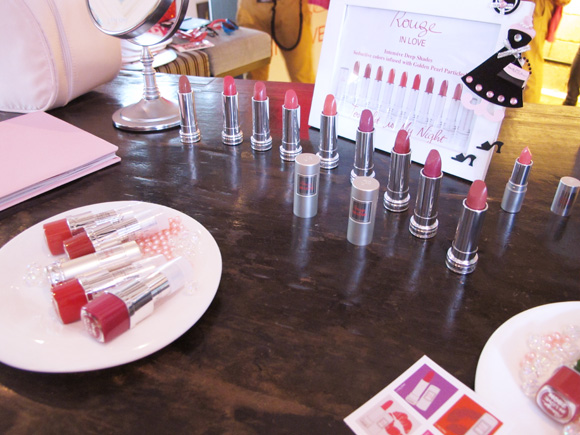 Under the roofs of Paris, a new dawn has broken. The morning light filters in through the windows of her bedroom, gently waking her. She takes a moment to gather herself. A scented bath, some time to read... A love note written on the bathroom mirror, a touch of lipstick later and a beautiful day begins, whether she's a working girl or fashionista on the go.
Rouge In Love glides effortlessly over her lips, adorning them in pure and natural shades set off with a hint of tone-on-tone pearl particles. With fresh and radiant shades, such as delicately tangy 'Corail in Love', subtle but sensual 'Beige Dentelle', or 'Belle Aurore', instantly getting you in a good mood, there is a shade for every occasion.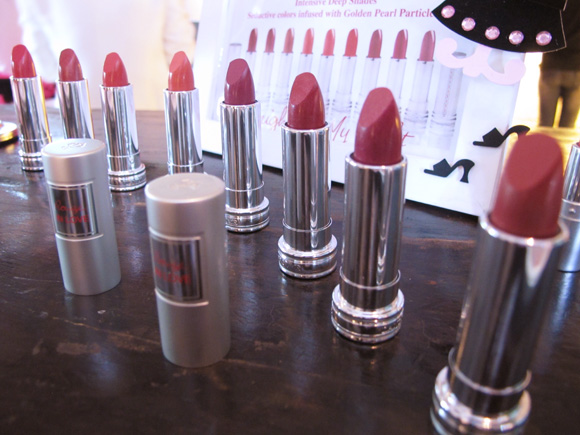 Special times with friends in the late afternoon. The time for catch ups and the sharing of secrets. Where do they meet? In a cosy but chic and stylish lounge, surrounded by satin cushions, cupcakes and designer clothes.
Rouge In Love mirrors their bold approach, with punchy shades electrified by intense pearl particles. Shades include charming 'Rose Boudoir', elegant 'Rose St. Honoré, or 'Rose Pitimini', named after her favourite flower, the smallest rose in the world.
The magic of a night in Paris. The twinkling lights of the city, the buzz of the coolest clubs to be seen in where private concerts are playing. A night filled with promise, of a moment to be seized. Of an encounter, perhaps...
Rouge In Love becomes seductive, with intense deep shades infused with golden pearl particles. Shades including 'Midnight Rose', a crimson as resonant as the sound of a clock striking midnight, stunning 'Bubbly Beige' and enchanting 'Miss Fressia'.
From tone-on-tone to intense gloss... With its 27 shades and its ingenious delicate texture, Rouge In Love lends itself to every interpretation. Whatever your wish, whatever your mood, beauty addicts will find a tailor-made colour just for them.
To veil the lips in a light, sheer shade, pout as if you were blowing a kiss and simply dab on Rouge In Love with your fingertips. An ultra-simple, bee-stung effect.
Feel free to blend shades to create your own colour. For example, for a fresh and glowing result, combine 'Rose Boudoir' with 'Violette Coquette' and set it off with a touch of 'Bold Fushia'. An instant healthy looking glow.
Play with contrasts by placing a lighter touch in the centre of the lips: they will look even plumper. For a more sophisticated effect, an extremely elaborate look and intense colour, apply it with a brush, starting at the corners. Insolently sexy...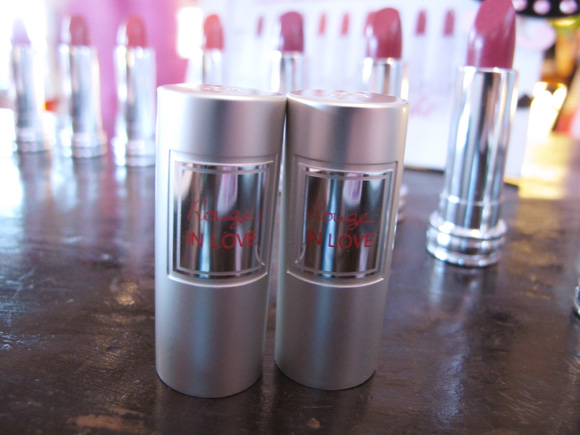 No-one embodies modern romanticism better. A young English actress born in Paris, Emma Watson enchants us with her freshness, spontaneity and style... And her mischievous femininity, too.
Creative, passionate, fascinating... Emma Watson is undoubtedly an exceptional young woman. After making her cinema debut at the age of 10 in "Harry Potter", she is now sought after by top directors. Always on a plane or a film set... At barely 21 years old, she is successfully pursuing an already impressive career, from blockbusters to independent films, such as "The Perks of Being a Wallflower" by Stephen Chbosky or "My Week with Marilyn" alongside Kenneth Branagh.
Determined and committed, she cares about the future of the planet and its citizens. After designing a fair trade eco-fashion collection, she has decided to support CAMFED and its education programme for young girls in Africa.
With her days full to the brim, between film shoots and hobbies – visiting museums with friends, browsing through the bookshops that she likes – there is no doubt that Emma Watson is a young woman of her time. The idol of a generation.
A real fashion icon, she loves to share her favourites directly with her fans. Whether she is wearing a man's shirt and a Borsalino or a couture dress and breathtaking stilettos, her looks have become a constant source of inspiration for her millions of Facebook fans and Twitter followers.
It was perfectly natural that, after lending her charm to the fragrance Trésor Midnight Rose, Emma Watson would become the ambassadress for Rouge In Love. Her relationship with Lancôme continues to blossom...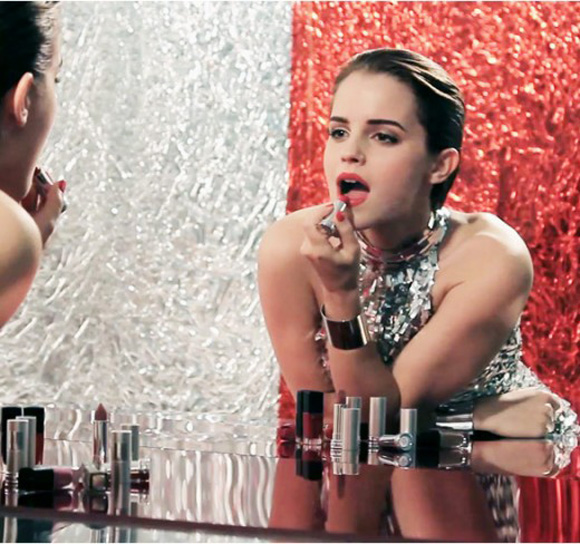 Backstage report
With infinite grace, Emma Watson once again poses in front of Mario Testino's lens. This brilliant photographer, universally acclaimed by the top fashion and luxury houses, continues to share his unique look with the House of Lancôme.
As if following Emma Watson for a day, Mario Testino captures through his lens all sides of her femininity.
Tender in the early morning light, in a man's shirt and powder pink shorts, with a book beside her... She smiles at the beautiful day that is beginning.
Sparkling and charming in the afternoon, she slips into a silk blouse and dons a Borsalino. Her infectious good mood illuminates everything in her path.
Sophisticated at nightfall, in a nude satin jacket, organza mini-dress, towering stilettos and an evening clutch, she cultivates an air of mystery that makes her attractively alluring..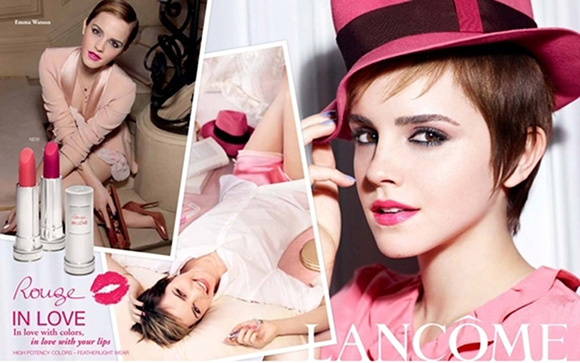 Rouge in Love commercial
More photos from the press launch which I attended:
a Lancôme event is never complete without beautiful roses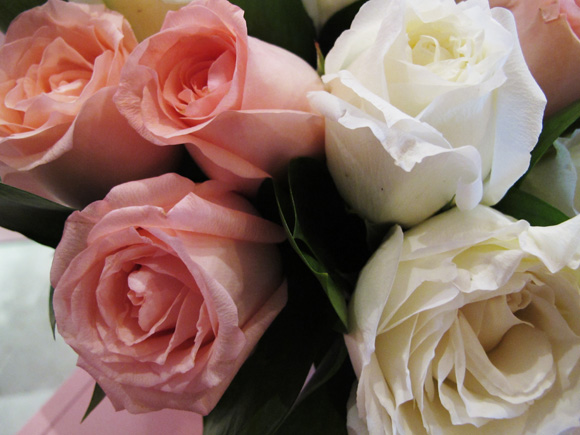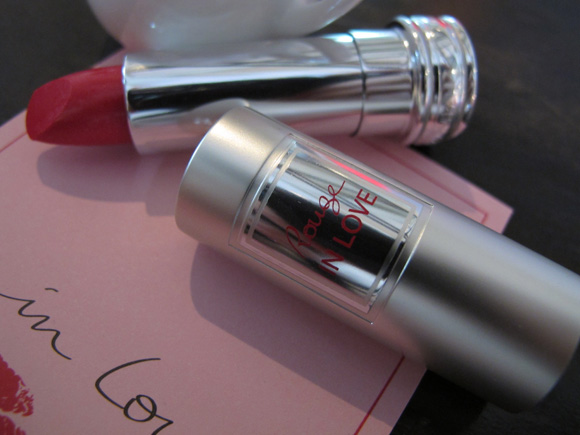 product demonstration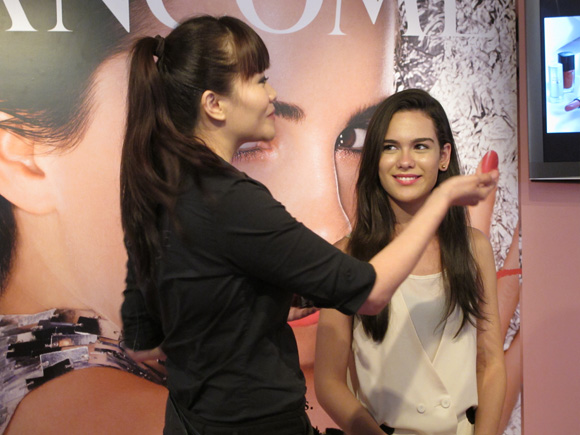 the three different moods of Rouge in Love as represented by the lovely models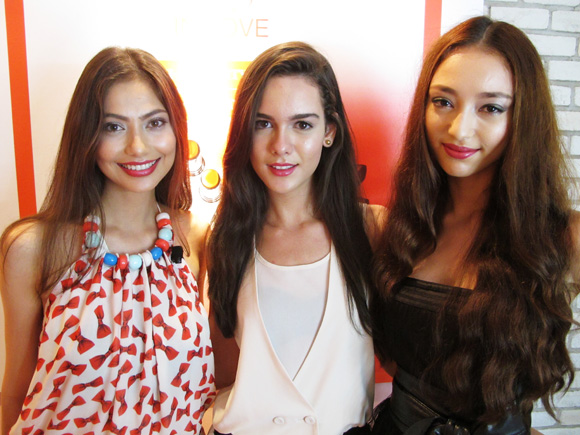 random swatches of the lipsticks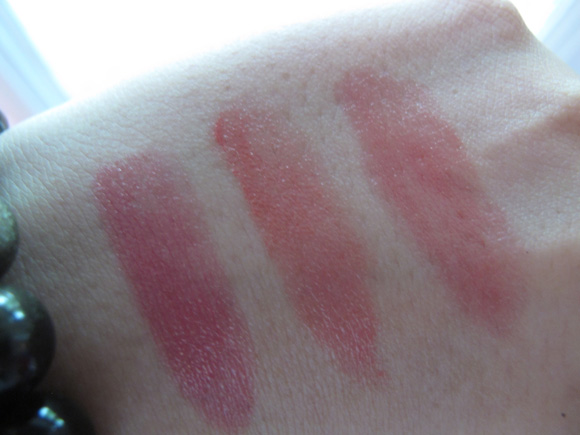 photobooth wackiness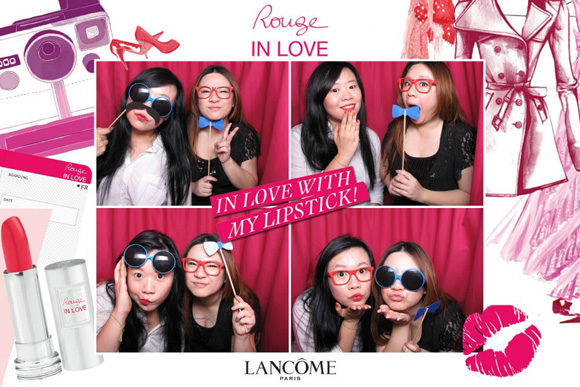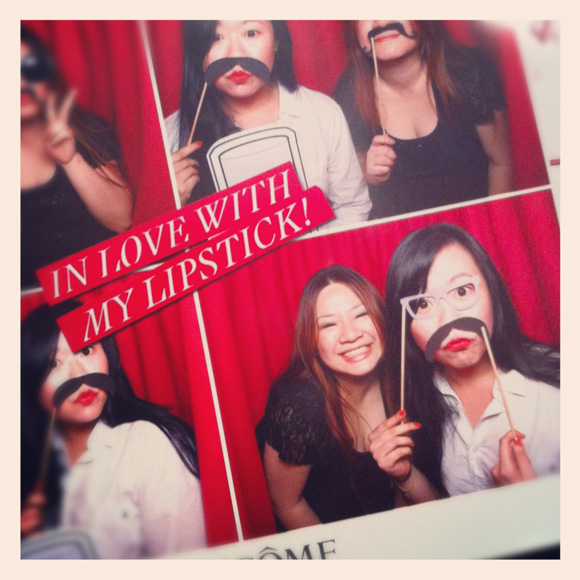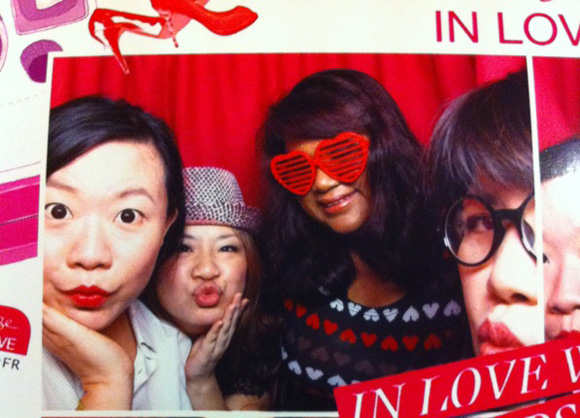 I will feature one of the Rouge in Love lipsticks in a subsequent entry.
I think I want to buy one of the red ones, which Lisa Eldridge used in her Kate Winslet video tutorial.
Hope this has been helpful, and thank you for reading.
Information extracted from press file.
All images are mine, taken during the press event.