A year ago, Guerlain launched their Rouge Automatique, with the unique and innovative one stroke push up lipstick packaging.  This spring, Guerlain launches the Shine Automatique - the same packaging, but lipsticks that deliver some serious shine and shimmer.
Both the Rouge and Shine Automatiques retail for S$51 each, and come in 4 color families:
REDS
220 Pour Troubler - Casual Red, luminous yet slightly less saturated red
221 Rouge de Damas - Soft Red, sheer finish
BEIGES
200 Sous le Vent
201 Vague Souvenir
202Mi-Mai - Concealer Beige, a color like lip foundation.  Ideal to set off smokey eyes.
PINKS
260 Jardins de Bagatelle
261 Rose Imperial
262 Extrait de Rose
263 La Parisienne - Stiletto Pink
264 Rose Pompon - Smooth Purple
265 Pao Rosa
ORANGE
240 Pamplelune - Luminous Orange
Guerlain makeup artist trainer was on hand to give a presentation and demonstration of the various Shine Automatiques and dispensing tips how to find the correct lipcolor for your skintone.
swatches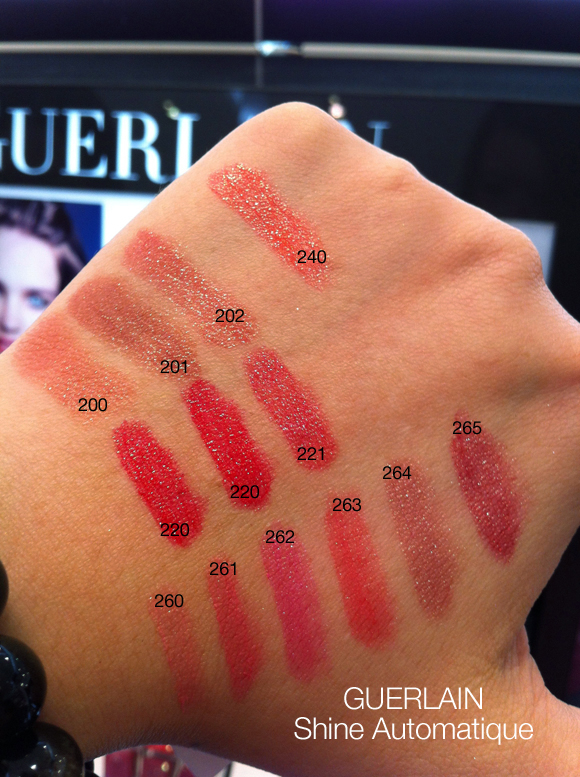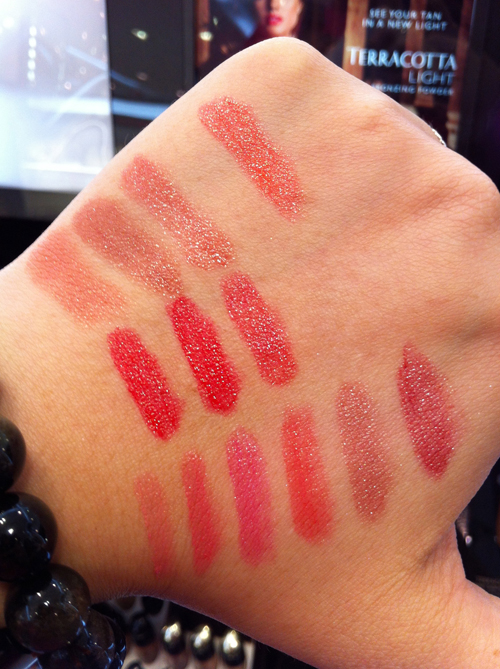 I have the signature pink from this collection, and will feature it soon.
Hope this has been helpful, and thank you for reading!
(all photos taken with my iphone because I was too busy swatching etc to take pictures with my own digital camera, heheh)