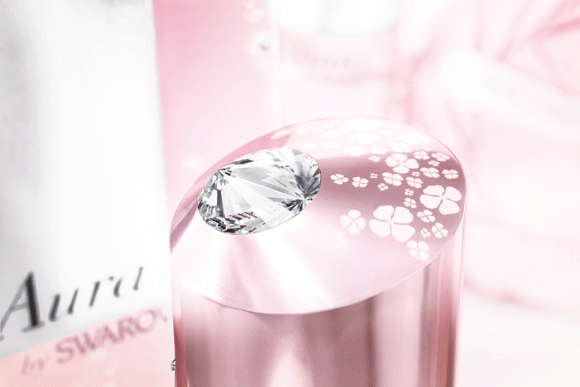 This entry features the collection information for Aura by Swarovski Bridal Collection for 2012 - I will be featuring the actual products shortly.  I have also previously featured the original Aura by Swarovski collection from 2011, links below if you are interested to read more.
http://retailtherapy.onsugar.com/NEW-Fragrance-Aura-Swarovski-Product-In...
http://retailtherapy.onsugar.com/NEW-Fragrance-Aura-Swarovski-15915978
Aura by Swarovski launches its Collection Mariage
Celebrating the magic of love and light, always at the heart of the brand's inspiration
Launched in 2011, Aura by Swarovski's fragrance and make-up jewel line is inspired by Swarovski's exceptional know-how: the aura of light that the visionary craftsman created by faceting crystal. The floral scent of Aura by Swarovski translates the aura of crystal into the language of fragrance. Preciously nestled in a jeweled compact, the luminescent make-up illuminates women. A new alchemy of light, with the promise of a mysterious and fascinating power, a new dimension of femininity and emotion conveyed by the brand universe.
This year, Swarovski revisits the Aura line, creating the theme of wedding and light, inherent sources of inspiration for the crystal-maker who continues, year after year, to imagine jewels, diadems and decorative creations, cut in the purest of materials to illuminate this very special day. These evocations spark off wonderment and breathe new life into the Aura by Swarovski Collection Mariage (Bridal Collection), a 2012 limited edition.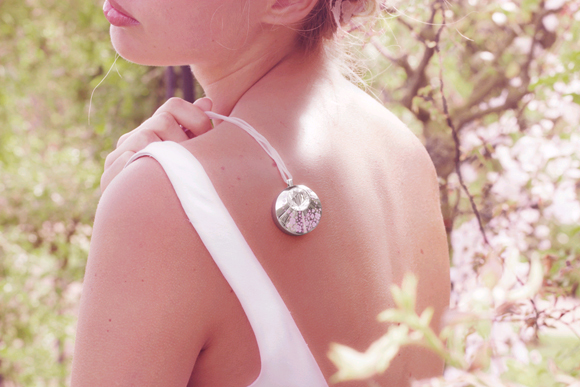 A woman magnified with dazzling light:At the heart of a romantic, spring-like setting, a young woman gladly succumbs to the joy of being in love. She is stunning. In a lush garden, overflowing with blossoms and dappled with sunlight, she savors an intimate moment of freedom. With lace in her hair, a light white dress, her make-up jewel magnifying her skin, she voluptuously indulges in the scent of a radiant rose garden… echoing the floral and sparkling freshness of her fragrance.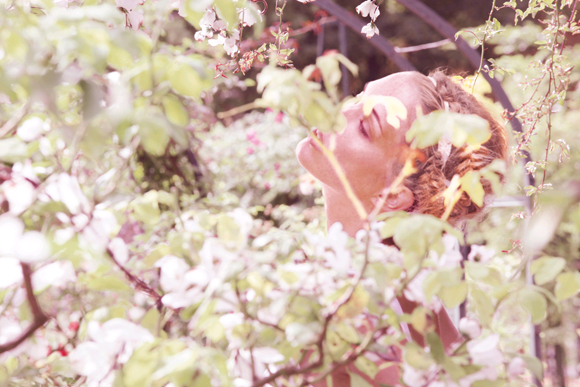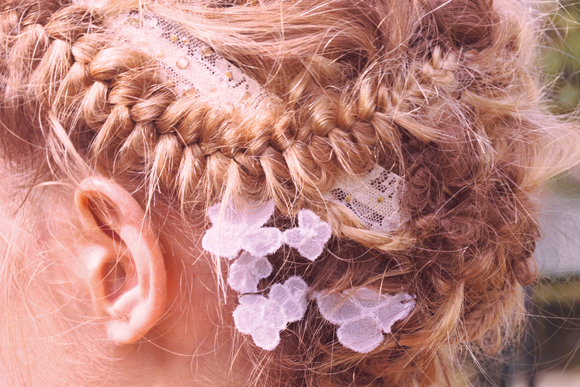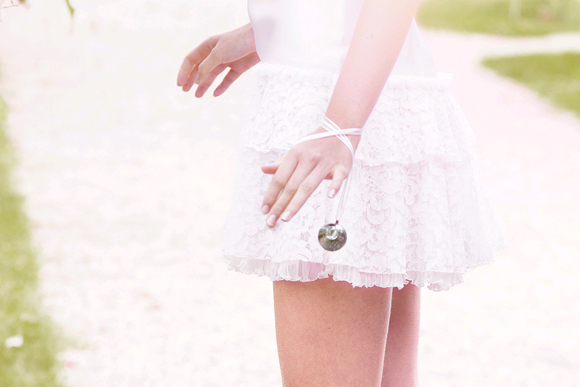 A collection created from a new spring like fragrance to transport every woman into an aura of love. With its Collection Mariage, Aura by Swarovski proposes three fresh and romantic creations; an ephemeral collection which accompanies every woman in a very precious moment of their life and magnifies her with an incandescent aura. More seductive, more mysterious… she is simply dazzling.
The Collection:
Crystal Gloss Make-up Jewel, Shimmering Pink
Set with a spectacular crystal and made of pure materials, the Collection Mariage inherits the futuristic design of the initial inspirational line. For this occasion, the metallic tube is tinged with a fresh, subtle pink; like the glass bottle, it is adorned with an exquisite "floral patterned lace veil", at once romantic, joyful and fresh. A feeling of effervescence, evocative of Champagne bubbles.
Light Eau de Toilette
The olfactory signature of an everlasting memory
Sparkling floral notes, a luminous bottle enhanced by a veil of lace, tender springlike colors… codes that evoke the essence of marriage and its magic. Aura by Swarovski Light Eau de Toilette is faceted around 3 accords, imagined like essential steps to happiness:
The loving commitment is symbolized by lychee - signature of Aura by Swarovski fragrances - and tea leaves; these luminous notes blend perfectly in a dazzling fruity harmony.
The promise of an eternal bond is evoked by a delicate bouquet of peony and lotus offered to bring luck; a floral and soothing fusion.
Intense love is conveyed by a white musk accord, the ideal partner to adorn a woman with a luminous and dazzling aura.
A composition by Fabrice PELLEGRIN for Firmenich.
Fragrance for a day, a season or eternity, a luminescent creation magnified by a luminous and sparkling floral bouquet.
Perfuming Hair Mist
The ultimate touch of light
This delicate mist swathes the hair with a sensual, luminous and floral perfumed halo. Its sparkling notes are progressively released with every movement, to exude a sensation of happiness through the day. Its fresh, airy, imperceptible texture coats hair with a shiny luster and a silky feel to the touch. The lovely metal spray enhanced by a lace pattern slips easily in a handbag to accompany you wherever you go.
A spray of perfuming mist … and the scent of a memorable day, lives on.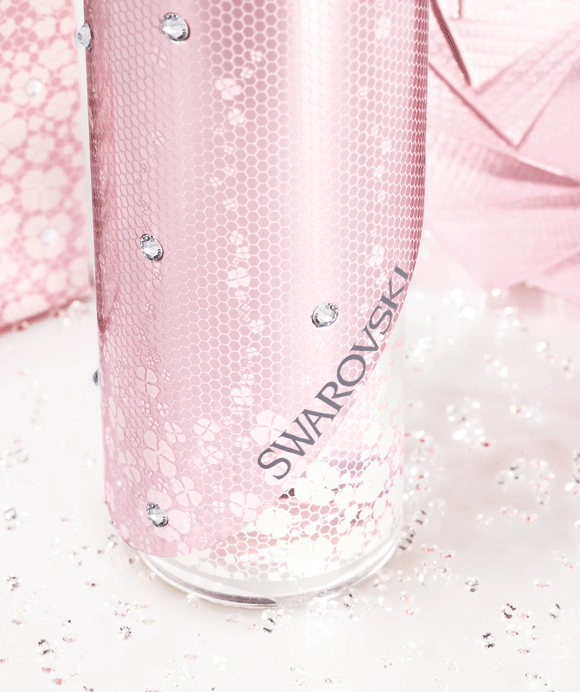 Crystal Gloss Make-Up Jewel, Shimmering Pink
An enchanting glow for everyday or for a special moment
To complement this line, Swarovski offers a sparkling lip gloss in limited edition.
Enriched with micronized Swarovski crystal powder and Crystal Shine® iridescent pearls, it illuminates lips with a pure, sparkling pink shine.  The soft texture is nestled in a delicate silver jewel decorated with floral motifs and topped by a unique majestic 16-millimeter crystal. The height of refinement, an irresistible "purse" of pale pink origami contains the precious makeup jewel. Just pull the ribbon and the box opens in a corolla to reveal this beautiful object…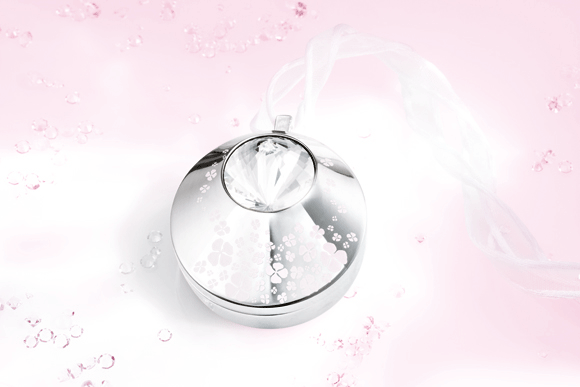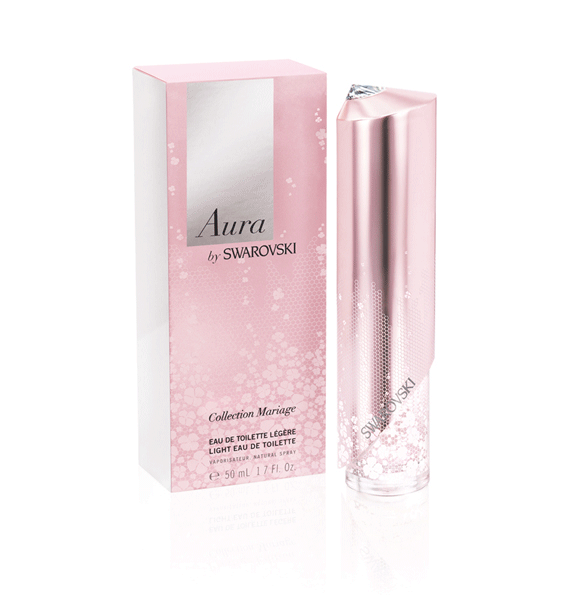 Retail price, Aura by Swarovski Collection Mariage:
Light Eau de Toilette, Natural Spray 50 ml: $100
Perfuming Hair Mist 30 ml: $65
Crystal Gloss Make-Up Jewel, Sparkling Gloss for Lips, Shimmering Pink, 1,3 gram $100
Available June 2012.
Swarovski Boutiques: ION Orchard, Raffles City, The Shoppes at Marina Bay Sands, VivoCitySephora, Great World City, Takashimaya S.C., The Shoppes at Marina Bay Sands
ABOUT CLARINS FRAGRANCE GROUP AND SWAROVSKI: Founded in 1954 by Jacques Courtin-Clarins, Clarins has been the European leader in luxury skincare for  over 20 years. In 1991, the brand diversified its activities and launched its first make-up line. Then in 1992, it launched the perfume "Angel" by Thierry Mugler and bought Azzaro Perfumes in 1995.The group's perfume business is now combined with Clarins Fragrance Group (CFG) chaired by Joël Palix. Its portfolio consists of five select perfume brands: Thierry Mugler, Azzaro, Porsche Design, David Yurman and Swarovski. For over a century, Swarovski has enchanted the world with its cut crystal expertise. Today, with over 1,800 boutiques, the brand combines its unique know-how with many different fields of activity. In 2007, after several years of deliberation, Swarovski decided to launch its first fragrance and collection of make-up jewels in partnership with CFG.Launched worldwide in 2011, Aura by Swarovski is available in Eau de Parfum and Eau de Toilette version, and distributed in a selection of perfumeries, department stores and Swarovski boutiques.
information & images extracted from press file