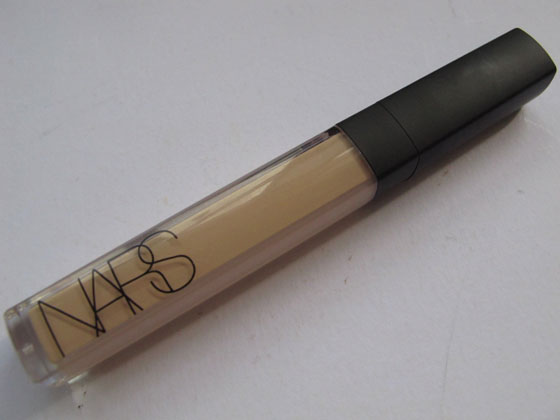 Hi hi
This will be a review of the new NARS Radiant Creamy Concealers - which will be available here in March at the NARS Store at Tangs Orchard.  It will retail for S$42.  We have a total of 5 shades launched here, but before I go on about the shades,
here's the product information:
Ideal for all skin types, the new NARS Radiant Creamy Concealer boasts a luxuriously smooth texture enriched with hydrating skin care benefits.  When applied to camouflage darkness under the eyes and reduce the appearance of redness and skin imperfections, the multi-action formula provides medium to high buildable coverage in a natural, radiant finish with long-lasting results. 
A single stroke keeps complexion looking fresh and creaseless all day - going on smoothly and blending easily.  Light diffusing technology blurs imperfections and fine lines, and evens skin tone without masking skin's natural color. 
Skin glows with new radiance over or under foundation - and looks beautiful even when bare.  Perfect as a complement to Pure Radiant Tinted Moisturizer SPF30/PA+++ or layered with Sheer Matte and Sheer Glow Foundation. 
Crease proof - Long Wear - Non Comedogneic.  
Dermatologist tested.  Paraben Free, Alcohol Free, and Fragrance Free. 
Shades from lightest to darkest:
Chantilly - Light 01 
True Ivory shade for fairest complexion 
Vanilla - Light 02  ** This is my shade ** 
Tiny cast of pink for the fair complexion 
Honey - Light 03
Warm peach undertone for light to medium complexion
Custard - Medium 01 
Yellow understone for light to medium complexion 
Ginger - Medium 02 
Golden undertone for medium complexion 
(Cafe makeup has swatches of ALL the 10 shades available at narscosmetics.com on her blog)
Product close ups: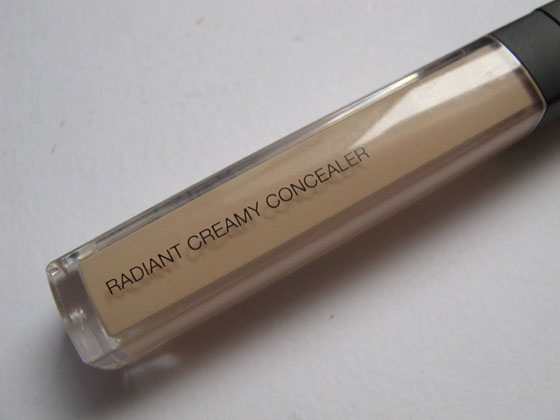 The wand applicator is long, and picks up enough product (for me at least) with just one single dip.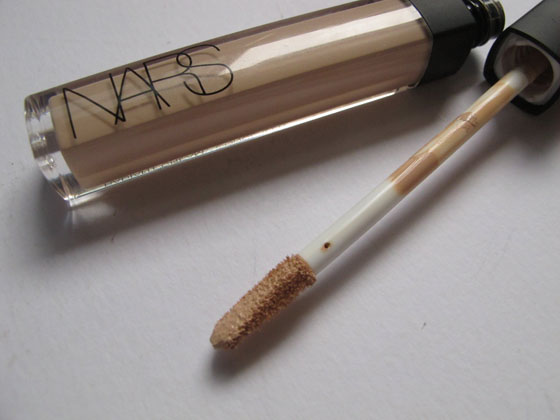 How I apply it:</p> <p>
I dotted the concealer (after my foundation) on areas where I need to cover, note that I don't have particularly dark eye circles or anything, so I am only using a bit of the concealer to brighten up the area, not so much to cover any darkness.  I am mentioning this because I can't comment for myself how good it is at concealing under the eyes.  But I can tell you it is excellent for covering spots.  </p> <p>Do check out Sarah's
awesome review
on the NARS concealer - she loves it for undereye concealing. 
After dotting the areas, I usually use my foundation brush to blend it into my skin - this is the fastest way, but if I want to be really precise about it, I would use my fingers, or a tiny fine brush to really 'photoshop' away the spots I want to cover. 
I find that the concealer also works well over powdered skin - there are times when I want to touch up after I have already applied my bronzer/ blush, and I just dot a little over a spot, and it blends smoothly too. \
The concealer is able to cover redness and dark spots, and never looks cakey at all.  
The concealer offers maximum coverage, and is very creamy.  It dries and settles to a powdery/velvety smooth finish, not cakey at all.  
For comparisons to my other fave concealers - this is creamier than the Laura Mercier secret camouflage (same amount of coverage), feels like the cle de peau stick concealer (same coverage and finish, but in a creamy liquid formula).  It also reminds me of the DiorSnow White Reveal Instant Spot concealer - but at almost half the price.  Actually among these other concealers I have mentioned, the NARS one has the lowest price point - which is a good thing!  I love the NARS Radiant Creamy Concealer - and really highly recommend it.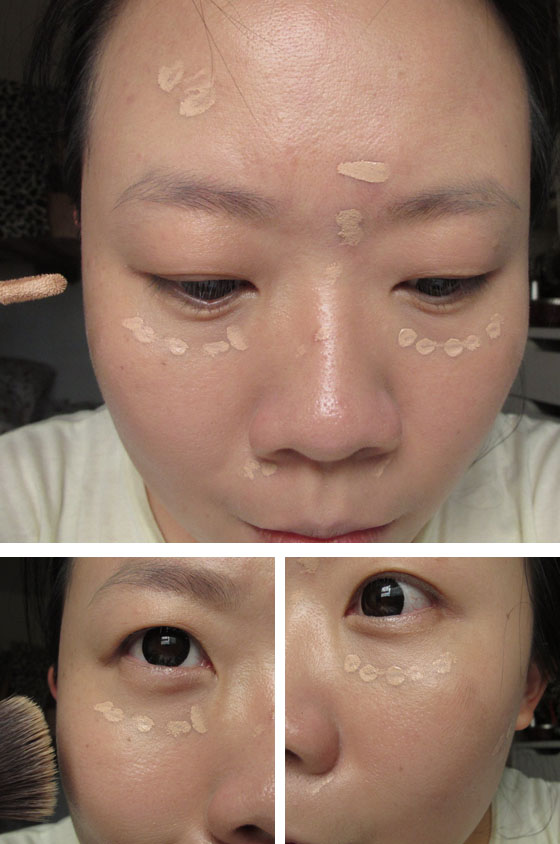 After concealing - but I have not set my face with powder yet.  Please note that I usually only use concealers AFTER my foundation because I find that way, I use less product - the overall skin is already even out, and I only use a concealer to touch up little areas.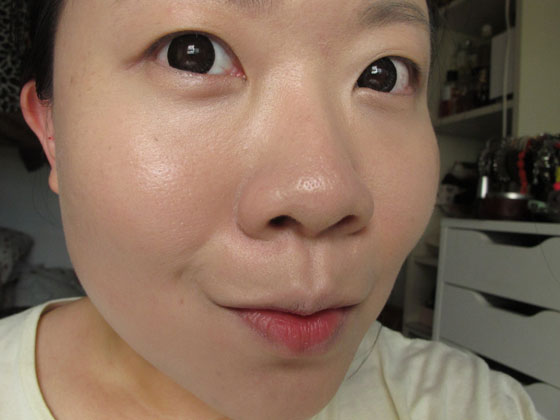 Here's a comparison of the other shades of the concealers - but again, i would like to point you to Cafe Makeup's complete swatches - color accurate and she has the full 10 shades featured. 
There is quite buzz going on about the new NARS concealers - just like their setting powders - and I can see why, the quality and formula of these products are truly impressive.   
I feel like doing a NARS base feature entry soon and test out this routine, since I think I have the 'complete' NARS routine in my collection (maybe except the primer).
NARS Sheer Glow, Loose Powder, Concealer, Finishing Powder --- there you have it!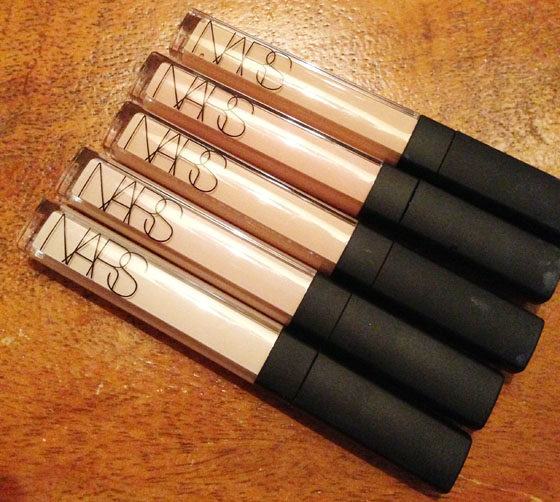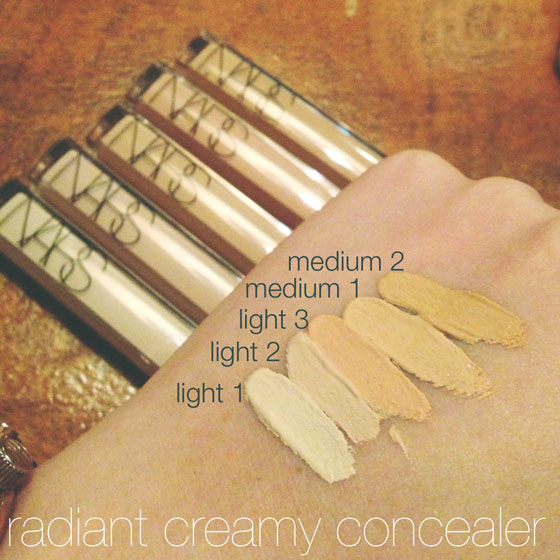 I hope this entry has been useful and thank you for reading!