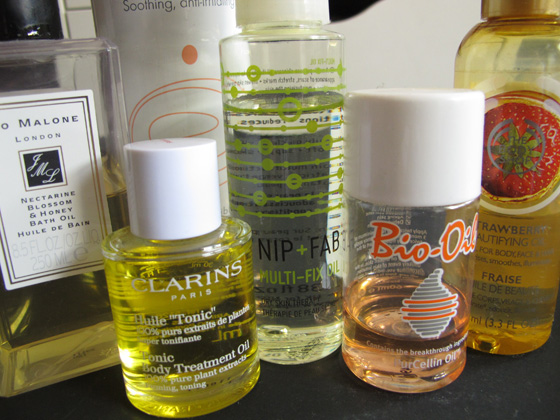 Hi hi!
A quick entry to show you what I rotate and use in the shower.  Not to worry, I won't go into the very TMI details of what goes where and the hows or what.  Basically, I just want to provide some quick overall thoughts on some shower and bodycare products which I don't often mention on the blog, but I do use on quite a regular basis. 
Firstly, in the shower:  I have a whole bunch of shower shampoos, I usually prefer shower shampoos as opposed to bar soaps... cos I find bar soaps hard to store, and they slip everywhere.  I have several of them in use at any one time, and these are some which I have been using for a while.  I am suckered by scents first and foremost.  Anything that smells yummy, I want to use.  But my staples are The Body Shop olive shower gel... they lather well, smells olive-y (which I happen to love).  I always stock up on these whenever there are discounts. 
Some some days, I use the Lush Snow Fairy, which is LE, and so I use it sparingly.  On other days, I go between the Philosophy Melon Daiquiri and Vanilla birthday cake.  Both smells really sweet, but I am not the biggest fan of the 'soapy' feel after rinsing.  I can live with that, just because I love the scents on these.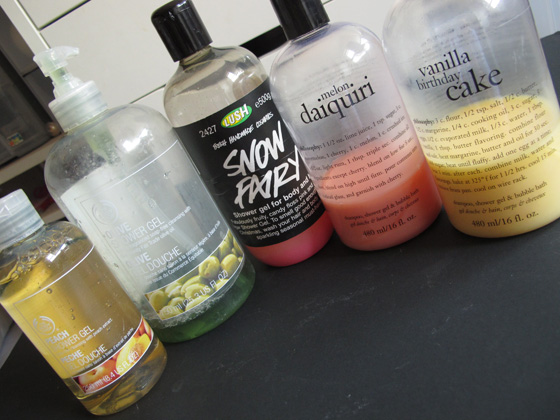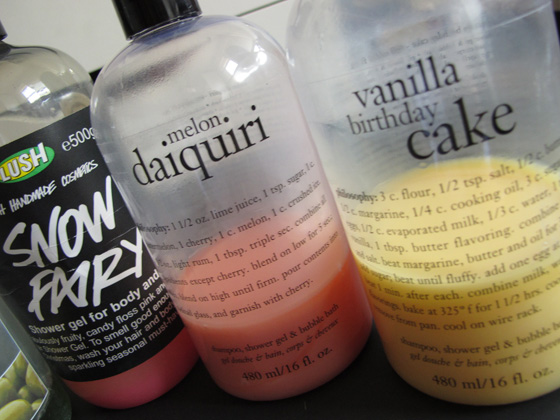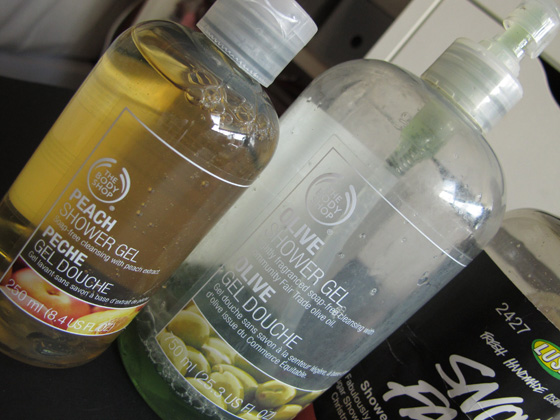 Next, are a whole slew of body scrubs.  I love body scrubs.. and I mainly only use them on my calves, and arms.  I don't use them anywhere else, cos that would be too abrasive.  I recently tested a range of body scrubs as part of Tang's beauty journal, so I had the chance to use these, and my faves are the Origins Modern Friction for the Body, and the Clarins Smoothing Body Scrub.  I love the scrub beats on these, they are the natural scrub beats, not synthetic beads.  And they are also coarser, which I love, cos I usually think of finer scrubs for the face.  On the body, I want something more 'intensive'.  But the overall winner would be the Origins one, cos the scent reminds me of a totally relaxing spa treatment.  Both the Shiseido and Biotherm ones are gentle body scrubs, which I guess would be suitable for sensitive skin. 
My bonus treat for body scrub would be my Laura Mercier creme brulee sugar scrub.  It contains sugar scrub beats, as the name suggests, and smells delicious, like Baileys, caramel.. hmmmmm, but I usually decant this into a smaller tub to use in the bathroom to prevent breakage and mess.  It is sticky, gooey, and really exfoliating.  I highly recommend the Laura Mercier bodycare products if you have access to them.  I bought mine in Taiwan.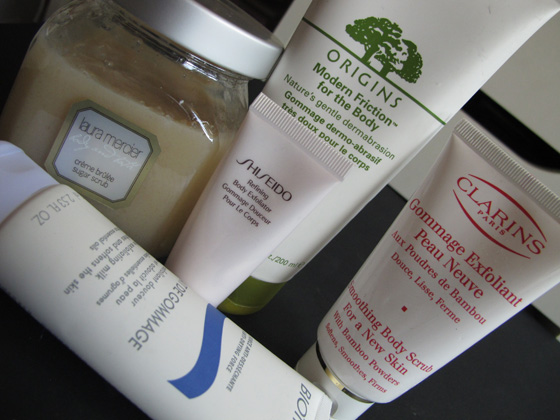 I usually like to follow up with a body oil especially after I scrub... and I really much prefer body oils.  I have mentioned most of these in an earlier entry of my current faves before.... but it's worth mentioning which ones I really do like. 
1. Best affordable and efficient body oil - BIO OIL --- because it is not too thick, and easily absorbed.  I used to use this very regularly on my calves where I have some scars, and they have faded quite a bit.  I like to leave this close to my bed, in case I want to use it as a hand cream at night too. 
2. Most light and easy to use -- THE BODY SHOP OIL --- the formula is very watery, it is lightly scented, and moisturises very well.  There is no icky oily feeling on your skin after its absorbed.  
3. Most indulgent and nourishing -- CLARINS treatment oil - this is very rich, and one days when I really want to pamper myself, I would use the Clarins oil. 
4. Most awesome smelling -- Jo Malone Nectarine Blossom and Honey bath oil - this is pricey, but so worth it.  The smells stays the whole day, your skin feels soft, and it's just really fantastic. 
5. Great for everyday - NIP FAB Multi-fix Oil - again, this quite light in consistency, like the body shop one, and is a great basic body oil which is also quite affordable. 
I also included the Avene thermale spray, because I only use the Jo Malone bath oil while I am in the shower, and I rub it into my wet just showered skin, followed by normal towel dry.  When I am already in my room, or whenever I want to moisturise my body, or when I feel the air con is especially drying, I would spray my arms and legs with the Avene spray, and then I will rub my choice of oil on the damp area, in order to not just refresh my skin, but also emulsify the oils for instant absorption.  I learnt this trick from reading one of Front Row Beauty's blog entries sometime back.  Most useful tip!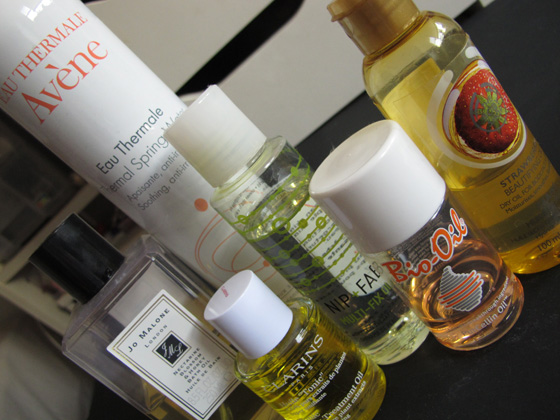 Someones I use creams too, such as the NIP FAB cellulite fix, and the dry legs fix.  But I don't use them regularly enough to provide much comments, except that I do like the scent, and the texture, because both are very easily absorbed into the skin.   (I think my fave NIP FAB products would be their hand cream, and the multi-fix oil). 
</p>
I hope this has been helpful, and I might do a haircare overview entry soon! 
Hope this has been helpful, and thanks for reading!