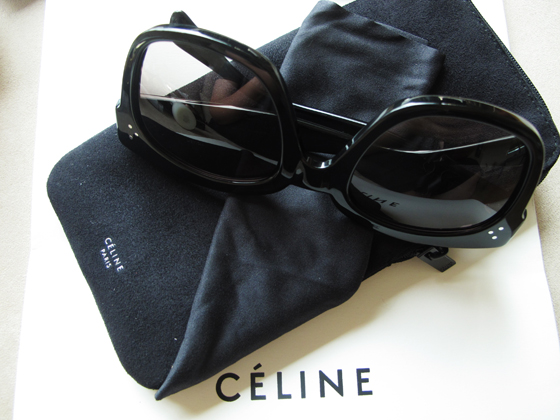 One of my bigger purchase in Hong Kong is this pair of Celine shades.
To be honest, it is purely accidental!  
I was browsing at Harvey Nichols last week, and I was trying on this pair of Tom Ford shades.. and contemplating it.. then I walked around the eyewear section, and saw their selection of Celine shades.  I had tried them on before at the Celine store in Singapore.. but all the designs felt stiff, heavy and didn't fit my face.  That's before this release of NEW eyewear for 2013.  So basically, this pair of New Audrey is a updated version of the existing Audrey (an image search of 'Celine Audrey' will throw up lots of images of fashion bloggers and celebs wearing it, fyi) the important thing about the NEW Audrey is that it is wider, and it fits my face, and is in a classy style that I would be able to wear for a long time to come. 
I probably modeled it for quite some time at Harvey Nichols, and the sales associate was extremely helpful (his name is Arthur) he was not pushy, but politely informative.  I didn't eventually buy it at HN, because they had a brown pair, and a olive green pair.. but I didn't want to make a purchase on the spot.  I wanted to sleep on it, and besides it was the first day I reached HK, and I had the whole week to contemplate further. 
Then a couple of days later, I was at the Celine store at Landmark (lousy staff by the way) again, they had only the brown pair and I also tried on this other pair which is edgier.. two toned lenses.  But I posted pics of me wearing both pairs on my Instagram, and an overwhelming over 40 people 'voted' for the New Audrey... heheh so when I was at the Celine store in Harbor City, and I saw the NEW Audrey in BLACK... that totally won me over. 
I usually prefer black shades... they just go better with my coloring, my black hair, fair skin... a brown pair would be a little out of place I think.  
So, I took the plunge and bought the NEW Audrey --- I think this is prolly my 5th sunglasses purchase this year (black Ray Ban aviators, two pairs of HOH, and Elizabeth & James Fairfax....gulps) I am really a sunglasses addict!  
Here's the link to the shades at Harveys Nichols online store (sold out currently, and at 200 pounds!!  OMG)
Model number is CL41805/S/New Audrey
I paid HKD2030 which is about SGD330.  All the Celine shades I tried on in Singapore including the 'old' Audrey retails for over $400.... so I thought the price in HK seems to be really attractive.  
p/s I also love the suede slim case for the shades.  I am so sick of all the bulky boxes that come with my Dior and HOH shades. This Celine case actually fits into my bags so nicely! 
More close up pictures: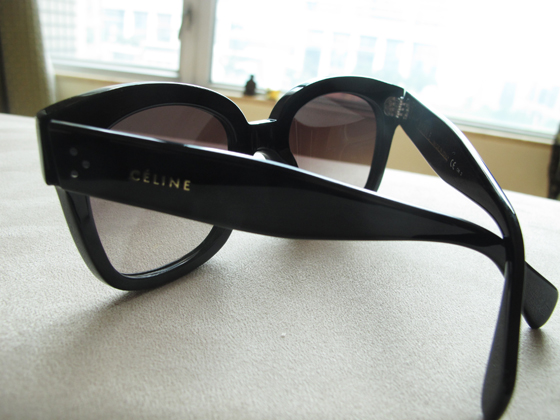 I seldom pick shades with such thick arms... but this is really nice and classy!   
It has graduated maroon lenses, and also polarised, if I am not wrong.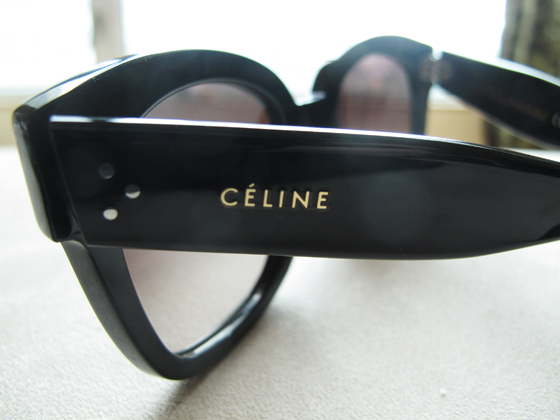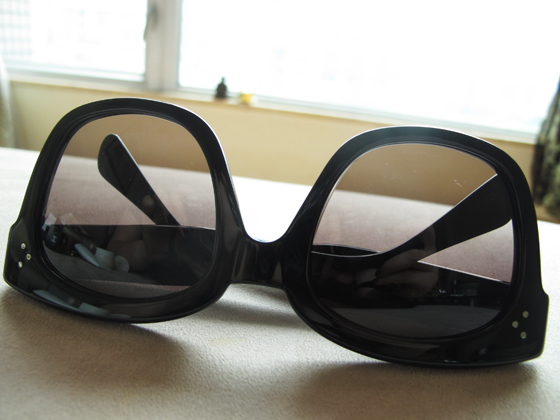 and here's how it looks like on me:  With and without makeup! 
I love that it covers my eyes sufficiently... covers this random zit on my nose.. hehehe.  Very useful!
my slightly blotchy just woke up face..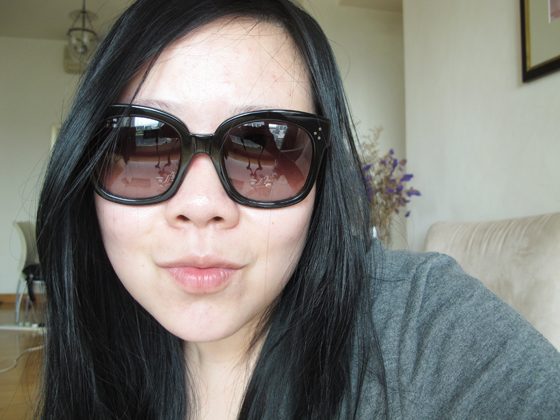 all dolled up and ready to go!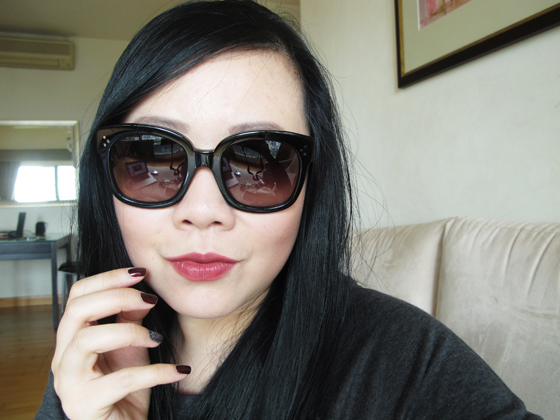 Obviously, the Audrey shades is named after Audrey Hepburn.... see this image here from Breakfast at Tiffanys - I definitely don't have her pixie shaped face, but I think it suits me too!
Hope this rambly post about my fave accessory (after armcandy) is useful... and thanks for reading!