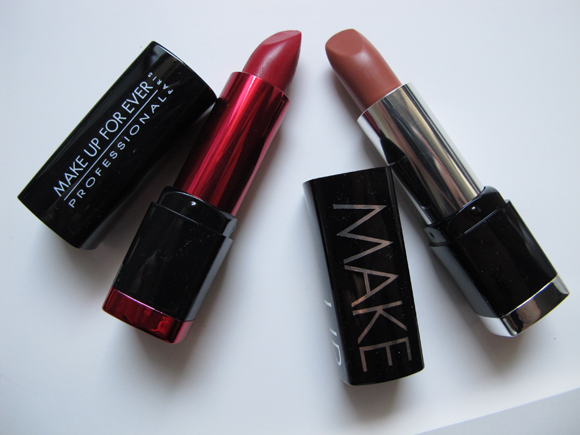 Hi!
This entry will feature the second edition of MUFE's rouge artist lipsticks.  Dany Sanz, wanted to showcase the profusion of colors in this collection.  More than ever before, ROUGE ARTIST is a real artist's palette in which makeup expresses itself and turns into an experience.  Beauty becomes one with creation in an array of lipsticks in every tone.
I have one each from each series, the ROUGE ARTIST NATURAL and the ROUGE ARTIST INTENSE to showcase here.  I already own a couple of the Rouge Artist intense lipsticks, and they are really smooth and some of the most pigmented lipsticks in my collection.
What's the difference  between ROUGE ARTIST NATURAL & ROUGE ARTIST INTENSE?
Rouge Artist Natural
Avant-Garde Lipstick, Sheer Transparency
It is inspired by a return to naturalness, a key trend for spinrg 2012, focusing on fresh, vibrant tones in wardrobes and vanity cases.
The result: an astounding choice of shades that are as striking as ever, in an ideal sheer texture to spark inspiration.
Lipstick becomes playful with fashion colours.
Dresses lips in crystal clear shine.
Naturally enhances the radiance of the lips.
Rouge Artist Intense
Supreme pigmentation, supreme coverage, immediate seduction.
Real lipstick, with lasting hold.
Object of desire and femininity turns lip makeup into an art form.
Melt away texture, and extreme colour result.
A formula saturated with pure colour pigments, a creamy formula and dazzling shades in a variety of finishes, matte, satiny or pearly.
Comes in 100 shades! (WOW)
From the most classic to the most extravagant colours, from the most natural to the most sexy.  A hint of nude or passionate red.
I have two shades here:  some product close ups.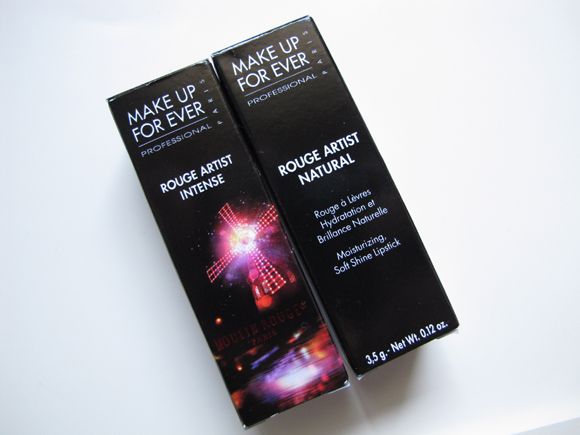 MUFE Rouge Artist Natural No.5 is a NUDE BEIGE. My lips but better shade.  It is nude, but the kind of nude that will suit most skintones, it is not the concealer like kind of dull pale, but a glossy natural looking lipstick shade.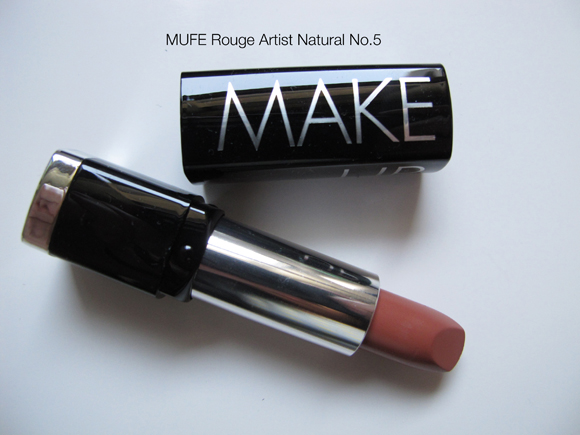 MUFE Rouge Artist Intense in the shade MOULIN ROUGE - and well, it is a sexy seductive red, like what the girls of Moulin Rouge would wear on stage during performances.  It is a true red leaning with cool undertones.  I think it suits me, deeply intense red.  Takes a little bit of guts to pull this off for sure.  
I can imagine my sister rocking this lipstick, because she is all about the red lips.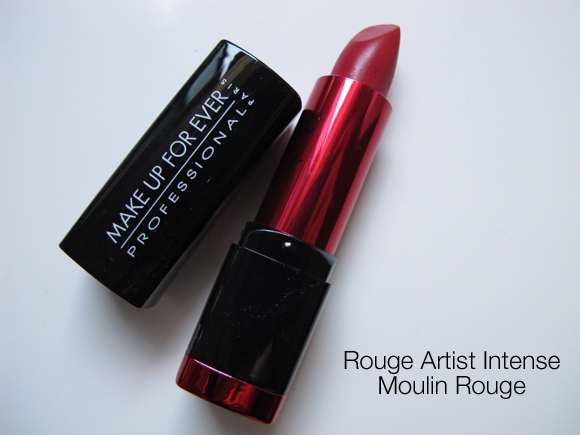 Lip Swatches & LOTDs
Comparisons of NUDES & REDS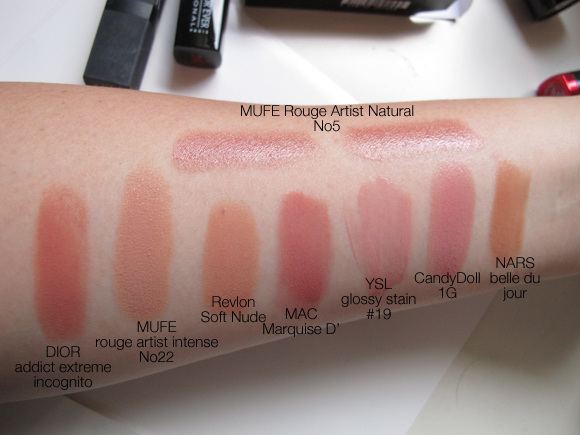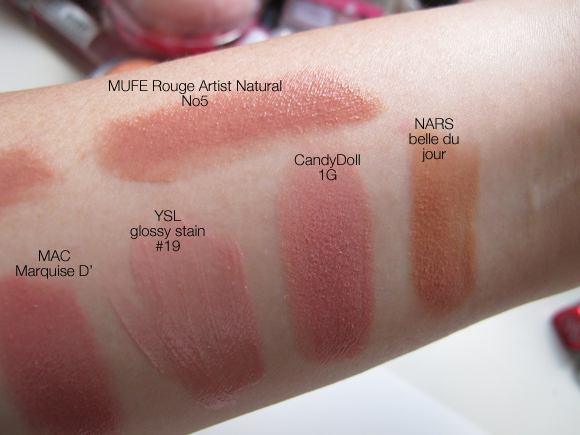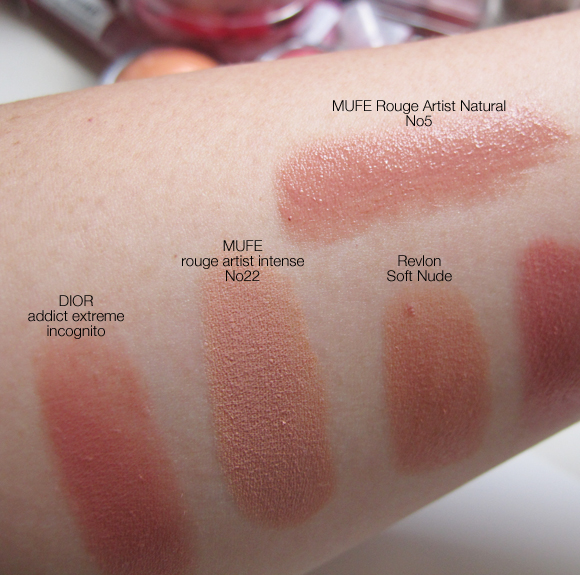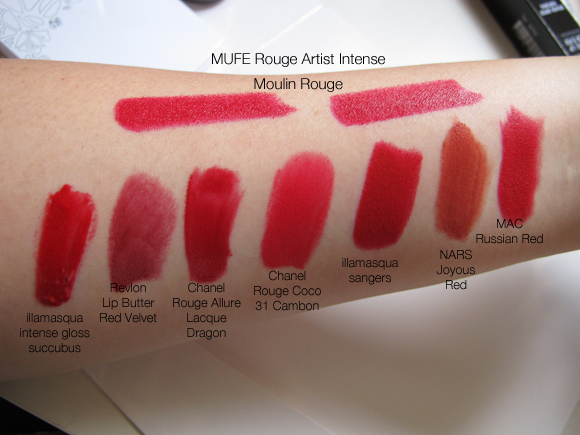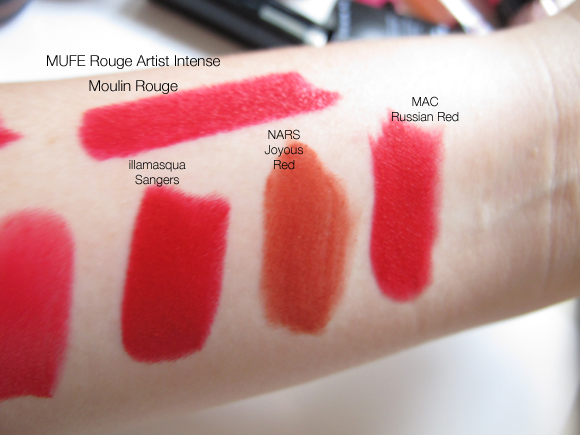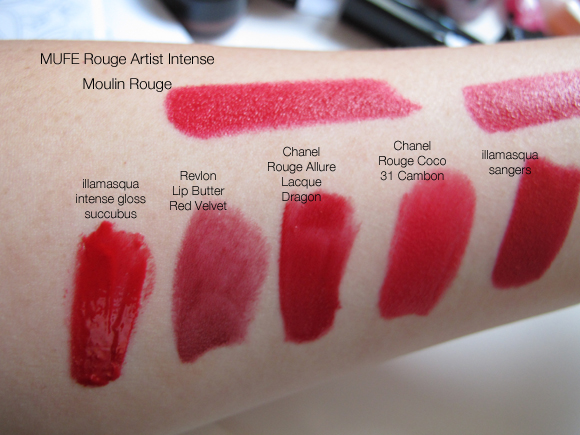 Some shots I snapped during my meeting with the MUFE PR Manager, Sabrina
It was just lipsticks GALORE!
That's all, and I hope this has been helpful!