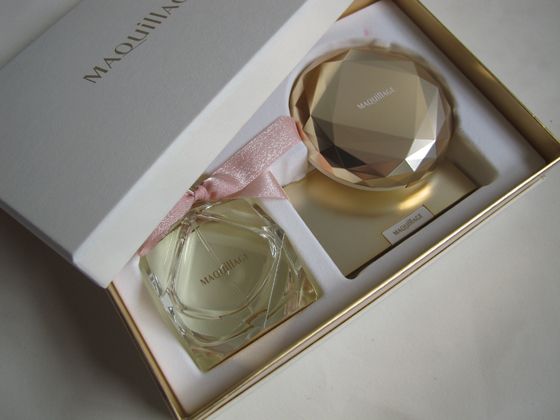 This year, MAQuillAGE releases the 2012 Aura Veil collection, the set consists of a scent, the aura beauty powder and a true rouge palette.  This set retails for S$150 at all MAQuillAGE counters.  In this entry, I will bring you through the items in the set, and also a quick comparison of the aura beauty powders from this year and the 2011 version (and why you need both of them!). 
Click here to view the 2011 Aura Veil powder. 
First, we have the perfume, I think it smells elegant, foral, quite sweet and very easy to wear.  It contains 30ml of product.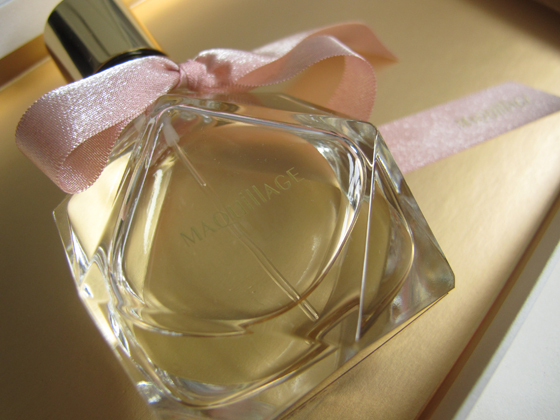 Then, we have the True Rouge palette, which contains 3 of their most popular shades of True Rouge.  It is a glossy formula, very moisturising and wearable (all versions of the my lips but better shade).  The 3 shades are enclosed in a ultra slim card-case type of palette, perfect to fit even in the tiniest purse you are carrying. It also comes with a lip brush and a mirror for easy application.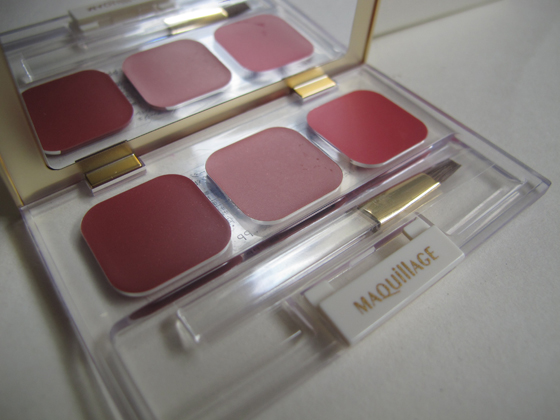 swatches: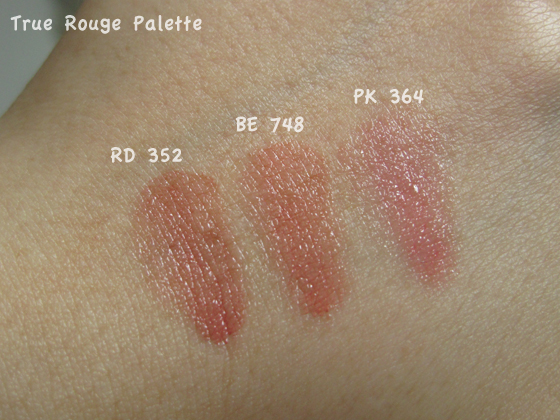 And lastly, the star of the Aura Veil collection - the Aura beauty powder.  This year's compact is significantly smaller than the 2011 version.  I will go into more details in a bit. 
The powder has 8 shades - you can use them individually as eyeshadows (though I personally find it too powdery and pastel as eye colors), and swirl them together to powder your face.  The powder is extremely fine, and soft, and when swirled together, and dusted on your face, gives an ultra smooth effect.  I often use the 2011 Aura powder to blend out a too harsh blusher, and to dust it at the top of my cheeks for an air-brushed look.  It is pretty lasting and I really do wish it comes in a smaller compact so I can bring it along when I travel or pop it into my makeup bag. 
The 2012 Aura powder contains 9g, and looks exactly like the 2011 Aura Veil which contains 23g of product.  Both are made in Japan.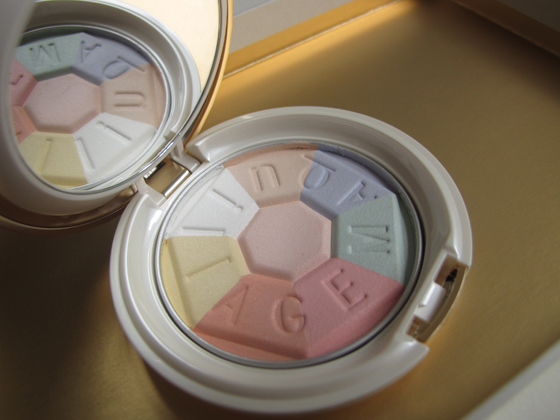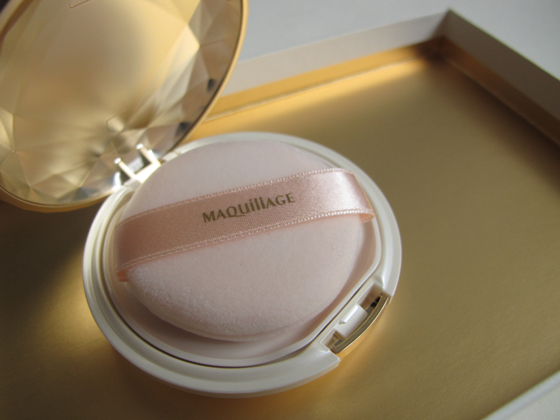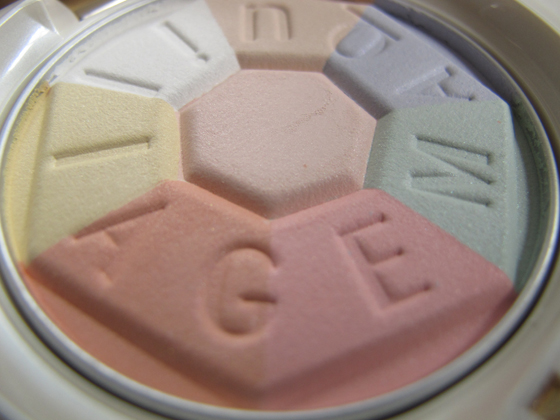 I have swatched both the 2011 and 2012 versions side by side. 
I have also featured the 2011 Aura Veil in detail in this entry here. 
You can see the difference in the size of both powders here. 
The 2011 beauty comes in a black casing with jewels encrusted on the cover, while the 2012 beauty has a matte golden faceted casing. 
Both come with a powder puff.  The 2011 version also comes with a 'grinder' which you can use to 'crush' the powder and apply it like a loose powder.  It also comes with a stiff brush which you could use to pick up each area of the different shade.  (refer to my entry on the 2011 powder for pictures of everything in action). 
The 2012 version is obviously more travel friendly, and I would love to pop this in my bag when I want to use it for touch ups.  I have mentioned it at the start of this entry, but this powder really gives a beautiful soft lit glow to your face.  It makes your skin looks really fair and smooth, and this is one of the reasons why I love it so much.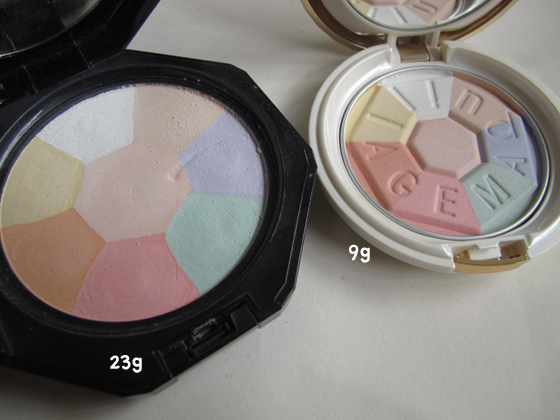 Swatches
As you can see, both swatched exactly the same.  It is mostly translucent after you blend it out, and it is perhaps half a shade lighter than my skintone, and it imparts a brightening glow to my skin.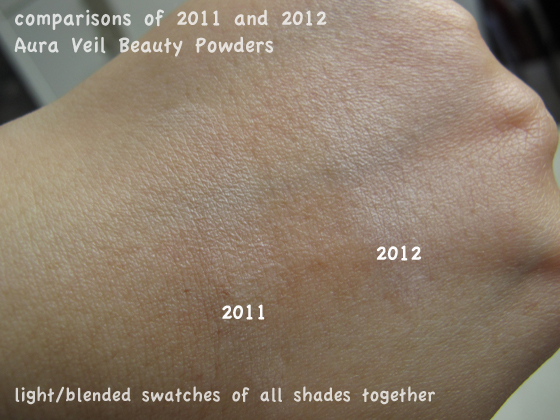 Even though this year's set may seem more expensive ($10 more to be exact) for less product, you are getting a decent sized perfume, and the True Rouge palette.  And the 2012 compact is really more travel friendly, something I really appreciated, because previously I couldn't imagine carrying around the bigger 23g compact around. Now, I can use the bigger one at home, and use my new Aura compact for when I need to freshen up my face.
Overall, if you love pretty face powders that make your face look smooth & fresh (and if you miss out on last year's set), you need the Aura Beauty powder.  It makes for a lovely gift set, and I highly recommend it. 
Hope this overview has been helpful and thank you for reading!