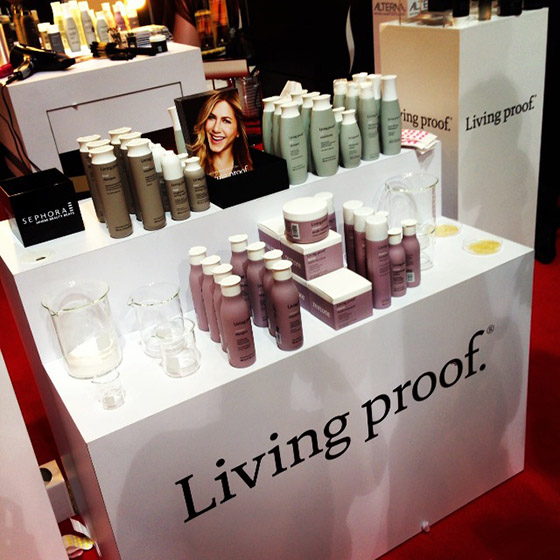 "Living Proof is built around the scientific principle I've always believed in: that if you can find the root cause of the problem, you can solve it."
– Dr. Robert Langer, Living Proof founding scientist
At Living Proof, we challenge conventional wisdom and approach problems differently. Founded by Dr. Bob Langer (an MIT institute professor and one of history's most decorated scientists), expert stylists, and venture capital firm Polaris Venture Partners, we invent and patent breakthrough technologies to solve the world's toughest beauty solutions.
Headquartered in Cambridge, Massachusetts in the heart of biotech, we bring together scientists from a diverse spectrum of disciplines from Biotech and Pharma, including cancer biology, chemical engineering, polymer science, organic chemistry, materials science, and pharmacology.
As the founding scientist of Living Proof, it was Dr. Langer's analysis and insight of existing beauty products that revealed the extent to which the industry relied upon outdated technologies and frequent use of similar ingredients only to yield insufficient results for consumers. Dr. Langer believed that he could leverage his technologies at MIT to not only disrupt the status quo of the beauty industry but also deliver innovative beauty solutions that would keep their promises and genuinely deliver results.
By using technologies from outside the beauty industry, Dr. Langer and the Living Proof scientific team were able to invent new molecules that led to the development of No Frizz featuring the biggest breakthrough in anti-frizz technology in 30 years and the creation of entirely new categories in hair care with inventions like Prime Style Extender which promises to preserve hair styles for up to 2x longer.
At Living Proof, we believe that beauty and brains are the best formula. In October 2012, Jennifer Aniston joined Living Proof as co-owner and haircare spokesperson. Her longtime hairdresser, Chris McMillan, joined as Living Proof Celebrity Stylist, rounding out a group of illustrious stylists from the editorial, celebrity, and salon disciplines. 
Products Range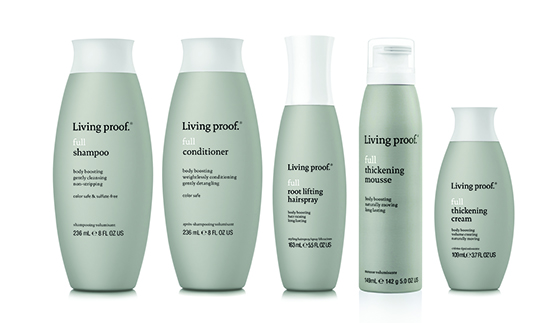 LIVING PROOF FULL: BODY AND VOLUME THAT LASTS 5X LONGER Proprietary technology based on research from MIT creates microscopic pattern of thickening dots, making hair look and feel more full
Flat, limp, lifeless hair is a significant concern for many women – it's the result of each strand being so smooth and fine that they lay flat, one strand on top of the other. Any woman that suffers from this hair type knows what she's up against – hair barely responds to styling and gets easily weighed down by dirt, oil, and styling product build-up. 
The collection:  All of the products in this award-winning collection are silicone- and oil-free and safe for color and chemically treated hair. 
Full Shampoo

Sulfate-free 
Removes any trace of dirt or oil without stripping the hair
Available in two sizes: $24 (8 oz), $12 (2 oz)
Full Conditioner
Detangles and conditions hair weightlessly
Formulated specifically to care for fine, thin or lifeless hair
Available in two sizes: $24 (8 oz), $12 (2 oz)
Full Thickening Cream
Long lasting and revivable
Light conditioning
$26 (3.7 oz)
Full Thickening Mousse
Long lasting and revivable
Light hold
$26 (5 oz)
Full Root Lifting Spray

Gives lift and height
Results last all day

$26 (5.5 oz)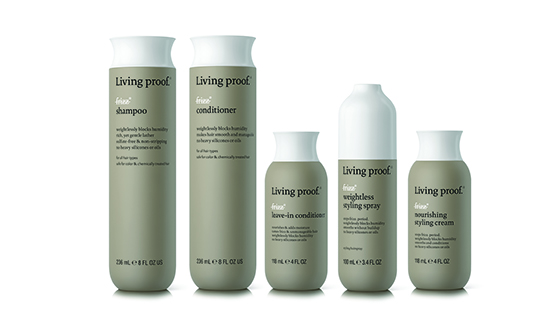 LIVING PROOF NO FRIZZ: THE BIGGEST ANTI-FRIZZ BREAKTHROUGH IN 30 YEARS
Proprietary technology blocks humidity 70% better than silicones, the most commonly used frizz-fighter
Plenty of products claim to fight frizz yet none of them fully live up to their promise. Why? In examining all the products on the market that claimed to guard against humidity and frizz, the scientists at Living Proof discovered something curious – they all contained the same key ingredients to fight frizz, silicones and oils. In 30 years, there had been little to no innovation when it came to battling humidity. No wonder women weren't happy with their hair. 
The No Frizz collection: All of the products in this award-winning collection are silicone- and oil-free and safe for color and chemically treated hair. 
Sulfate-free
Removes any trace of dirt or oil without stripping the hair
Available in two sizes: $24 (8 oz), $12 (2 oz)
No Frizz Shampoo

Makes hair more smooth and manageable
Available in two sizes: $24 (8 oz), $12 (2 oz)
No Frizz Leave-In Conditioner
Nourishes and adds moisture
Detangles
Tames frizz and smooths flyaway
$24 (4 oz)
No Frizz Weightless Styling Spray

Lightweight oil-free, silicone-free spray that blocks frizz
Well-suited for fine hair
 Apply liberally to damp hair before styling

Available in two sizes: $36 (6.7 oz), $26 (3.4oz)

No Frizz Nourishing Styling Cream

Weightlessly blocks humidity
Nourishes and conditions
Apply liberally to damp hair before styling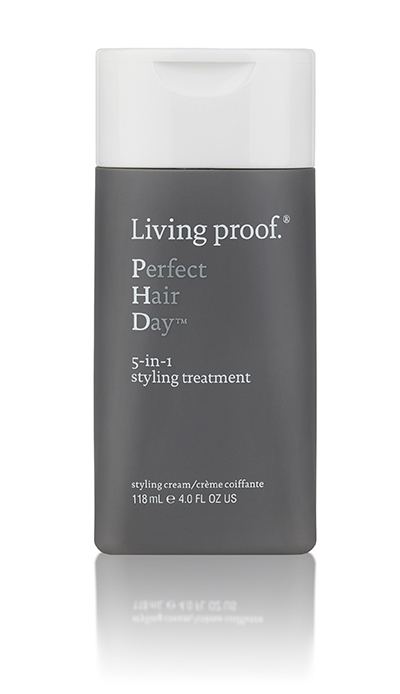 LIVING PROOF PERFECT HAIR DAY (PHD) = PURE STYLING GENIUS
Style meets treat in one powerful solution offering
the 5 benefits needed for a perfect hair day, every day.
The Living Proof scientists have a simple mission: to use advanced biotechnologies to deliver more good hair days. But what does a perfect hair day even look like? Women surveyed repeatedly named the same 5 elements: smoothness, volume, conditioning, fighting breakage and damage, and shine. And for most women, these elements never come together – they have to choose between products for styling their hair and treating it. 
Introducing Living Proof Perfect Hair Day (PHD), a 5-in-1 Styling Treatment that delivers all the benefits you need for a perfect hair day. For the first time, you can have the conditioning and reparative benefits of your favorite treatment product along with the smoothness and volume you get from a styler. In fact, women who used Living Proof PHD Styling Treatment saw a 69% reduction in breakage compared to untreated hair, and 80% of women said it gave an ideal balance of volume and smooth.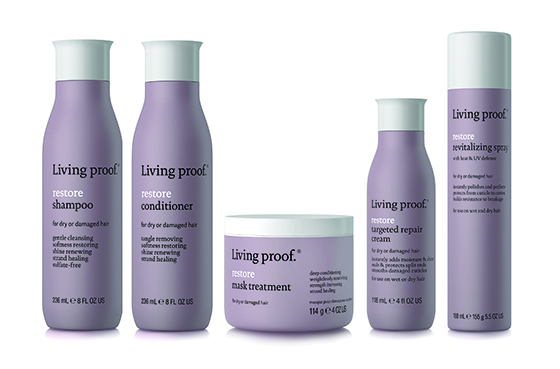 LIVING PROOF RESTORE: THE FIRST NO-COMPROMISE SOLUTION FOR DRY, DAMAGED HAIR
Silicone & Oil-Free Instant Solution to Break the Cycle Damage Hair is 20x More Resistant to Breakage 
The collection
All of the products in this award-winning collection are silicone- and oil-free and safe for color and chemically treated hair.
Restore Shampoo
Sulfate-free, silicone & oil-free
Lather-rich formula removes any trace of dirt or oil without stripping the hair
Available in two sizes: $24 (8 oz), $12 (2 oz)
Restore Conditioner

For everyday, silicone and oil-free conditioning of dry or damaged hair that helps keep hair cleaner, longer while reducing the need to shampoo and style as frequently
Available in two sizes: $24 (8 oz), $12 (2 oz)
Restore Mask Treatment
Protects hair from up to 95% breakage with one use weekly
Silicone and oil-free treatment that corrects and protects each strand weightlessly,increasing strength, manageability and shine without heavy, greasy residue
Available in 3 sizes: $28 (4 oz), $42 (8 oz)
Restore Revitalizing Spray
Ultra-lightweight revitalizing spray for use on wet and dry hair that instantly polishes and perfects dry or damaged hair while also defending against heat and UV damage
Applied to dry hair, Restore Revitalizing Spray protects against UV protection for up to 12 hours
$26 (5.5 oz)
Restore Targeted Repair Cream
Lightweight, leave-in cream for use on wet and dry hair that instantly adds shine, smoothes cuticles and repairs split ends
Offers 93% protection from breakage and protects hair from the damage of styling and harmful UV ray
$28 (4 oz)
Restore Recovery Regimen ($38)
For intensive hair repair and superior strengthening of extremely damaged, over- processed hair
Use once per day for extremely damaged hair, or once per week for moderate damage
LIVING PROOF STRAIGHT: SLEEK HAIR WITHOUT SILICONES OR NOXIOUS CHEMICALS
Proprietary technology gives you straight, smooth hair without build-up or residue 
Women who want a straight style often go to great lengths for their hair – sometimes resorting to products that are damaging to their hair or carry health risks. Frankly, we believe that smooth hair shouldn't come with a health warning. Enter: Straight.
The Straight solution
Living Proof scientists developed Straight, by creating an aerosolized version of OFPMA, their patented and proprietary humidity-blocking molecule. Straight is optimized to style wet hair, as well as to apply on dry hair to extend and protect the style for as long as you want.
Can be applied to wet hair to style straight with sleekness, smoothness and shine

Complete humidity protection, so hair won't revert back to waves or curls

Anti-build up: no oils, silicones or resins, so reapplication to dry hair won't make hair greasy or limp

OFPMA also repels dirt and oil, so you can go longer between shampoos

Straight is safe, contains no toxic chemicals, and will not damage hair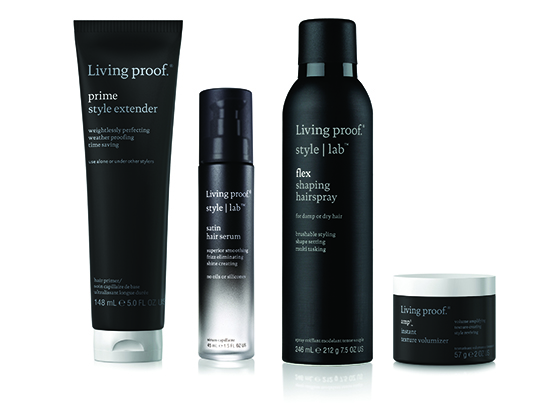 Where cutting-edge style meetings cutting-edge science
Bringing together leading trendsetters in celebrity and editorial hairstyling with its team of world-class scientists, Living Proof has developed the next generation of high-performance styling products that combine cutting-edge science with cutting-edge style.
Living Proof's Style Lab Collection is pushing the evolution of styling forward by combining the brand's patented technologies with the creative vision of the Living Proof Style Team, a collective powerhouse that includes Ward Stegerhoek, Living Proof co-founder and editorial stylist; Mitch DeRosa, Living Proof co-founder, stylist and salon owner; Chris McMillan, Living Proof celebrity hairdresser; and Tim Rogers, Living Proof creative director and stylist. 
Website: livingproof.com
Facebook: facebook.com/livingproofinc Twitter: @livingproof
Pinterest: pinterest.com/livingproofinc