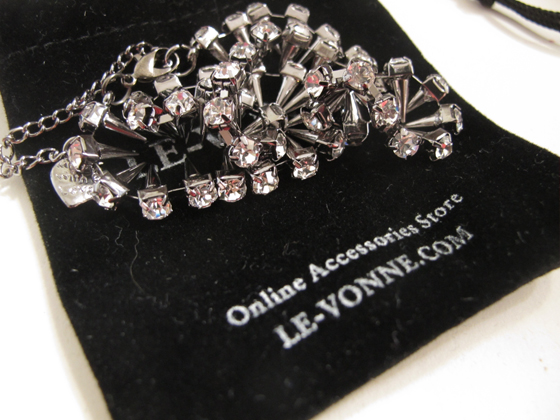 Hi everyone, 
today I am sharing with you the latest arrivals from Levonne.com, and also how five of you can stand a chance to win 3 pieces of your choice from the Levonne store!  
Firstly, let me say that I love everything that I am going to show you here.  They are spiky and blingy, totally my style!   If you like what you see, be sure to head on over to the Levonne store, and pick out your favourite pieces. 
<a href="http://levonne2012.storenvy.com/products/798678-tiny-skull-necklace-gold" target="_blank"><strong>Tinyskull Necklace USD10 
</strong></a>This necklace also comes in gold plated version.  I like that the skulls are the 'cute' ones, and they are dainty enough to be worn even with the most girly outfits.   Each of the skull piece is also very smooth and light reflecting, as you can see in the pictures below.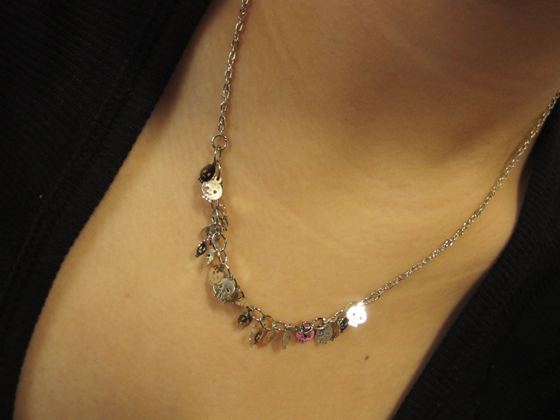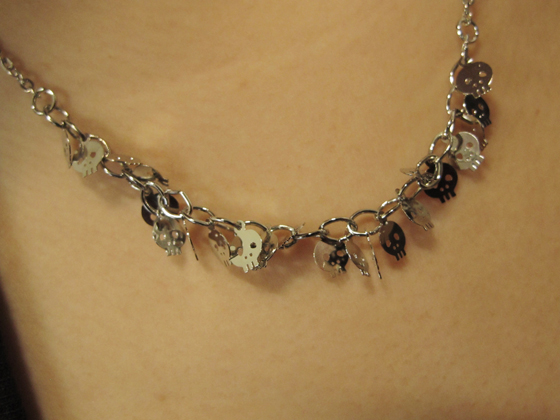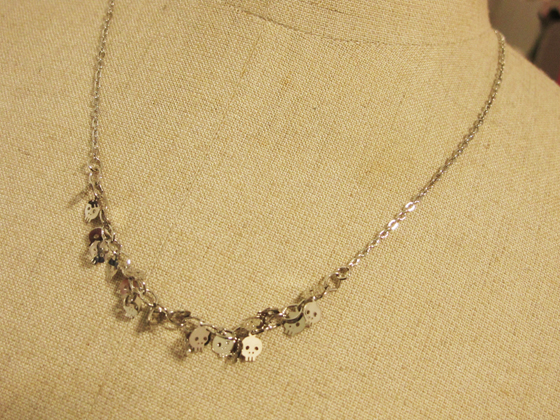 <strong>Spikes Necklace  USD12   35cm
</strong>I have seen similar spike necklaces like this at Topshop (more expensive, at about $39 if I remember correctly).  This can  be a statement piece worn with a black dress, or when you are wearing something casual like a white tee and jeans.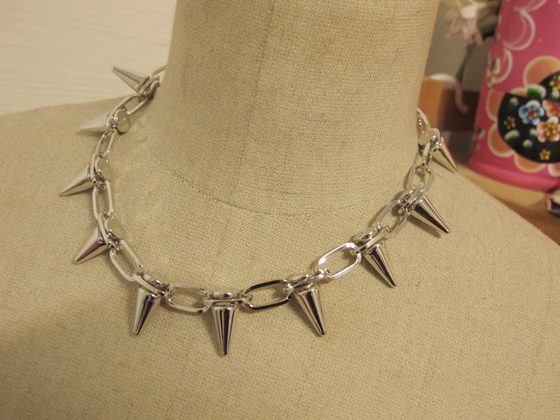 close up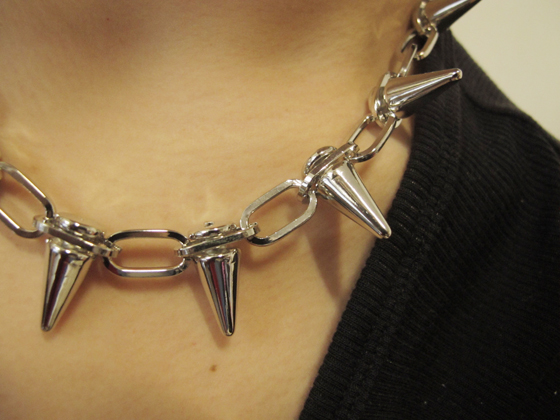 Spikes Crystal Necklace USD12  40cm
I love this piece.  It is both bling, and spikey.  Unlike the previous spikes bracelet, the spikes on this necklace are smaller.  It can be quite a dressy and interesting accessory to your outfits.  I would wear this as a bracelet too.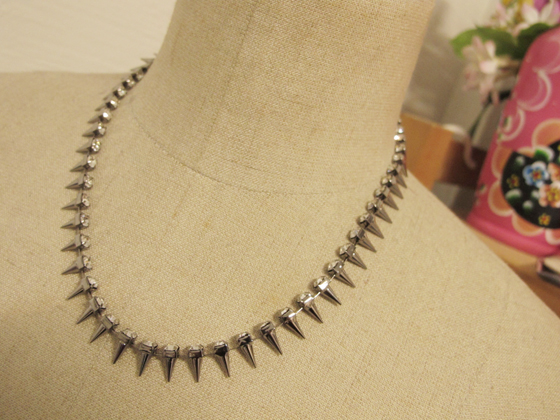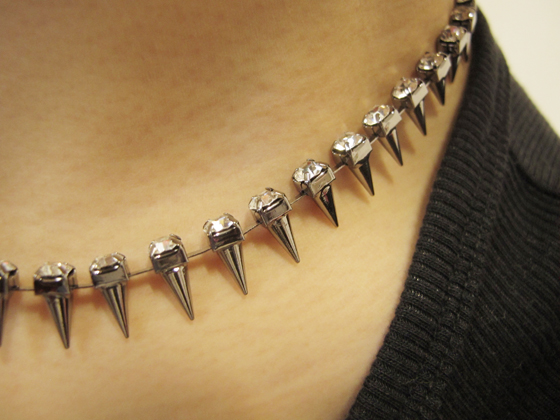 Spikes Necklace worn as a bracelet.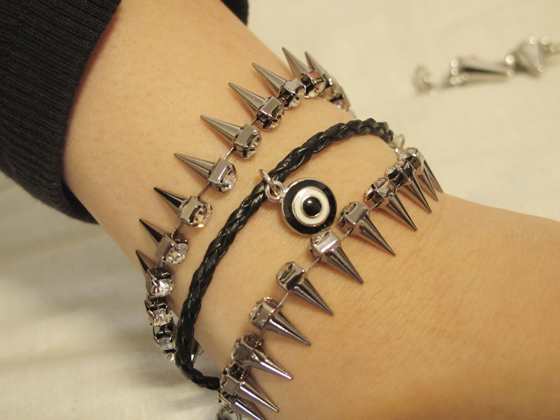 Spikes bracelet & Handcuff bracelet
Both make great layering armcandy, don't you think?  The spike bracelet, though look chunky, is not too heavy to wear.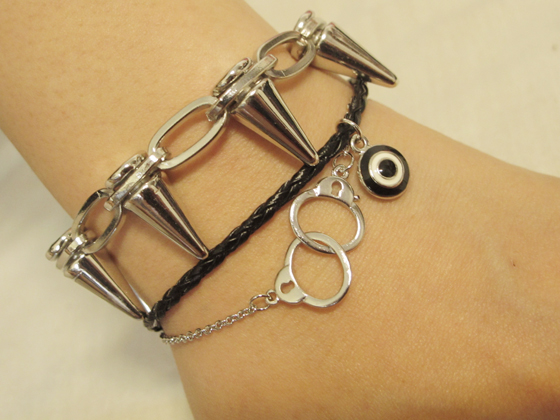 This is my fave piece, and many of you have commented about it on instagram... 
The black belt bangle USD12 (comes with 3 adjustable clasps, range from 6-7cm in diameter)
It is so classy, and so chic and I would wear this with most of my armcandy pieces too.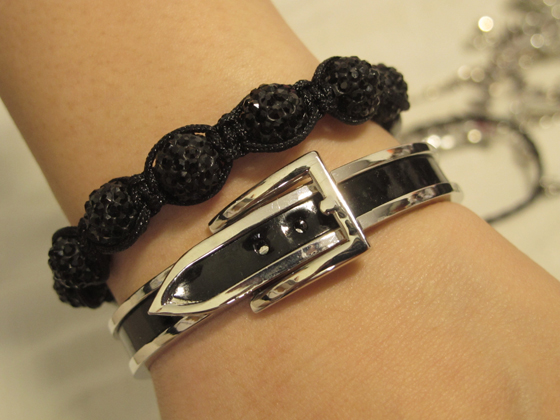 Black belt bangle (comes in white too) also goes well with the spikes necklace worn as a bracelet.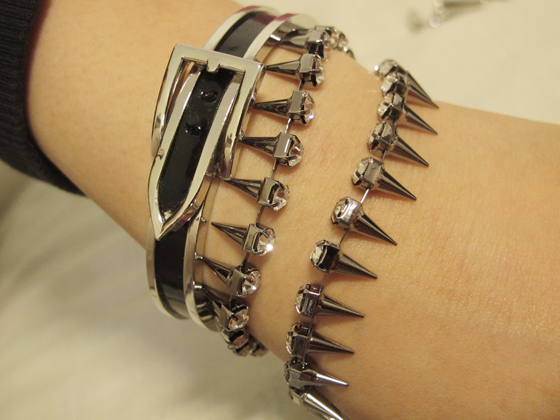 Unicorn earring USD9 (currently sold out)
Shown here on my sister, it is very interesting, but I thought the front half of the unicorn is a tad too heavy, and it dips too much forward when worn. If you are into these statement earrings, there are plenty more designs available at the store too.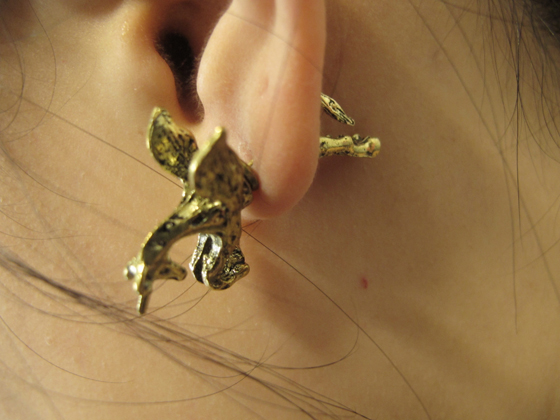 And now for the exciting part, the GIVEAWAY.  
Levonne has very generously sponsored five prizes which I will be giving away on the blog.  It will be open for more than a week, starting today, and ending on the 20 Dec.  I will pick the five winners when I come back from my HK trip.   The giveaway is opened worldwide, and you get to pick your own prizes! 
Here's what you need to do to stand a chance:
Terms & Conditions:
1. Giveaway is open worldwide. </p> <p>
2. Deadline 20 Dec 2012.</p> <p>
3. Winners will be picked randomly from each category of comments (3 winners from Singapore, 2 from rest of the world) </p> <p>
4. Each winner get to pick 3 items they like from the Levonne Store. (link here)</p> <p>
5. I will contact each winner via email. Winners must respond within 48 hours, after which I will pick someone else.</p> <p>
6. Here's what you need to do: </p> <p>Follow my blog on Bloglovin (just click on the bloglovin logo at the sidebar and start following)
'Like' the Levonne Facebook page (link here) and stay updated on their latest arrivals. 
Pick the 3 items you like and why you want to win them. 
Your overall thoughts on Levonne.
7. Enter only once, and use only the format below. 
Name/ Email: 
3 items I want and why:
My thoughts on Levonne: </p> <p>My Location: Singapore/ International
Good Luck!!