Hi hi! 
I did a look featuring the 3 products which I reviewed in my previous entry.  The eyeshadow quad is really gorgeous, and I used them wet in this look.  
I love a smokey blue eyes anytime, it is smokey without shouting COLORS and in this case, the overall look is quite sophisticated. 
Here is the color placement of the colors I have used: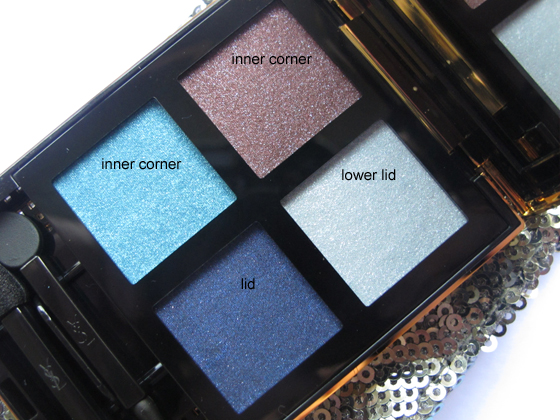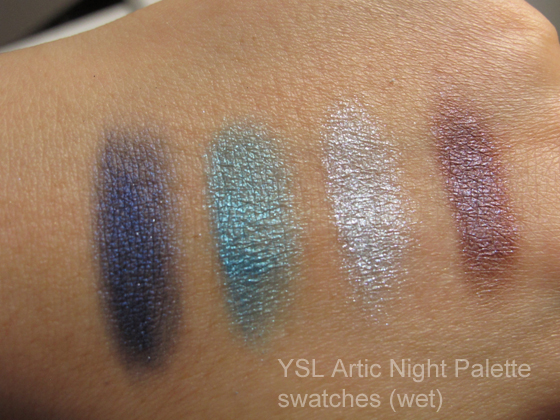 <strong>and a close up of the eyelook:
</strong>Some tips on using the colors 
1. For more intense color and application, I used the colors WET.  This ensures intense color payoff, especially on the lids, and when you want to line your eyes with the eyeshadow. 
2. Use the same color DRY over the areas where you have used it wet (let it settle a bit first) - this ensures that you add the shimmering texture back to the intensity of the eyeshadow, so you get a more multidimensional look. 
3. Use the colors dry when you want to blend the edges of the colors.  For example, I used the burgundy shade dry so I could still have the color, but it's great to blend it up to the crease. 
Play around using the eyeshadows wet/ dry to achieve your desired effect.  Just remember, wet means more color payoff, dry means ease of blending, and giving the colors more texture. 
Hope this bit helps! :)
and a close up of the cheeks - I used the radiant blush duo in 07, and also the Polar Night face highlighter.  As you can see, the blush is really not noticeable.. though I do like the soft glow that the face highlighter gives. 

<strong>The overall look:
All products used (all YSL unless stated otherwise)</strong>
Face - Touche Eclat foundation, Touche Eclat highlighters to brighten under the eyes
Eyes - NARS Primer, Artic Night Palette, Waterproof black pencil liner 
Lips - Glossy Stain 07
Cheeks - Polar Night face powder highlighter, Radiant Blush Duo 07

A close up of the nails I am sporting:
Part of this collection also includes the La Laque Couture in #33 Premier Neige topcoat, but this will not be available in Singapore (a shame, because it is really quite gorgeous).  It reminds me of the Northern Lights holographic topcoat which I have, but here I tried to dupe the general look with my Inglot glitter topcoat (XL06), painted over NARS Tokaido Express.   
Do check out Eugenia (Ommorphia) who has an excellent entry featuring the Premier Neige topcoat.
Hope you enjoyed the look, and thank you for reading! 
Happy Friday!