Hi!
I need to put my Lhasa to use, because my girlfriend says she LOVES it, I haven't had much time during the week to do any decent eyelook,  And I also wanted to use my YSL Glossy Stain, but because this eyelook was turning out to be quite dramatic, I decided to use a nude lipstick OVER the YSL stain instead -- which made the whole lip combo LASTED THE WHOLE EVENING AND NIGHT!
Useful links:
CandyDoll nude lipstick entry here
What I did - all products used will be listed below:
I swept Lhasa eyeshadow all over my lids - it is a rather purple-y and yet sort of silvery brown/taupe eyeshadow, and then I decided to take it further by using a darker shade to add more depth to the outer corner of the eyes.  Before I know it, the eyelook was turning out to be quite the full-blown smokey eyes.
I wanted to keep it very clean nonetheless, hence I left the lower eyelids all bare.
Strong brows to pull the whole look together for me.
I slapped on my CandyDoll nude lippy to neutralise the YSL Glossy Stain, and the end results is this bright pop of pink that somehow matches my eyes and my top for the day.
All products used:
base - Laneige BB cushion, Shu Uemura Smooth Fit foundation, Shiseido white lucent brightening skincare powder (this deserves another entry!)
cheeks - NARS Torrid blush
lips - YSL Glossy Stain #11, and Candydoll nude lippy in Ramune Pink
eyes - MUFE eyeshadow primer, NARS Lhasa all over the lids, MAC Bloodline pigment for outer corners
Lashes Shu Uemura Farfarlina
Printed top from River Island
I styled my damp hair with Bumble & Bumble styling lotion (for some volume and slight hold) and then used my GHF flat iron to straighten and smooth the hair.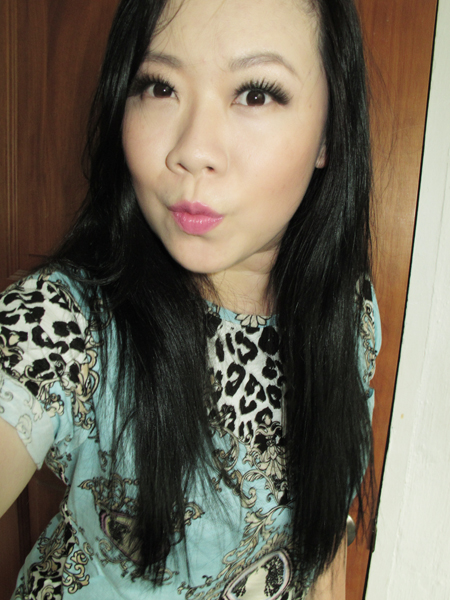 as seen on instagram
That's all, and thanks for looking!