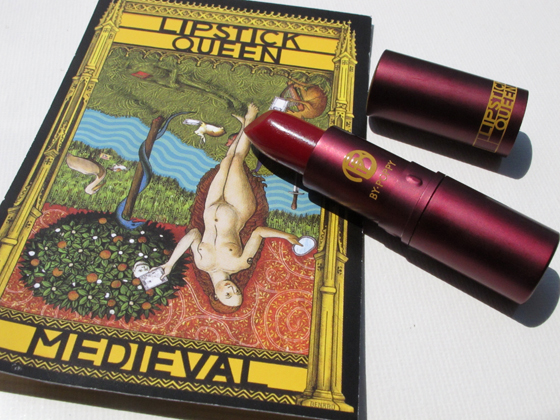 HI! 
I ordered Lipstick Queen Medieval from Barneys NYC when they had the free international shipping.  I think this lipstick retails for USD20, if I remember correctly.  The packaging, and the color description really appeal to me, and it wasn't too pricey, so I decided to get one to try out.  If I am not wrong, not all the lipstick queen lipsticks are this sheer.. but this one is supposed to make your lips have that just bitten, reddish healthy look, kinda like you just came indoors from the cold air outside (though this is currently VERY difficult to imagine in Singapore haha). 
I enjoy this lipstick because it is so wearable, it glides on your lips like a lipbalm, and since the color is sheer, it's quite easy to wear, and you don't really need to apply this lipstick while looking at the mirror.  It is not drying, and is really a neutral red that suits most skintones. 
 is going back to Medieval times,
when full coverage lipstick was considered a sin.
Instead, women used lemons to stimulate the lips and stain them a see through blood red.
I have recreated this very sheer flattering look in one simple universal shade that suits every skin tone and is chic as it is comfortable. It doesn't even look or feel like you are wearing lipstick. It looks like you naturally have gorgeous swollen cherry lips.
Gorgeous Swollen Cherry Lips?  Yes, please, I want!
Love the packaging (the illustration, and the lipstick itself)
I have other sheer lipsticks, and I think the Clinique Almost lipsticks are the closest match to this particular lipstick. 
More pictures - love love mad love the tarot looking card!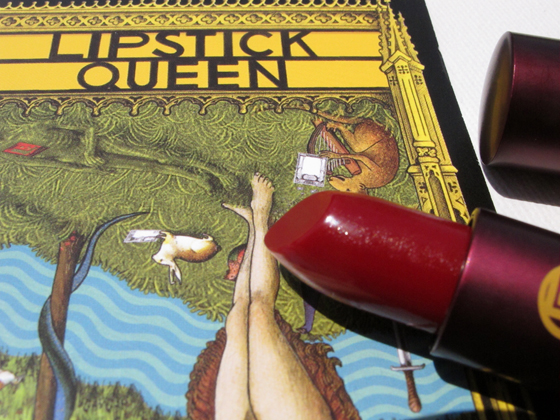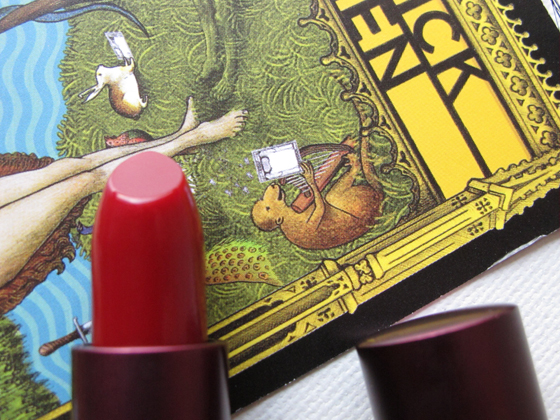 swatches: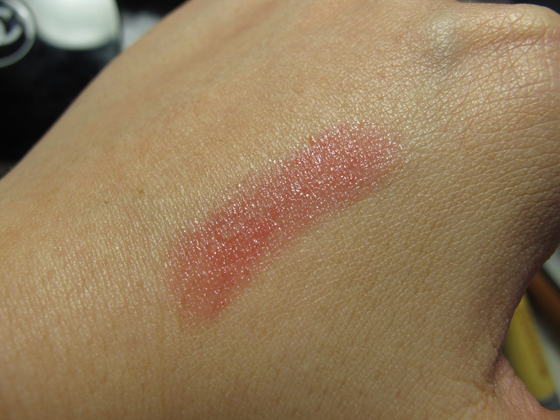 and a quick LOTD
products used (I just used my current fave makeup products)
base: Ettusais BB cream Gorgeous Cosmetics perfect base foundation, Chanel loose powder
concealer: Laura Mercier secret camouflage 
cheeks: Illamasqua Hussy, Sleek Glo face highlighter, Dior Nude Tan Aurora 
lips: Lipstick Queen Medieval 
liners: Solone Red Wine, Heavy Rotation Liquid Liner
eyes: NARS primer, Gorgeous eyeshadow palette 
Have you tried lipstick queen before?
That's all, and thank you for looking!
I have another red lip entry coming up soon, stay tuned!