Hi hi!
A few sharp readers have noted the laspe in frequency of entries lately...I have been doing a pattern of weekend spams, and then remaining relatively quiet on the blog front during the week... but if you follow me on instagram, you probably have a pretty good idea of what entries will be coming up next.  However, it's just a little hectice on the work front for me to update as much, and there are days when I feel just a bit overwhelmed, and don't know where to start. Hope to be more 'regular' and catch up in the coming couple of weeks ahead.  :)
This entry is about this LOTD which I quickly did (in less than 30 minutes) when I visited Sarah together with Joey during EID yesterday.  Rummaged through my drawers, and somehow I always come back to my NARS duo eyeshadows when I want to do something 'different'.  
Just a brief description on this eyelook (since it is slightly more complicated than my usual one color all over look). 
I used the lighter shade in NARS Tzarine duo on my browbone...The dark antique gold shade in NARS Rajasthan on the inner corners, and the darker blacken teal shade on the outer corner, and just blend out any areas where two colors meet. Rest of the look is kept rather simple, but quite excited, because I used a mineral powder foundation, and I am quite liking the coverage and effect!  All products used will be listed at the end of this entry. 
all products used: 
face - Elizabeth Arden Pure Mineral foundation (shade 01), Laura Mercier Secret Camouflage SC-03
cheeks - MUFE Mat Bronzer, NARS Mata Hari 
lips - TOM FORD Blush Nude
eyes - NARS eyeshadow primer, NARS Tzarine, NARS Rajasthan, Heavy Rotation Liquid Liner 
also did this galaxy nail art on my hands, totally inspired by Jennifer's brilliant attempt here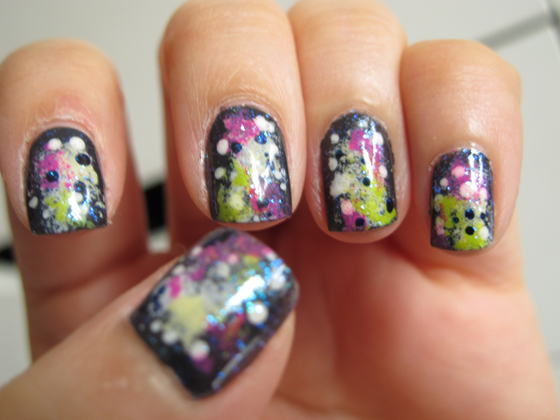 a snapshot of the yummy food I had at Sarah's place, woots!! :)
Might post a mini rambly update soon, if I feel up to it.. :)  stay tune, and thank you very much for reading!