Hi hi! 
A LOTD entry where I try to stick to mainly just one brand.  Let's not even call it a series, because who knows how long I can keep this up... but anyway, I was taking pictures of a bunch of new products today, and I thought it would be a good idea to slap them on my face as I go along, and then I can properly store things away and/or put them into the rotation for review purposes. 
So, anyway, I think I have enough products from Giorgio Armani to do a full face makeup, well, I have a couple of the foundations, one blush, and a whole stash of eyes to kill intense, but I recently got a lipstick, and their new Maestro foundation (to be released this Oct)..so here we are.   Just some initial impressions, not a real review yet. 
I am using a couple of the new ETKs I bought, and these don't disappoint at all.  They seem to be more glittery shiny than the older ones, but the texture is just as smooth, and easy to use. 
Here are the products I used:
Base - GA UV Master Primer, GA Maestro Fusion Makeup (shade 04)
Cheeks - GA Sheer Blush (05), GA Micro Fil loose powder (used as cheek highlight)
Eyes - GA ETKs in 24 (outer corner) and 27  (all over the lids)
Liners - Solone black liner, Heavy Rotation liquid liner
Lips - Rouge D'Armani 508 
The Maestro foundation is really quite something.  In terms of texture, it is one of the most luxurious ever.  I used my fingers to apply the foundation, as I often do when I am trying out a new foundation because I want to have a good idea of the actual consistency and blendabilty of the foundation.  It feels like I am not applying makeup on my face.  It feels like I am applying some kind of a ultra moisturising face cream or serum on my skin.  The feeling is really quite something.... when I swatched it on my hand, I could only tell that it is very liquidy and smooth.  But when it is applied to your skin, it's kind of OMG.  
I tried to build up coverage on areas where I want more coverage - the coverage of this foundation is quite light.  It is probably better for days when you know your skin looks good, and you don't need a lot of coverage.  The finish is a bit dewy and very smooth.  I didn't feel like I want to set the foundation with powder.. (and I didn't for this set of pictures - I eventually did set with some powder before I left the house). 
I shall use this foundation (along with the GA primer) for a couple more weeks, and give you my final review.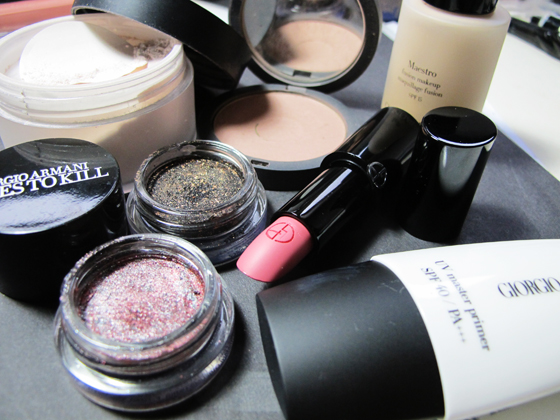 here's how the foundation looks like
without any concealer 
and you can see some of the marks on my forehead
and on my nails, I used Chanel Fall 2012 nailpolish in the shade Vertigo.  I will feature this nail polish in a later entry.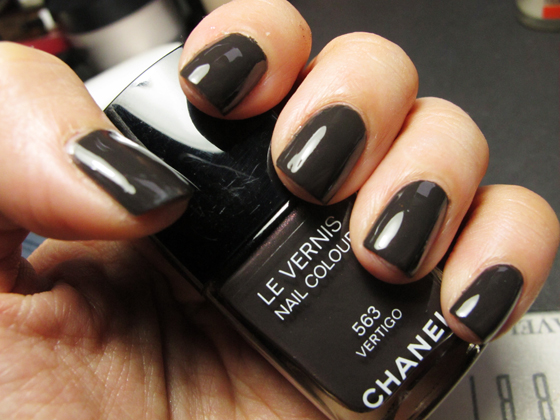 My recent makeup faves - drawing my brows real naturally and thick.   I havent had it properly trimmed in ages, but I have gotten the hang of filling in my brows quite 'full'.  That and I love wearing grey lenses. 
Chanel Vertigo on my finger nails.  This I will also properly feature in another entry. 
a quick pic of my and the gf's LOTD
the natural daylight made our faces look super flawless
she is wearing Teint Miracle liquid foundation, and I am wearing GA Maestro fusion makeup 
That's all, and thanks for reading!