Hi hi!
Decided to do a quick smokey eyes, that goes along with Chanel Glossimer in Sweet Beige (featured here).  I tried to keep everything to within Chanel...so here's what I ended up with.  I think it is quite a defined by natural enough smokey by my standards.  I have a pop of color on my nails, using Chanel's Suspicious (featured here).
Haven't used my Chanel Mystic Eyes in ages, so when my gf purchased this yesterday (or was it Friday?  The weekend zoomed past in a blur!) I got reminded of it. 
Here are all the products I used:
Base - Chanel Sheer Illuminating Base, Chanel Perfection Lumiere (used a mix of 10 and 20 Beige), Chanel Loose Powder (the regular one, not the ultra fine one - this is one of my all time fave loose powder)
Cheeks & Bronzer - Chanel Bronze Rose (one of my most fave cheek color product, released 2011 Summer)
Eyes - NARS eyeshadow primer, Chanel Mystic Eyes quad (darkest shade on my lids, medium brown shade to blend, and the lightest pink as brow highlight), NARS Larger than Life pencil in Via Venetto 
Lips - Chanel Glossimier Sweet Beige 
Nails - Chanel Suspicious
This is one of the rare times you see me lining my lower waterline...and the trick is not to line all the way into your inner corners...for my eyes that is.  So that you won't end up making your eyes look smaller, and also avoid any kind of dirty messy situation at the inner corner of your eyes. I tried to smudge the lower line with the darkest brown from the Mystic Eyes Quad. 
Overall, a rather 'fall' look, and I tried to cosy up by wrapping a light skull print skull (current season, Zara).  Can't believe it is August already!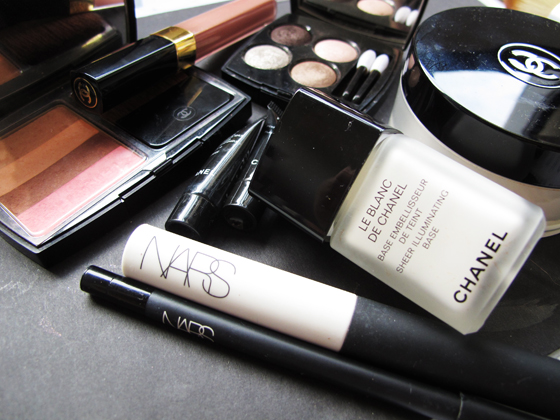 I had a lovely lovely weekend (that probably started since Thursday) hanging out with a lot of my beloved friends and family.  Lots of dinner, shopping, and caught the Dark Knight at the IMAX theatre last night.  It was awesome, and everyoe should go and watch.   Looking forward to a short week this coming one, and also get more blog entries out while I take a break. 
Hope you enjoy the look, and thanks for reading!