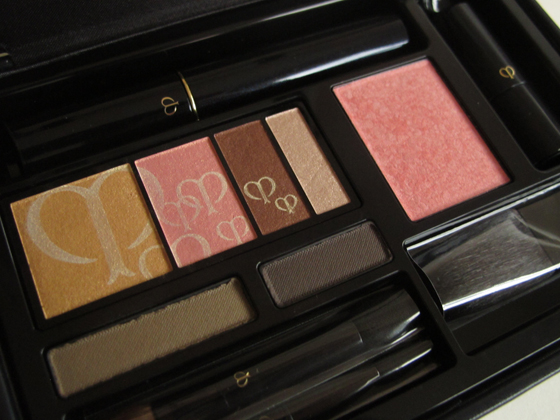 Hi hi!
This is a look featuring the cle de peau Voyage de Palette which I mentioned in this entry here.  It is not often that you come across a palette with a specific brow powder, so I am throwing in a quick step by step of how I would fill in my brows.  
I ended up with a smokey sparkly look and as I am looking at the pictures now, I realise that this palette really reminds me of the Chanel holiday, in particular the <span>Harmonie du Soir quad - in terms of the bronze gold, pink and taupe shades. 
</span>Here is the color placement of everything I used: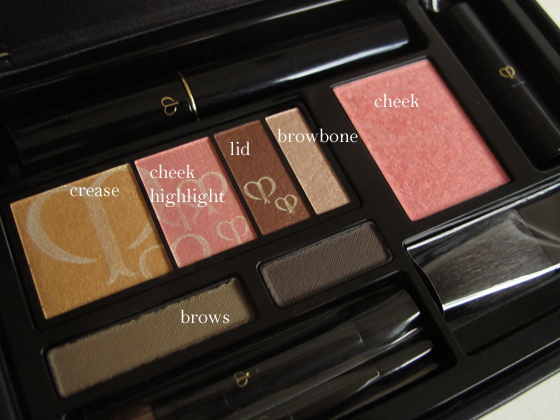 and a swatch just to recap: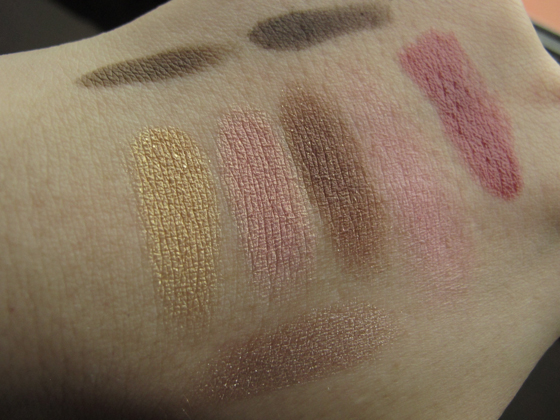 I only used the lighter of the brow powder to fill in my brows.   Please note that I have not professionally trimmed my brows in almost a year.  I just tweezed the stray hairs from time to time.  I prefer my brows full and relatively define, but with a soft color.  I like  that the brow powder in this palette is just ashy enough and doesn't contain any red tones which is important for brows defining. 
* this is by no means an indepth brow tutorial, I have done one before - link here! 
1. I used the angled brush to draw a line under the shape of my brows - this will form the basis of my brows.  
2. The line is drawn, and I will proceed to draw a parallel line at the top of where I want my brows to be. 
3. You see here, I am just filling in the area between the two lines I have drawn. 
4. Where the two lines meet at the arch, that's where I will sharpen the ends of the brow.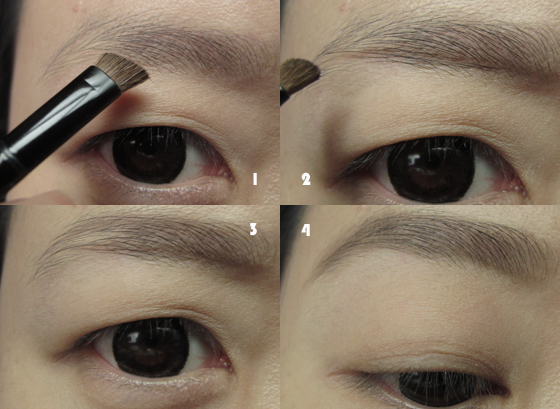 and the eyelook -
1. Apply brow color on the brow bone (I primed my eyelids with NARS primer).  The only shade in the palette which I am using is really a tad too dark for my browbone...but I do want some sheen there..hence I went ahead anyway. 
2. Apply the golden crease color.  I am glad this is the largest area of the palette, but I think this gold is my fave shade in the quad.  It is pigmented, and as you can see in the picture it contains very shiny gold bits. 
3. Apply the darkest brown bronze shade on the lids.  The color is easy to blend out, and I try to blend it into the gold...though I think some clear lines could still be seen.  Note that I used the same brush applicator throughout this eyelook.  It is soft enough for blending, and dense enough to pick up and apply the various shades.  When using one single brush for a look, I usually start by applying the lightest shade first. 
4. I dabbed a little of the pink shade in the inner lids.. this is controversial, some pple might not like it, thinking it might result in a tired eyes.. but I think it looks all neaten up when the liner and lips are on.  (I used a black liquid liner for the look, inside of using the dark brown liner shade).   I also skipped the mascara, cos I don't really use mascara... and I am using a pair of demi lashes from DUP (413).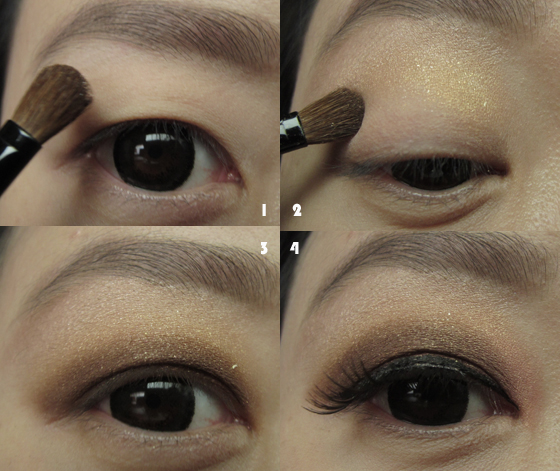 Then I finished the look by dusting on the cheek colors and applying the lipstick.  
My foundation routine - I am using the cle de peau silky creme foundation, cle de peau concealer, and La Mer powder to set.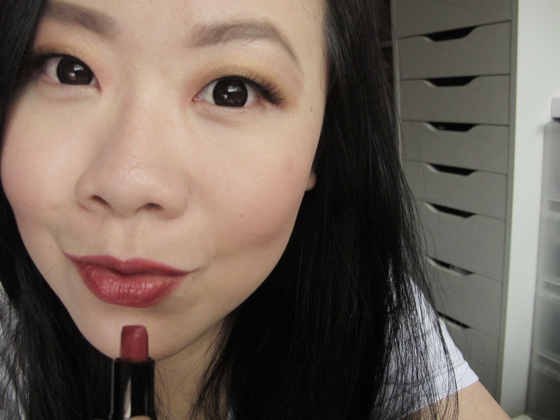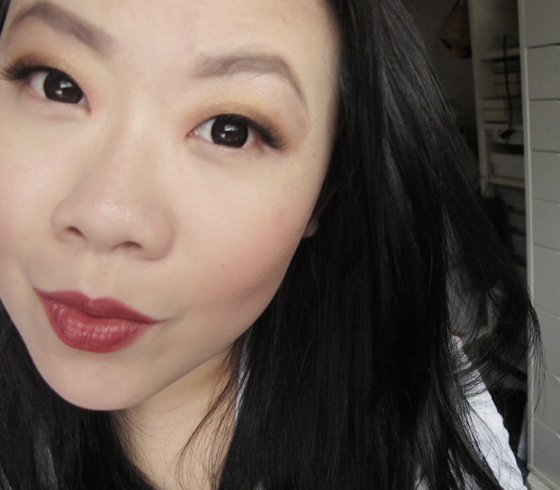 Overall, this is a pricey palette, but you are getting quite a few goodies in side, and the colors though are not extraordinarily unique, you do get a variety of luxe textures and finish.  The brushes are of decent quality, and you can actually use them, if you are going to travel with it.    It is also a very elegant and luxe gift for that someone special if your life, I may add.   I know I will be popping this lipstick into my bag when I am going out tonight!
Hope this entry has been helpful, and thank you for reading!