Hi!
Decided to try out the Laneige Love in Bloom makeup collection (link for the full product and swatches entry here!) and I went for my fave shade in that palette, which looks like a pinky orangey golden shade, but well, it actually turned out a lot pinker than I had hoped for...and I think I decided to go in line with the pinky soft theme of the look. I also have on my fave among the five lipgloss pots in 03 Raspberry Pink.
On the cheeks, I lightly contoured and highlighted with the blush, but I used my own blusher for the blush part.
All products used will be listed at the end of this entry.
I found  the eyeshadows really easy to work with, the colors are quite pigmented, they are a little powdery, but just use an eyeshadow primer and work a little slowly, you shouldn't get too much fall out.  I also used the darkest blue black to line my eyes, and pulling it farther out than my own eyeshape, so there's a little shadow of a winged liner there.   A a bonus, the tiny brushes that came in the eyeshadow palette --- the fluffy brush -- is amazing, it is very good as a blending brush, and for something tiny, it is quite practical and useful!  The sponge-tip applicators come with a liner precise end which I used to pick up the liner shade and draw a precise eyeliner, and also smudge it out for a softer yet defined look.
I used my fingers to apply the lipgloss, it is so smooth and creamy.  Really can't recommend this enough.
The cheek palette, was a tad too powdery for my liking though.  I really like the bronzer/ contour shade, it is actually quite cool toned, and suitable as a contour shade -- I used it at the sides of my nose too.  The highlight shade didn't really show up on my face, and I didn't quite feel like piling it on.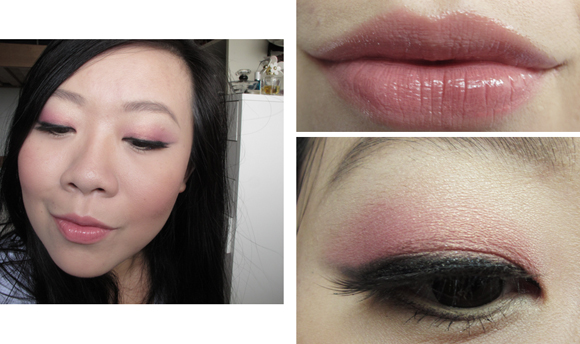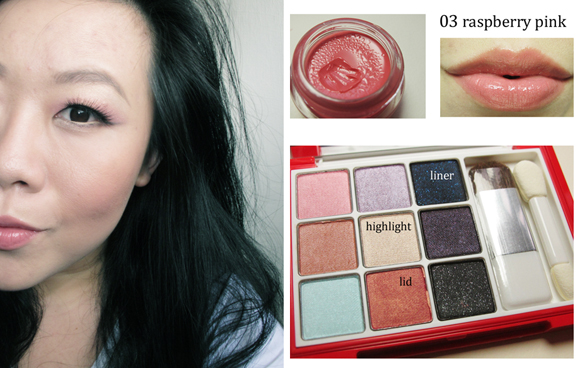 All products used:
base - Laneige BB Cushion, Giorgio Armani Lasting UV Silk foundation, Shu Uemura pro gel cealer
eyes - MUFE eyeshadow primer (LOVES), Laneige love in bloom palette, Shu Uemuera smokey layers false lashes (I cut and it look kind of wonky today. ARGH)
lips - Laneige love in bloom lipgloss 03 Raspberry
cheeks - Laneige love in bloom Sculpting Blusher, Illamasqua Panic powder blush
Hope this is helpful, and thanks for looking!