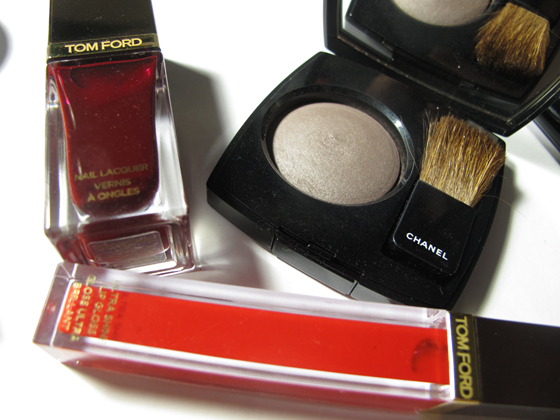 Hi hi!
I had thought of putting this LOTD together with the haul entries for Chanel Notorious and Tom Ford....but ended up posting it separately here, and also shall take the chance to just ramble for a bit (at the end of this entry, in case some of you aren't really interested).  </p>
It's a very very simple look - because I had wanted to try out the products on my face, instead of just showing swatches on my hands/ lips which doesn't really mean anything nor very helpful... cos we wear makeup on our faces... not backs of our hands, no?  
Here's what I did - 
Apply Giorgio Armani Face Fabric on my face, did not set with powder, and no concealer at all
2. Fill in the brows as usual - I think I am getting quite good at faking that I have groomed brows... when I can't remember when's the last time I had them professionally groomed. 
3. Used Chanel Notorious to 'sculpt' my cheers and a little on my nose.... and then some more on my crease before I applied the falsies. 
4. Applied and built up Tom Ford Cherry Lush gloss on my lips. 
5. Applied Giorgio Armani Sheer Blush in No5 on apples of my cheeks - or else I would end up with 'too cool toned' cheeks. Heheh.
This is pretty easy to achieve, and makes one look very groomed, and lady-like, without trying too hard.  Besides, everyone would think that you are really confident and classy to rock some red lips.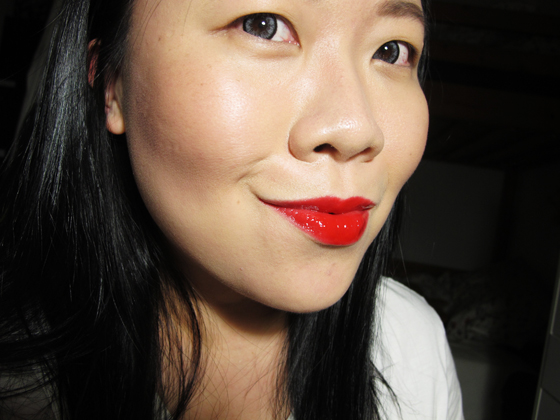 and a really in your face shot which I took with my iphone5 and heavily filtered for the heck of it.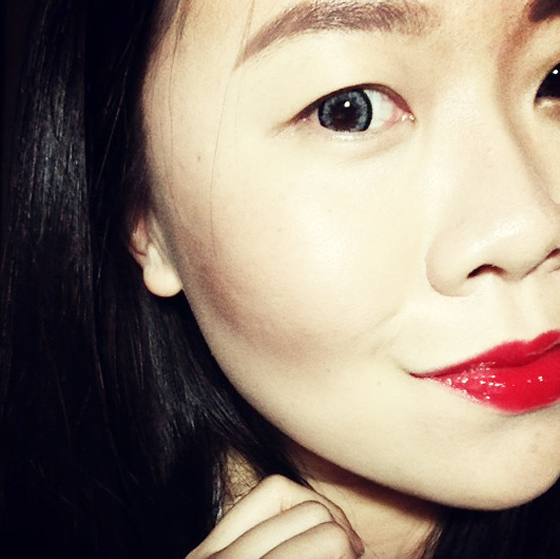 and added some lashes, but I think I prefer this look without the lashes.  Surprise huh.  Love how 'contoured' my cheeks look, thanks to the Chanel Notorious. 
Okay, here's the rambling part, not quite sure where to start - so let's do an IN and OUT list: 
<strong>What's IN 
</strong>Going HK soon, for a whole entire week.   I have been there countless times, but never a whole entire week.  Yay! 
Enjoying the absolutely fantastic TANGS beauty hall.  Seriously, I have been going there like 3 - 4 times a week, whenever the brands invite me to visit the counters.  
Yankee Candles.  OMG.  I wanted Red Velvet, and I bought it, and also Gingerbread... but I think I need back ups of Gingerbread!!  My room smells like some Christmas bakery every night.  It might smell sickeningly sweet to some, but I LOVE LOVE LOVE it. 
Catching up with friends. 
 
Going for long morning walks. 
Blog is turning 6.  Lately, I have been thinking, and seeing how so much has changed, and so much has remained the same here.  I still feel extremely fortunate to be able to feature all the brands I love here, meeting awesome people behind the brands and having a very appreciative audience to blah blah to. And everything is still the same, looking the same the day I  decided to set up this blog to ramble about makeup and random stuff.  The Makeup Blogette has never ever existed for brands, for free products, for all the stuff which seems to get some other bloggers really caught up with.  That's why I never feel the need to fulfil weird 'sponsored' obligations.  The minute it stops being fun, is when I will stop.  And so far, it's been nothing but fun, and that should be the way.  
Body pampering - bought this set of Laura Mercier mini hand creams (30g each tube) consisting of my fave LM scents.  LOVE LOVE I can't say how much I love the LM body line.    And I also bought the philosophy gingerbread man hot salt scrub.  Smells divine!  And makes your skin REALLY SMOOTH. 
I love scrubs.  Especially yummy ones.  I got the Laura Mercier creme brulee sugar scrub while I was in Taiwan earlier this year.  It also has a warming sensation when you massage it onto your skin.  The same goes for the gingerbread man.  Both are equally exfoliating, but the Laura Mercier one feels slightly smoother (I tried and tested!) and after a good scrub I like to use a good body oil cos that's when your newly scrubbed skin is best to absorb the goodness of the oil - current fave, Caudelie divine oil.  Everyone needs this!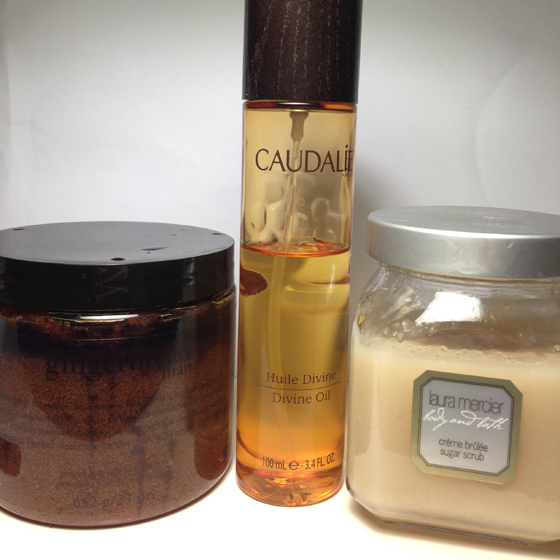 <strong>What's OUT
</strong>BAD PR.  Seriously.  Please don't waste our time.  I could have really shame everyone involved...but moving on!  
Hot weather. 
Blog backlog. 
Waiting for my Shopbop order. 
(let's keep the OUTs really short, and focus on the INs!)