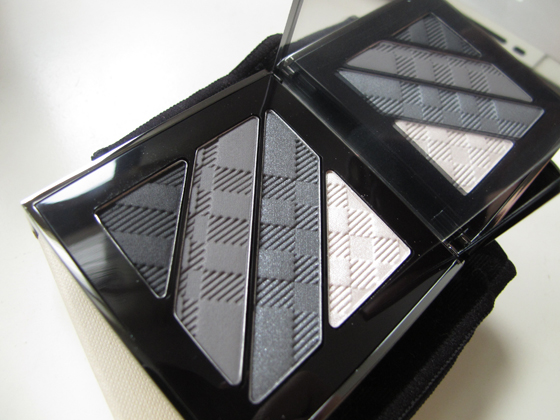 Hi hi! 
I have already featured the Burberry smokey grey quad in this entry here - swatches - and here I will bring you through how I did the look, and my overall thoughts on this quad.  But the bottomline is -- I love it.  It lasted beautifully on me all day, no fading of the colors at all.  They stayed as good as I first applied them. 
Here is the color placement: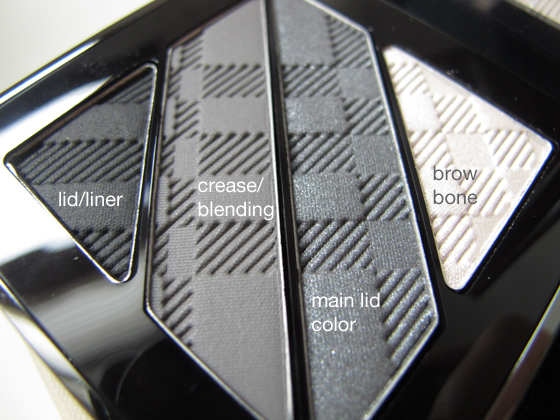 1. I used a big fluffy brush (MAC 224) to dust the brow bone shade all over my brow bone.  It is pretty pigmented, so be sure to dust off the excess and buff it lightly. 
2. When doing smokey eye looks, I like to apply the crease color first, and then build up later after I apply the lid color.  So I picked up the matte crease color - it is such an amazing warm almost brown-grey shade on my crease - I also find that the crease placement helps me to determine how high I want my lid color to go.  The matte grey is very smooth and pigmented.  It is also very blendable.  I used the same MAC224 for this step.
3. Then I used a smaller fluffy brush to apply the lid color (MAC 217) and I am anticipating a little fallout, and I didn't want to plonk down too much product at once, so after I picked up the product, I would 'press' the brush on the back of my hand (like how you see those professional makeup artists do), I realise by doing that, the eyeshadow becomes 'compacted' and it goes on the lids without fallout, and you can control the application.  I hope this makes sense to you! 
4. To darken and create more definition, I used the same MAC 217, and apply the black just closer to my lashline, and also a bit more on the outer corner of my eyes. 
5. This part is really a matter of building up the colors, I would do extra blending using the matte grey on my crease, I would add more lid color to add more dimension, it's up to you how you want to adjust the overall look.  
6. I love the eye results - the eyeshadows have different finishes, but they work so harmoniously together as a completed look. 
7. I kept the lower lids very clean, but I couldn't resist and I rimmed the lower lids with my current fave THREE eye doll liner. 
8. I also added a blue liner and black liquid liner on the upper lids just to make my lashes blend in better. 
Here is the end result, close up: 
I love that it is a warm-ish smokey grey - which I find very flattering for Asian skintone, and the soft texture and finish is very sophisticated.   Highly recommend this quad, if you still want a safe but different smokey quad.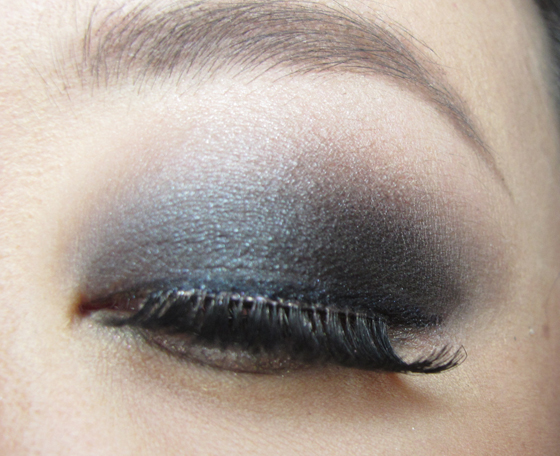 And the overall look: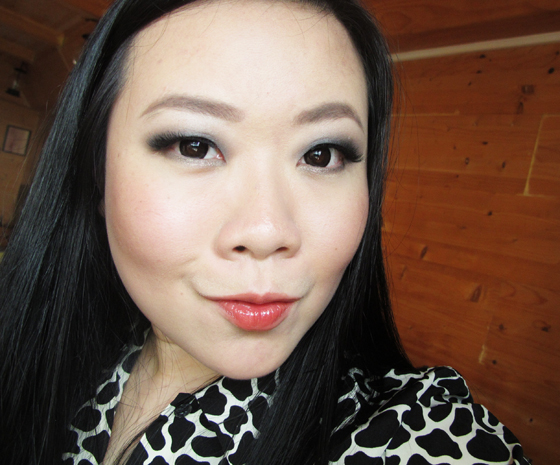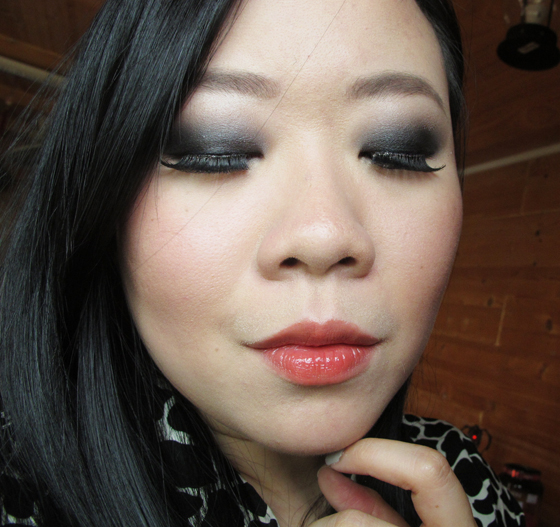 All products used: 
Face - GA Lasting Silk UV Foundation, Laura Mercier Secret Camouflage 03, Chanel Loose Powder shade 10
Cheeks - MUFE Mat Bronzer, GA Ecailles face & cheek duo palette
Lips - YSL Glossy Stain 07
Eyes - NARS Primer, Burberry Smokey Grey quad, Burberry Midnight Blue liner, Heavy Rotation liquid liner, 2 pairs of Ardel 120 layered
Brows - Shu Uemura 09 Seal Brown, Shu Uemura Brow Manicure Ash Brown 
I hope you enjoyed this entry, and thanks for looking!