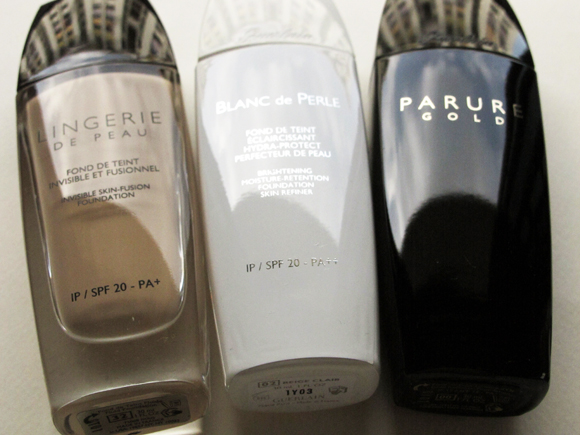 Guerlain Papure Gold foundation is the latest to add to my stash of base products.  (that drawer is now officially overflowing)  This was purchased a few weeks  back, but I have only used it maybe 2 or 3 times, due to the fact that I am currently trying out other foundation routines which are scheduled for posting.  So I can only give a quick first impressions, and I will be trying this out later this month.
It retails for S$116 (pricey!) but this is Temptalia's favourite foundation, so I think it would be interesting to give it a try.  Link to her review here.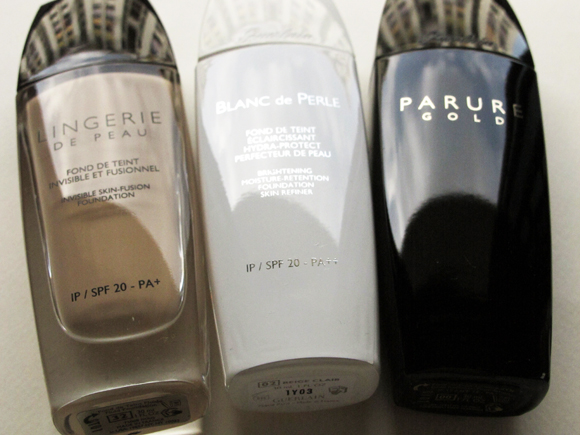 I have photographed the foundation next to other Guerlain foundations in my stash - the Lingerie de Peau, the Blanc de Perle, and finally the Papure.   They are all the same shape and size, but different color bodies.
This is the product information for Guerlain Papure Gold foundation:
"Guerlain introduces a foundation that revives and illuminates the skin, restoring luster and revitalizing in the long term, thanks to the exclusive double-sided Gold Radiance Pigment. The opaque side targets imperfections and dull zones, while the golden side reflects light. Combined with the regenerating properties of myrrh oil and the lifting and smoothing properties of peptides, long-term results include the diminishment of fine lines and smoother, softer skin. The luxurious golden flecks leave the complexion with an aura of vitality and beauty. Dull-skin zones are illuminated, while wrinkles and under-eye circles are subdued. Its shine and color combat sallow tones and lift lackluster complexions with a healthy golden glow. The light formula glides onto the skin without thickening, enveloping the face with a lightness that does not accentuate lines—subtly concealing spots, irregularities and dilated pores."
Here's the thing about Guerlain foundations - I never quite am able to tell which shade I am in.   The Blanc de Perle is a tad too dark and beigy for me, the Lingerie de Peau is my exact match, and so is the Papure.  But the Papure and Lingerie de Peau are different shade numbers, and look VERY different swatched too.  The BA did tell me to pick a slightly lighter shade in the Papure too, so that's how I ended up with the shade I purchased.
I have used  the foundation in this LOTD entry here.
In the swatches you can see the different textures and consistency of the three foundations:
Lingerie de Peau is the most liquidy [32 Amber Clair]
Blanc de Pearle is a bit creamier [02 Beige Clair]
Papure Gold is creamiest in consistency [00 Beige Ivoire]
and because I spent xxx amount of money at Guerlain together with my gf -- she purchased the Papure powder foundation (same price), and I bought the Jasminora perfume... we got and shared between us this gift with purchase containing skincare products from their Blanc de Pearle range - there are a couple of sun protection products which she kept for herself, so this is what I end up with.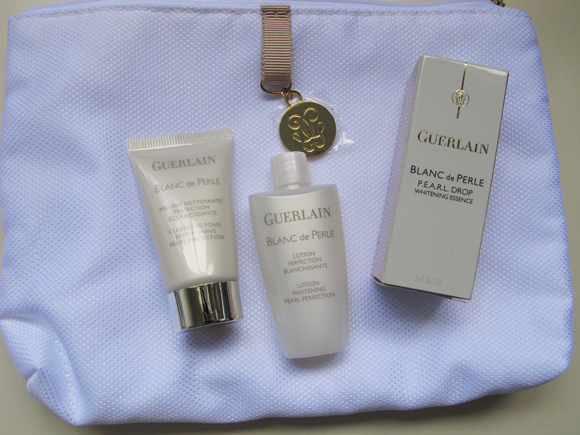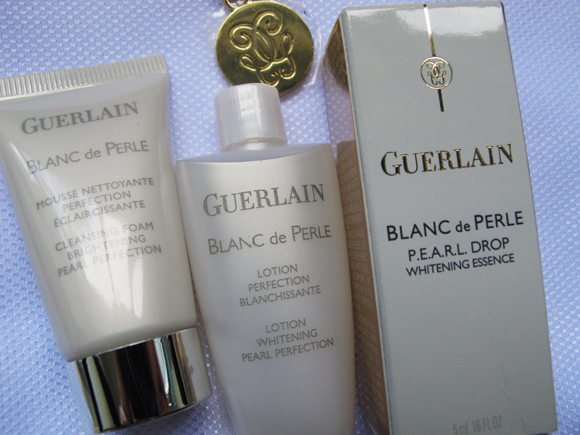 I will be sure to post my review after I have used this foundation for 2 weeks straight!
That's all, and thanks for reading.