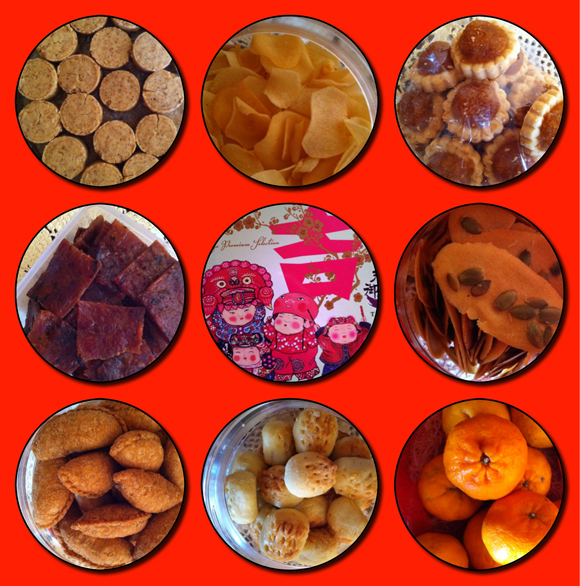 Hi hi!
Some random chat tonight, before I start this short work week tomorrow... some makeup rambling and raves here and there, a couple of LOTDs. and NOTDs, hope everyone had a great weekend, regardless of whether you celebrate the ocassion or not!
We had a reunion lunch instead of dinner, so on CNY eve, my sibs and I went to Chinatown to walk about, but we soon got bored (after shopping for some retro dresses) and went home instead.
90% of the pictures in this entry are taken with my iphone.
I didn't do a lot of visiting, only to a couple of close relatives' house, while the first day, most people came to my house, where my folks did nothing but COOKED the entire day, I swear.  The only good thing is, they are kind of enjoying it, and didn't really ask for my help.  Hur hur.. so I was able to just slack about the house.  I also painted most of the girls nails (my sisters, my cousins and my mom),  so everyone was sporting some sort of CNY manicure.
We also had a few sessions of Blackjack, which was fun this year, because I won some money.. hehehe maybe over $50.  Not bad at all!   I also took some OOTD pics of my sister and cousin, if you have been following me on Instagram you would have seen most of these pictures. Speaking of instagram, I started a new hashtag #sgigtag in conjunction with the sgig (singapore-instagram) ---- a way to collate Singapore based makeup and beauty related pictures.  Most of the onsugar girls here have been tagging #sgigmakeup, which is really cool, and it is fast growing in number!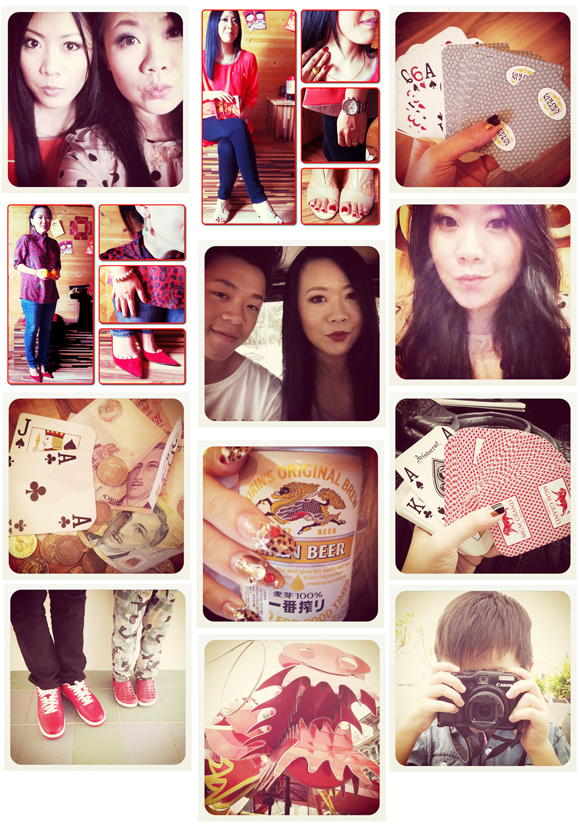 This is what I wore for DAY ONE (MONDAY) - got bored waiting around at home, and I curled my hair for fun.
I used the Hourglass Mineral Veil Primer ---- my friend gave me a sample sachet of it - and I have never done this with a sample before, I actually squeezed out the contents in the tiny packet into a little jar.  That's because I didn't want to waste every single bit of this AMAZING thing.  It made my face quite smooth, and did help my makeup last longer and fresh looking the whole day without touching up.  I might need to pick up the full sized product soon.
On my eyes, I am using my NARS Mouchourie eyeshadow duo, Guerlain Blush G, Soap&Glory Naked Beige lipstick.  I had on the Hourglass primer and Shu Uemura Smooth Fit foundation.
[disclaimer - didn't know my face is turning out so shiny, but this is about 6 hours after makeup was applied
and I had not blotted nor powdered at all]
I sported this nail polish combination for the past two days:
(Used Nails Inc Caviar topcoat and base coat), and SpaRitual Solstice & Orly Liquid Vinyl.   It is a messy reverse French Manicure.  It is pretty wicked, because the base gold color is very bling and totally contrasts with the creamy ultra black tips.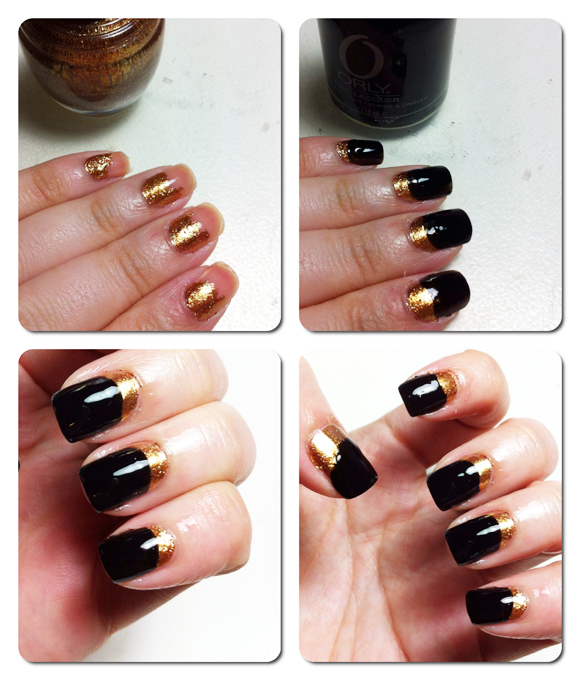 On DAY TWO, I wore my hair super duper straight, and went for the same foundation combo, and more convinced than ever, I need the Mineral Veil primer.  :)
On my eyes, I had on NARS Isolde eyeshadow duo, Benefit Coralista & Sugarbomb on my cheeks, Revlon Lip Butter in Red Velvet on my lips.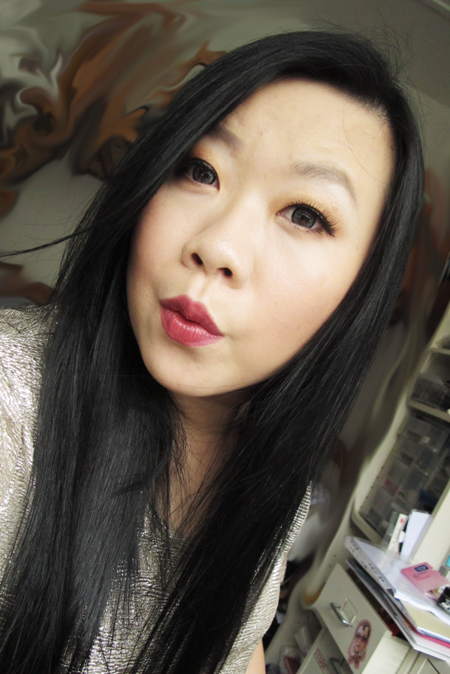 I have since changed my nail polish to Chanel's Peridot, because my nails were looking a little worn out from too much cards playing, and I think I needed a fresh coat of paint.  I removed my nail polish with a remover wet-wipe (Brand: Sensi Touch) --- and I will be posting a review very soon.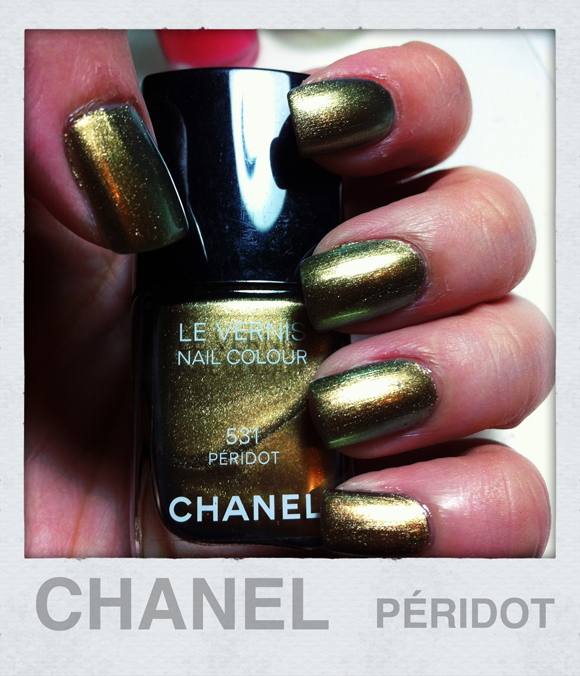 While we are on nail polish, this new set of three Dior shades are totally LUST WORTHY and I am definitely purchasing all of them when they are released!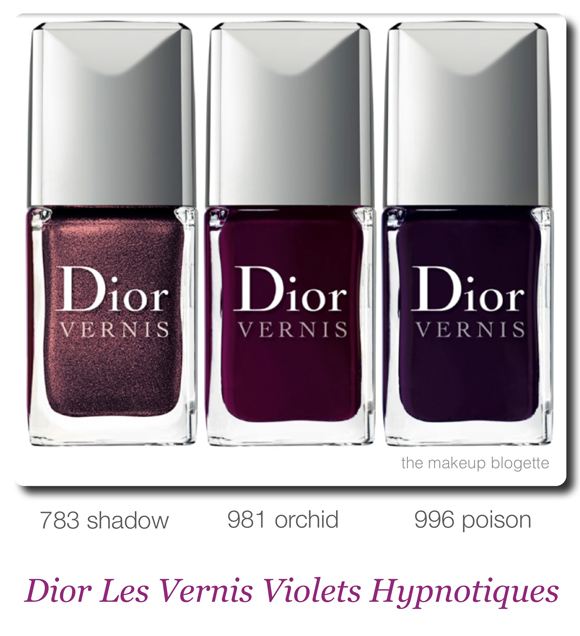 I have a couple of review entries and exciting feature entries coming up as soon as I have time to post them.  Stay tuned!
Wishing everyone a fantastic year again!
Thanks for looking. :)