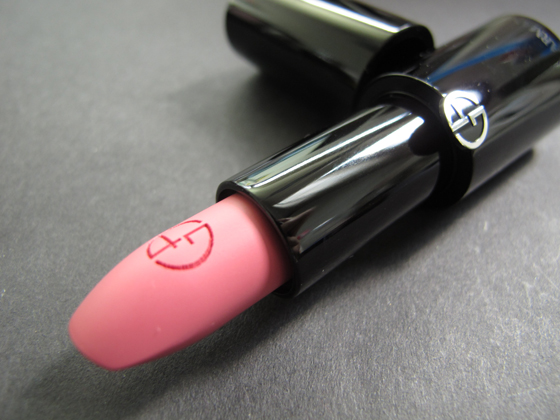 Hi hi!
This entry features the Giorgio Armani Lasting Satin Lip Color in the shade 508 Pink.  This is a light (note - not pale) pink shade that isn't too cool toned (quite neutral, I think), though it might look a little cool in the tube.  It is a creamy shade and does not contain no shimmer bits at all.  It is pretty wearable on my skintone, just giving it a wearable pink pop of colour.
If I remember correctly, this range of lipsticks retail for $44 at DFS Galleria, putting them in the same price point of Dior and Chanel lip products. 
The texture is very smooth, and the color goes on opaque and even in two swipes across the lips. The lipstick itself is a little soft, I noticed the lipstick bullet being 'pushed' to the side of the inside because I applied it straight from the tube.  If you often use a lipstick to apply perhaps this may not be a problem.  Or maybe the weather is just too hot and making everything melt?
I really do like this range of lippies, I have swatched 102, a Beige shade on my lips a couple of weeks back...and it is still on my mind!  The lasting power is about 4 - 5 hours, a dinner, much yakking, drinking with a straw and a movie.  I don't find it drying on my lips, the lightweight texture makes it feel like I am not wearing a lipstick at all. 
If you have the chance, do check out this range of lippies.  They are pretty awesome, and the color range is great too.  From nudes to reds and everything in between. 
The packaging is very sleek and luxe.  The cover closes with a magentic snap once it aligns with the lipstick.  It feels solid and sturdy, and the slightly wider base means that the lipstick will stand nicely on your table without toppling over.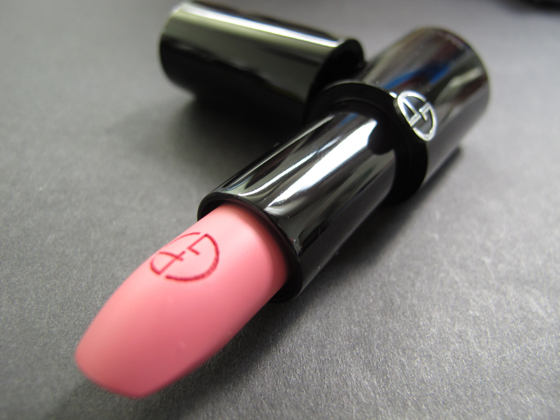 swatch on my hand looks slightly darker than the actual product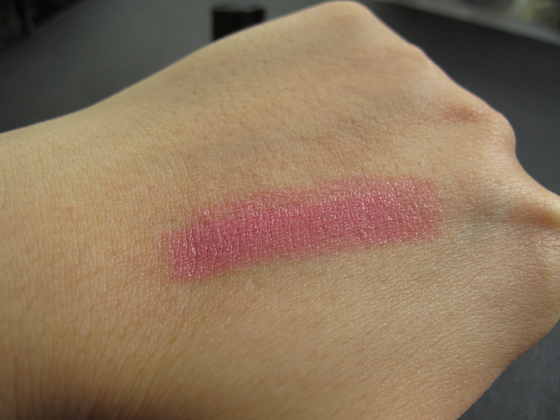 swatch on my lips 
you can see the soft texture and opaque color payoff
I used this lipstick in this LOTD. 
Hope this has been useful, and thanks for reading!