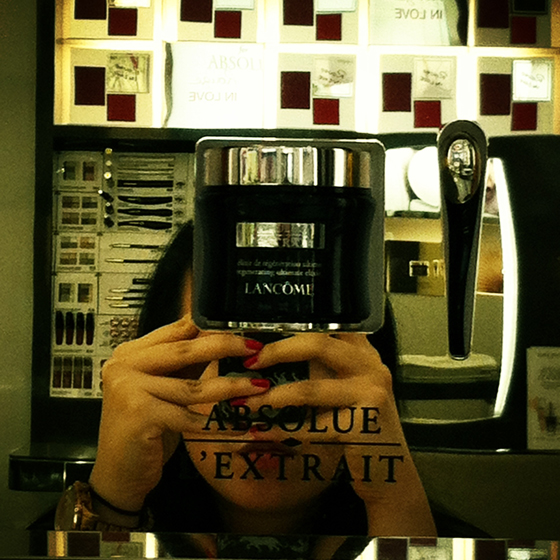 Today, I had the chance to try out Lancôme's latest face treatment at the Lancôme beauty insitute at MBS.  I had previously been to the one located at the Goodwood Park Apartments, but the one at MBS is a newer facility, and the place feels really sleek. It seems like the perfect place to experience the Ultimate Skin Regeneration Treatment, featuring their latest skincare innovation, the Absolue L'Extrait - regenerating ultimate elixir (retail price $650). 

The treatment lasted for 90 minutes (same duration as most of their facial treatments) and costs $380.  It is a hefty sum to pay, but let me share you with my experience, and you can decide if this is something you would want to go for. 
I have previously reviewed Lancôme's Skin Corrector Treatment here - some points might overlap.  (click click click if you want to read about that)
I was treated to a welcome tea when I arrived at the Insitute (always go 10 - 15 min early for a facial!) 
the tea is designed for Lancôme by Mariage Freres...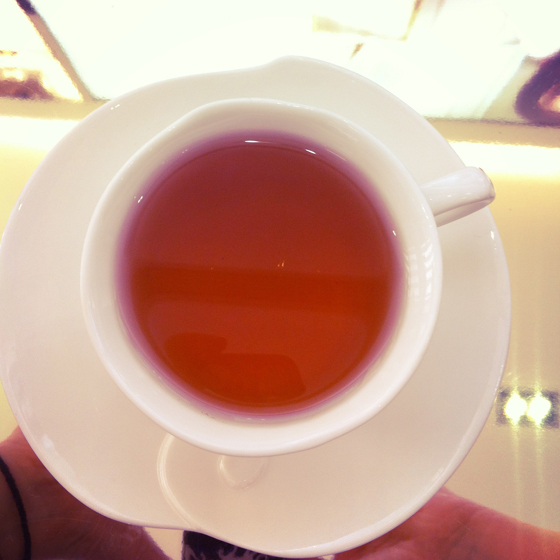 I got momentarily distacted by the white roses (real ones) while settling in at the insitute.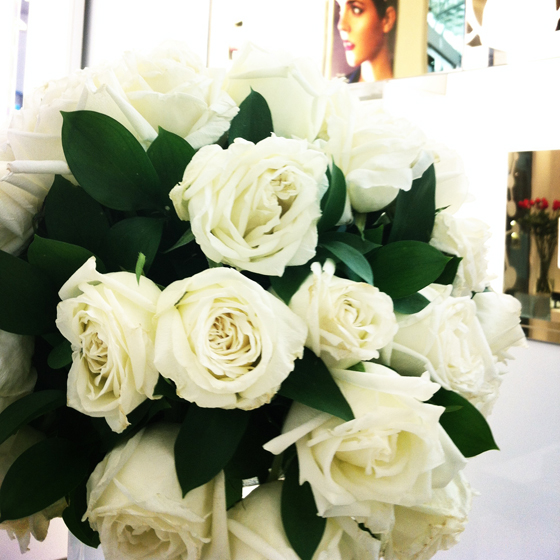 Then my beauty therapist, Ela, came and attended to me. We had a brief discussion about my skincare routine, and some products which I am currently using.  She explained to me the whole facial treatment procedure, and asked if I prefer 'strong, mild or light' for the massage pressure (I opted for 'mild').  Without much delay, I was led to the treatment cabin, a oval-shaped cocoon like room with changing colors to match the theme of your treatment - the Ultimate Skin Regneration treatment calls for a golden light which they are still trying to figure out.    I think when I went for the Skin Corrector one, the lights were mostly blue/ purple (to match Visionaire) but...well...your eyes are closed for 99% of the time during treatment, so technically it doesn't matter. 
I had to change into the robe provided, and kept my bags and stuff in a cupboard.  
The first step of the treatment is known as the ' Letting Go ' - which basically means a total relaxation of your body and your mind.  The soothing ambient music came on, and Ela checked if I was comfortable with the room temperature and all. During the letting go, my arms and legs are strecthed, lightly massage, and also carassed with light fluttery strokes (and I do say carassed in the most objective way, there is absolutely nothing weird about it) - it can be ticklish for most people, as Ela later shared with me.  But I was trying my best to relax, and imagine that I am standing knee deep in the clear ocean waters, and the little waves are floating around my legs. Now, that's a relaxing imagery alright. The pulling of my limbs, more like stretching, and even up til my scalp was very relaxing, and prepared my body for the treatment.  (Your hands and feet are also wiped prior to the start of the treatment, in case anyone is wondering about the whole hygiene factor). 
Next, comes the cleansing and exfoliation - Ela removed my makeup and then exfoliated my face and decolletage area. It wasn't abrasive, and also got my skin ready to absorb all the products which will be used next.
The Massage is the main part of the treatment - and it is divided into 2 portions.  Firstly, Ela used a mixture of kneading and gliding motions, rolling her forearms (at least I think so, felt like it) over my arms to my shoulders, and then bringing her hands upwards from my chin to the sides of my face.  She used the Absolue L'Extrait to do the massaging, so you can imagine, the goodness of the product really gets soaked into your skin, not just on your face, but also your chest and arms too. I might have dozed off a bit after this.  
The second part of the massage is where she used a total of 8 petals.  You might be wondering what are 'petals'?   Each tub of Absolue L'Extrait comes with a 'petal' which completes the whole application process. 
This is the standard size petal, you use the black side to apply the product, and the silver side (which is an aluminium compound that retains temperature) to do the massage.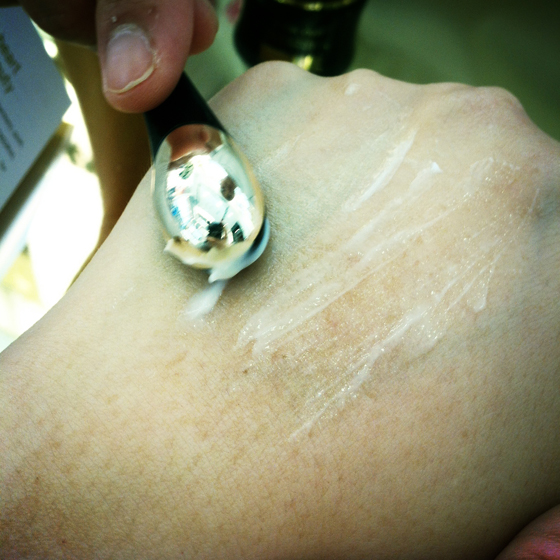 During the facial treatment, larger petals were used - like this: 
to heat up or chill the petals, just use hot or cold water.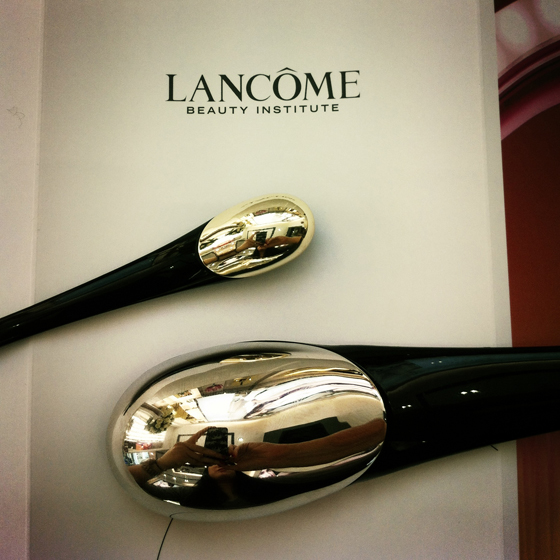 Ela used alternating hot (I should say warm, hot sounds burning, which isn't the case) and cold petals to massage them over my face.  It is a strange and nice sensation.  So smooth, and so soothing.  The little surprises between the hot and cold serves to refine the pores on your skin (cold), and also regenerate the skin texture (warm).   I think this is my most favourite part of the facial treatment.  The expertise of using the petals in the treatment is really skilful, and luxurious, and I was beginning to see why this is a whopping $380 treatment.   And the whole time I was thinking how nice if I could just lie on my bed, and have someone clean my face, and massage my face every night - it's just such a pampering session. 
When the massage segment was over, Ela wiped off the excess cream off my arms, legs, and face.  She then put a facial sheet mask on my face, and also my neck area.  Then I was 'covered' up, and while the facial mask was left to work on my face, she proceed to massage my legs, and arms with the Absolue L'Extrait cream - on my legs!  Woooots!  Did i mention how lovely it smelled? It is a very subtle and elegant fragrance, faintly of a rose garden. 
Then the facial mask was removed, and she wiped off any excess moisture, and used a mist machine to spray my face.  By time I was sitting upright (a sign that the facial was about to end, alas).  And she applied a daytime routine on my face using the Absolue L'Extrait range.   Thankfully, I was just going for a quick dinner, and then heading home, so I didn't feel the need to cover my face in makeup, and spoil the goodness of the products on my face. 
This is the routine used - I found them very rich, and perhaps more suited for night time use, in my case at least. 
Genefique serum
(which works with all the Lancome skincare range)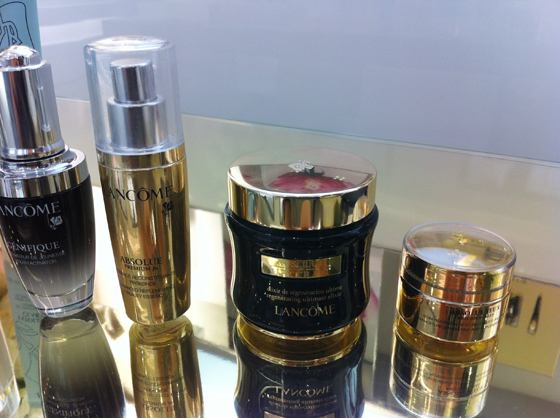 Absolue Premium Beauty Essence
the star product of the treatment - Absolue L'Extrait
and also the eye cream
the after treatment tea
Zenitude (aromatic anti-stress)
(basil, marjoram, mandarin, orange, neroli)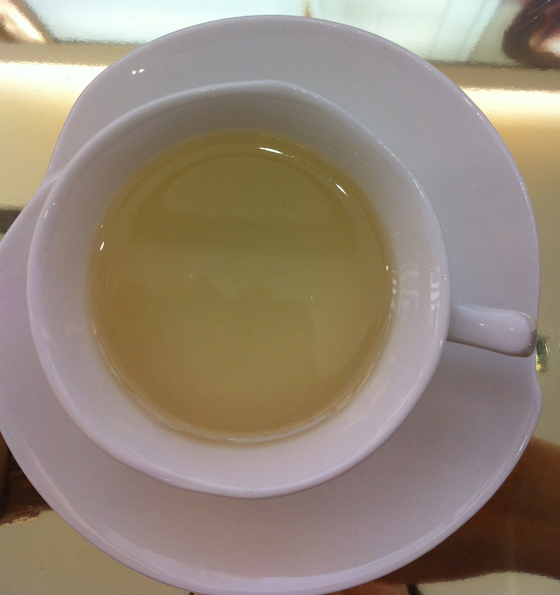 a hastily taken pic of my half face post treatment
I had to fill in my brows, so I don't look like a monotone flat face pancake..
The results: Immediately, I could see refined skin texture, and definitely tightened pores. The products used on me felt so luxurous and rich (I mean in terms of the texture), that I feel this is a treat most suitable when your skin is feeling particularly dehydrated, dull, and just tired.  I got home, gave my face a quick wash, and only applied some Genefique and Visionaire before I went to sleep.   This is different from the Skin Corrector Treatment as that targets more specific skin concerns, whereas the Ultimate Skin Regeneration is a global holistic skin treatment.  It is pricey, I don't deny that, and certainly a really indulgent treat for yourself - or hint for someone special to give you a treat? 
I also spotted this tray of golden products nicely laid out, and snapped a pic. 
Looks like something that belongs in a palace! 
In case you are wondering about the Absolue L'Extrait
here are some information I extracted from the website
At the very origin:
THE LANCÔME ROSE
Born out of a complex multi-hybridization which required the crossbreeding of 2,000 species, it was selected for its qualities  of resilience, vivacity and adaptability.
The Creation of Lancôme Rose native cells: FERMOGENESIS™
A unique biotechnological expertise
Through a state-of-the-art biotechnological extraction process comes a line of Lancôme Rose native cells. Fermogenesis™, an exclusive process, preserves their capacities intact to perpetuate their integrity.
Our most powerful regenerating ingredient*
LANCÔME ROSE NATIVE CELLS
A revolutionary discovery confirms the rose native cells can extend their exceptional properties to enhance skin's 
regenerative potential* Each jar of Absolue L'Extrait contains up to 2 million of these  unique rose native cells. Resulting in our most powerful regeneration, Absolue L'Extrait helps reveal firmer, more elastic, more radiant skin for fascinating beauty.
Our most powerful regenerating ingredient*
LANCOME ROSE NATIVE CELLS
A revolutionary discovery confirms the rose native cells can extend their exceptional properties to enhance skin's regenerative potential*.
Absolue L'Extrait: a true masterpiece of regeneration
Absolue L'Extrait, our most powerful regeneration helps reveal firmer, more elastic, more radiant skin for fascinating beauty.
I hope this has been helpful... and thank you for reading.  
Special thanks to Lancôme Singapore for inviting me to try out this special treatment. 
For information & appointments:
22 Scotts Road Singapore 228221 (Goodwood Park Hotel Service Apt Level 1)  Tel 6737-6778
B2-40, Canal Level, The Shoppes at MBS (2 Bayfront Ave, Singapore 018972) Tel 6688-7699
www.lancomesg.com
email appt@lbi.com.sg