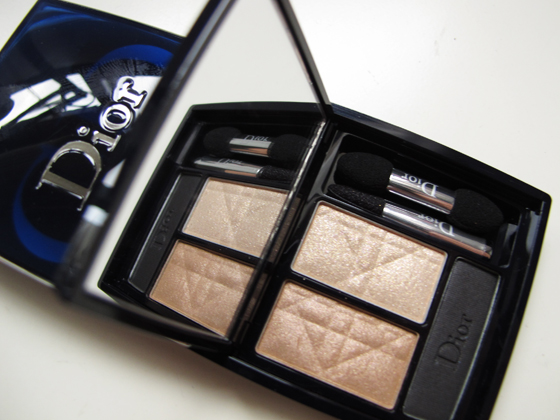 Hi hi,
this entry features the Dior 3 Couleurs Glow 651 Nude Glow, an eyeshadow trio which will be released with Dior's Fall 2012 makeup collection - for information on the collection, please click on this entry here here here. 
If you aren't aware, the 3 Couleurs were only released a couple of years back, if I am not wrong, and these have a very nifty way of opening up the palette.  You slide open the cover, and a mirror slides up, and you see the three colours - 2 main colors, and a liner shade. This is quite handy, and the picture below shows the size difference between the trio and the quint. 
651 Nude Glow is a very pale peachy nude palette, with a matte black liner shade.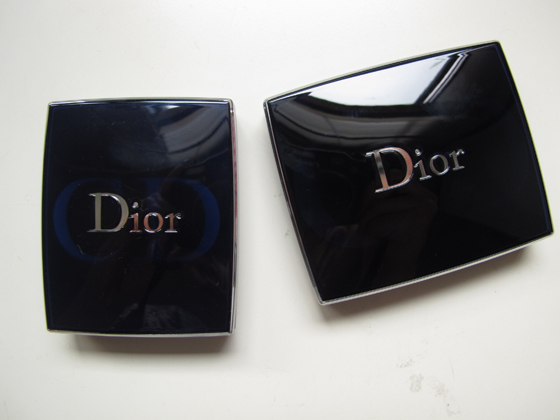 Here is the product description and how to apply it -- and I followed the steps in my LOTD:
Within the exclusive 3 couleurs glow sliding case lies the secret to naturally luminous, dramatic and couture eyes.  In 3 easy steps, our 3 new-generation fusion formula enhance your eyes with nude or pastel shades, a highlighter and a liner to define them. 
- a satiny nude or pastel EYESHADOW with an ultra-fine texture melts into the skin.  Apply to eyelid and blend.
- a HIGHLIGHTER shade with a wet-look finish illuminates the eyes.  Dab on the center of the eyelid and the inner and outer corners of the eye.  
- A powder LINER is applied to the upper lash line to define the eyes and create the ultimate fashion touch.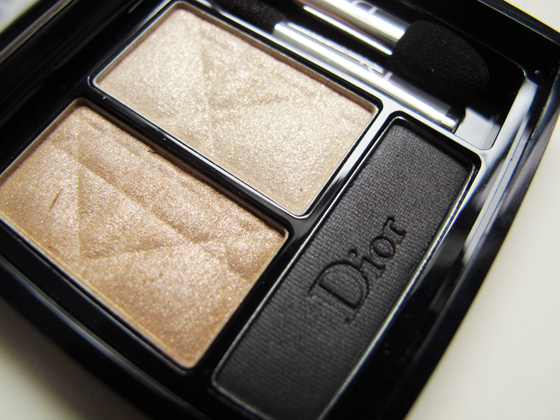 swatches without any primer
and I also swatched the liner wet and dry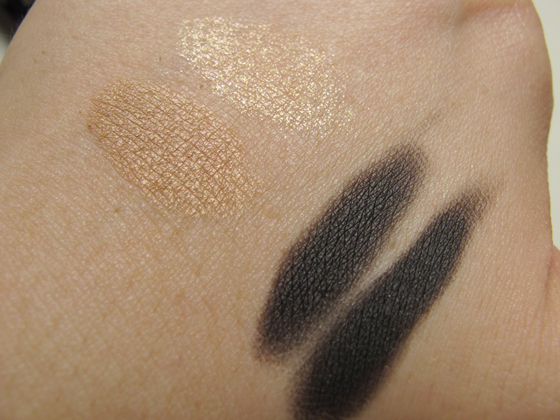 the liner looks darker then it is applied wet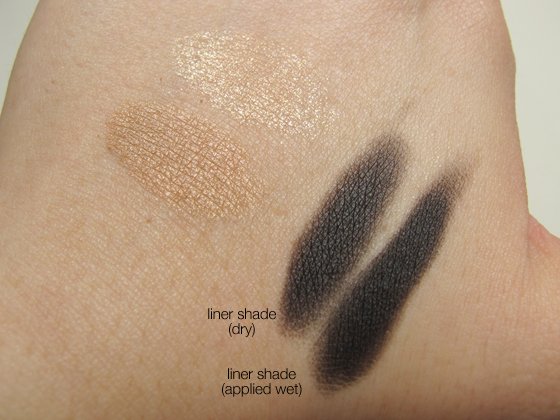 The lid color is quite soft, and pigment. 
The highlighter shade is a very fine and shimmery shade, that sparkles without having much of a base colour.  
This is be used as a layering shade to add some texture/ sparkle as I have done in my LOTD.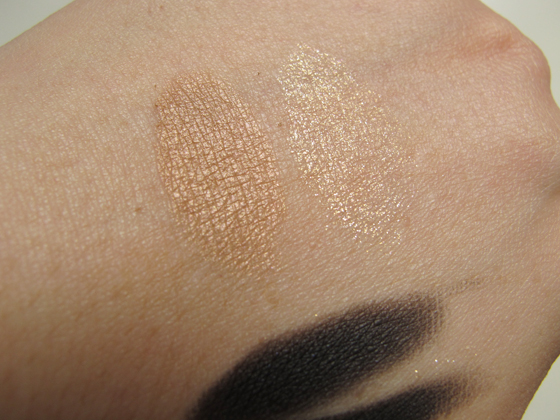 close up of the liner shade
I swatched using the pointed sponged tip applicator that comes in the palette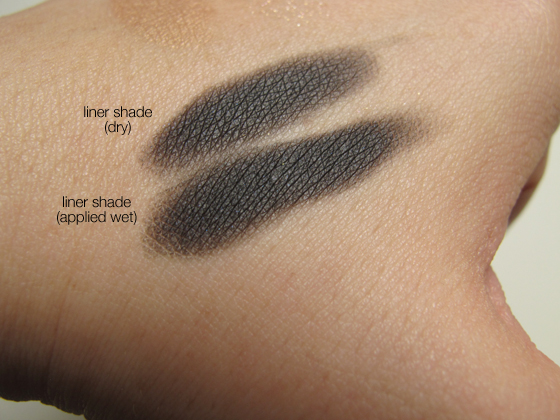 and my LOTD using mainly Dior products
all will be listed below...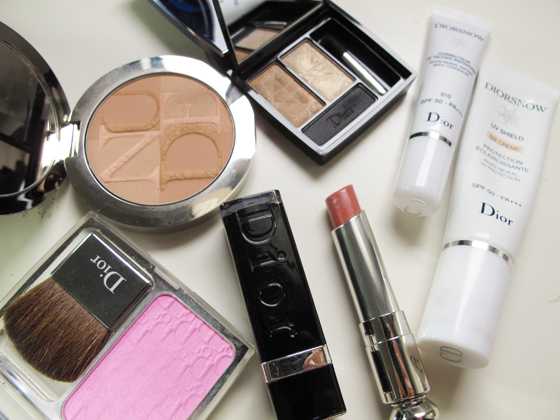 base - DIORSNOW UV Shield BB Cream, DIORSNOW Instant Spot Concealer (which I used under my eyes to highlight the area) I didn't have to do much spot concealing -- YAY!   then I set with Lancome dual finish powder compact
cheeks - DIORSKIN Nude Tan 001 Aurora, DIOR Rosy Glow 001 Petal
brows - Shu Uemura pencil, Bobbi Brown Natural Brow Shaper
lips - DIOR Addict Extreme 326 Incognito 
eyes - NARS primer, DIOR 3 Couleurs Glow 651 Nude Glow 
lashes - Clinique lower lash mascara, TW All Belle Falsies
nails - DIOR 605 Amazonia 
eyelook close up - the lid shade is very natural, and just added a little color to my lids without being too loud, or like I am wearing eyeshadow...like the name states, it's a NUDE GLOW..
it was very hot, and I was erm...sweating..so I prolly look a little /glowier than usual...but quite nice IMO..nonetheless. 
Fall collections are all streaming in, and I can't wait to see what's coming our way in the coming months ahead!
what are you going to pick up from this collection?  
Thank you for reading!