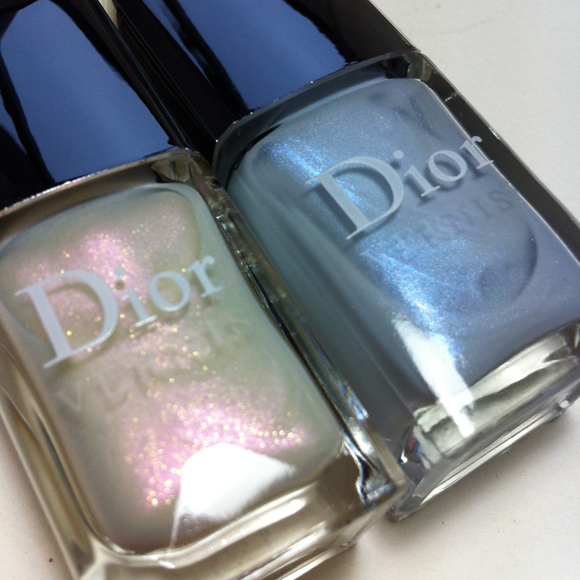 I bought both the nail polish released with Dior's Asia exclusive DiorSnow & Icy Halos collection last week.  I has seen pictures and featured this collection in this entry HERE. I didn't have any intention to purchase any of the nail polish, because there are (ahem) a few more which will be released in April which I have my heart absolutely set on getting.  But the BA swatched them on the back of my hand with a piece of tape, and I saw how the icy shades sparkle and glisten in the lights, I was SOLD.  I also bought one other product -- and together with the whole bunch of samples I received, I will be sharing with you my thoughts on almost the whole new DIORSnow range of base products soon (which includes the makeup base, bb cream and concealer).   Anyway, I digress.  Back to the nail polish.
They are both pale icy shades, ICY DEW is a whiteish pink pearlescent shade with fine gold glitter bits.  It takes 3 coats to get full opaqcity, and you can prolly layer this shade over another pale shade.  I don't use it over a darker base thought, because the pearlescent base of this nailpolish is not as sheer.
GLACIER is a icy cool toned baby blue with subtle shimmer.  It is an interesting blue that can appear both warm, and cool toned, almost like a duochrome but within the shades of pale blue.  It is opaque in two coats - a very very light airy pale blue which is quite unique in my collection as most of my blues are very rich creamy ones.
Photos & swatches: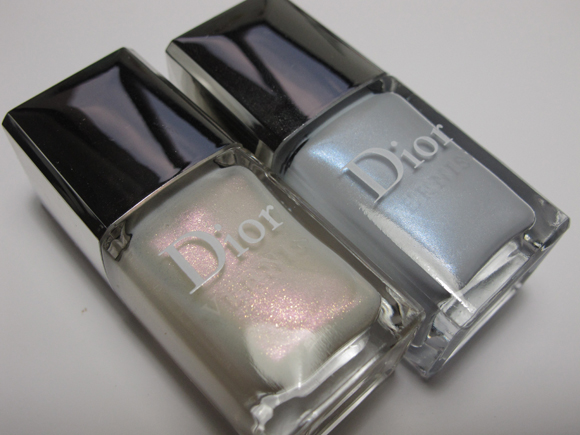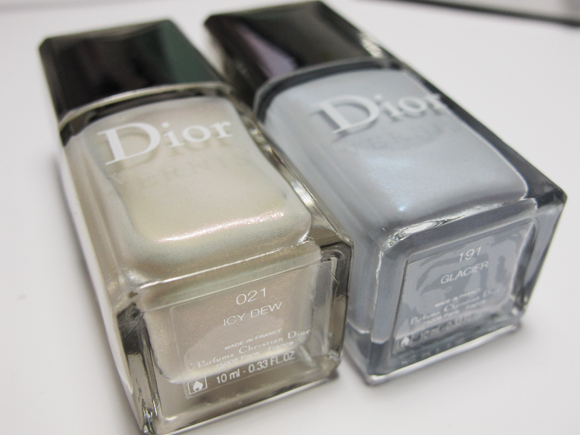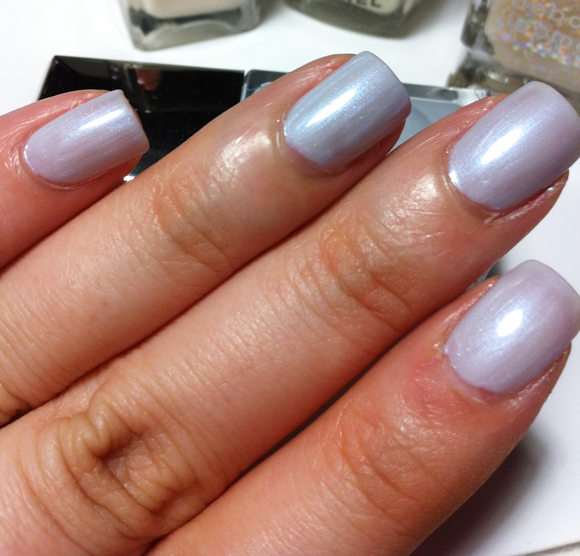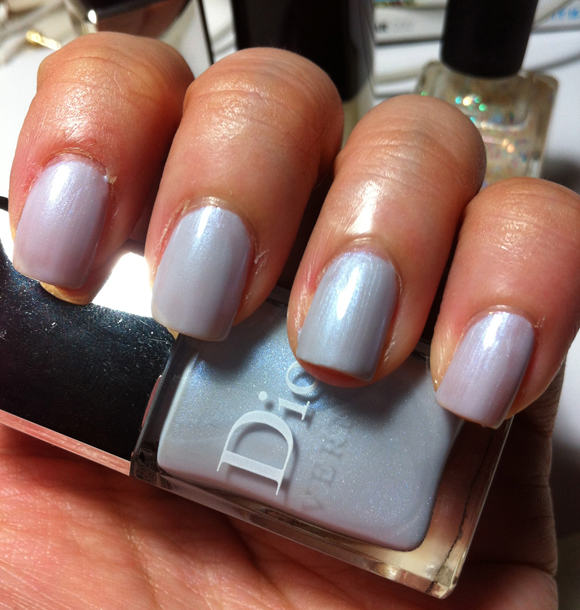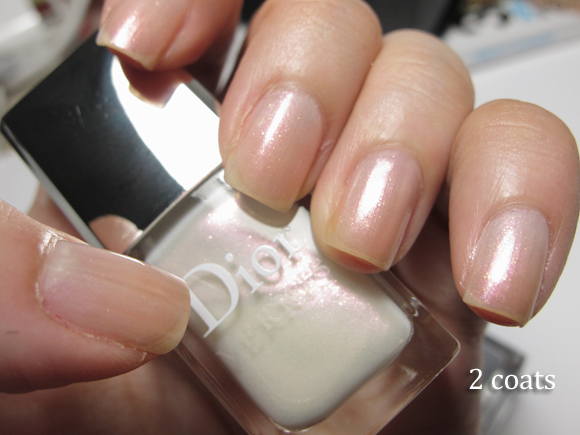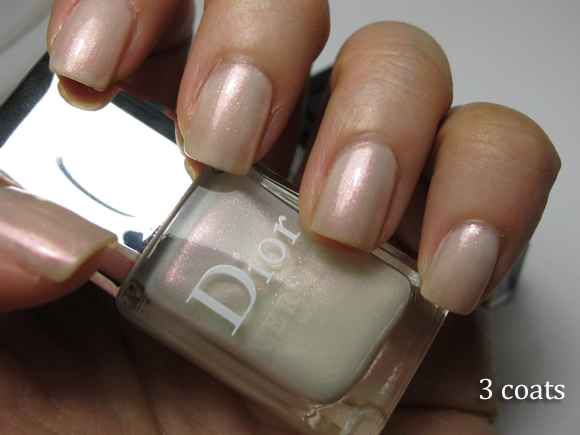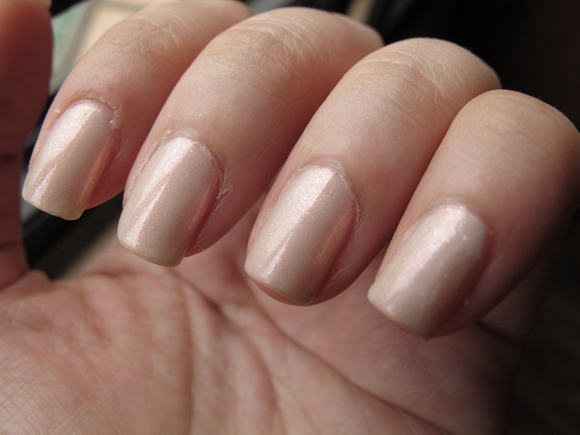 putting Dior's ICY DEW & Chanel's Pearl Drop side by side
you can see that Pearl Drop is a golden warm shade
while Icy Dew is a pinkier shade
kind of like cheek highlight powders, you have the golden warm tone of highlight, and also the pink pearlescent highlight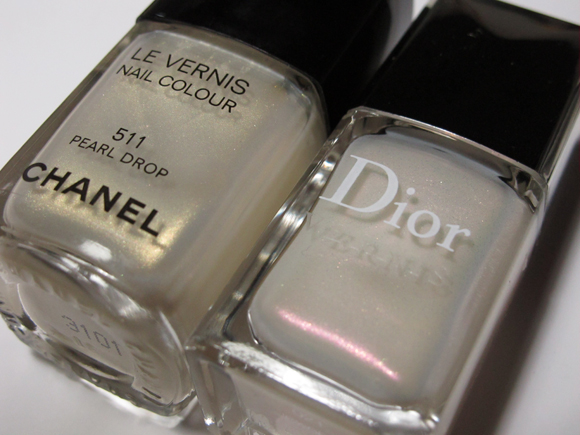 my pictures aren't showing up - and I really should have waited for natural morning daylight - but I hope you get the general idea of the nuances of both pale shade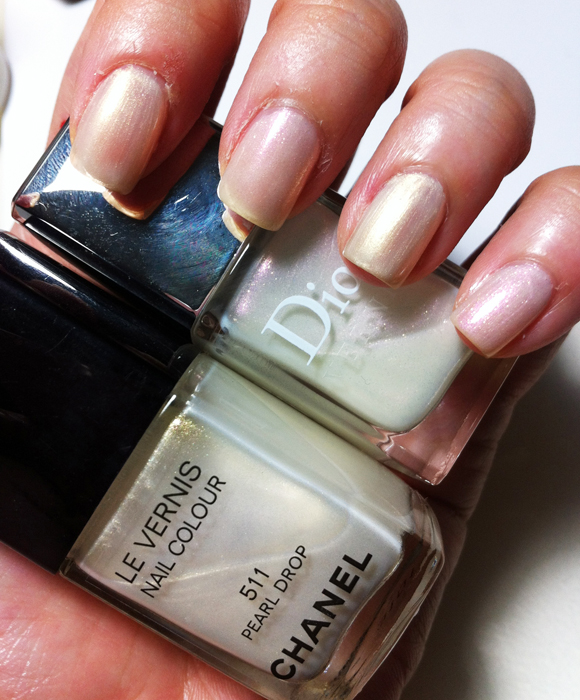 this is the mini DIOR haul which I made, the BA was helpful,
and generous with the samples, she let me try out the Diorsnow skincare products too
I have been liking the DiorSnow base routine lately - lovely finish - and that's no foundation at all - and it lasts the whole day.  Can't wait to get my review entry up.
That's all, and thank you for looking.