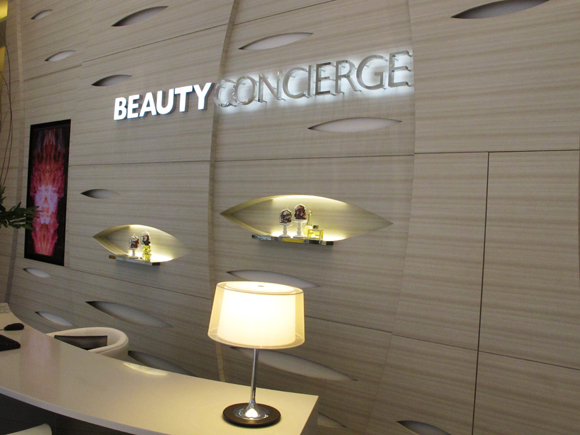 Earlier this week, I had the chance to be given the official tour of the newly opened beauty department at DFS Galleria.  I had already checked out the place on my own soon after the place opened, but yesterday's visit also included a skin analysis and facial at their Beauty Concierge.  In this entry, I will show you a few pictures of the DFS beauty department - what makes it special from your regular departmental stores beauty departments, and also my Beauty Concierge experience.
The Beauty Concierge is presented as the first ever Beauty Concierge service here in Singapore.  This service is available to all customers of DFS Galleria.  The complimentary beauty services are designed to provide a highly personalised experience for customers to enjoy premium beauty treatments in privacy.  The Beauty Concierge, with plush furnishings and soothing music, allows deep relaxation and a completely indulgent experience for the customers - meeting all aspects of the customers' beauty needs in a private and luxurious environment.
Attending to you are highly trained Beauty Advisors, who will personally assist you with skin type analysis.  Professional makeup artists offer expert advice on colour and technique, perform demonstrations and makeovers.  It's the best in beauty, delivered by the best in the business, with an intimate and individual focus.
So if you need a makeover for a dinner event, some skincare advice and analysis, all in the comfort and privacy of the Beauty Concierge, this is for you.  Because the Beauty Advisors are 'neutral parties' - meaning they don't represent any of the beauty brands there, they are in a position to find products which you think you want to try out, based on your skin concerns and budget.
All services are complimentary, and by appointment only.
To book an appointment, call 65-6229-8107.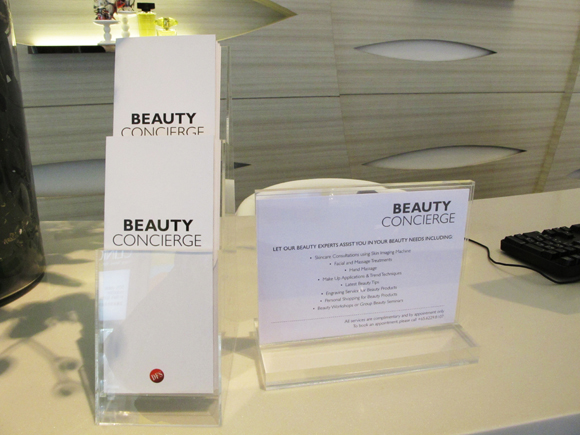 The menu on the Beauty Concierge menu includes:
SKIN ANALYSIS - Skin Analysis performed with VISIA Complexion Analysis
Advanced multi-spectral imaging technology captures digital photos of the face and measures wrinkles, eveness, pores and pigmentation.  Skin features are graded and analysis provides you with the comprehensive data needed for a rejuvenation plan and ongoing skin care program based on your specific complexion requirements.   *** This I tried, and will show you more pictures in the entry below. ***
SKIN TREATMENT
Including Moisturising Facial, Anti-Aging Facial, Whitening Facial, Radiance Facial [15 min each, you choose ONE]
I opted for the Radiance Facial using all La Mer products, again more information and details below.
MASSAGE
Hand Massage [20min] - A luxurious hand massage using the client's fave hand cream/ treatment product
MAKEUP
From touch up, full makeover, makeup lesson, Airbrush Makeup, Makeup Trend, Eyebrow Shaping (ranging from 15 - 60 mins)
PERSONALISED SERVICE
Personal Shopping, Events & Workshops, Custom Engraving Service (Personalised a bottle of fragrance, lipstick or selected beauty products with a custom-engraved name or special message)
This is how the Beauty Lounge looks like inside - it is designed to host one client at one time, so the space is cosy, and quite luxurious.  The other side of the room is the facial bed, and there is a curtain which will be drawn when you are having your facial. The loud booming music from outside in the main area drifted in the whole time... so if there is any soothing music inside, I didn't notice.  Still, it isn't a serious enough issue for me personally. Skincare and makeup products are displayed in a discreet and chic manner, kind of like someone's mega makeup and vanity area.  I definitely felt at ease immediately.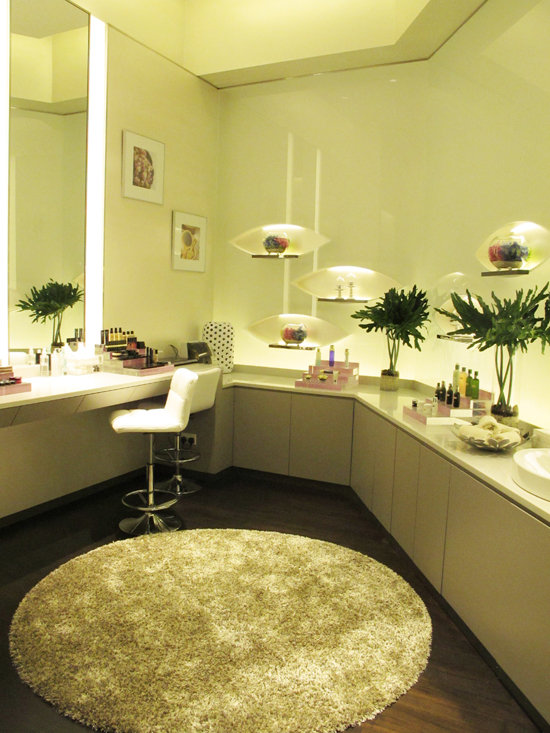 This is the Visia Complexion Analysis machine.  I put my face there, for the machine to take pictures and analyse my skin.
It is kind of like those machines where you test your eyesight at the optician.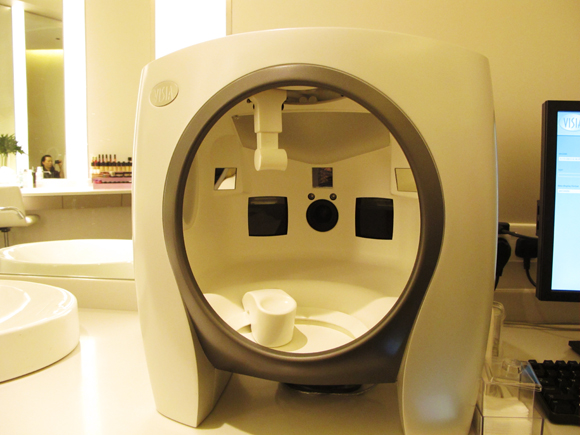 The Beauty Advisor will explain each aspect of the analysis results to you, such as the causes and how to address a particular concern. At the end of the session (about 30min) you will get a printout of your report (which looks like that in the picture below).   If products are recommended, they will be printed out as well, so you can even start doing your shopping right away outside.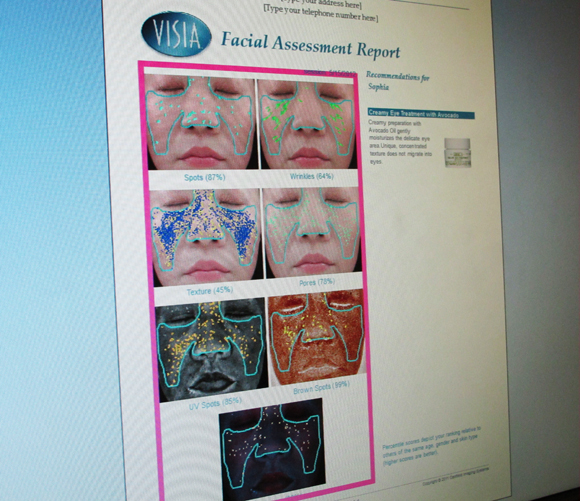 This is a quick snapshot of my skin condition according to the machine.  Any score below 40 is of particular concern.  So as you can see in the picture below, my main concern is the texture of my skin -- meaning the skin surface, due to pimple scars, lack of exfoliation, pores and fine lines. So I basically need to exfoliate my face more regularly, and continue with my Genefique & Visionarie combo which addresses all these concerns. Phew!! I am on the right track.  I am also quite glad to know that my UV spots and Brown Spots scores are very healthy (which is no doubt thanks to the slew of brightening products I have been using).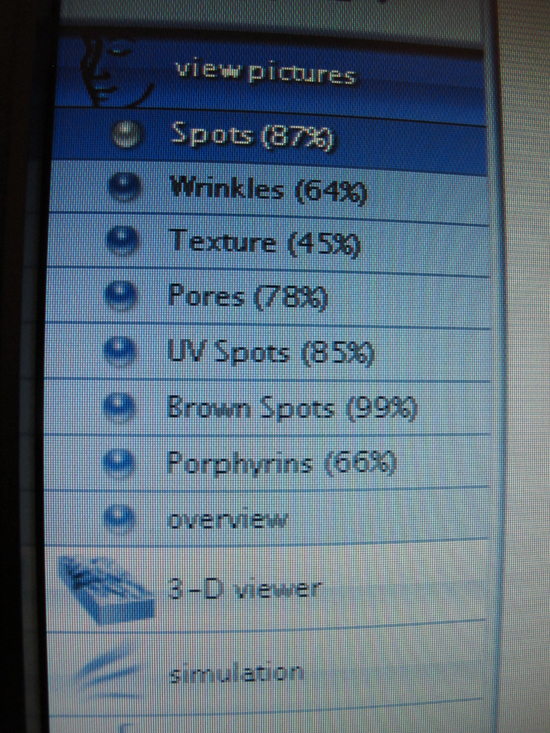 This is where product recommendations are made.  Each product information is provided, kind of like shopping online!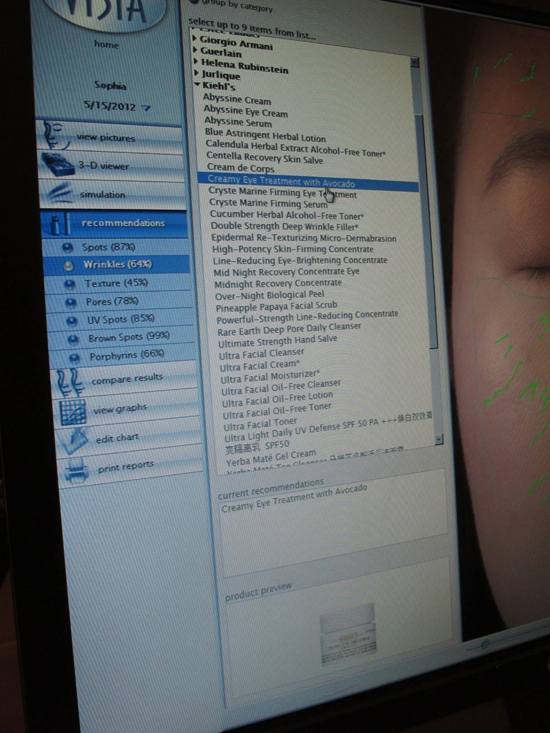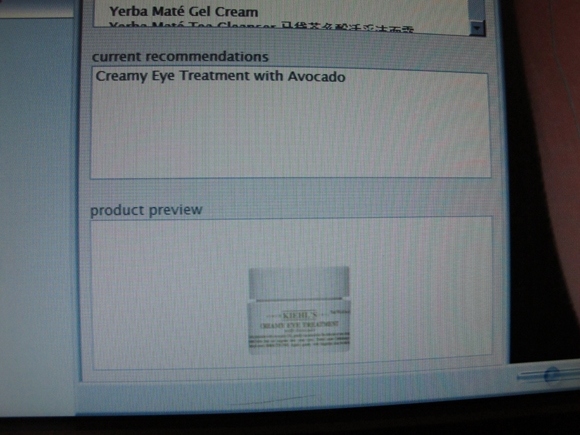 After the skin analysis, I went for a quick Radiance Facial - using these products below.  It was quick and relaxing, and my face felt really nice after.  I didn't opt for any makeup after the facial... that would totally defeat the purpose of having such a luxe facial treatment!
Overall, it was quite an enjoyable experience, the BA who attended to me, Rachel, is friendly and approachable. She is helpful with explanations, and even assisted me when I decided to make a couple of purchases after my facial.
It would be challenging for tourists to make time for such treatments, but if you have the time, and make an appointment, it is totally worthwhile - because where else can you have such treatments which are independent of brands, and you have some freedom in picking out which items you want to try?  That in itself is a big draw for me.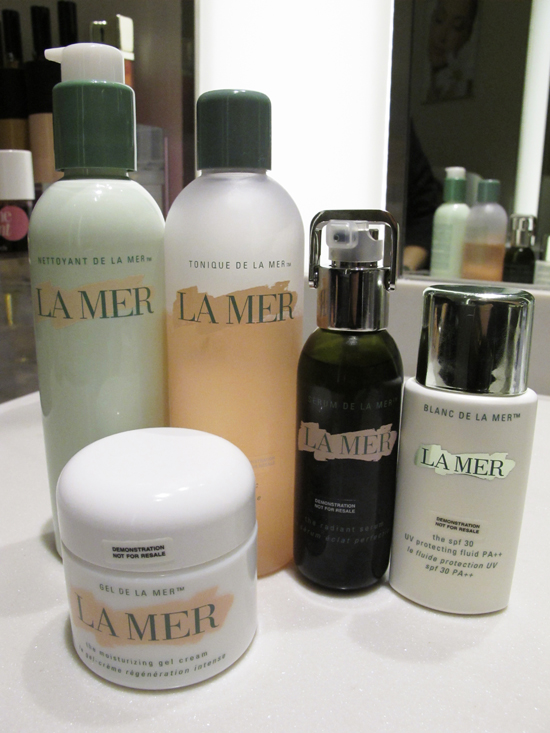 The little tour of DFS which I had before the skin facial:
The entire Beauty Hall is spacious, bright, chic and very sleek.  It is nice to walk about the place, everyone has a smile for you (it wasn't very crowded when I was there, hardly any tourist in sight).  Lots and lots of products everywhere, but not cluttered.  Several of the makeup brands have counters which are way bigger than what you would see at say, Metro, or Isetan.  The La Mer, Lancome, Guerlain, Dior and Benefit counters are very big, and inviting you to shop!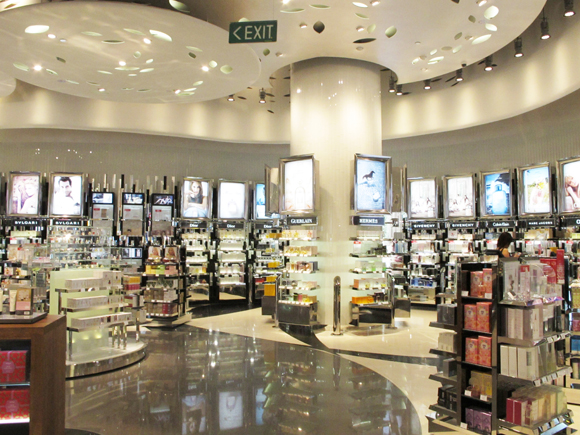 Some brands which are currently exclusive to DFS Galleria: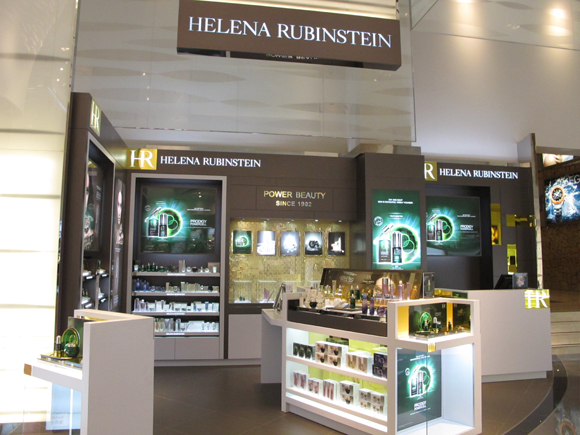 The Giorgio Armani counter - pssssss --- the Eyes to Kill intense are running so low on stocks only 3 shades were available when I was there - more stocks are coming.
The huge La Mer space - it is like a shop in itself!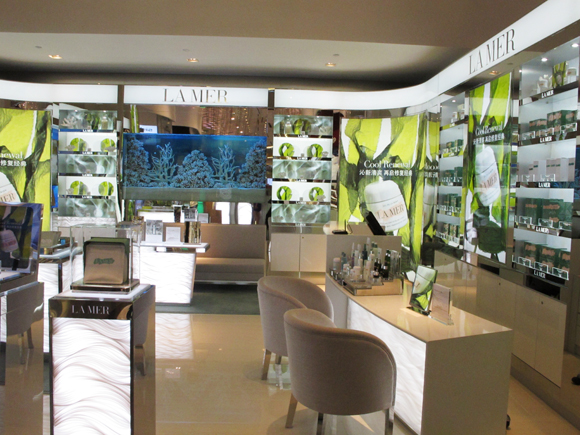 Many brands also offer free add on service - such as these: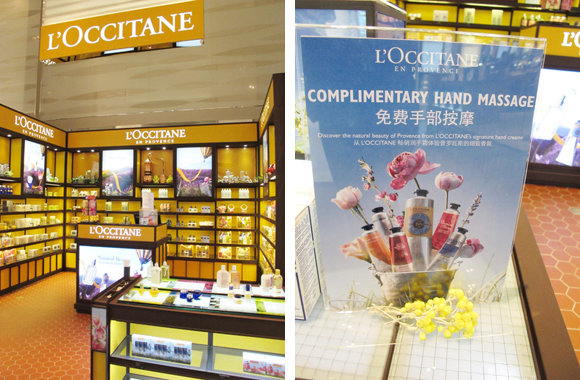 What makes beauty shopping here unique --- the exclusive travel sets - you don't need to be jet-setting and shop at the airports with these offers: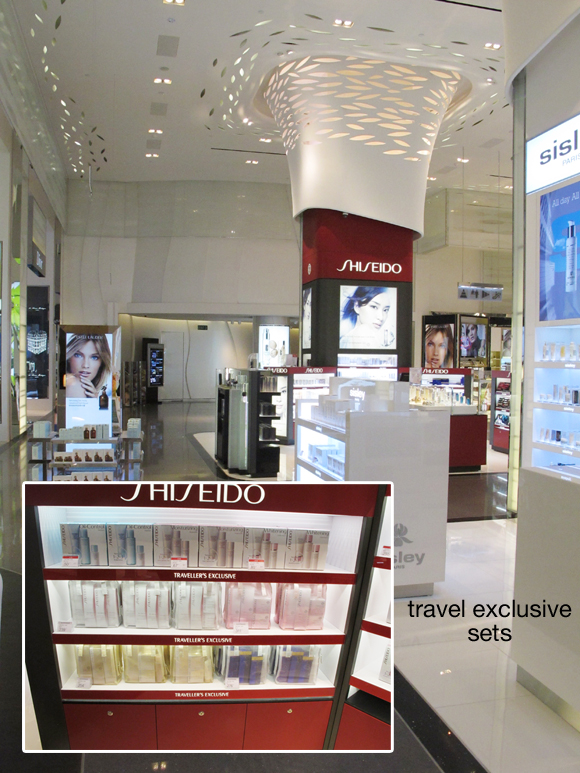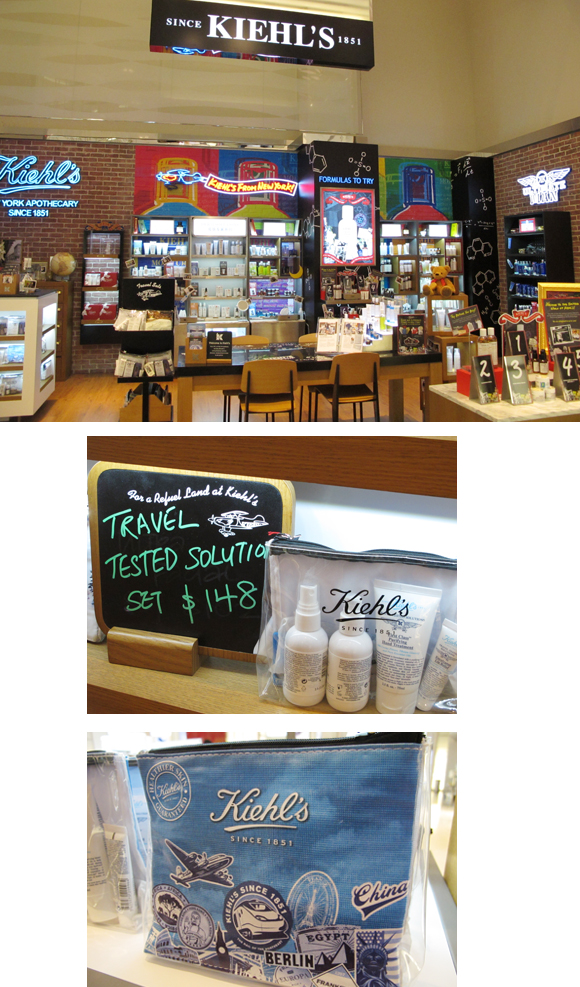 Overall, a highly enjoyable and informative visit and experience at the Beauty Concierge.  Make your own appointment, and check it out for yourself.  If you are interested to see what I purchased, I will be updating in a later entry! :)
That's all, and thanks for reading!