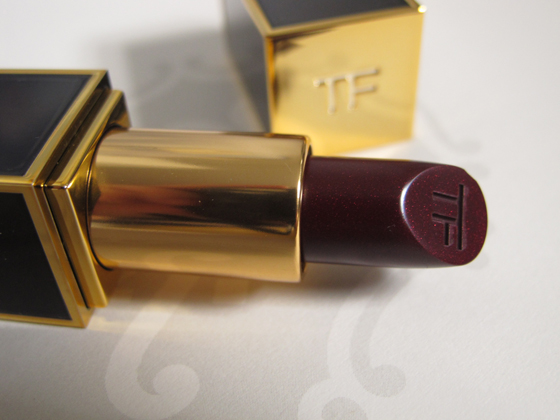 </p>
Hi hi!  Today I have two bold and dark lipsticks to show you.  I have been really into bold lippies lately, I would try all sorts of reds (I personally find reds more wearable than a bright bright fuschia pink on myself), and now it is about time to venture into the deep end, the dark aubergine colored lipsticks. 
Behold the first one, the iconic TOM FORD Black Orchid, seen on many celebs, beauty magazines and beauty blogs (click here and here).
Unfortunately it is not part of the collection we have here in Singapore, but I found mine at the Tom Ford counter at the Times Square Lane Crawford in Hong Kong.  They had 2 pieces left (no testers, I couldn't even swatch it) and I grabbed both, one of which I already sold to my gf. 
This is my second TOM FORD lipstick... and my first in the revised black casing.  If you see in the first picture, the lipstick contains some subtle shimmer bits, which isn't really visible when you apply it on your lips. 
The texture of Black Orchid is really smooth and creamy, and it glides on your lips.  I personally prefer to apply it straight from the tube. 
Click here to see Lisa Eldridge demonstrates the wearing of this surprisingly wearable lipstick at least 4 different ways - as a stain, as a class lipstick, as blush, and with a gloss over.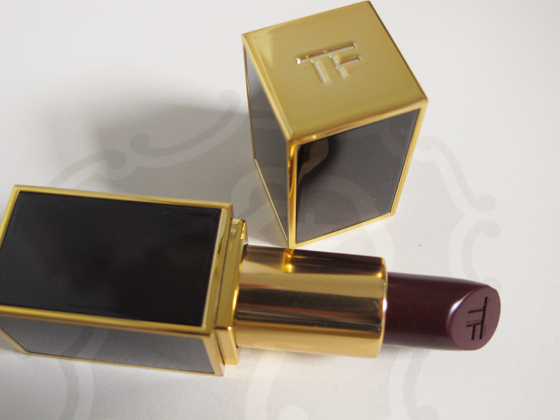 Next, we have NARS Pure Matte Lipstick in Volga.  I haven't heard many people talk about Volga.  It is very matte, and is a very deep aubergine shade.  I had bought mine during the NARS opening in Tangs, it retails for S$38.  It is a really blackened purple shade.  I haven't got to swatching it til now.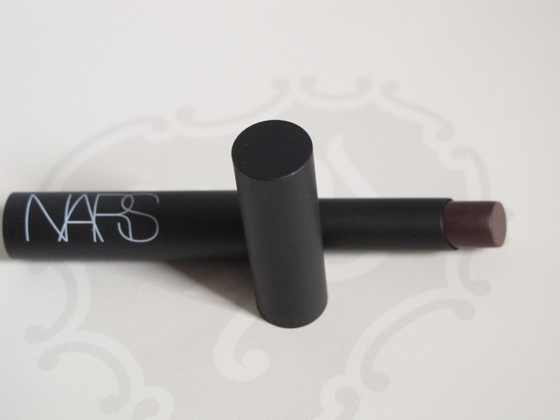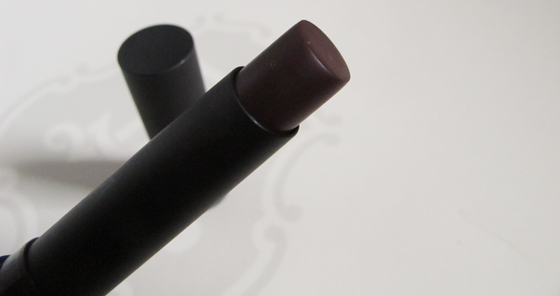 And here are two of the lipsticks: very different in terms of finish - and color too. 
Volga is more plummy, while Black Orchid is a deep red. 
I will also be showing you how you can wear a bold dark liplook without looking too stark/ harsh/ goth like in my LOTD pics.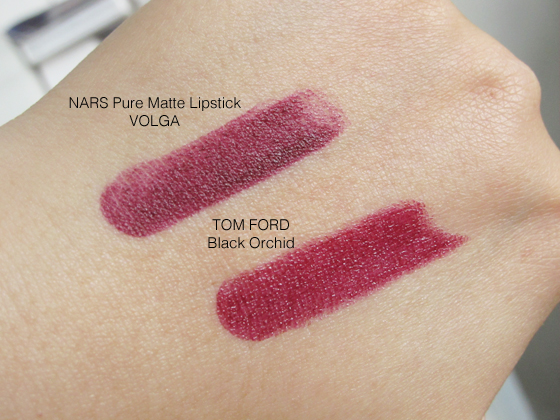 swatches on my lips - pardon the slight dryness on my lips!  I probably should have exfoliated my lips before taking these pictures - another tip for wearing bold lip colors.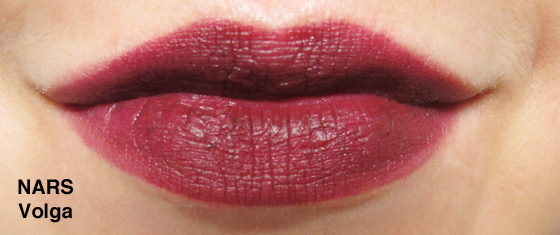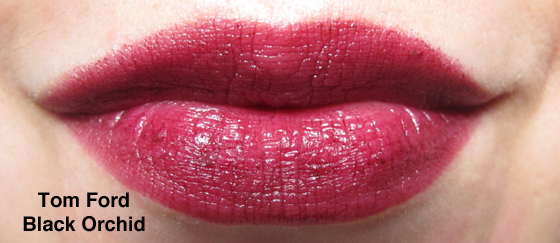 And how it looks like overall on my face - 
Some tips on how to wear dark lipsticks: 
1. I had blended the edges of the lipsticks with a cotton stick so it looks less harsh. 
2. I really much prefer a softer look to wearing these lipsticks - hence no lipbrush, no lip pencil to line my lips.  If you need to define the shape of your mouth, go ahead and use a lipbrush to outline your lips.. but I don't need to.. hence I just prefer to slap it on. 
3. Blot away first layer, and apply a second coat. 
4. Have some color on your face/ cheeks - this will balance out the dark lips - some eye definition will work too, though I won't advise going for a full on matchy eyeshadow combo.  I just went for my usual defined neutral smokey eyes, but kept the lashes natural. 
5. Be confident and rock it while you are out, even if it is out to a casual dinner/ lunch or running errands.  Dark lips are not for special ocassions.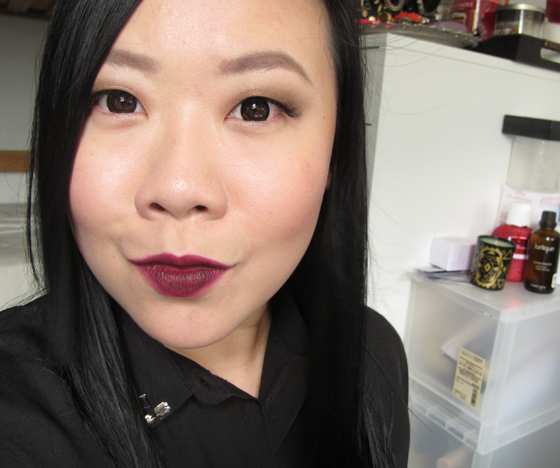 a close up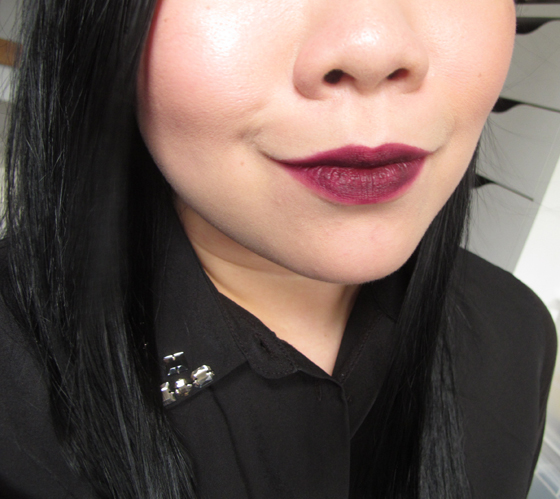 and Black Orchid:  It is really not as scary dark as I had thought.  This is about two layers.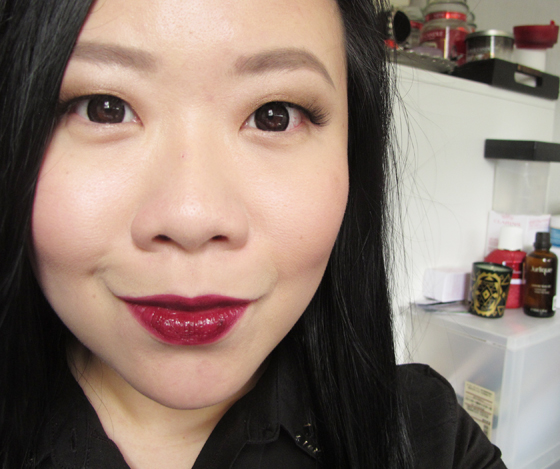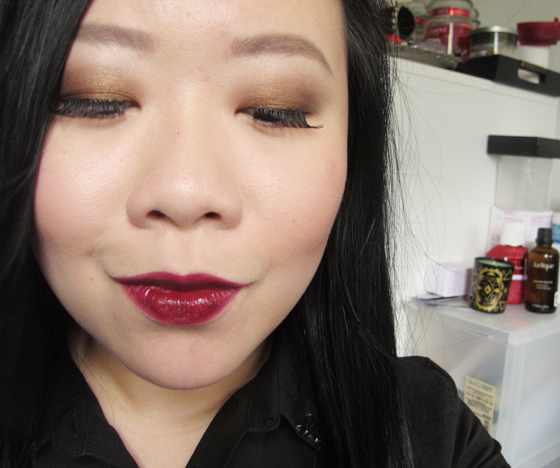 Click here to see makeup artist Mary Greenwell use Black Orchid on a very fair skinned model - and check out her application method.. Very easy, not intimidating at all. 
All products used in this LOTD: 
Face - Ettusais Mineral White BB cream, Guerlain Papure liquid foundation, Chanel Ultra Fine loose powder, Laura Mercier Concealer
Eyes - NARS Primer, Gorgeous Palette, Ardel 120 lashes, Lancome Liner Plume Noir
Cheeks - All Guerlain -- Terracotta bronzer, Meteorites Blanc de Pearle, Blush Duo Pink Punk 
Hope this has been helpful, and thank you for reading!