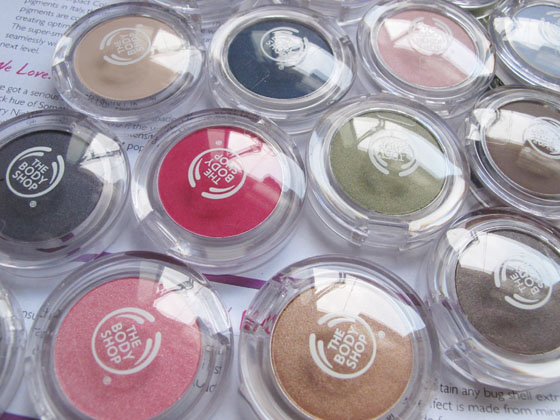 Hi hi!
The Body Shop will be launching (21 March 2013 ) a brand new range of single eyeshadows - called the Colour Crush Eyeshadows.  The range consists of a fashion-forward palette of 30 mono eyeshadows in a full array of the season's must have stand out shades.  Beautifully wearable, the lust worthy line-up ranges from elegant beiges, to shocking brights in a mix of pearly and matte finishes.  Incredibly blendable and buildable, these intense shades can be applied wet or dry and worn alone, together or layered, creating a myriad of looks from daytime chic to full-on night-time glamour.
The mono eyeshadows come in a clear recyclable packaging, which gives a better view of the rich, impactful colour inside.  
Each of these eyeshadows will retail for S$19.90 each. 
The high-impact Color Crush eyeshadows are made with crushed pigments in Italy, the fashion colour capital of the world.  HIgh quality pigments are coated with a silky blend of Community Fair Trade oils, creating optimal light reflection to bring out all their brilliance and clarity.  The super-smooth and silky, luminous colour glides on, melting and fusing seamlessly with skin to reveal a vibrant intensity.  Take your eye-look to the next level. 
100% Cruelty Free - these are vegetarian, and 100% cruelty free - these shadows do not contain any bug shell extract to colour the product, any shimmer effect is made from mineral mica and the binding agents are made from vegetable materials instead of crushed shellfish.  
The Colour Crush eyeshadows benefit from a blend of Community Fair Trade Brazil nut oil, marula oil, honey, organic coconut oil and sesame oil.  The community fair trade Brazil nut oil comes from the Candela co-op in Peru.  The 'castaneros' or nut gatherers collect the broken nuts that can't be sold for food use and hand-crack them to extract the oil.  Trade has helped to protect 3000 hectares of rainforest in the Madre de Dios region.  Sustainable harvesting also helps to support the indigenous species that depend on the Brazil nut tree, such as the orchid bee. 
Here's a close up of each of the eyeshadow single: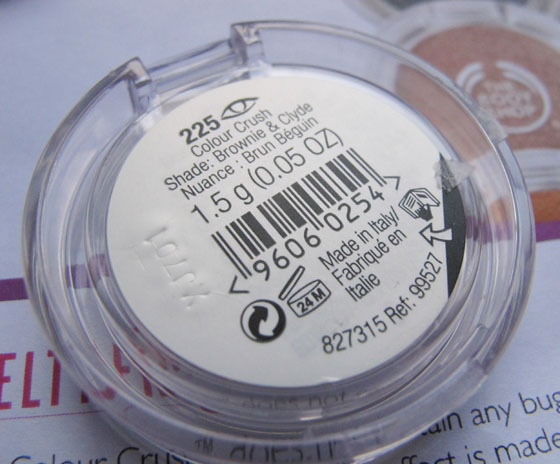 I have 16 eyeshadows here to feature, and I will swatch them by colour groups.   I will also do several LOTDs hopefully, featuring these eyeshadows in upcoming blog entries. (closer to end of March, I think, just before they are launched in stores)
Color descriptions are my own.
First, my FAVE - the neutrals and metallics - and I think they have the best quality too.  Each of these eyeshadows, whether they are matte or have a pearlised finish - are incredibly smooth and intense.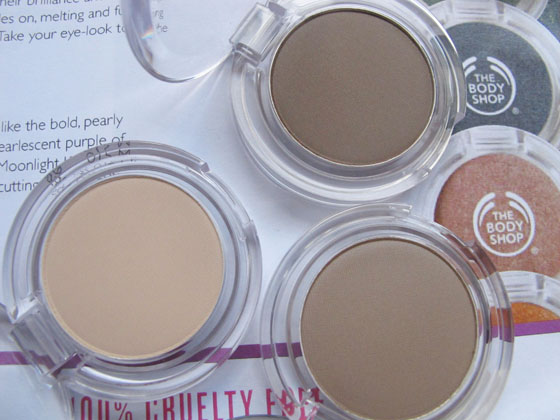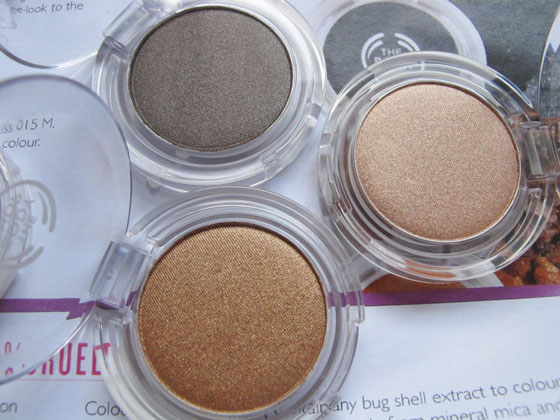 110 - Sand by Me: a creamy matte bone shade 
220 - Chocolate Linger: a matte medium ashy brown 
215 - Coconuts about You: a matte deep brown 
201 Melt my Heart: shimmering peachy golden brown 
210 Bronze Bliss: shimmering bronze 
225 Brownie & Clyde: pearl taupey deep brown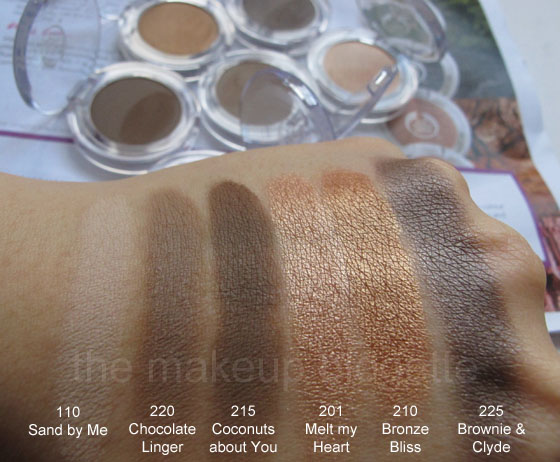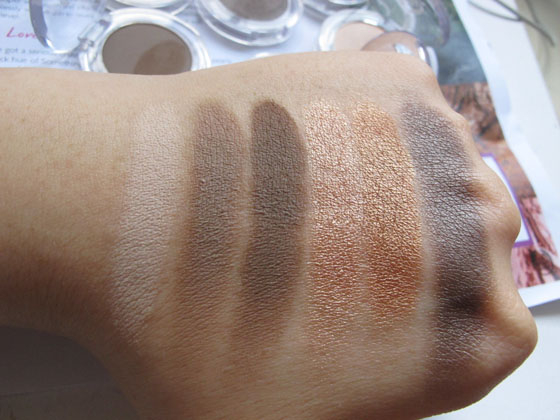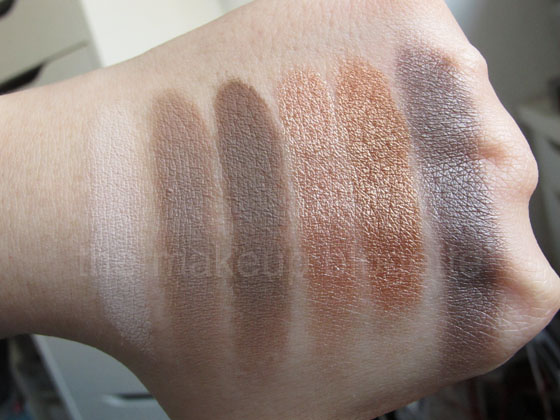 And the blues - cool toned shades.  I find that this color group doesn't seem as pigmented as the previous group of colors, but that's not to say that they are sheer, but I would personally use them with a colored base, if you want a very intense look.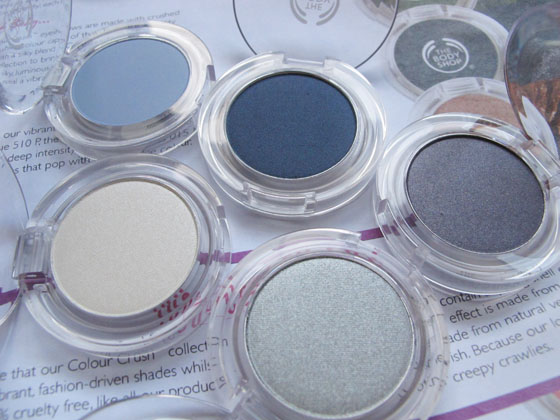 001 Sugar Gaze - very cool toned white with a pearly sheen
005 Steel my Heart - shimmery light grey
501 Head in the Sky - pale matte periwinkle
515 Blue over You - shimmering navy blue
415 Midnight Flirt - pearl finish, greyish purple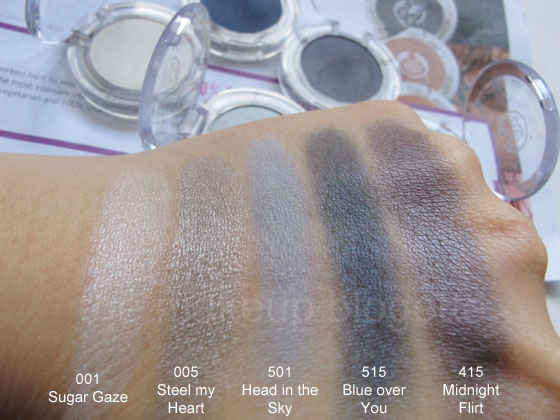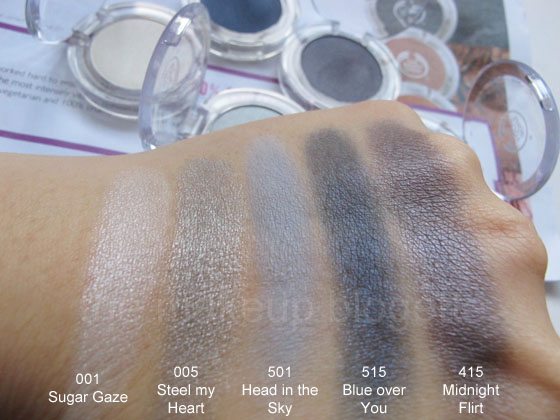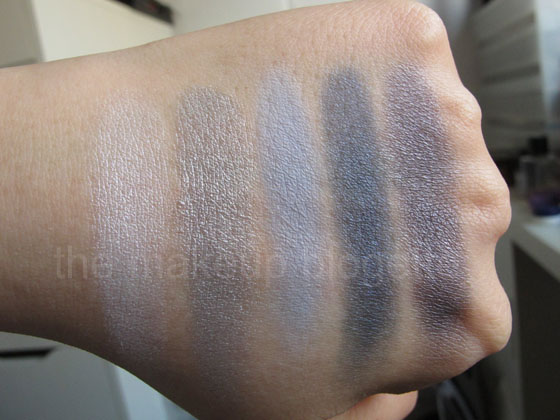 The bold and brights - the payoff varies, I had the most disappointing result with 301 Pink Crush, but all the rest are very creamy and pigmented.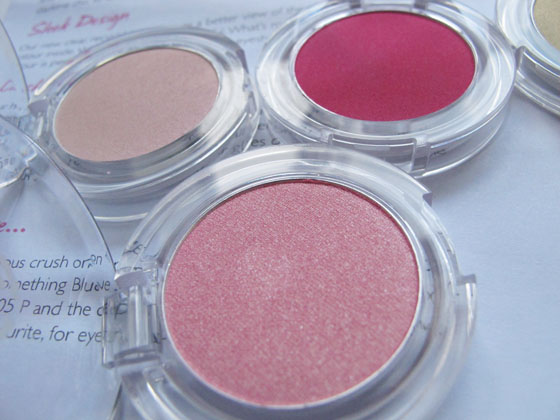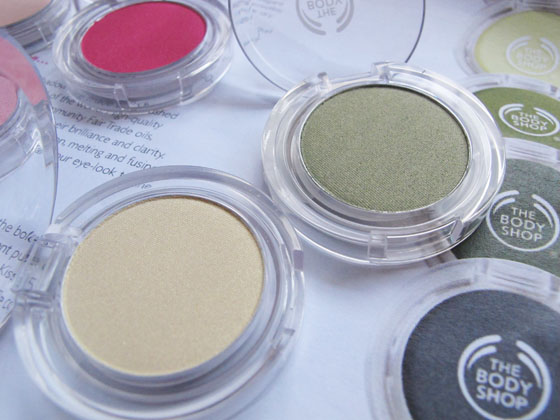 301 Pink Crush - pale shimmering pink 
305 Berry Cute - shimmering medium pink
310 Berry Cheeky - vibrant pink satin finish 
101 Golden Girl -pearly finish, blonde gold 
605 Sweet Pea - pale green, with a slight gold sheen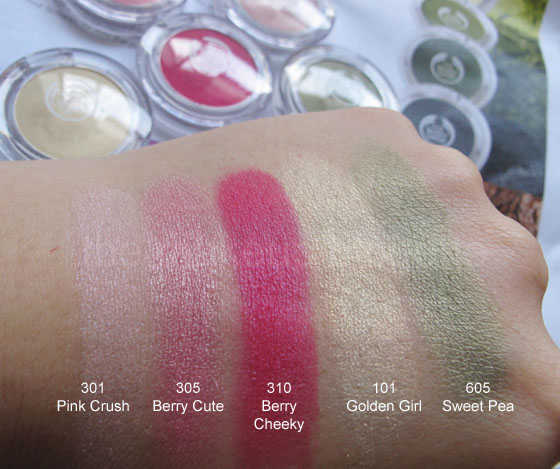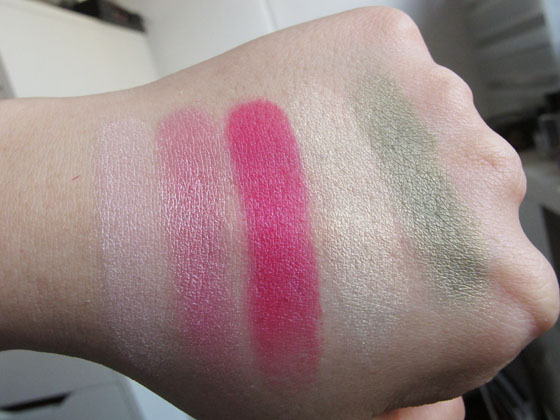 <span style="text-align: justify;">I will be doing LOTDs with these eyeshadows soon.  Stay tuned!  If you are looking for reasonably priced eyeshadows, you definitely want to check out these new Colour Crush eyeshadows from The Body Shop.  I personally think that they are very basic in terms of the colors - I mean, they don't have those complex multi-dimensional shimmer or glitter, but in terms of the quality, most of them which are comparable to some eyeshadows which are way more expensive.
</span>
Hope these swatches have been helpful, and thank you for reading!