Singapore, 10 January 2013
– BeautyAsia, the region's
most established one-stop show for the beauty, spa and health industry is back for its 17th appearance at a new location. This year, BeautyAsia will be held at Sands Expo and Convention Center at Marina Bay Sands from 25-27 February. 
BeautyAsia 2013 will have the distinction of being the launch pad for Singapore's first Hair Designer of the Year award. The competition is open to hairstylists from around the region. NailsAsiaTM 2013 will also be hosting its much anticipated 7th International Nail Art Competition with six award categories up for grabs including 3-D Folk Art Nail Design, French Sculpture Gel Nail and Mix Media Nail Art Design (theme: Chinese Zodiac).
<span>Organised by Lines Exhibition, BeautyAsia incorporates four distinctive shows: BeautyAsia, SpaAsia, HealthAsia and NaturalAsia. Every year, trade professionals, owners and operators of beauty business look to BeautyAsia for the latest technology, art form, leading products and upcoming industry trends from both the East and West. Exhibitors will be hosting a series of activities at the show including beauty workshops, product demonstrations and talks by leading experts and professionals from around the world.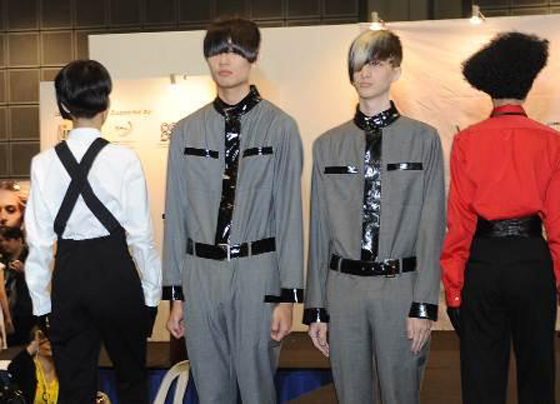 </span>
BeautyAsia 2013 is open from 11 am to 7pm during exhibition days. Admission to the show is free and is open to beauty and wellness trade professionals and other registered guests. 
BEAUTYASIA 2013
Product highlights
The ultimate cover-up job
Still new to Singapore, paramedical skin camouflage is the art of concealing or covering skin imperfections/disorders with the use of cosmetics. This helps to minimise attention drawn to the imperfections and alleviate the sometimes psychological and social effects that these may have on the person's life. Niks Cover Cream is a premier paramedical camouflage cream that can be applied thinly or thickly (depending on needs) for a soft matte finish. It comes in a range of 18 skin shades to ensure the closest possible match with one's skin tone. 
Formulated in Singapore and made in the United States and Europe, the cream is suitable for all skin types and can be used after IPL, laser and microdermabrasion. Niks Cover Cream can be used to cover or normalise permanent and temporary discolourations such as:
<span>Tattoos
Scars due to trauma, burns or cancer
Various types of pigmentation
Vitiligo
Moles
Acne marks
Age spots
Varicose veins
Rosacea
Birthmarks
Dark eye circles Temporary discolourations 
</span>
Nail magic at home
Red Carpet Manicure is the world's first at- home professional salon gel manicure system for consumers, setting a new category in the consumer beauty industry. Nails lasts for weeks without chipping or peeling and stays truly glossy and in pristine condition. Red Carpet Manicure is truly the replacement for traditional nail polish. All it takes is 30 minutes to have gorgeous nails in the comfort of your home. So easy and fast that anyone can do it. Japanese brand Sha Nail Pro, the world's leader in nail ornament, will also be showcasing its nail system. Made from a unique ultra-thin film, Sha Nail Pro allows you to layer designs with nail systems such as acrylic, gel and gel polish to create stereoscopic 3-D effects with no bubbles or wrinkles. Sha Nail Pro is the next generation in design and fashion for nails. 
Konjac clean sponge    </p>
You might not know it but Konjac or what is often known as konnyaku, is not just great for eating but can also do wonders for your face. The Konjac clean sponge is 100% natural as it is made from plant gel fibre. Besides being eco-friendly, its natural cleaning function makes it good for exfoliating and deep cleansing even the most sensitive of skins. It also promotes facial blood circulation and retains the skin's moisture to make it soft and fairer.
Made in Taiwan, the Konjac clean sponge has received rave reviews in Korea and Japan as well. The Konjac clean sponges come in several versions to address the needs of different skin types, whether it is to curb acne, accelerate exfoliation or improve whitening.
***** I will be updating this entry with a complete list of the brands and vendors which you will be able to check out at the show *******
In past years, I have come across China Glaze, Deborah Lippmann, Zoya nail polishes selling at discounted prices.  There are also lots of opportunities to get beauty supplies (hair irons, tongs, etc etc), false lashes, salon equipment, and I heard that this year, Hakuhodo brushes will also be taking part.  I can't wait to share the final list of vendors as soon as I get more information.
Thanks for reading!