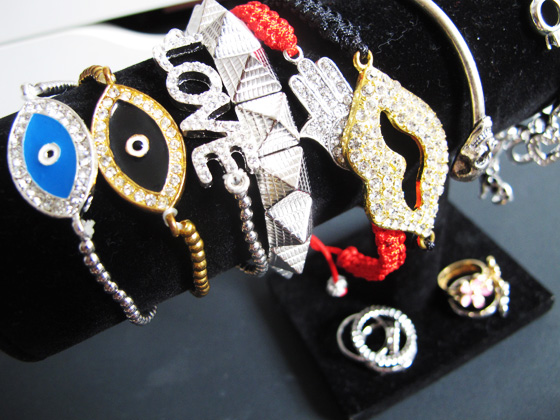 Hi hi!
Several weeks back, I was contacted by Linda from LeVonne to select and try out pieces from her online jewellery store, and after browsing her Esty site, I immediately had my eyes on several pieces, and she is super super generous to send me a whole bunch of them, including the super awesome bracelet stand to display some of my armcandy! 
Everything in her store is under S$20 (mostly under $15 even), and you just need to pay S$0.50 for local postage, and USD$2.50 for international orders. 
Every item is packaged in all these cute black velvet pouches, and the pieces are fairly well-made (think Topshop and some of the better Forever21 pieces). If you are into dainty trendy stackable armcandy, rings and hair accessories, I think you will like the designs at LeVonne.  
I shall showcase the pieces I have, and some options for stacking.  If you follow me on instagram you would have seen some of these #armcandy #armparty pieces.. heheh.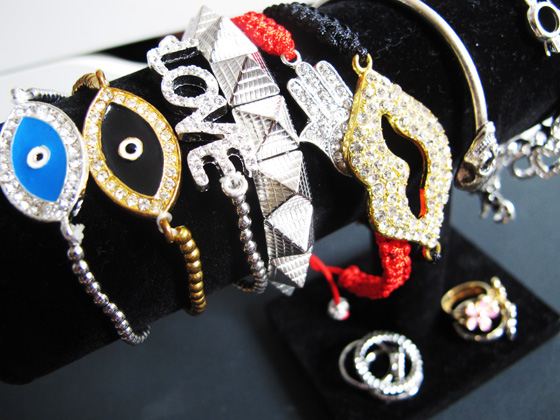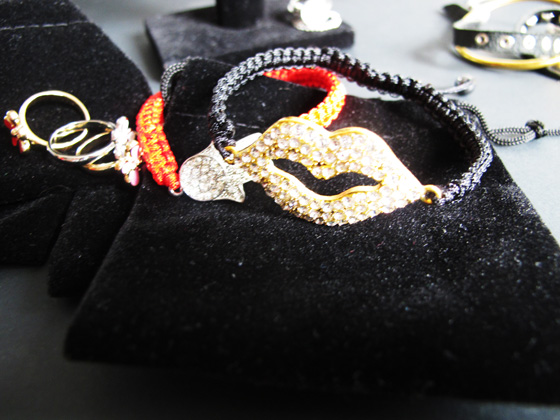 Here are the rings - we have the 3 flowers stack, which are a little too girly for me, but they fit me well, and remind me of the Marc Jacob Daisy.  The other 3 rings I like to wear them together, one has the peace sign all round it, another one with diamonte stones, and one with the sparkly peace sign.  I actually like that the rings don't have that weird opening for adjusting to suit different fingers, because I often find the gap very pinching, if you know what I mean.   But they feel smooth and sturdy, and fitted my ring finger nicely.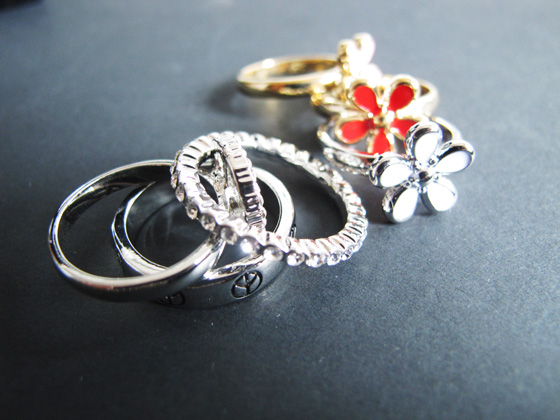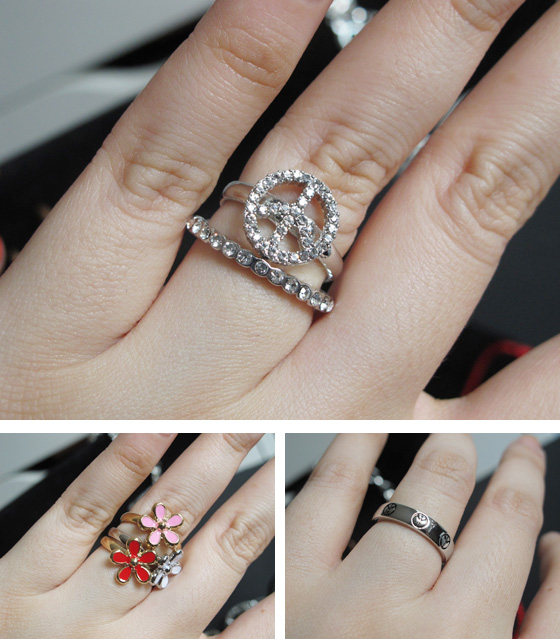 Next, we have the exciting stuff, the bracelets!  I got a hamsa, lips, evil eyes, studs and a charm bracelet.  Skull bangle is my own. 
The hamsa and lips bracelets have a 'drawstring' adjust and fitted my wrist nicely.  
The evil eye & stud bracelets are elastic ones. 
Here are some modeling shots.  Wrist model is my younger sister, while I did the photo-taking.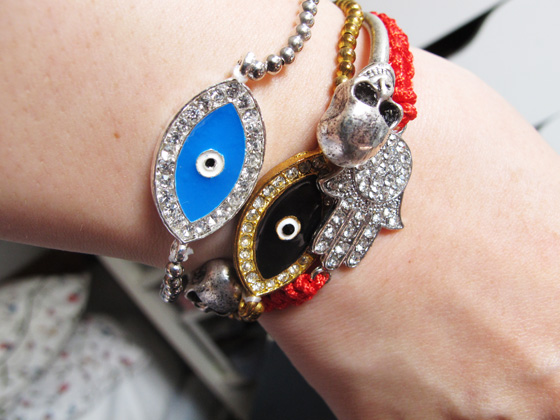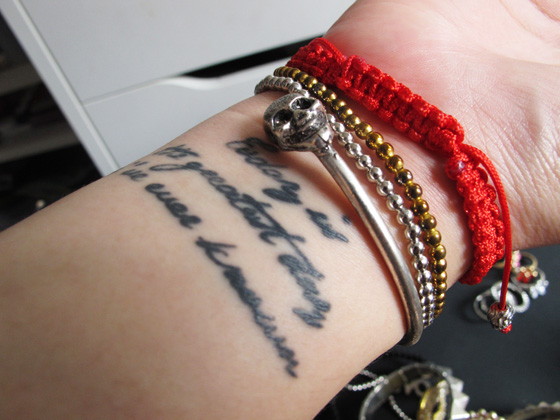 I really love the stud bracelet!  And here is the lips bracelet, which some of you told me you like. :)  
It really is kind of funky, and I think it is a very great layering piece.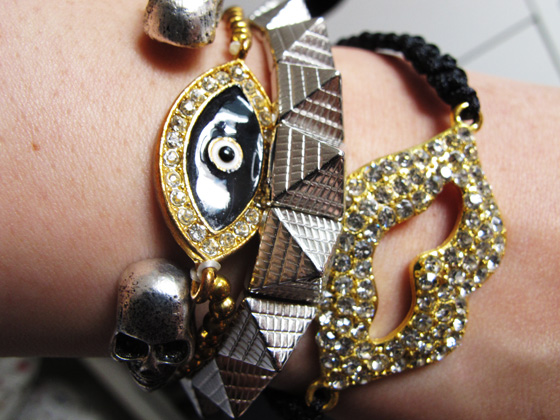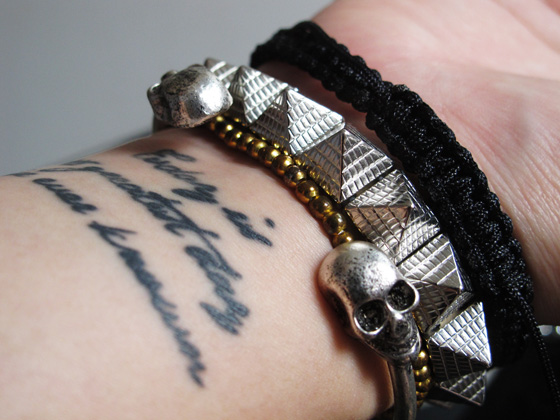 and shown here layered with my existing pieces... 
I love multi-wrap bracelets.  Not sure if you can see among there, there is a LOVE bracelet, it is also from LeVonne, they have other wordings too, like Faith, Dream etc..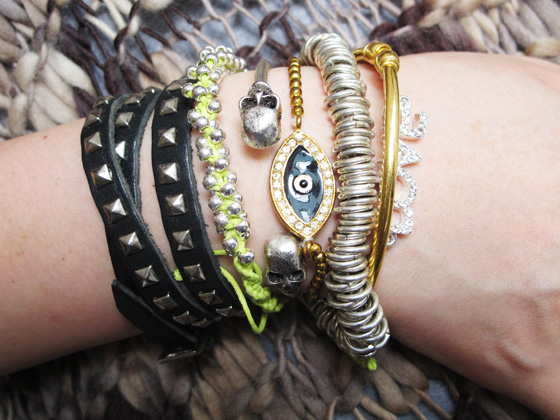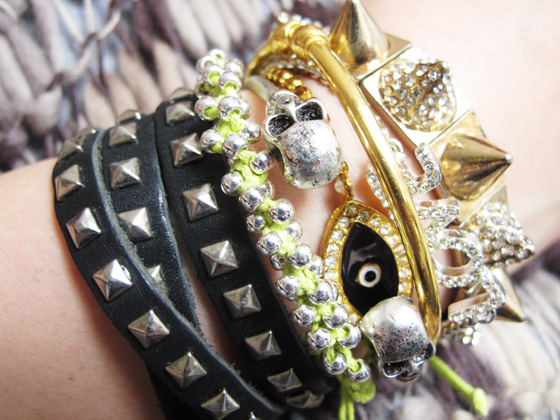 And now to the display stand, I can fill it up with lots more armcandy, now I am so inspired to create a proper display place in my shelf to properly store all my accessories.   I will show you when I am done it up!  A collection and storage type thing.  I highly recommend the display, it is very well-made, and able to hold lots of bracelets and bangles.  My only question is, if I want to reach the pieces in the middle of the display, I have to remove everything on the outside, and that's a bit of a hassle, no?  But this allows me to see everything I have, and I can sort of visualise what I want to stack together for the day.  Silly me, haha, so you should display your bracelets or bangles with an opening/ clasp in the centre of the display, and store the non-opening pieces at the edges, this way, you don't have to literally turn everything about whenever you want to decide what to wear.   Thanks to Linda for the tip!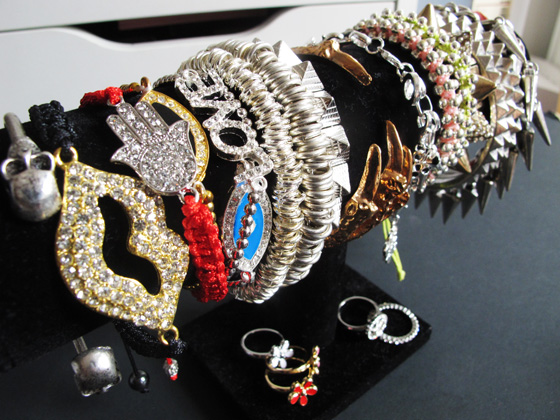 Overall, I really recommend you go checking out LeVonne, they do have some nice funky items, and if you are like me, you like to wear lots of armcandy, you will definitely like some of their stuff.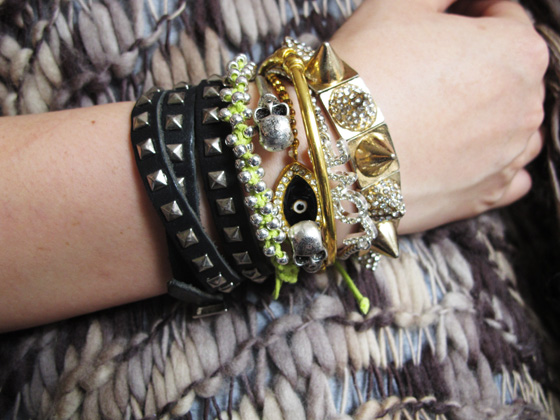 Ending this entry with some useful links to get you shopping: 
Levonne Facebook http://www.facebook.com/pages/Le-Vonnecom  (link link)
Levonne Twitter https://twitter.com/LeVonne2012 (link link)
Instagram LeVonne2012
LeVonne Esty Store   (They are based in Singapore, in case I didn't mention earlier). 
I hope you find this entry helpful, hope some of these caught your eyes, and do leave me a comment if you have any questions
Thanks for reading!