Hi!
Yesterday, I had the chance to attend the Anna Sui makeup workshop which is held at Tangs Vivocity.  It took place in a function room, near the handbags section, which I had never noticed existed.  The session lasted from 3 - 5pm, and participants get to learn about makeup application, try out a few makeup styles [Classy/ formal, Rock/ smokey and Cute] using Anna Sui products.
Towards the end of the workshop,  I was also treated to a sneak preview of a new Anna Sui product which will be released in August.  Stay tuned to the end of this entry for more pictures.
The workshop program:
The makeup artist will demonstrate each step of the makeup process, from foundation to eyes, cheeks and lips -- on HALF of your face.  You get to pick up application, layering tips and also what type of products suit your skintone, your lifestyle and so on.
After each step of the makeup process, you get to try out on the other half your face, using your preferred colors.
The makeup artists will go around to help you, and also give pointers.
The workshop has a good balance of 'theory', demonstration and hands-on practice.  There is also plenty of chance for question and answer, due to the small number of participants allocated for each session.
Each table is filled with an array of Anna Sui base makeup, eyeshadows, brushes, removers, everything you need!
Overall, the workshop is great if you:
are rather new to makeup, and you want to learn to create some basic makeup styles
are always curious about Anna Sui makeup, the bright colors and want to learn how to work them/ make them more wearable
pick up some useful basic makeup tips [for example, why do we need to wear primers, how to line your eyes using liquid eyeliner, etc]
perhaps you are stuck in a makeup rut, and want to look for ways to spice up/ add variety to the usual makeup looks you wear daily

I attended the workshop as an observer, so I didn't do much of the hands-on practice.  I did, however, cleaned off half of my face to try on the liquid foundation and loose powder [which I am really liking].  I also spent the time during the hands-on to swatch lots of the eyeshadows on my hands, and also ahem, helped the lady next to me with her makeup application.
Here is a picture of the makeup demonstration.
I didn't want to go trigger happy with my camera, because it is such a cosy setting,
I was the only one taking pictures [other than another Anna Sui staff],
and I didn't want to scare the other participants by taking pictures of them.  :p
Trying out the application techniques...here she is filling in her brows after advice from the makeup artist on the correct brow shape.
There is also another MA on hand to assist the participants, here the MA is showing how to place the blush color to flatter your face shape.
some swatches of the eyeshadows that were lying on the table
Really love this shade of dark blue green [single eyeshadow]
You can view Chantana's blog entry for lots more Anna Sui eyeshadow swatches and the eye brightener too.
And some of the eyeshadow duos which come with a cream color, and a powder color,
which you can layer them together for a blended color, and also to allow the duochrome texture of the colors to show up.
One of the products that really stood out to me [besides the liquid foundation, and a powder brush] is this eye corrector.  At first, I thought it is a concealer, because it is in the same packaging and color as the concealers.  It is a eye brightener, which is originally designed to be a eyeshadow primer, but it is also evens out the color of your eyelids, and you can also use it to tone down an eyeshadow [like when you make a mistake and want to even out the color etc].  It is really multi-functional, and the texture works over bare skin and also on powdered skin.
I was in a rush after the workshop, so I didn't check out the Anna Sui counter.. but I think this retails for S$37.   I am kind of curious to try this out to compare with the NARS primer, UDPP and TFSI.
I hope you can see from the eyeshadow swatch test to see that eyeshadow swatched with the eye brightener underneath is more intense.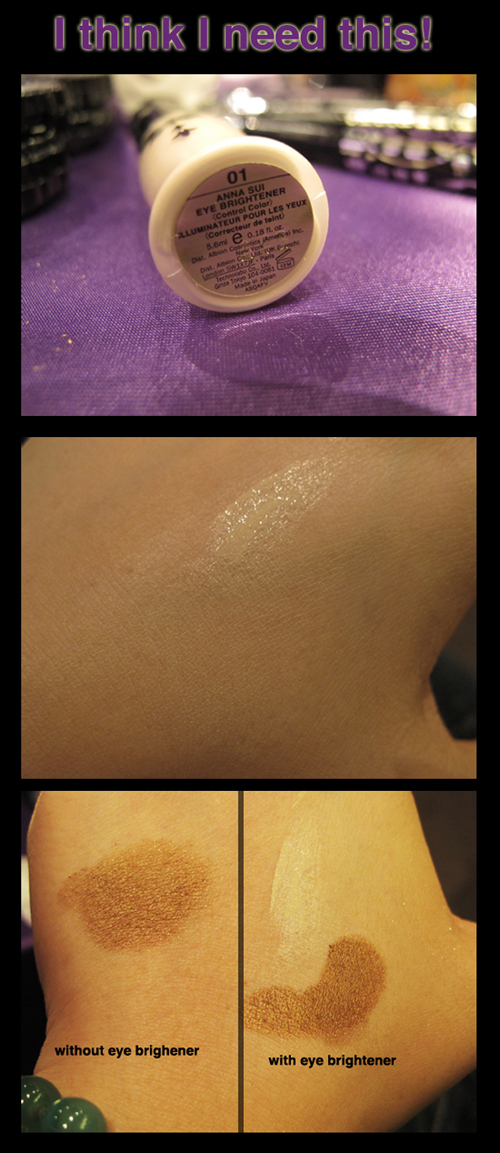 This is the product sneak preview...which is the Anna Sui eyebrow color compact. The packaging of these are just too cute, I was immediately drawn to the bow shaped compact [very sturdy plastic casing], which contains 2 powder colors.  One is the main eyebrow color, and the other is a striped color combination, for you to pick the color you need to accentuate and highlight your brows, making them look fuller and natural too.
Each compact comes with a dual ended application, one side is angled, and the other is a tiny brush for you to pick out the highlight colors.
No price information on these yet, but they come in 3 shades:
01 - the lightest, 'blonde'   02 - the reddish brown, 03 - the dark cool toned brown
I didn't swatch them on my hand, because the colors will and should only appear when applied on your brows.
The eyebrow color compact is part of the Anna Sui A/W collection, which is set to launch August.
[click here for more information on the collection at RougeDeluxe]
That's all, and thanks for looking!