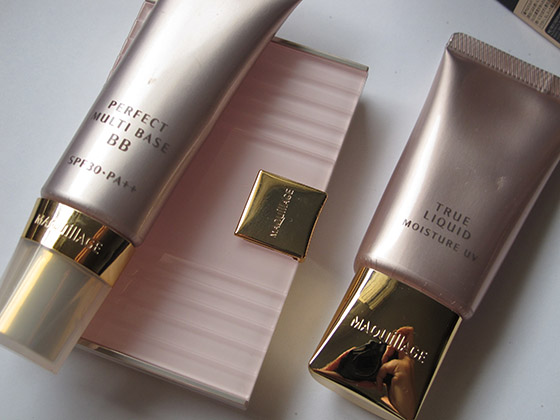 Hi hi!!
This entry is a review & application of the new MAQuillAGE True Liquid Moisture UV foundation.  I have been using it for over a week, and I think I have found the perfection match to the MAQuillAGE Perfect Multi Base BB - I know that many of you are fans of the base BB, it is able to even out your skintone with a nice radiant finish.  The True Liquid Moisture adds coverage, longetivity without interfering with the same radiant finish.  The foundation also claims to be hydrating for 10 hours.. that I do enjoy, even though I have oily T-zone -- but I do enjoy a hydrating base, because I want my face to be hydrated throughout the day.  I would much rather blot away the shine than to have an overly matte face that can look dry and flaky/ dull especially if you are in an air-conditioned place most of the time. 
Okay, and before I go into further detail about how the foundation feels on me, here are some swatches 
and I have previously blogged about the information in this entry.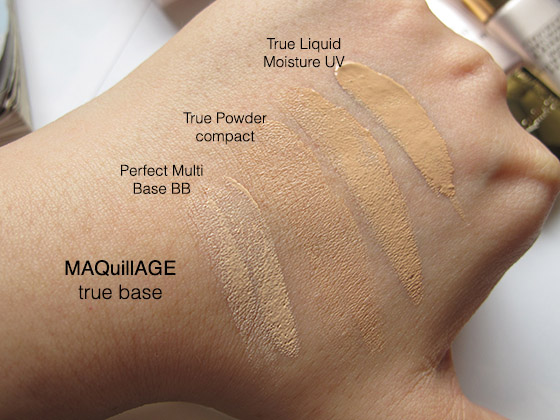 Here's the application process: 
I am going to pair the foundation with the bb base, as both products are supposed to be perfectly complimenting.
So I usually dabbed the base all over my face, and then I buffed it out with a brush. 
I have reviewed the Multi BB base in this entry here.
The bb bas light coverage that evens out my skintone. 
Then I dabbed the True Liquid Moisture all over again, like how I did for the bb base. As you can see the foundation is quite warm toned which neutralised the pink in my face. I am using the shade OC20, though I could also get away with OC10 too.  
The formula of the foundation is almost like a bb cream, it is slightly creamy and also a bit gel-like.  It blends easily, and I have also used it once on its own, and it was able to give decent coverage. 
So as you can see there's more coverage not, and you can still see the skin texture, it is not cakey nor too thick at all. 
Another pic to show the true finish. 
I set my face with SUQUU chiffon feel loose powder (my current fave) because I always set my foundations with loose powder.
And then I applied blusher and finised the rest of the face. 
And an overall finished look - I have been sporting this combo in a couple of LOTDs.. and I do find that it photographs very well. 
More details on this LOTD in another entry. 
My overall thoughts on the foundation:
If you want to try a natural finish hydrating foundation, I think you will love this.  It doesn't feel greasy at all, and you do get a decent amount of coverage with this foundation.  Do you really need to use it with the Multi Perfect BB Base?  Well, if you like to have matching base and foundation, I think you will definitely enjoy this combination.  You enjoy the best of  both worlds in terms of coverage, finish and the hydrating factor.   But the foundation on its own is a great performer.  It is suitable for people with normal to dry skin.  The handy tube also makes it perfect for travelling, and great if you are going to somewhere cold and dry. 
It is a foundation combo that also settled nicely and looks better and better throughout the day.  That's what impressed me the most about this foundation combo... initially after application, I am just like 'okay' with it, it didn't wow me or anything, but as I wear it throughout the day, I noticed that it sets very nicely and really makes my skin looks smooth and flawless.  That's the most impressive part of the foundation to me - how it sets and looks throughout the day. 
For comparisons to recent foundations I have tried, 
This is comparable to Lancome Teint Visionnaire in terms of the finish, but longer lasting.
Also comparable to Armani Luminous Silk in terms of finish, but more slightly more coverage.  But the GA has a nicer more refined finish. 
Quite similar in terms of texture and finish to Rimmel Wake Me Up foundation. 
Different from the Shu Uemura Lightbulb Foundation - which is better in terms of coverage AND finish. 
Bottomline: 
If you are looking into trying out a natural, hydrating and efficient daytime foundation, you will enjoy the MAQuillAGE True Liquid UV.  
Hope this overview has been helpful, and thanks for reading!
Leave your questions in the comments below, if I haven't addressed a particular aspect of it.