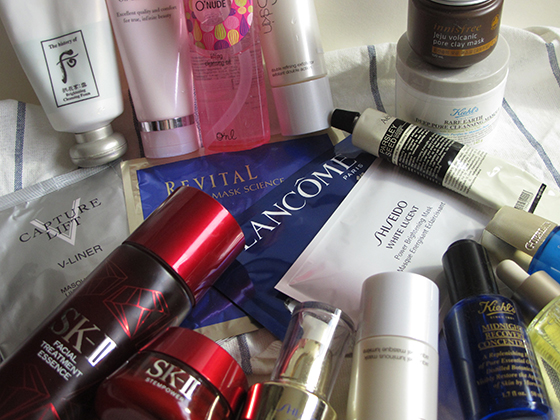 Hallo!!  This is a rambly chatty entry... and as you can already tell from the title, what I am using at the moment.  And just to give you an overview, I am not using any particular brand at the moment. but instead I am using stuff from all over the place.   It looks complicated and messy in the pic above, but I assure you, it is actually one of the simplest routine I have used in ages.  For one thing, you will realise that I am almost using NO serums at all.  
I might have mentioned before, but my skincare philosophy is to keep the skin clean and to major moisturise.  I don't like face creams that are touted to be ultra lightweight, gel like, watever all those things that skincare companies say when it's all specially formulated for "Asian women" - I for one, like creamy creams that are easily absorbed and leave your skin feeling nice and smooth the next morning. 
My skin concerns would always be to fade old scars from spots (can't remember when's my last breakout, TOUCH WOOD) and also to keep the lines at bay. 
First step - Makeup Removal & Cleansing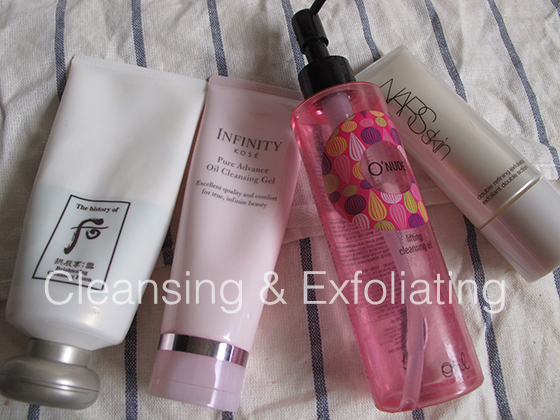 I have been testing out something like over 10 makeup cleansing products lately.  But now I am rotating them, and have only put out a couple of them to use.  
Makeup Removers - 
1 - Kose Infinity Oil Cleansing Gel - this is a rich creamy oil gel and I love the texture.  But I only use this on days when I don't have eye makeup... I just use this to remove foundation & brows stuff on my face at the end of the day.  Love that it does not strip my skin and makes it feel soft.
2 - SOmang O'Nude Lifting Cleansing Oil - this is vert effective and great for removing eye makeup.  But it doesn't emulsifiy very well upon contact with water.  You have to really work the water and oil together. 
3 - History of Whoooo Brightening Cleansing Foam - this has somewhat of a pearly scent - very rich and very creamy, and foams up densely.  No matter what makeup remover I use, I will always double cleanse with a foam.  I love that this is so luxe and makes my face feels so clean.
4 - NARS Double Refining Exfoliator - This can be used as a mask if you massage it into your skin and leave it on for a couple of minutes.  It contains coarse irregular shaped bits that aren't too densely packed.  I love the refreshing scent, and that it gently exfoliates my face.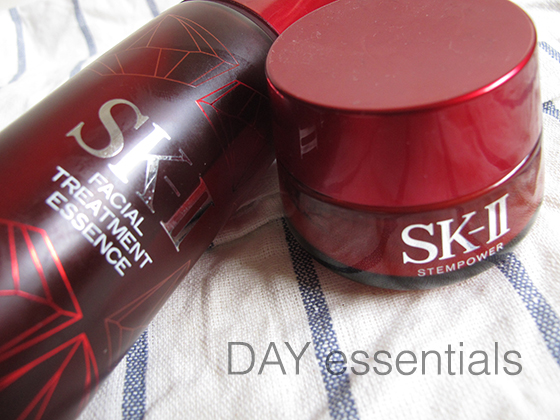 Day Routine - 
SKII Facial Treatment Essence 
SKII Stempower 
Actually this is both my DAY AND NIGHT routine.  Everyday... and 3 - 4 nights of the week.  Just two products, and I have noticed a signifcant skin texture improvement.  Not that I have serious problems to begin with.. but I am starting to feel quite wow about my naked skin lately.  I don't know how it works, and I am sure long time users of SKII out there can educate me..but this very basic combo just works!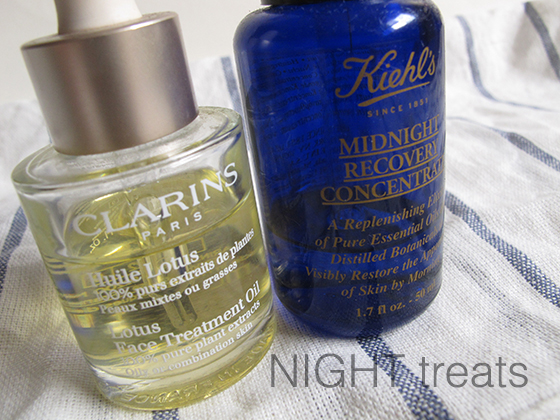 Night Routine - 
Clarins Lotus Face Treatment Oil 
Khiels Midnight Discovery Concentrate 
Okay, I use either one of these facial oils every other night.  Most of the time it's because I am lazy, and I just want to slap on a face oil and go to skeep.  For another thing they smell so relaxing and soothing at the end of the day.  I dripped a few drops on my palms, rubbed my hands together and then pat and work the oil into my skin.  I always wake up to smooth and firm skin the next day.  I think a face oil is the most simple and best way to hydrate and protect your skin.  The Clarins one does feel a tad heavier, so if you want a lightweight face oil, the Khiels one is better.  But I love both equally.    Tip:  Always get the 50ml duty free size of the Khiels (you can find them at the DFS in Orchard) don't have to go to the airport duty free when you travel.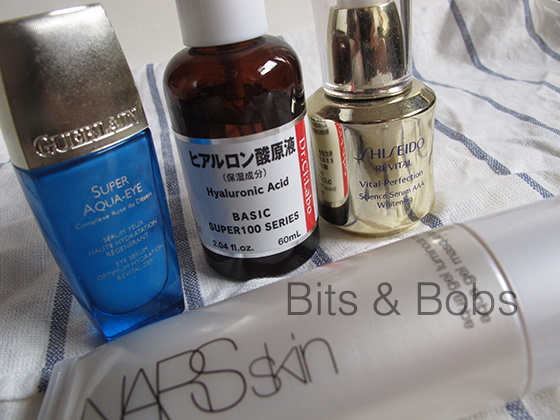 Random stuff - 
Guerlain Aqua-Eye Serum 
Dr Ci:Labo Pure Hyaluronic Acid
Shiseido Revital Serum AAA
NARS Aqua Luminous Gel Mask

I am trying to use up the Guerlain eye serum which was given to me by my friend Pearl.. and I am down to perhaps a week more of usage.  Then I will be going back to my Khiels avocado eye cream.
Once in a while I will use the NARS Gel Mask - I think it works like a sleeping mask like those Korean ones.  Again, very refreshing mask, and very lightweight. 
I sometimes slap on some Hyaluronic Acid (it's a clear gel form) onto my skin for extra hydration boost.  No rhyme nor reason.  Haha. 
I only use the Shiseido Revital Serum AAA when I am using the complimenting facial sheet mask.  Both make my skin very radiant and clear after using.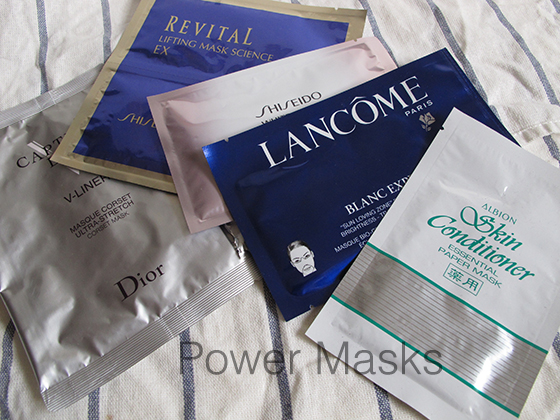 Masking - 
Sometimes - maybe once a fortnight, I will use a sheet mask - most often they are whitening ones.  I have a few here which I have received from the companies when I attended the skincare launches.  I love such masks - they are better than those you get at The Face Shop - I feel that they are packed with really powerful potent ingredients that really do something to your skin.  I would love to use them more often but I am ahem... lazy.  
The Albion skin conditioner mask is very interesting - it is soaked with the skin conditioner, and it is a toning mask - meaning it is a super toner that you slap onto your skin.  After that you still have to do the rest of your usual night routine.  
I also love both the Lancome and Shiseido Revital masks - they are firm ones that don't dry up at all.  Very cooling and relaxing to use.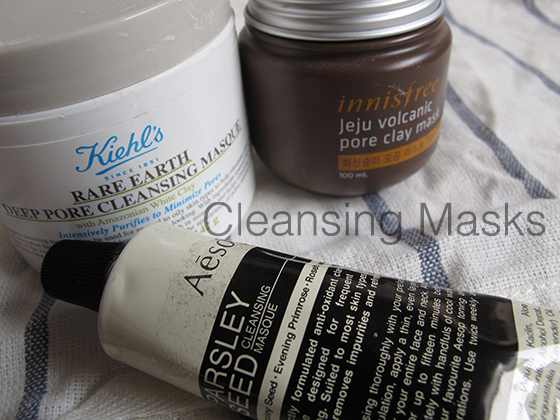 Cleansing Masques - 
Khiels Rare Earth Deep Pore Cleansing Masqua
Aesop Parsley Seen Cleansing Masque
Innisfree Jeju Volcanic Pore Clay Mask 
I use one of these once a week.  Think of these like vaccum cleaners.  While exfoliation products buff your skin and removes dead skin cells, these masks suck out the dirt from your pores.  Then after using one of these masks, I will use some power face oil, an ultra regenerating type of face cream, cos that's when the skin is most able to absorb the goodness.  
The Khiels one is the most powerful one - if you want something that works, this is it. 
The Aesop is very relaxing - love the scent, works just as well as the Khiels but 'gentler'.
The Innisfree is very mild, but works well too.  
I think that's about it.   My current skin condition now is very clear, and I can say that I don't have much concerns at all.  I am not one to mix brands within the same routine, but this situation now seems to work well for me.  When I run out of the SKII, then I will go dig through my skincare wardrobe and see what other routines are waiting for me to use. 
I hope this overview has been helpful, and thanks for looking!