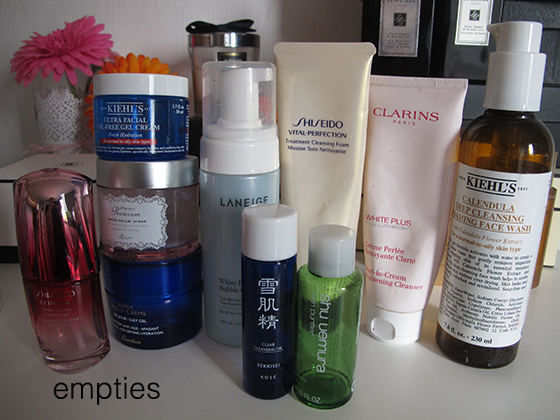 Hi hi!!
This entry is way long overdue!  I hope to clear it before the year goes by, before anything gets too old.  So here's an empties and currently using skincare chat.  I find this entry very difficult to write because I have been mostly using one/two brand skincare routines the past few years, but this year, I have been using a mix-mash of brands in my skincare routine.  But the prodominant products are from Kiehls and a few Shiseido, Albion here and there.  I am unable to pinpoint the effects of each product, but I shall try to comment on the efficacy wherever I can.  I guess my point of posting such an entry is to share with you stuff that I have enjoyed using and actually used up - just in case you are wondering what products I use on my face and all. 
My current skin condition & disclaimer - I am very fortunate to have very good skin condition the past several years.  By good skin condition, I will say my skin is quite hydrated, clear, and relatively firm for someone my age (mid-30s!! sobs!).  This year, I had a couple of zits, stayed in the same foundation shade, and went for several facials.  I also kept the use of face serums to a minimum this year, for some reason.  I have somehow managed to pear/pare? down my routine to only makeup removal, cleansing, slapping on a face cream and eye cream.  Some nights I do use a serum, and some nights I use a 'sleeping mask' as a treatment. This lazy routine suits me for now, phew!  All that being said, without trying to be all 'full of it',  but it is really quite hard for me to 'see' any visible skin improvement because I don't have noticeable concerns to begin with. If I say I don't see any visible effects, that is not to say that the products are not working, I am sure they are essential in my efforts to protect and maintain my skin condition. 
Click here to read my last skincare ramble back in June 2014
Empties:
1. Kose Cleansing Oil (that small blue bottle) & shu uemura cleansing oil 
I love both equally, in that they are just as effective but the Kose one is actually more emollient (and probably cheaper too?).  I am always testing out a lot of makeup removers, so it will be a long time before I will need to purchase either oils. 
2. Shiseido Vital-Perfection cleansing foam, Clarins White Plus Brightening Cleansing Foam, Laneige White Plus Bubble Cleanser, Kiehl's Calendula Deep Cleansing Foaming Face Wash 
I always rotate a few cleansers in my shower - this explains the multiple empties.  Among these, I really love the Shiseido and Clarins ones, because they are really creamy and foamy.  But the Kiehls one is great too, more gentle I guess.  If you enjoy a brightening foaming cleanser, I highly recommend the Clarins one.  
3. Face creams - Kiehls Ultra Facial Oil-Free Gel Cream, Guerlain Aqua Creme Day Gel  (Click here to read an overview)
I have previously blogged about this couple of day gels before.  They are highly hydrating and come in a creamy gel formula which I enjoyed.  The Guerlain one is really pricey though.  I highly recommend the Kiehls one if you want a very lightweight yet hydrating day cream. 
4. Shiseido Ultimune Concentrate 
This is like a serum that claims to boost your skin immunity and makes it stronger.  I only started using it recently and finished it quite fast!  It smells really great and makes my skin really smooth.  
5. Ettusais Premium Amino Caviar Cream (review here)
I really enjoyed this rich cream!  This is Ettusais' anti-aging products for the younger set, and I love the texture!  It is easy to use and I think it did improve my skin condition while I was using it. I used it both day and night.  Highly recommend, and it is really affordable too.
6. Peter Thomas Roth Rose Stem Cell Mask 
This is a huge tub of gel mask that you can leave on your face and wipe off, or leave it on overnight.  I find it a waste to clean off, so I usually slap on a generous layer and go to sleep with it.  I use this probably 3 times a week out of sheer laziness.  This is good for skin regeneration and repair.. so I guess it is doing great stuff to my skin! Another one which I highly recommend.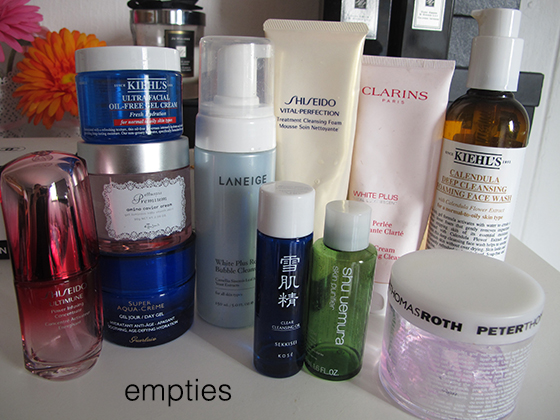 With all the recent empties out of the way,  now let's move on to my currently rotating - there isn't really a system to what I am using now.  Honestly, I just reach for whatever I feel like, and these happen to be in the current rotation.  I also try not to post stuff which I have already mentioned in my June entry, and not post stuff which I have used before.  So these are relatively new products that I have not used before.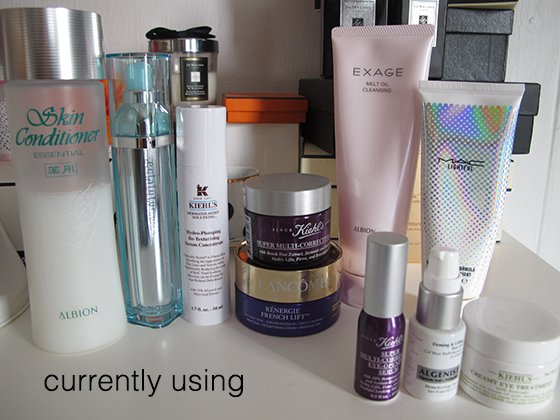 In terms of makeup removers and cleansers, 
I am using the Albion EXAGE Melt Oil Cleansing.  This is an oily gel formula, and it removes all my makeup effectively.  It is not stripping and works almost like a cleansing balm.  I like how soothing it is as I work the product into my skin, and then I will rinse it off with water. 
I always double cleanse, and I am loving this MAC Lightful range Marine Formular Brightening cleansing foam.  It checks all the boxes of what I like in a cleanser -foamy, creamy, again, not stripping and smells great too.  Plus, it also has brightening properties (like the Clarins one I mentioned earlier).  Highly recommend this cleanser.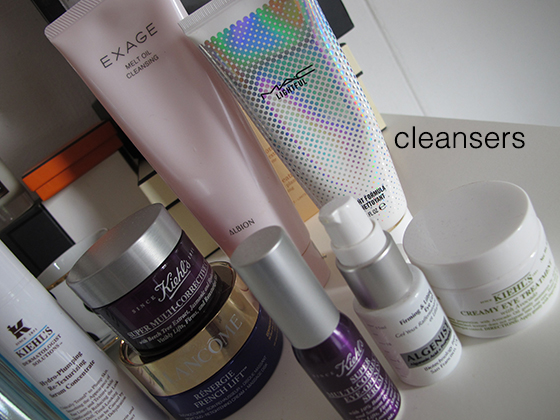 After cleansing, I will sometimes (and mostly I just forget) - I will follow up with the ALBION Skin Conditioner.  I will generously dab this on my face with a cotton pad (love the ALBION ones, $7 for a huge pack).  It just feels super refreshing and makes my skin really soft.  I should use it more often! 
Next, is another ALBION product - their new ECLAFUTUR serum/ lotion - which boosts a high-tech delivery system that allows your skin to absorb the active ingredients.  It is supposed to be a powerful anti-oxidant serum.  Again, another serum that promises to restore the skin cells for smoother, radiant skin.  I like this product, though it is not like I can 'see' actual skin improvements on  the surface.  
Kiehls Hydro-Plumping Re-Texturising Serum Concentrate - this is a serum to liquid technology that intensively hydrate the deepest layers of dehydrated skin.  I love how moisturising it is, and it reminds me of the Kiehls Avocado Creamy eye cream.  This is great for when I feel like my skin is dehydrated, and I want to give it a moisture boost.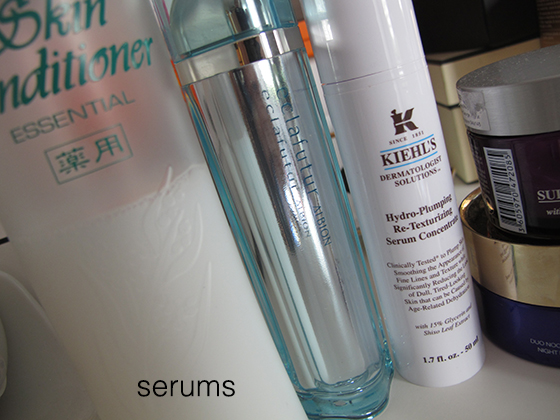 Next, eye care - which is very important!  
I usually open all new eye creams that come my way, and these are the current three.
Kiehls Super-Corrective Eye-Opening Serum - I will use this under the creamy eye treatment. This claims to lift, firm, smooth, hydrate, and restore youthful shape of the eye.  I haven't been using it long enough to judge how effective it is.. but better to use than not at all, right?
Algenist Firming & Lifting Eye Gel - this is a firming eye gel - very lightweight eye gel for those who want to avoid using anything too rich under the eyes.  I don't how effective this it, but I will keep using it.
Kiehls Creamy Eye Treatment - my HG eye cream.  I have been using this for years, and I will continue to use it.  My eye care staple and it doesn't break the bank.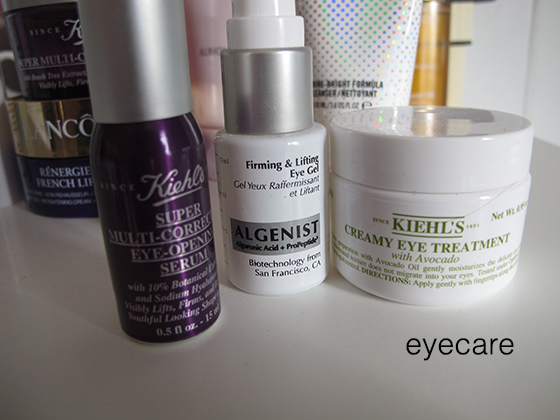 These are the face creams that I am currently enjoying - 
Dr Ci: Labo Aqua-Collagen Gel - I bought this tub more than a year ago, and I finally got the chance to open and use it.  Haha!  This is a rich cream that's very hydrating and I have always like the Dr CI:Labo Collagen creams, so I am glad to use it at last.
Kiehls Super Multi-Corrective Cream - another rich cream, smells amazing and it is quite rich.  I tend to use this only at night.  This one contains Jasmonic Acid, Hyaluronic Acid and Beech Tree Extract, corrects the appearance of key visible signs of aging.  I need!
Lancome Renergie French Lift - this is a massage skincare cream.  It is very balmy and rich.  And I use this 2-3 times a week, and I will be sure to massage this and rubba it into the contours of my face (especially around where laugh lines will appear).  I am not sure if it is my imagination but I seem to wake up with brighter skin and firmer texture each time I use this cream.  LOVES! 
PS: That's a Clarins Body Treatment Oil photobomb situation going on.  I love to slather this on my legs and arms every other night.  A cheaper but good alternative is the body shop argan oil treatment oil that comes in a spray form.  I also love the Caudelie divine oil - have a back up, but I don't need to use it yet. Highly recommend body oils for ultimate but simple body pampering sessions.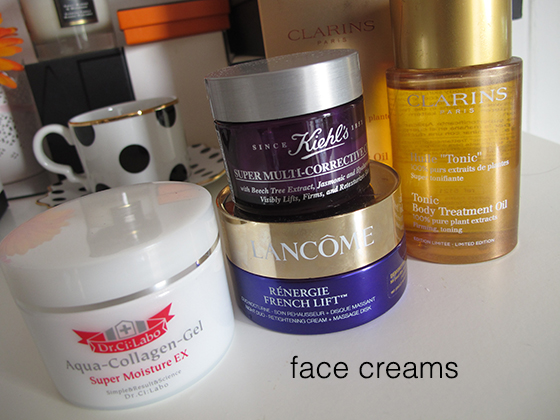 I know I have not really reviewed each of these items.. (reviewing skincare is not my forte) but I hope that by listing what I am using and enjoying - this will help you somewhat.. in case you are looking into purchasing new skincare items.. or wonder what I use on my face.  I guess after typing this entry, I realise that almost every product I have mentioned works to repair the skin, and also promotes firmer skin texture.  Which is really what I should focus on at this stage of my life anyway.  Do let me know if you have any questions on each of the items... and I hope that this enty has been helpful!!
Thank you for reading!!