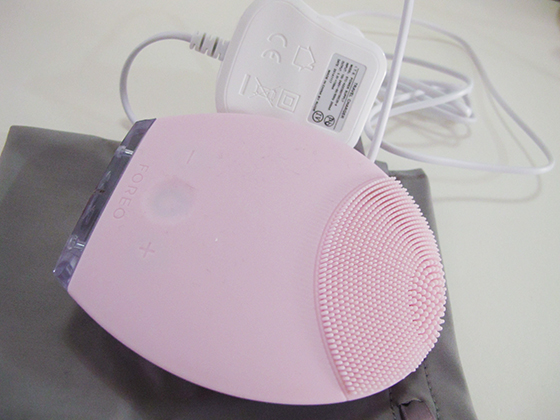 Hi hi!
This entry will be a review and giveaway of the FOREO LUNA Cleansing Device.  I have been using this quite frequently over the last two weeks, and I have been getting requests to review and also compare it to the Clarisonic Cleansing system which I have used before too.  
When it comes to cleansing, there are so many ways to go about it.  Without actually planning to, I realised I have several means of cleansing in my routine.  It all depends on what is already on my face, and what I am going to do afterwards...and even depends on WHERE I am doing the cleansing. 
If I don't have any makeup on - for example, during my morning just woken up showers, I will use a lightweight cleansing gels.  The fact that it doesn't foam up doesn't matter to me in this case.  
If I am washing my face at the end of a day, to wash off long wearing makeup, sunscreen, etc etc, when I want to get all squeaky clean, I will definitely double cleanse.  With makeup remover, and then a densely packed creamy foaming cleanser.  This is usually followed by my nighttime skincare routine. 
And like the previous scenerio, there are times when I want to give my skin an extra boost/ treat - after cleansing, I fully intend to slap on a face oil, or a mask routine.. I would like to really deep cleanse my skin, so that it is prepped to receive all the nutrients and benefits of the treatments afterwards. In such cases, I would make use of these cleansing devices.  They are able to scrub your skin, get rid of dead skin cells and provide a more thorough cleansing experience. 
Before I move on to my thoughts on this, let's take a closer look, and also some product information and explanation of how the FOREO works. 
(you can click on the FOREO website for vid demonstration & more information)
The FOREO retails for SG$299 at all Sephora stores. 
It is a silicone facial brush for sensitive to normal skin that channels both T-sonic pulsations for deep and gentle cleansing, and lower-frequency pulsations to reduce the signs of aging. 
The LUNA for Sensitive/Normal Skin's brush surface features thinner silicone touch-points for gentle cleansing, with an area of thicker touch-points grouped towards the top for deeper, precision cleansing. The antiaging surface on the reverse side consists of a series of concentric silicone waves. The LUNA reduces the appearance of fine lines and wrinkles and leaves the skin looking and feeling firmer and more elastic. It removes dead skin cells and unclogs pores of dirt, oil, and makeup residue, while enhancing the absorption of your favorite skincare products. 
T-Sonic™ Technology - Up to 8,000 pulsations per minute are channeled through soft silicone touch-points to gently remove dead skin cells, as well as unclog pores of 99.5% of dirt and oil, and 98.5% of makeup residue.
This facial brush is phthalate-free and uses body-safe silicone. It comes with a charger and a two-year warranty. 
I have the one for normal/sensitive skin. 
It is light, compact, and comes with a travel pouch. 
Apparently each charge will lasts up to 450 washes (great for travel!), and the charging port is waterproof (ie toilet/shower room safe), and you never have to replace any brushes or pads etc etc.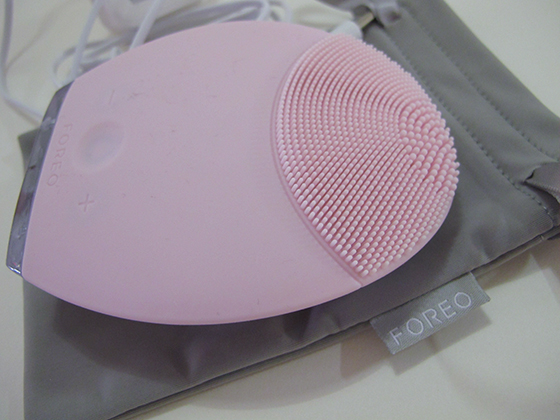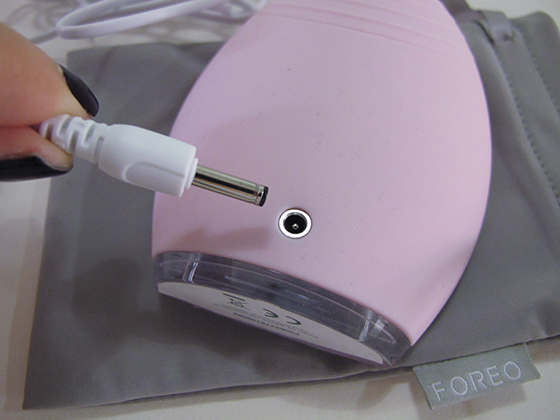 and here's where you turn on the device.  
The whole cleansing is 2 minutes - one minute for cleansing and the other minute for the anti-aging massage. 
The device also pulses every 15seconds so you know to move on to the next area of your face. 
For the anti-aging massage, the vibrations are at a lower frequency and the interval is 12 seconds.  You should apply the anti-aging part onto wrinkle prone areas.  And I like to use it to massage serums and face creams into my skin - thinking that it will enhance the efficiacy of the products.  But I have not used this feature often enough to comment on whether it really works.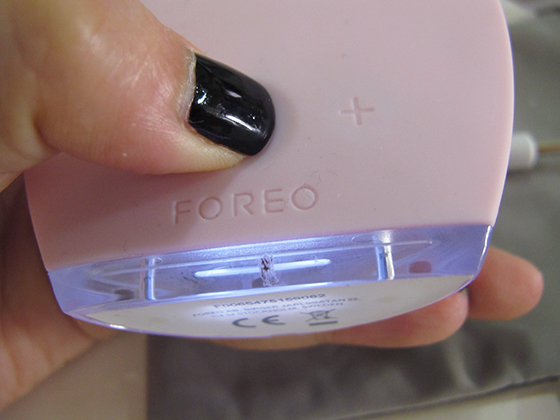 I have been using the FOREO every other night (in keeping it real, sometimes I forget to take it from my room to the bathroom- I never store it in the bathroom despite it being waterproof). 
What is good about the FOREO is that it fits around the hard to reach parts of your face - around the nose, eyes etc.. and it is not abrasive at all. The silicon beaded surface of the device gently scrubs your skin, I don't feel that my skin is that much exfoliated - the deep cleaning feeling is there, but not quite as 'stripping' when I use the Clarisonic for the first time ages ago. 
Because it is so light & compact, the FOREO also fits nicely into your palm and easy to work around the face. 
To be honest though, I haven't used the anti-aging massage side of the device to give it much proper thought.  But I think I will start using it more... I will slap on a serum and then use it to work the product into my skin, and also just to rubba over areas where I can see fine lines.  Though I can't see how the 'lines' on the device and the vibrations can help to make your skin look younger.  But if you think of it as a device to enhance the delivery of the product..maybe it is better? 
Some quick comparions to the Clarisonic -
the obvious ones 
Prices - the Clarisonic is possibly more expensive  than the FOREO - esp if you are refering to the full system (and not the MIA or Aria).  This does not include the brush heads you have to buy and replace every 3-4 months.  There is this recurring charge which you have to keep in mind if you are thinking of investing in a cleansing system like this. 
Convenience - The FOREO is definitely more travel friendly.. it is very light.. and there are no extra parts which you need to remove and wash before the next use. 
The experience of using - 
I feel that the FOREO is truly an everyday cleanser brush.  It is very gentle and clean.. but it is not quite the same deep cleansing that you might get with Clarisonic (must be something about the 'brushes' on both).  The vibration movements feel the same to me as a layman..though I am sure the makers of both would be able to tell you just exactly how different they are.
But side note... both devices make use of the Sonic technology.
So you need both?  
If you are new to electronic cleansers, you definitely don't need both and you might want to start with the FOREO.  Both are superior products to me.. and I think if machines can replae some of the mandance biz of washing your face, why not, right?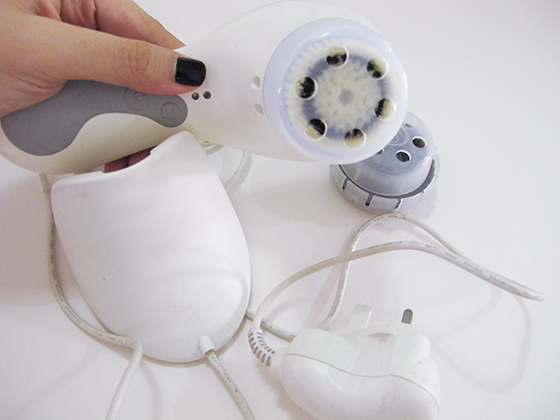 So here comes the Giveaway details
The deadline for this giveaway is 10 March 2015.  

I'll pick one winner to win the Foreo Luna.

Collection of prizes is at Sephora Ngee Ann City - you must be able to collect your prize in person at Sephora from 11-17 March. 

You will

email me your entry

, saying which is your favourite mask or skin care treatment at the moment!  [email - themakeupblogette@gmail.com, with the subject FOREO GIVEAWAY]

I will contact the winner via email on the 10 March 2015.  

All decisions made will be final.