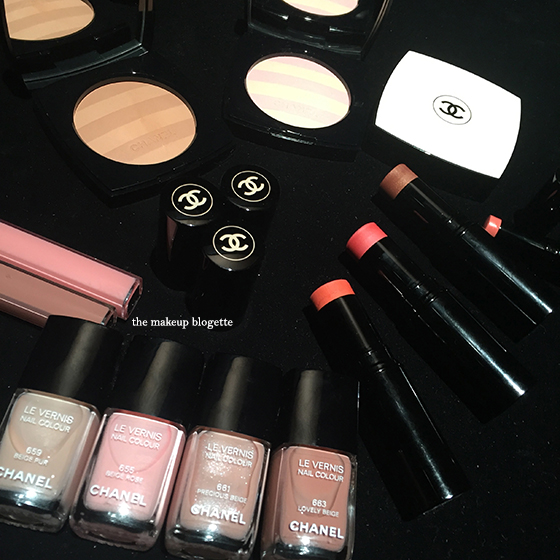 The new Chanel Les Beiges collection will launch in Singapore from 2 June 2015.. and I have some pictures here to share with you.  I must haul the Les Beiges powders every year, and the new ones got me anticipating again, so do the four shades of Beige polishes.  There are also new product additions, such as a new shade of Les Beiges powder in No25 (currently the jump from 20 to 30 is quite a bit.. so 25 will close this 'gap - this is a permanent addition to the color range).  And also the two new limited edition stripey ones.. Not too sure about the shade numbers, but you have one tanned version (much like the one from last summer) and a pinky almost lilacy one.  They are really natural and blended into my skintone when I swatched them so I didn't take any pics... but I tried the pinky one on my face during the media preview, and it gives my face a most soft glow... really really pretty.  The tan version is like the current Les Beiges in 30.. slightly tanned, quite natural and just enough warmth.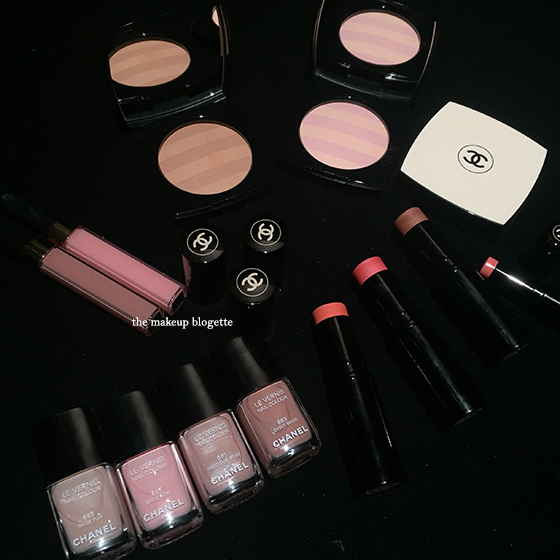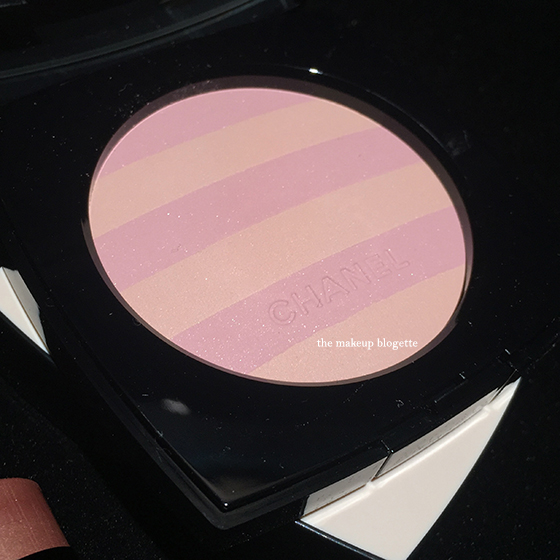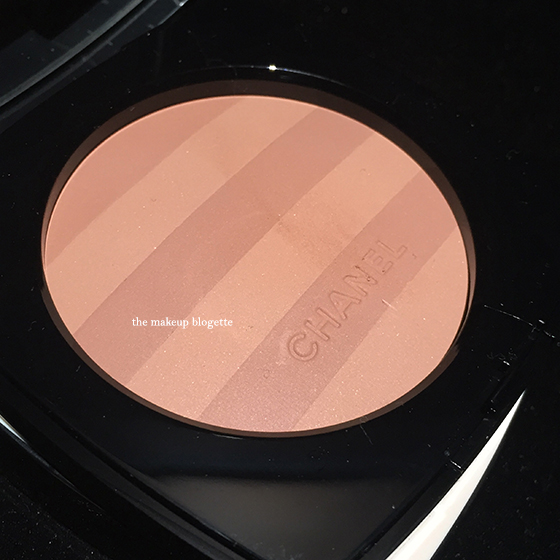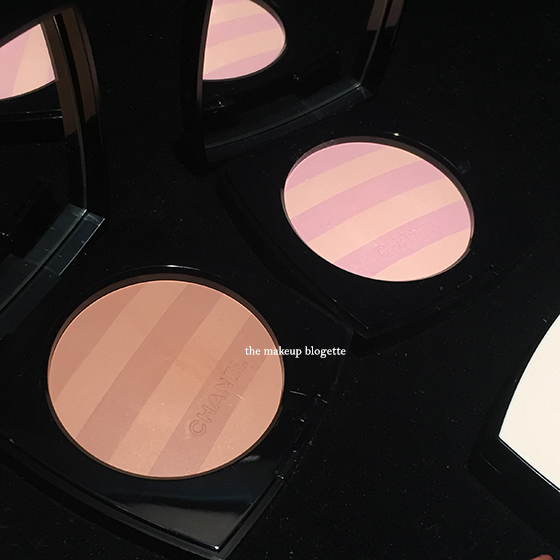 Swatches of the new
Healthy Glow Sheer Color Sticks
, in three shades
a bronzey one
a pinky and a peachy one
these remind me of the newer NARS Matte Multiple.  Very lightweight, slightly powdery and seems nice and easy to use.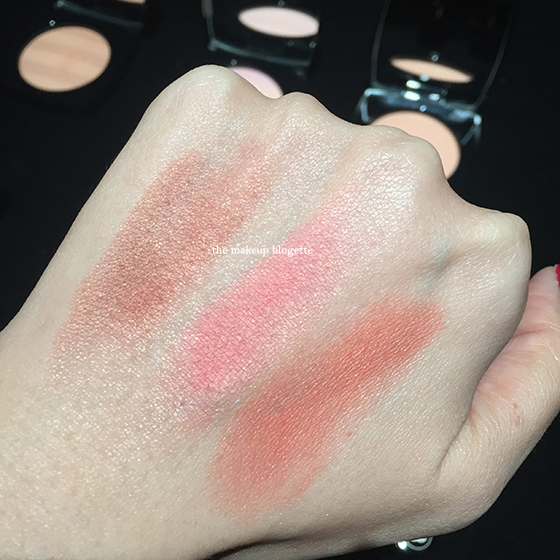 The four polishes: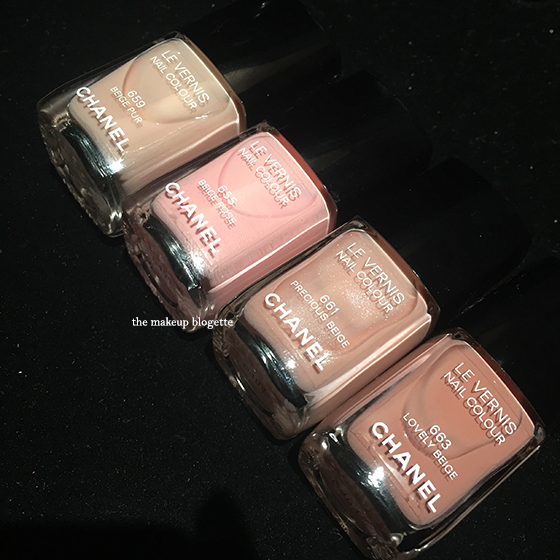 and a quick makeup demo: 
Spring Summer look is all about the healthy complexion, some color on the eyes that you can transform from day to night, and an overall glowy look.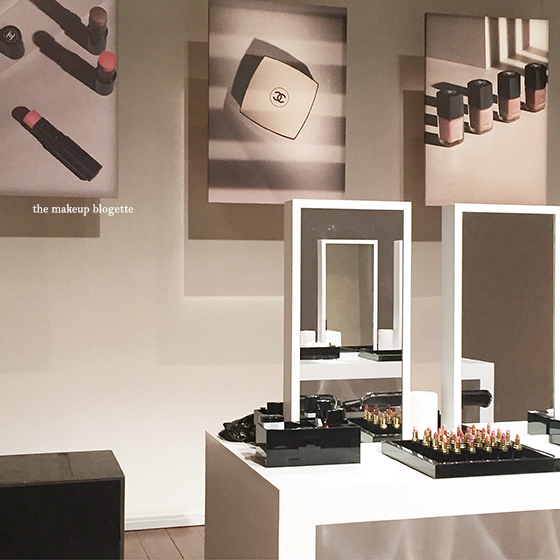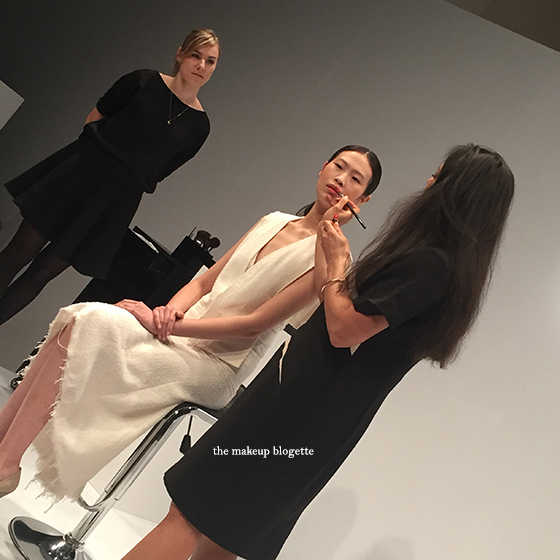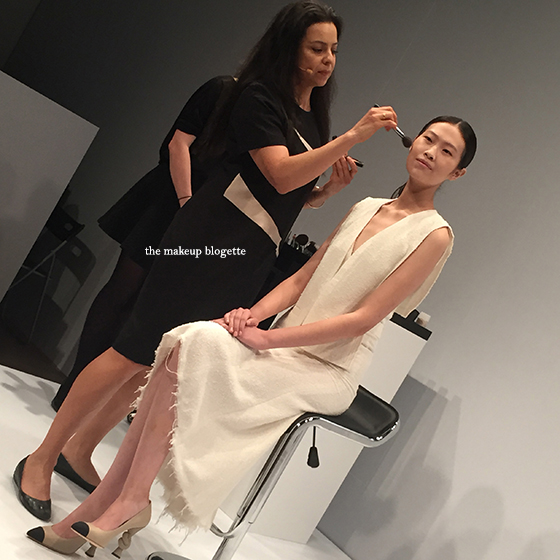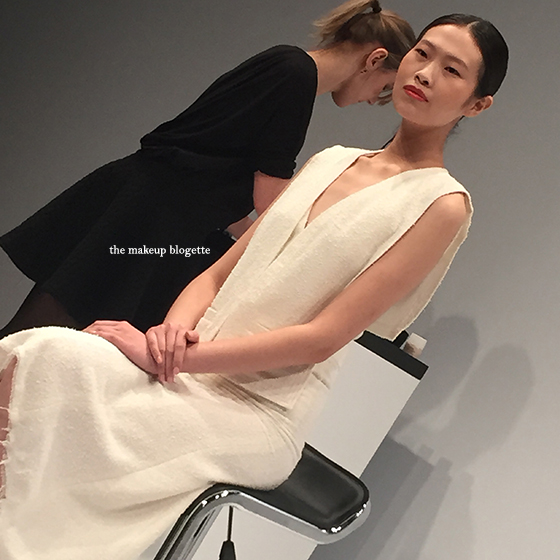 and here, we have the Chanel 2015-2016 Fall Backstage Beauty look plus makeup product rundown - hope you enjoy these pics!
MAKEUP LIST 
Skin prepared with HYDRA BEAUTY products range 
THE COMPLEXION 
VITALUMIERE AQUA 
ECLAT LUMIERE 
CORRECTEUR PERFECTION 
POUDRE UNIVERSELLE LIBRE 
LES BEIGES HEALTHY GLOW SHEER POWDER 
THE EYES 
EXCLUSIVE CREATION "Entrelacs"- LES AUTOMNALES 2015 Fall Collection available end July 2015 
OMBRE ESSENTIELLE "Midnight" (N°118) - BLUE RHYTHM Collection available mid July 2015 
MASCARA LE VOLUME ULTRA-NOIR DE CHANEL "Noir Khôl" (N°90) - BLUE RHYTHM Collection available mid July 2015 
RECOURBE CILS DE CHANEL 
LE SOURCIL DE CHANEL 
THE CHEEKS 
JOUES CONTRASTE "Angélique" (N°190) 
                      
                
THE LIPS 
ROUGE ALLURE "Séduisante" (N°91) 
LE CRAYON LEVRES "Rose Délicat" (N°91) -  2015 Spring Collection 
ROUGE COCO BAUME 
THE NAILS 
LE VERNIS "Precious Beige" (N°661) 
LE VERNIS "Beige Rose" (N°655) 
Both from LES BEIGES Collection available 2 June 2015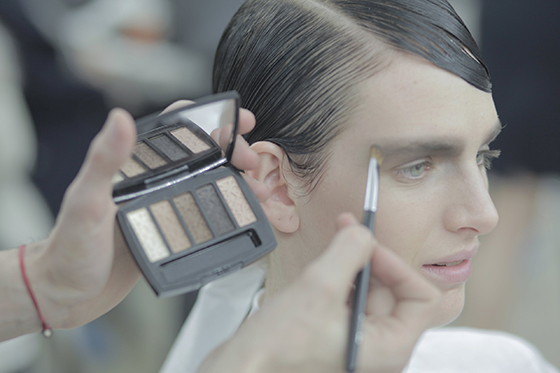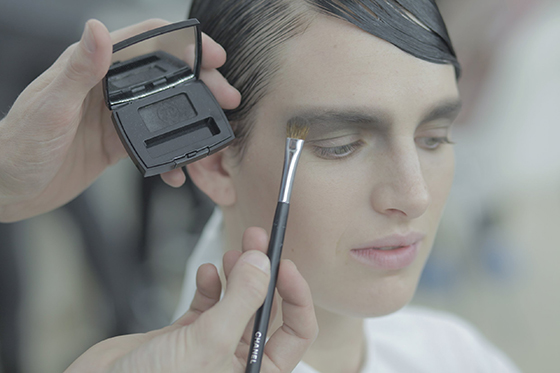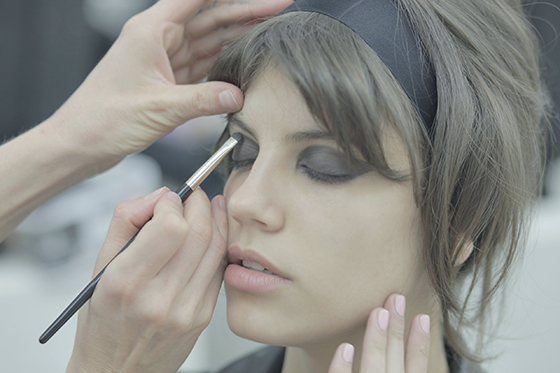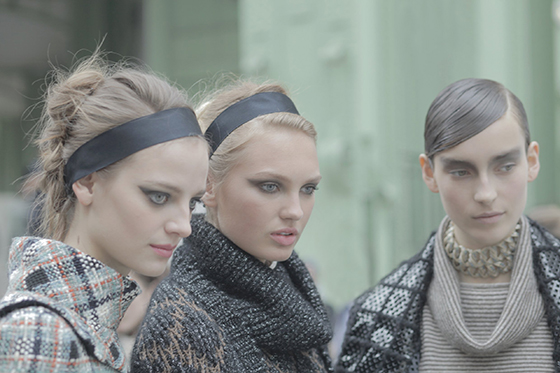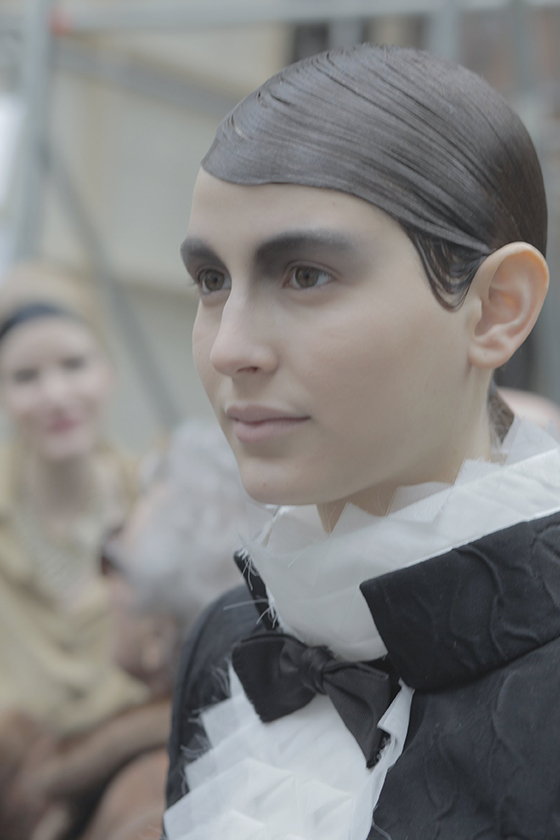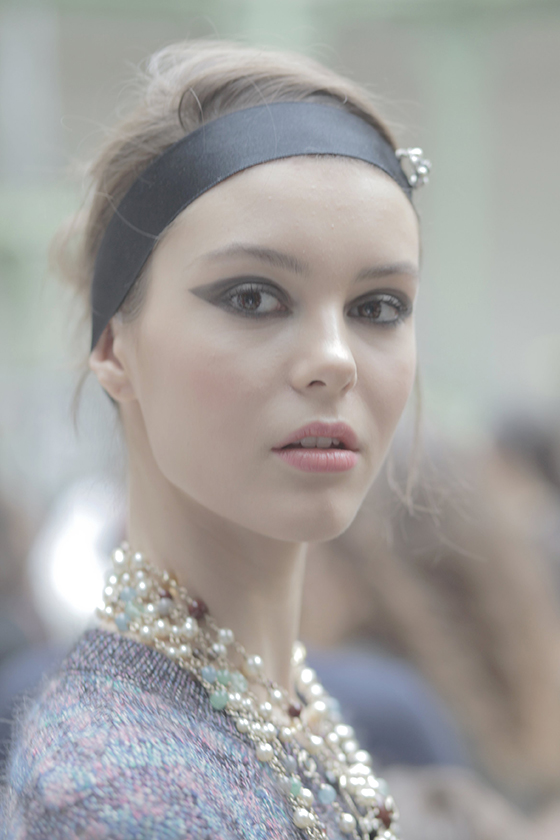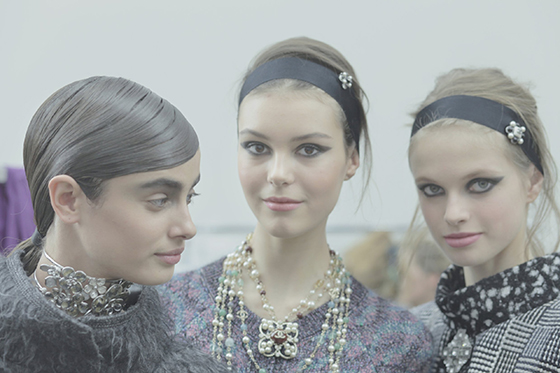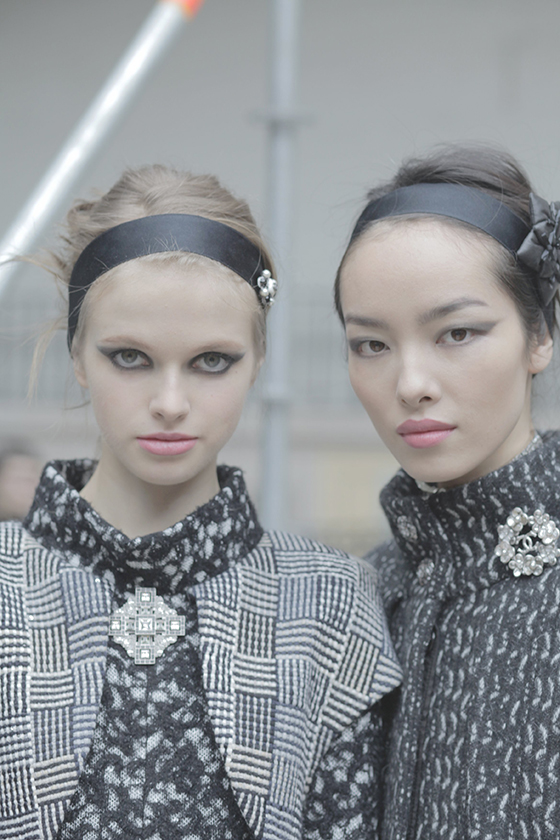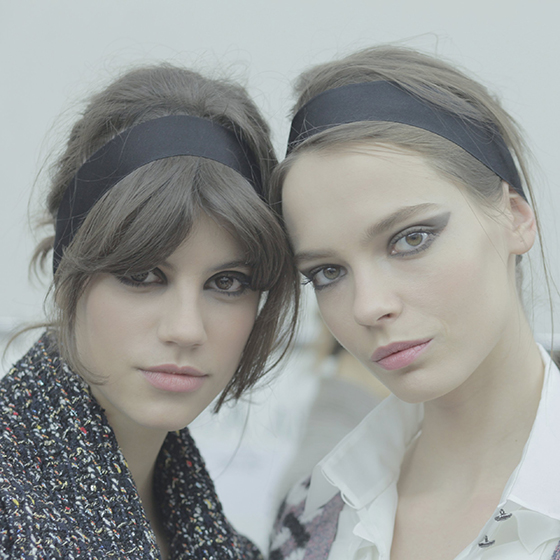 I can't wait to share Chanel Summer 2015 with you... but hope these have been helpful and fun to read so far!
Thanks for reading!