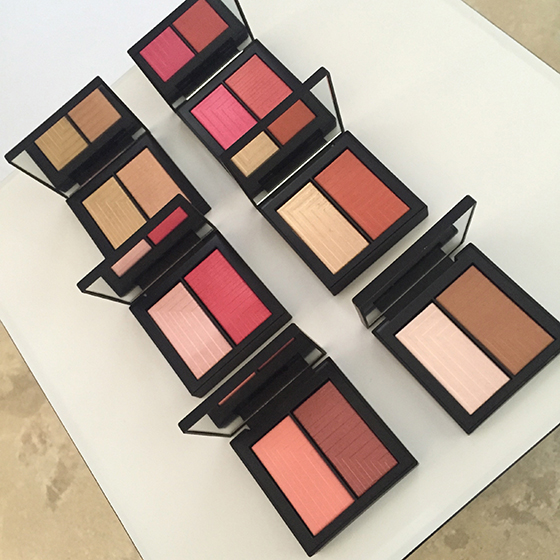 Hi hi!!!  This entry will feature the upcoming NARS Dual Intensity Blushes - I had the chance to preview them recently, and shall now share  my thoughts and info with you.  They will be released in May, and retail for SG$60 each. There are a total of 6 shades - the formula is quite unique.  When you touch them, they are quite smooth and firm, not powdery at all.  All of them have this metallic sheen which doesn't transfer too intensely onto the skin - which is a good thing.  And you can use them wet or dry for different results.  I experimented with a few ways of application, and I think for my daily use, I prefer using a denser brush to pick up the product and lightly dab the brush onto my cheeks before blending.  Using them wet will give you the most natural sheer color, very pretty, but I am kinda lazy to wet my brush and pick up product everyday. 
Product information - 
Purely pigmented color with seamless customizable coverage. New Dual-Intensity Blush defies genre with a silky, wet/dry formula of unprecedented artistry. Appy dry for a healthy glow and wet for translucent, second-skin finish. Six modern shade pairings coordinated to wear alone or pair together for a range of dynamic effects and versatility. Housed in a new, modern compact design.
NARS exclusive Translucent Prismatic Technology features pearls and pigments perfectly suspended in transparent soft base to allows for multi-dimensional effects with a uniquely weightless, luxurious texture.
six duo shades, all named after emotions: 
Adoration - sparkling baby pink/ shimmering hot pink
Craving - sparkling seashell pink highlighter / shimmering beachy bronze 
Fervor - shimmering soft pink/ sparkling deep coopery rose
Frenzy - sparkling pink-gold highlighter/ shimmering bright tangerine orange
Jubilation - sparkling yellow gold highlighter/ shimmering soft nude peach
Panic - shimmering shocking fuschia/ shimmering orange pink 
swatches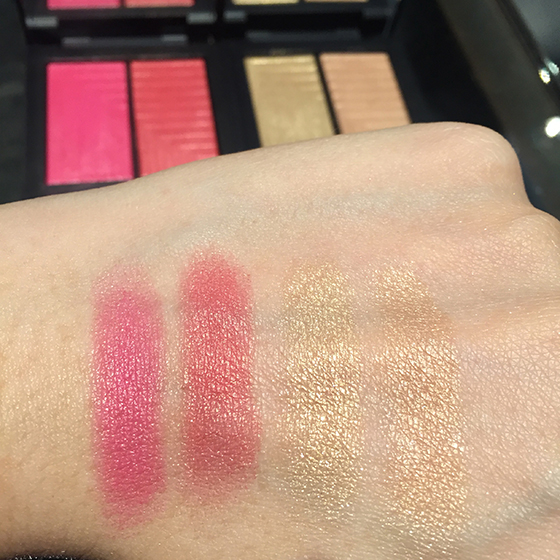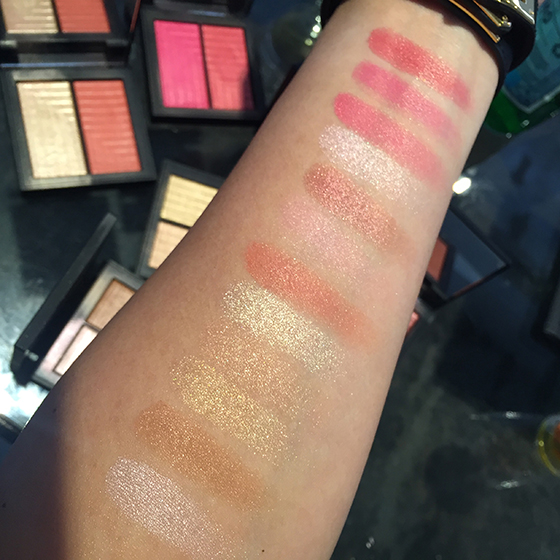 My application
These are the two that I got - and I can't ask for a better combo, I have the best of the cheek colors (Panic - bright pink and orange) and the (craving - highlight/ bronzer) combo - I think with these two duos you have yourself set for the whole collection.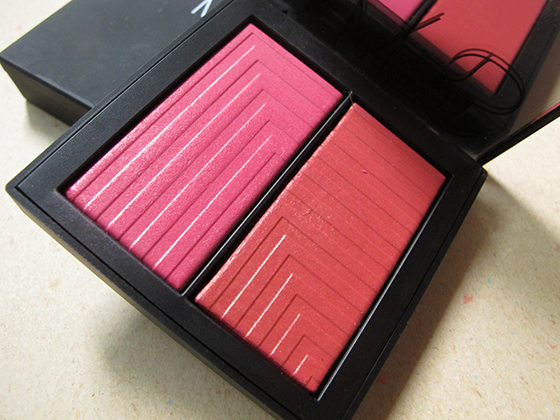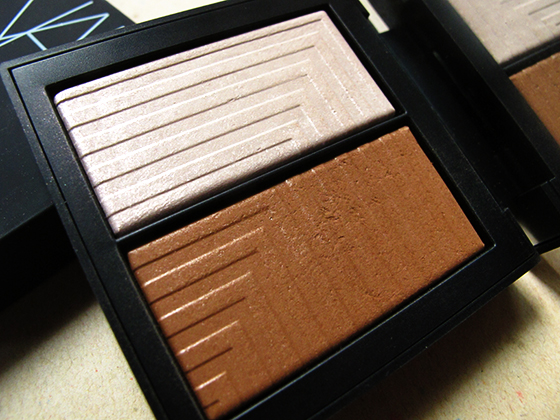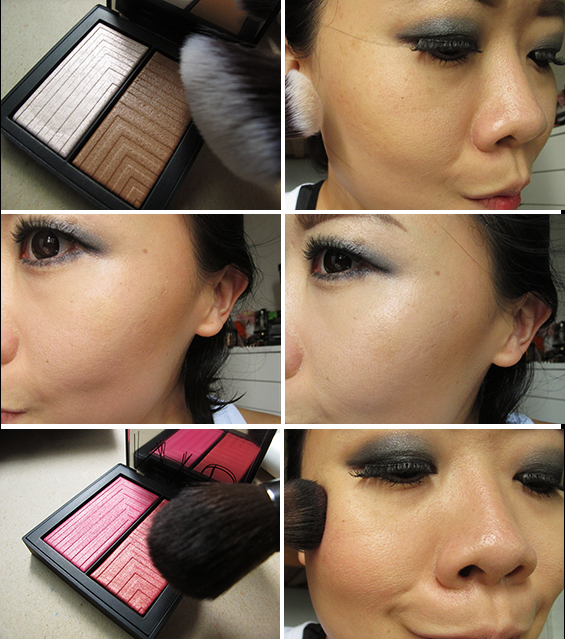 These blushes are very long wearing, and they stay true to color the whole time I wore them.  In terms of formula, I think they are quite unique, and definitely worth checking out.  They are a tad steep in terms of price tag, but since you are getting two colors.. I think it is still okay.. just pick a combo that you will get the most out of and that's totally justfiable, right? Heheh. 
All Products used (all NARS unless stated otherwise)
Face: Pro Prime Light Optimising Primer, All Day Luminous Weightless Foundation (shade Light 4 Deauville), Soft Velvet Loose Powder (shade Eden)
Bronze/ Cheeks: Dual Intensity blushes in Craving & Panic 
no eyeliner 
Brows: Guerlain universal brow kit, MAC brow set in Beguile 
Eyeshadow base: MAC Prep+prime Extend Eye Base 
Brushes used: 
to apply loose powder - 13rushes Round Powder brush
to apply bronze & highlight in Craving - 13rushes Angled brush
to apply cheek colour - MUFE No152
to apply eyeshadows - MAC 224, MAC 217, NARS angled liner brush, Ecotools synthetic fluffy brush
I hope you find this overview helpful, and thanks for reading!