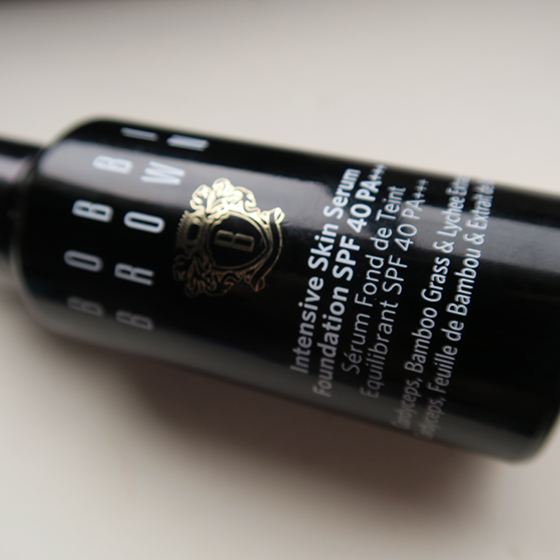 Hi hi!!!
I haven't done a foundation review in AGES!!  I have testing out at least 5 new foundations lately... and I am just going to review whichever I am using the most, and also for a substantial amount of time.  Foundations are usually permanent products anyway, so I feel like I can take my time to really give them all a good go and then share with you my thoughts. 
So here, we have the new Bobbi Brown serum foundation - it is now available, and retails for around S$85 each. 
This is the first foundation to contain TCM ingredients, and also contains the benefits of a serum to treat your skin as you are wearing the foundation.  So far, using this for most of the month since I got it, my skin gets along really well with the foundation, and I think I really really love this foundation - especially as far as the new generation of these serum foundations go. 
Before I continue, here's the Product Story
<span>See healthy, beautiful skin. Formulated with Lychee, Bamboo Grass and Cordyceps Mushroom extracts, this high-powered formula helps give skin the energy it needs to look fresher and younger. Super silky emulsion floats over skin's surface for a flawless yet natural look–instantly and day after day.
For anyone who wants the treatment benefits of a serum combined with the flawless, skin tone correct coverage of Bobbi's foundations. Ideal for normal to dry skin.
Goes beyond the surface, beautifying skin with a powerful combination of serum ingredients. Helps support skin's cellular energy and also offers key anti-aging benefits for a smoother, firmer, more lifted look. Ultrafine pigments cover imperfections without settling into fine lines. Plus, SPF 40 helps prevent future damage.
</span>How to use
First, shake bottle well. Pull the dropper out halfway. Squeeze and hold the bulb while reinserting dropper completely into the bottle, then release. Remove the dropper from bottle and squeeze bulb to dispense foundation onto hand or brush. Apply foundation around the nose and mouth, and anywhere you see redness or unevenness. Blend with a Foundation Brush, sponge or fingertips.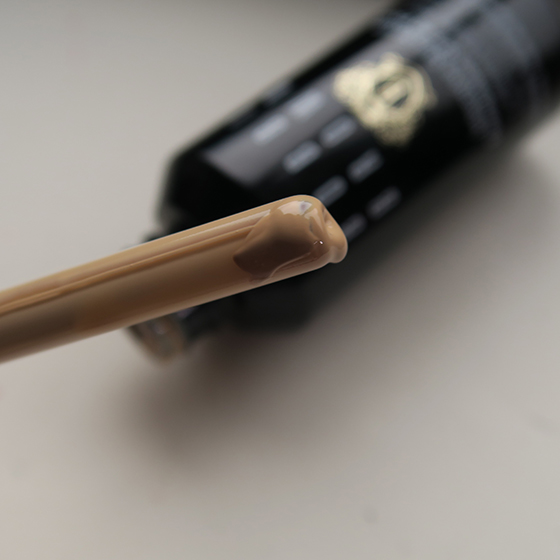 I don't quite like how the dropper works though.. and because the foundation is quite thick and creamy, each time you take the dropper, it doesn't actually dispense enough product to do one application.  I tried a few times to pour out the foundation directly onto my hand instead... but it turned out to be quite a mess.. because the product sort of get congested at the opening of the bottle and when I screw the dropped back into the bottle... it pushes out the product that's jammed near the opening... long story...lesson learnt - just use the dropper, ok?
In terms of shades and colors - this comes in a good range to suit most skintones.  I love the fact that it comes with a decent amount of sunscreen, and I feel like I can skip the sunscreen when I use this foundation. 
I use the shade 03 Beige.  I think I can use Sand as well.  Beige is my skintone.. perhaps even half a shade darker.  But this foundation is so lightweight I can still get away with 03.   It does a good job of neutalising the redness in my skin though.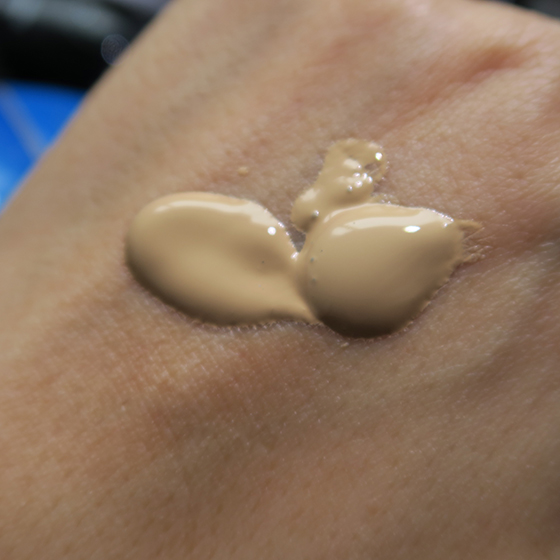 <strong>The application:
</strong>I love using my fingers to work the foundation into my skin.  I find this gives the best finish, and you can really work it into your skin without the brush soaking up the product.  As you can see here, although the foundation has this thick creamy consistency, when you applied onto your skin, you can see it is actually very lightweight. 
I would say the coverage of the BB serum foundation is a light to medium coverage.  It is very buildable,  yet still making your skin look very 'naked'.  It is not a particularly pore-covering foundation, but I have no issues with that (not to say that I have no pores, I just come to accept that pores showing through our makeup is natural.. and I am come to terms with my pores. haha).  Regardless, the foundation makes my skin look smooth without looking that I have applied foundation.  
Because it is creamy yet lightweight, I always feel like I am applying a tinted moisturiser on my face whenever I use this foundation.  It has a slight calming scent of Lavender.. and I really enjoy this light scent.  
As you can see in the bottom right pic of the pictorial below, 
the before and after comparison - you can't really see which side has the foundation.   But you can definitely see how the warmth of the shade 3 Beige has neutralised the pink and red in my skin.  This foundation also gives your skin a fresh glow -not the sparkly glow.. but just like very moist healthy fresh skin.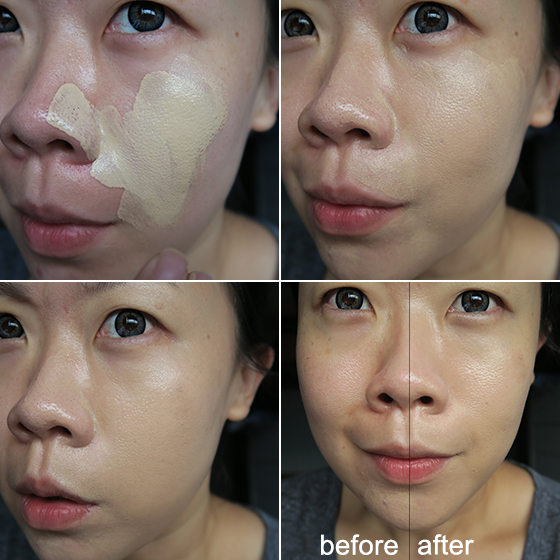 and the whole face done - no powder to set yet.  You can see some pigment spots peeking through but again this does not bother me.   You can also see how well the foundation fits into my skin.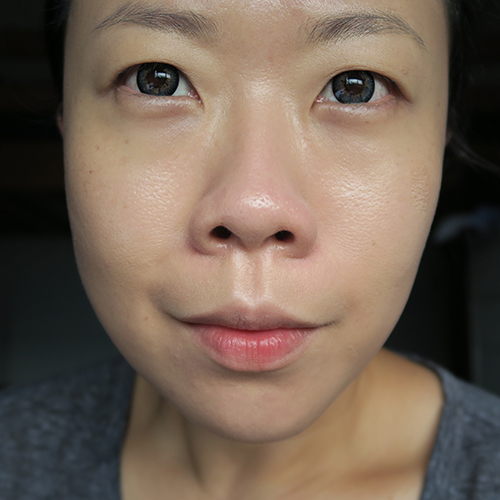 and I set with loose powder - this is 13rushes Round Powder Brush... sometimes I use a powder puff too.. so it's up to your pown preferences.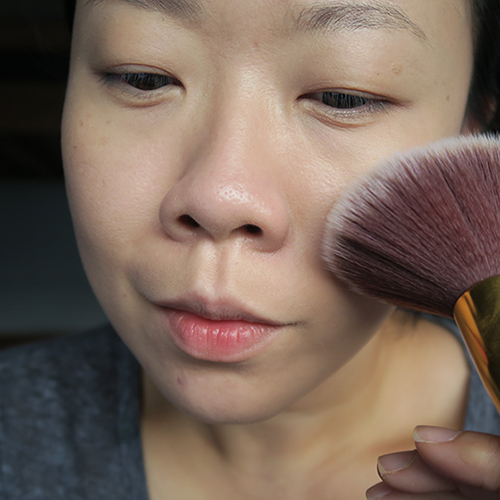 I love how lasting this foundation is.  It is not the most long lasting compared to the other foundations I  have used before..but this lasts a good 8 hours, and you still look fresh.  
One thing though... if you have very oily skin you might have to blot a couple of times during the day.  I have to blot once during the day, to avoid excessive shine. And again, this is not a foundation that claims to be matte nor oil-control anyway.  
What I love most about this foundation is how it wears and feels on my skin.  It's very very comfortable to wear, and it doesn't provide thick coverage, but it gives me enough coverage and I don't think I look like I am wearing foundation at all.  If you are looking for a fairly long lasting lightweight foundation, you can't go wrong with this. 
The foundation has met my expections in terms of the lasting power, finish and overall feel of wearing it.   I am curious to see if a lighter shade would be better on me, as I tend to prefer a more brightening foundation, and add warmth and darker tones on places where I need it. 
Here's a finished look  (more details on this look, including a list of all products use - in this entry here)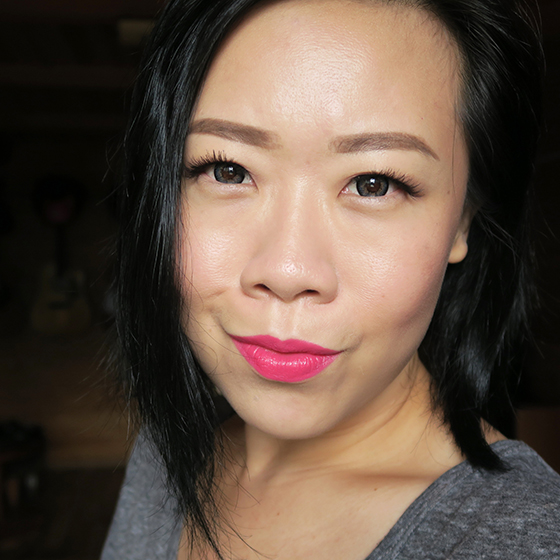 And yes, of course, we need address what I am wearing on my lips - this is one hot pink that I can be obsessed with.  It looks warm, and just the right kind of neon bright without looking like crazy bright.  It's called Pop Pink, and trust me, it does pop visually. 
The formula, like the name suggests, had intense color payoff, plus a semi matte finish.  
I find myself reaching for this shade whenever I feel like I need something bright on my face.   If you see  me wearing a bold lip on my instagram it is most prolly this awesome lipstick.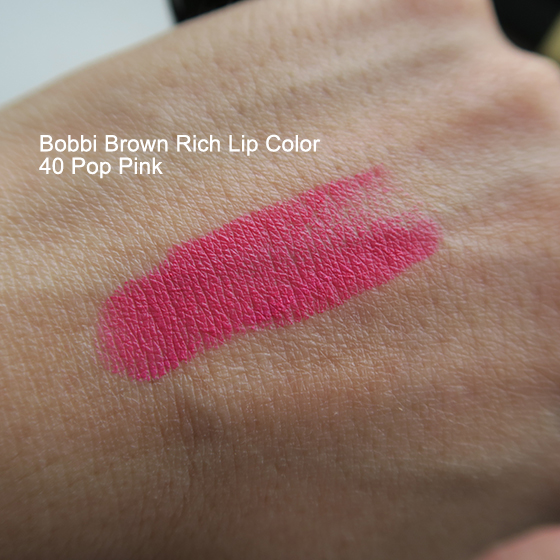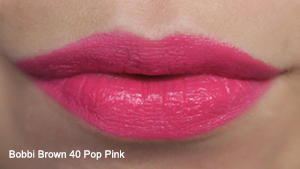 and a few more looks
ps/ I am aware that I look very warm toned in these pics - I am still getting used to the white balance setting, light source, and many other technical specs of my new camera. 
I don't actually look this tan IRL though.  Just a FYI in case you are wondering if I fake tan my face or whatever..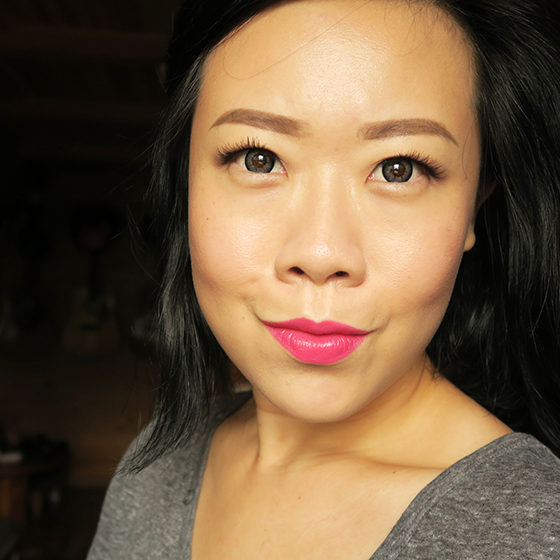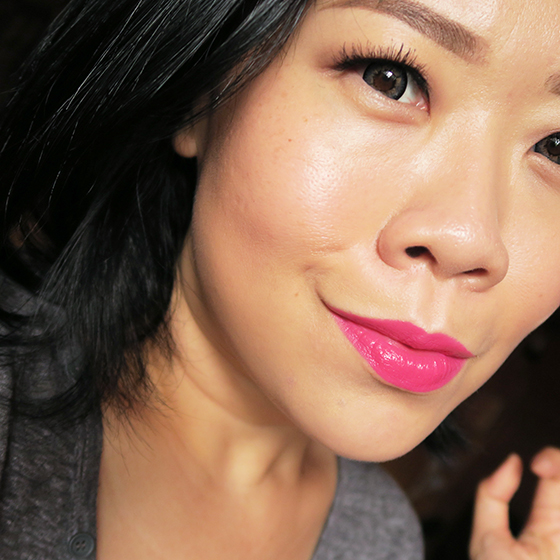 I highly highly recommend both the foundation and the lipstick.  If you love bright bold pinks.. you must have POP PINK in your stash.  
The BB serum foundation has really impressed me lately, and I hope you find my overview helpful.  I am trying to think of the comparisons.. but the list would be long.. let me start
1. BB Serum vs NARS all day luminous weightless foundation
BB has a lighter coverage compared to NARS.  The latter has a more liquidy formula. 
2. BB Serum vs Dior Nude Air Serum 
Dior has a matte finish and much more liquidy.  BB is more long lasting and gives more coverage. 
3. BB Serum vs Shiseido UV Protective Liquid Foundation SPF43PA+++
BB serum is not as high in terms of coverage.  Both are great day time foundation because of the SPF factor. 
4.  BB Serum vs GA Meastro Fusion 
BB Serum doesn't have that oily silicon feel - and good for more different skin types.  I have heard so many stories of how the Meastro sets into patches of dry skin.  I can't relate to that, but I think the BB serum is a better all round performer to me. 
I hope this foundation review is helpful, and thank you for reading!