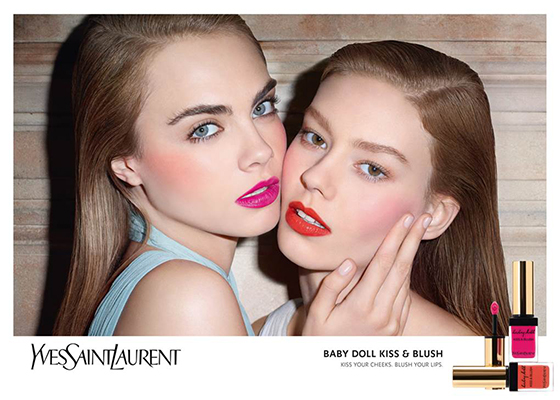 BABY DOLL KISS & BLUSHKISS YOUR CHEEKS.  BLUSH YOUR LIPS. 
A beauty revolution.  
YSL introduces an all-new dual colour play.
Cheeks and lips are coloured with a single product. 
A new gesture that's intuitive, fun and sensorial to the extreme. 
To double the incredibly pop and fresh pleasure. 
A hybrid innovation, a thoroughly cult object.
With KISS & BLUSH, the YSL Baby Doll plays up her seductiveness
and in turn, reveals new facets of her personality.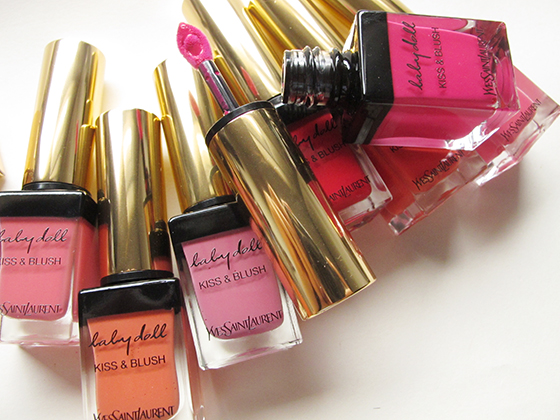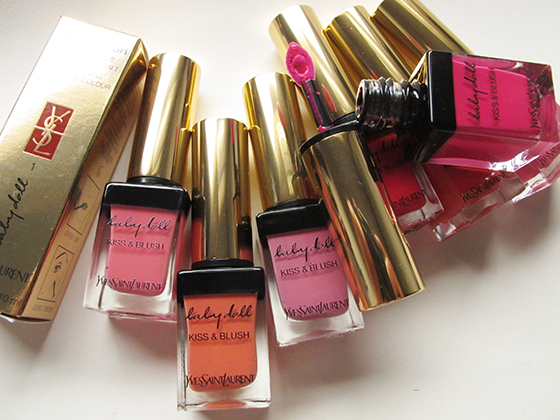 HYBRID TECHNOLOGY
EXCLUSIVE - Blush to Lipstick, and Vice Versa
Babydoll KISS & BLUSH by YSL offers an innovative formula structure, the results of a fusion of two technolgies, foundation and lipstick.  The air-whipped formula, wit two patents pending, combines an extremely sensual-colour diffusion complex, and a blend of pigments for colour harmony perfectly adapted to both lips and cheeks. 
KISS & BLUSH, an airy texture that's a cross between lip colour and a cheek blush that instantly evolves into a velvety soft veil with matte luminosity. 
AIR WHIPPED COLOUR DIFFUSION COMPLEX
A Light Diffusing Gel
Its structure enables the formula to easily blend and evenly diffuse light for finish that is both matte and luminous.  This highly concentrated gel creates an extremely sensorial and velvety texture that makes it possible to modulate the colour intensity, for a light, fresh-looking result, or a super pop effect. 
Oils and Balancing Powders 
They help ensure the comfort and long wear of the texture that effortlessly blends on both lips and cheeks.  The colour stays put while remaining matte and rediant. 
LIGHT INTENSIFIED PIGMENTS
Pure pigments enhanced with  micropearls lightly tinged with pink.  To maximise the radiance of each complexion and offer vibrant, irresistible colours with a satin finish. 
PATENTED APPLICATOR 
BABY ROLL 
The high performance of the formula is matched by a unique multi-purpose applicator.  At its center, the HIDDEN PEARL APPLICATOR has a flexible bead that espouses and caresses lips and cheeks in a rapid, precise, double gesture. Extremely soft and with a meticulously shaped tip, it glideds perfectly on the lips and gives them a precise outline in a nimble gesture. 
Round at the centre, it deposits a light touch of colour on the cheeks, with no excess, for optimal diffusion.  It applies points of colour that can be repeated endlessly to build coverage and greater colour intensity.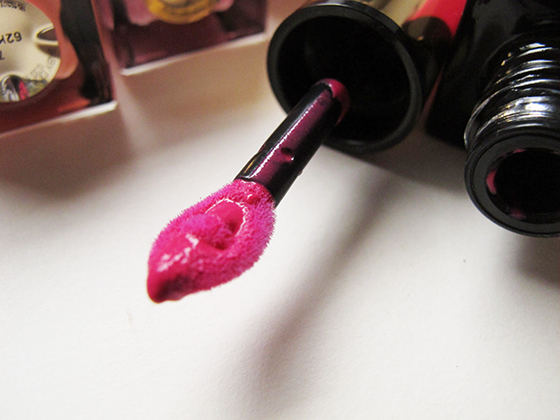 BABY DOLL KISS & BLUSH 
NEW KISS & BLUSH is available in 12 pop colours, 12 airy-light playful temptations. 
A family of colour harmonies built around 4 emblematic YSL shades.  FOr a colour match on lips and cheeks.  4 Radically attitudes for the Baby Doll woman:
Saucy Baby Doll 
3 fresh deliberately impish pinks 
No 1 FUCHSIA DESINVOLTE
No 2 ROSE INSOLENT
No 3 ROSE FRIVOLE
Sexy Baby Doll
3 shades, 2 diabolically hot reds and a fiery orange 
No 4 ORANGE FOUGUEUX
No 5 ROUGE EFFRONTEE
No 6 ROUGE LIBERTINE 
Liberated Baby Doll
3 not so innocent shades, pink, violet and coral
No 7 CORAIL AFFRANCHI
No 8 PINK HEDONISTE
No 9 ROSE EPICURIEN 
Sassy Baby Doll 
3 ultra sensual brown and nude shades
No 10 NUDE INSOLENT
No 11 PRUNE IMPERTINENTE
No 12 MOCA GARCONNE 
SWATCHES: 
I will have LOTD featuring these lip and cheek products soon (maybe later tonight).  The texture is, as the product information states, a lovely hybrid of airy mousse and silky texture.  They pack on the color, with a soft watercolour lightness and finish and really feel velvety soft.  They didn't seem to stain on my skin, and I love these colors that I got.   Can't wait to play more with these!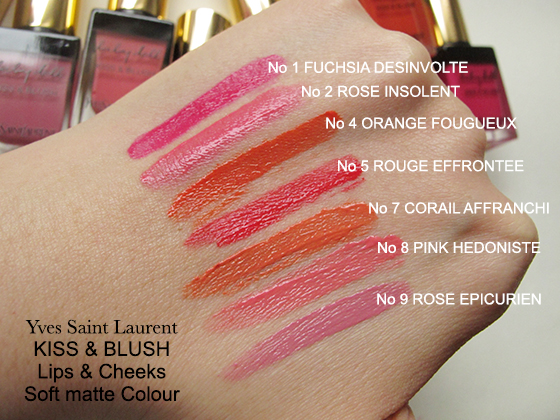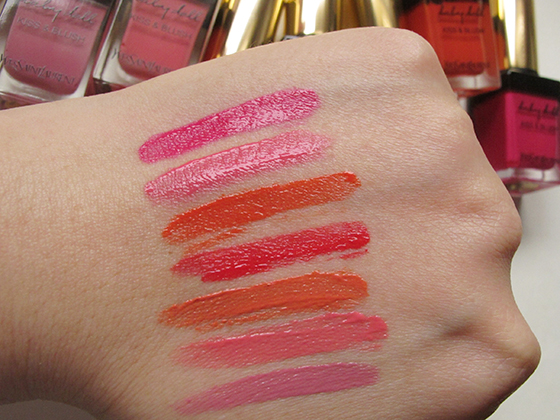 Lip swatches: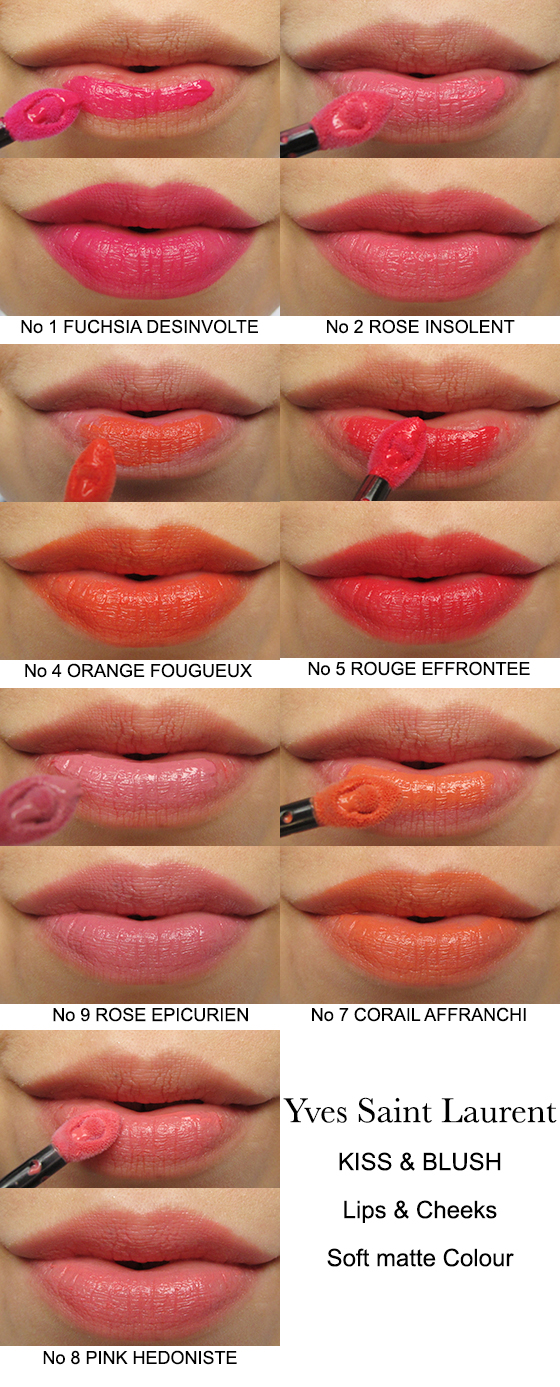 Hope these detailed swatches & initial swatches have been helpful, and thanks for reading!  Stay tuned for my next entry!