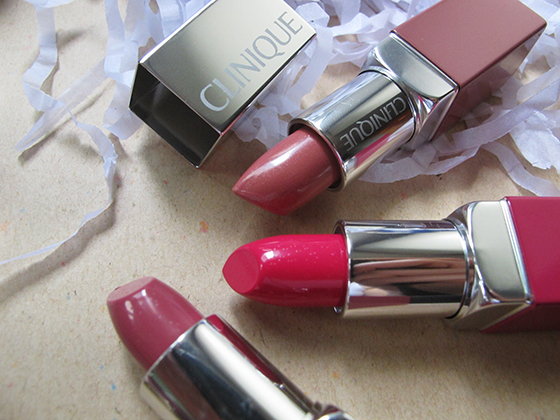 Hi hi 
This entry will feature the new Clinique Lip Pop Lipsticks which are now available at all Clinique counters.  I have been wearing these for the past couple of weeks (that's a 'good' thing about my lack of updates on the blog - I have more time to actually use these products by the time I blog about them.. hur hur #excuses) - and these lipsticks pack on good amount of color, they are not drying, and I guess one can even compare them to the Nars Audacious lipsticks, but perhaps in a less creamy formula..just a tad less.  They come in 13 shades, to suit everyone's taste and preferences.   I think these go for SG$33 each.. good price I say. 
Here's more information:
Clinique Lip Pops - a rich colour lipstick and smoothing primer in one.  Perfect fun, flirty colours with a built in primer that smoothes, defines and nourishes lips to keep them conditioned throughout the day.  With a longwearing velvety finish - the colours stay true and doesn't fade over time. 
They are formulated with Shea and Murumuru butters combined into a flexible polymer blend that provides superior moisture maintenance for the lips.  This priming benefit also helps to give a smoothing, velvety spread of colour when applied. 
The flexible polymers keep the wearable colours vicid and vibrant throughout the day, giving your lips full coverage with a smoother and fuller appearance.
Here's close up of my top three picks - 
I didn't go for any of the reds - they didn't stand out to me that much among the million red lipsticks I already own.. but I did go for a couple of wearable everyday ones plus a bright pop.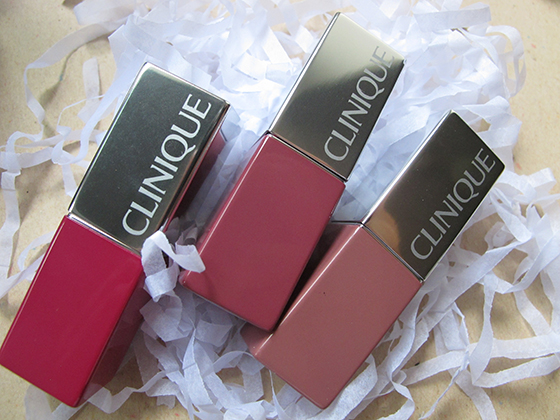 I have been wearing Nude Pop the most often.. it's like a everyday nude that isn't too pale on me.
I also like Plum Pop - the name sounds darker than it actually is. I think this has a rosier tinge than anything plum related. 
And the Punch Pop is always a good colour to have.  It is a bold bright pink that doesn't have any white pigment, making them very flattering indeed. 
On me, these lippies are very hydrating, and stays on a good 4 to 5 hours.  
They are easy to apply, and as far as new lipsticks go, I am loving them so far.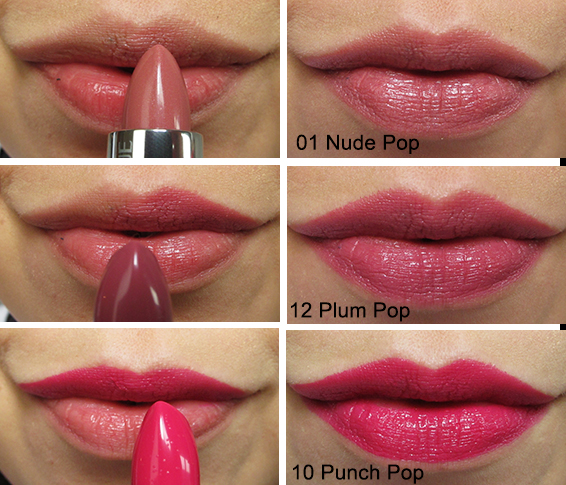 and overall look on my face: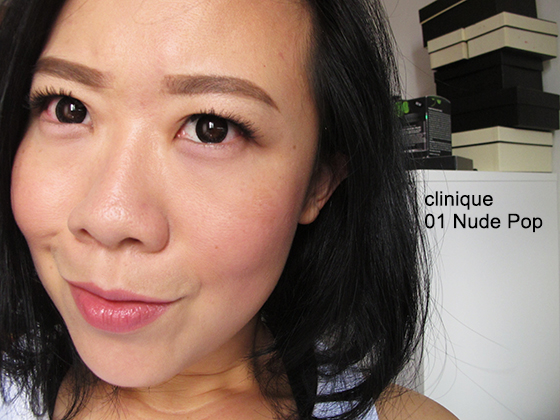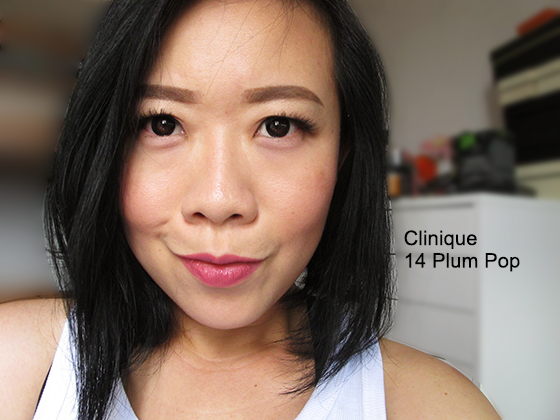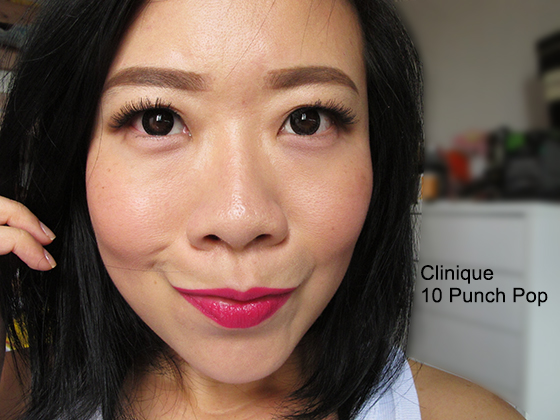 Which is your fave shown here?
All products used: 
Face - Giorgio Armani Luminous Silk Foundation (shade 04), set with Shiseido Total Radiance Loose Powder
Concealer - NARS Radiant Creamy Concealer (shade Vanilla)
Eyes - Tartelette eyeshadow palette  (refer to other entry here)
Cheeks - Giorgio Sun Bronzer in 100, NARS Dual Intensity blush in Panic 
Brows - Anastasia Beverly Hills brow powder in Dark Brown, set with Tarte tinted brow gel in Rich Brown 
Lips - Clinique Pop Lip Colours as mentioned 
Brushes used: 
Anastasia Beverly Hills brush in 20 to do my brows
MUFE 150 brush to apply cheek color
13rushes angled brush to apply bronzer and cheek highlight (for highlight I used the pale shade from NARS Craving dual intensity blush)
I also have swatches here, of all the 13 shades that I took at a little preview session - hope you find these helpful!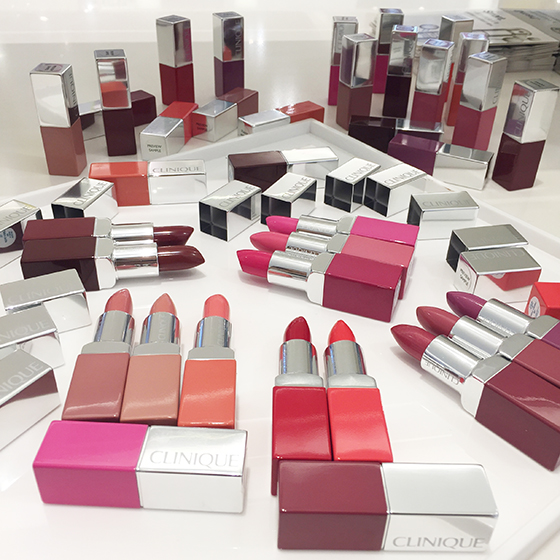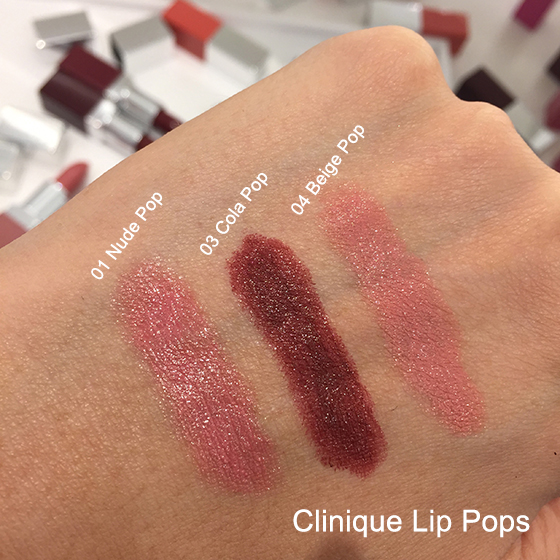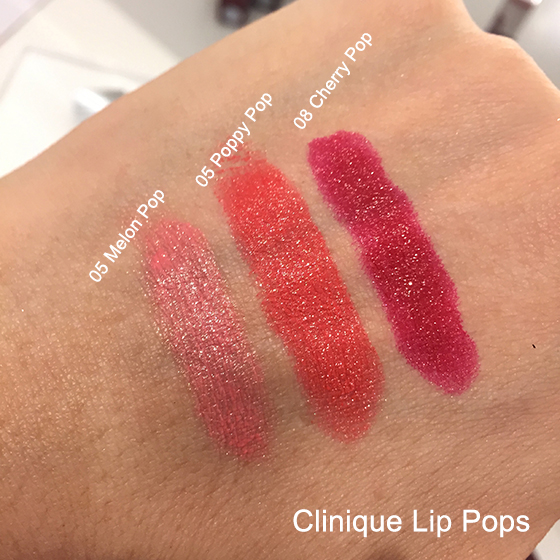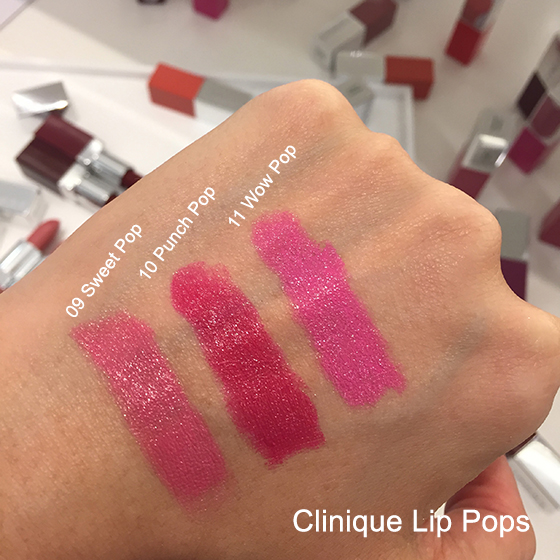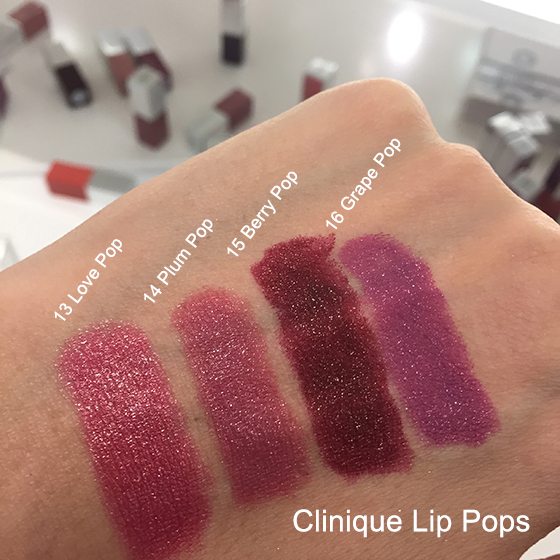 Thanks for reading!!