Hi hi!
So a couple of weeks ago, I got the chance to attend a one hour makeup demo by Bobbi Brown Pro makeup artist from Korea, Noh Young Nam - which looks like he belongs to a Korean drama himself.  He explained to us popular Korean beauty trends, and how to achieve that classic Korean makeup look using Bobbi Brown products. 
I like the idea of creating a very healthy glowy skin, and the emphasis on natural beauty, especially when it comes to eye makeup - but I still can't do without my falsies if I wanna go all out.  But the very natural straight brows, the flawless natural complexion, and the ocassional pop of colour on the lips are super easy to achieve if you follow some of these tips which I will share with you! 
Much is said about the whole chok chok -flawless glowy - no wait, glowy is passe...now it's all about that clear glassy translucent complexion.. and I am not going to repeat my rave if I go too much into the Bobbi Brown serum foundation in this entry - I will save that for my actual review, which I will be posting either later today or tomorrow. So, I will focus on other areas of the workshop which I found helpful to me. 
Here are some links to korean related makeup videos I like to watch - and which you will find useful! 
Korean makeup videos 
Lisa Eldridge - Korean Beauty Trends 
she explained in detail about the Korean trend for that glowy radiant complexion [Mul-Gwang]
One of my fave Korean makeup channels - Lamuqe
I dun understand Korean, but some of her vids have English subs and most are pretty easy to follow and understand anyway
Link to her makeup tutorial playlist
Lesson one: 
Dabbing a cream cheek product in a row of 4 - 5 dots with your finger tips.  He started the dabbing on the centre of the cheeks where you want to place the most product, so by the time you do the fourth dab, it's already quite faded.. which is fine cos you don't want too much color at the side of your cheeks anyway. 
Then use a brush to blend this out. 
The makeup artist used Bobbi Brown Pot Rouge for Lips and Cheeks in Fresh Melon. 
This is done prior to setting of the foundation with some powder.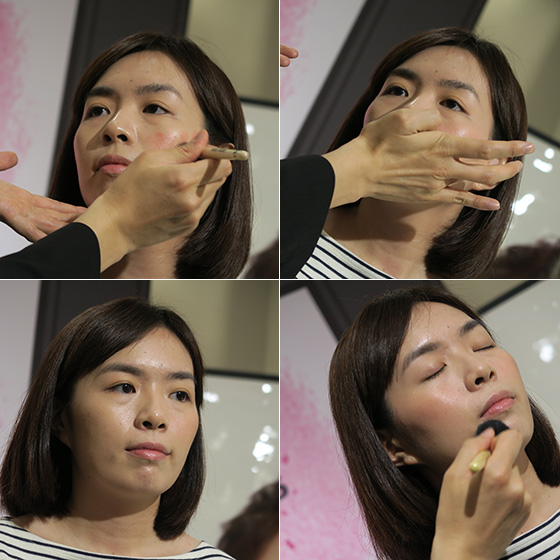 Lesson two: 
It is always flattering and overall natural to use the same color on your cheeks and lips.  This creates a very seamless makeup look.  Here he used the same Pot Rouge for the lips.. using a lip brush to build up more color and for a more defined shape. 
He also filled in the brows with Mahogany eyeshadow. He also used the same shadow to set and smudge the eyeliner.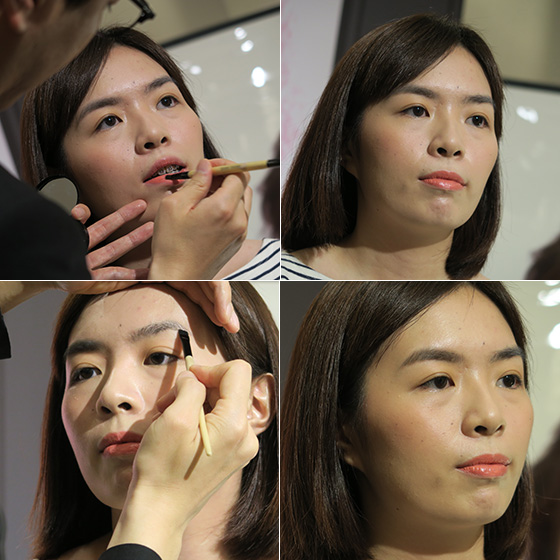 Lesson Three:  I NEED THAT TOAST EYESHADOW.  
Haha. 
He used Toast eyeshadow (which is actually a blah looking color, but it is apparently one of the top selling eyeshadows in the brand) - it is just a natural eyelid color.. I know it prolly mimics the color of some people's eyelids before applying foundation.  And it is a very natural shadow shade, which adds dimension to your eyes without looking like you have actually applied eyeshadow.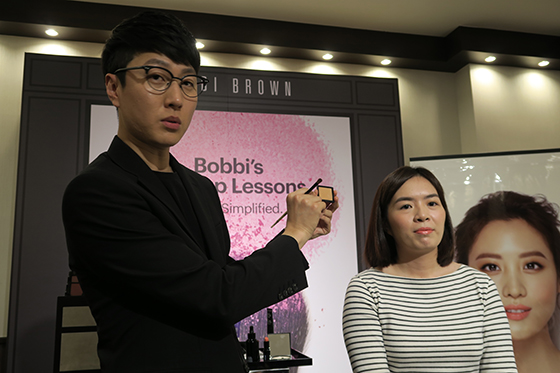 Then he proceeds to tightlight her eyes with a liner and then smudge that line with Mahogany eyeshadow.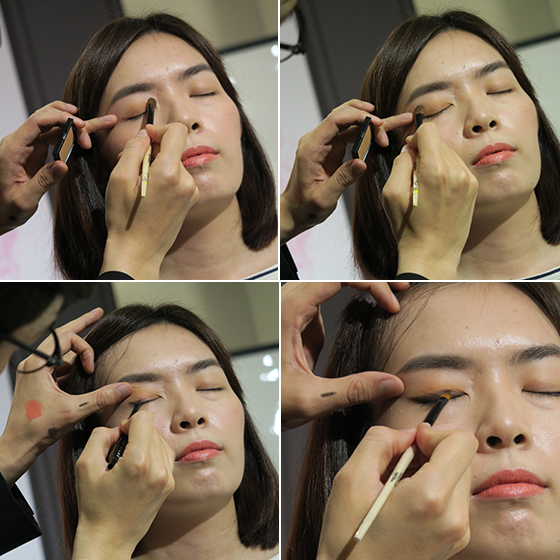 and the completed look:
That's all, and I hope you have a fab weekend ahead!
Thanks for reading!