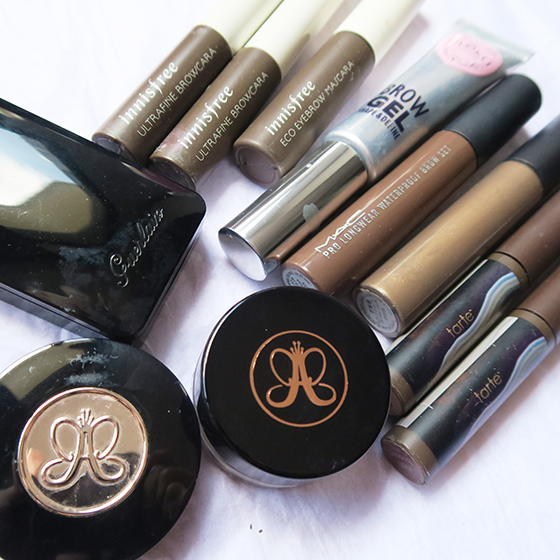 Hallo!
This entry features all about my brows and lashes.  As I was looking through the blog archives, I realise that I have plenty of entries devoted to talking about eyebrows - using different products, different routines.. so I am going to link them here, and you can click on whichever catches your fancy.  My brows have come a really long way, and I am now very happy with them.. in the past few years, I have come to fill them in quite straight and bold.. and my choice of brow product now is usually a brow cream gel to fill in followed by a brow mascara to set and brush up the brow hairs. 
I used to use a pencil, but now I really much prefer a powder eyeshadow, or a brow cream gel.  They give me more precision, and more control depending on the brush that I use.  I won't go too much into the techniques, because you can refer to the endless lists of brow tutorials which I have already posted below.
I finally got to try out the Anastasia Beverley Hills brow promade in Dark Brown - will eventually want to try this product in another shade, maybe light brown, or taupe.. something more cool toned.  I am not very fussy about brow colour, as long as they are something quite medium brow on the cooler side.  I still like to use my Guerlain brow kit, Shiseido brow kit.. but a brow cream gel/ promade is really budge proof, sweat proof. 
Here are some links to my brow tutorials:
1. brow routine with Innisfree Eco Brow Gel 
- I have a feeling that this brow gel is discontinued - you won't find it on the shelves anymore, not even the product tag is displayed.  I am thinking maybe they are formulating and coming out with a new one soon.  I love this product, but I do wish the packaging is a bit more sturdy. 
2. brow routine with all NARS brow products 
3. brow routine with a brow powder kit - Shiseido Eyebrow Styling Compact
4. brow routine with a brow powder kit - Guerlain Universal brow kit
5. brow routine with a brow powder kit - Anna Sui brow kit 
* not sure if this product still exists..the blog entry is from 2011.
6. brow routine using the Urban Decay Naked Basics palette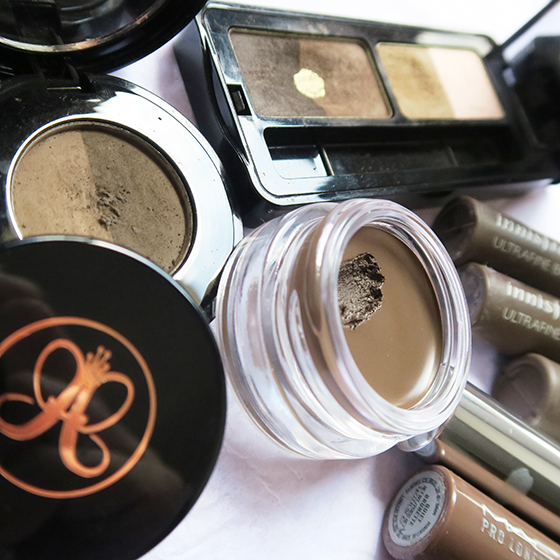 This set of pictures show I use various brow mascara to comb and set my brow hairs:
1. I do prefer a smaller brush to do the job, but I am not super fussy with the brush size.  Most of the time this is a straight forward thing, and as long as the brush is not laden with product, any brush will do the job fine.  though a tiny brush does give you more control as to how you want to comb the brow hair, whereas a bigger brush head gives you a quick general sweep. 
2. because I have such a ridiculous amount of brow mascara as my disposal, I sometimes use two - a lighter shade at the start of my brows, and the darker shade at the middle to end of my brows.  Nobody will notice this gradient except for myself, obviously.  But it does add an overall more 3D look to your brows.
3. some of these brow mascara can be quite pigmented 
in order of most pigmented
 - Innisfree ultra fine browcara 
 - MAC Brow set in Beguile 
 - MAC Pro longwear waterproof Quiet Brunette
 - Tarte 
4. The eyeko one seems quite voluminous - the formula seems thick and almost gunky, and I don't reach for this too much. 
5. A good clear one is from ABH.. I actually used up the whole tube.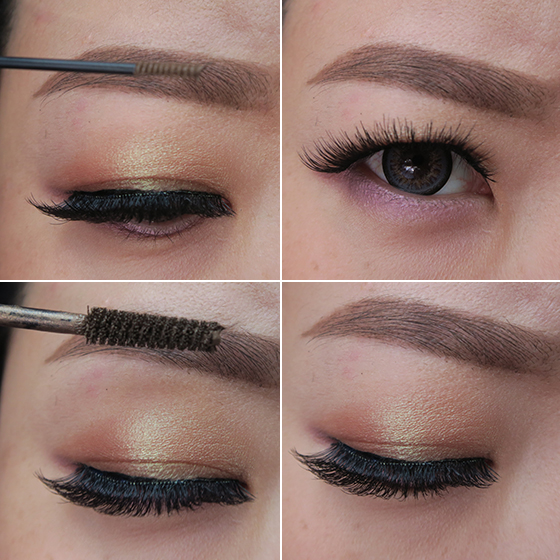 Brows are everything! 
My basic everyday face consists of just doing my base, cheeks, and brows.  I can skip the rest of the eyes, don't care about a lipstick color, but I cannot not have brows when I leave the house.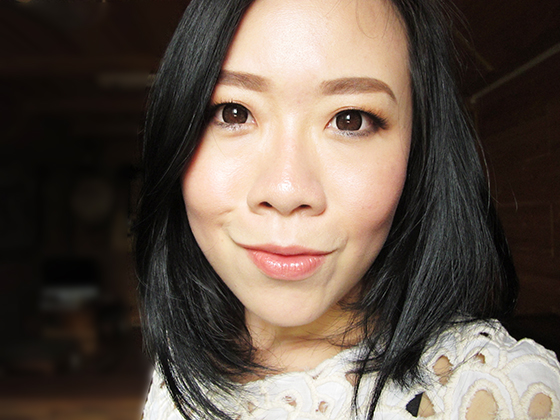 The next few pictures are some quick comparisons of the colors and brushes of the various brow mascara which are in my current rotation.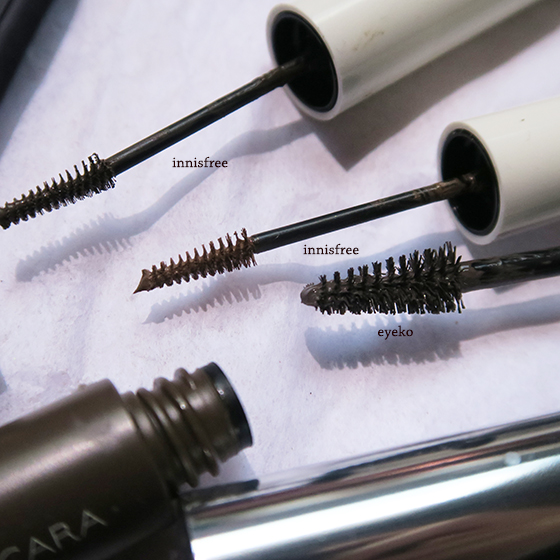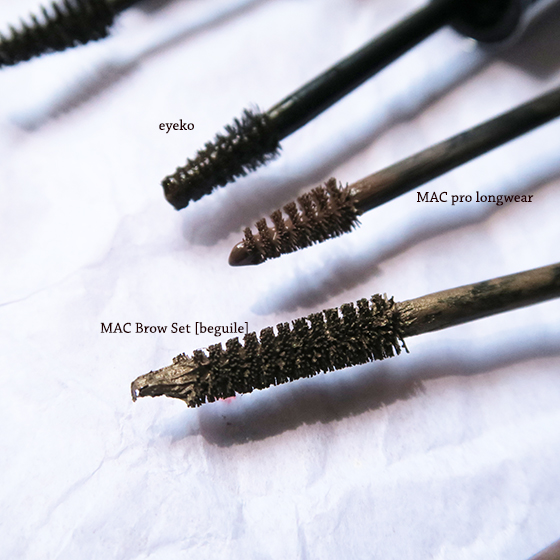 The innisfree and tarte ones have the smallest brushes.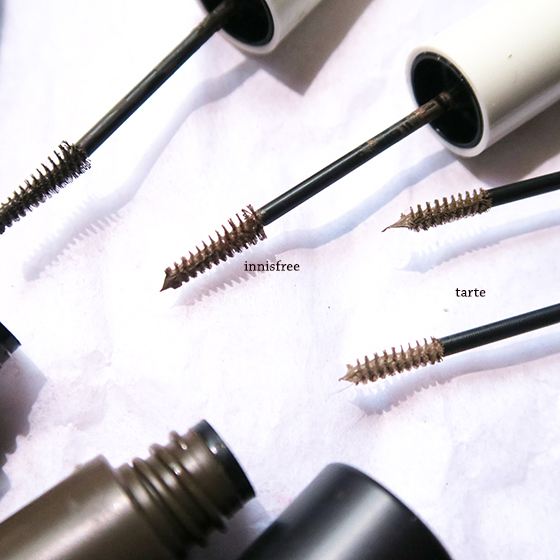 Okay, next chapter is how I layer my lashes.  I get lots of questions about what lashes I use, and it is hard for me to give a straight answer, cos I just layer two pairs together.. and its a mix and match of brands and all... so I can't just point you to a specific brand.  But I can tell you what type of lashes I layer together. 
1.  A wispy layered with a criss cross as shown below. 
2. I layer the wispy ON TOP of the criss cross cos when I look down, I prefer the wispy pair to be on top.  
3. After applying the lashes, I will curl them with the Shu Uemura S curler.. and curl them in a way to frame my eyes
4. Why don't I just wear a pair of bigger lashes?  The reason being, I actually find it more comfy to stack and wear - in the pics below, you see that both lashes have very thin bands.. they are natural and don't change the shape of my eyes like how the thicker bands can do. 
5. I prefer to customise the type of volume and length which I like for my eyes which I can't find in a single pair of lashes. 
6. Stacked lashes last through many times of wear! 
Again, I have old blog entries on how I stack and layer my lashes:
Tips and Tricks for wearing falsies
How I customise my Falsies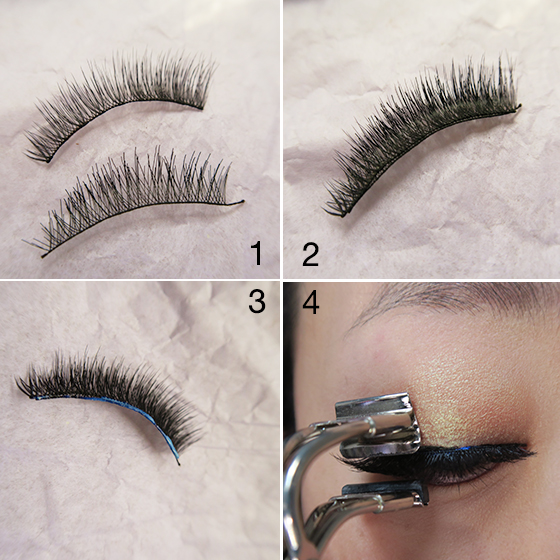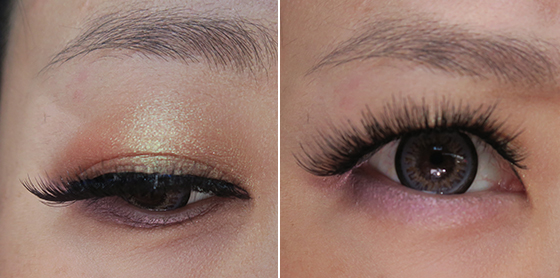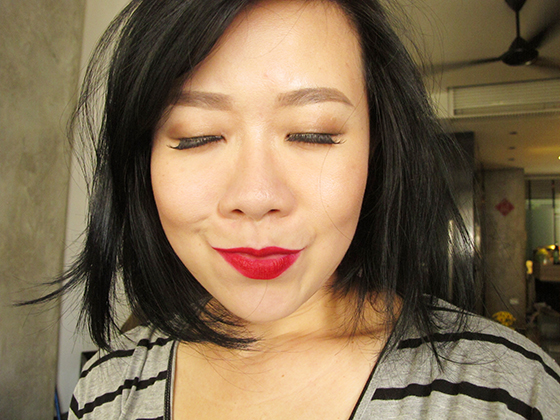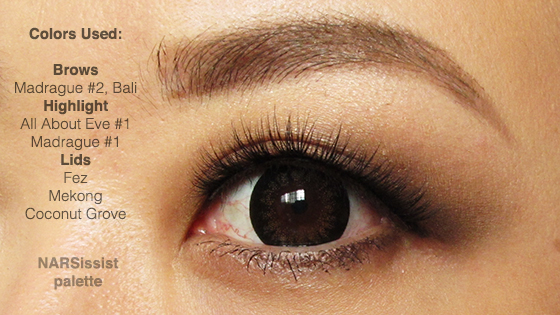 I hope you find my entry helpful, and thank you for reading!!