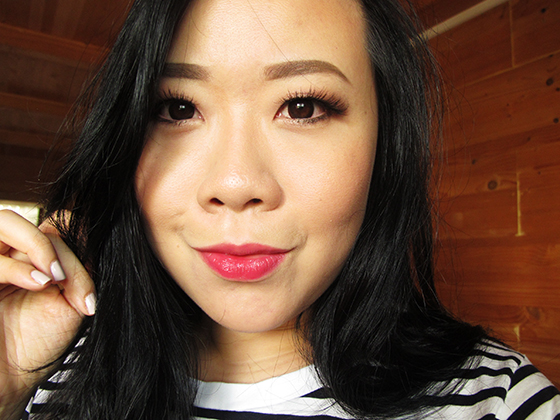 Hi hi!!
This is a look which I did yesterday (and went out with) and I was thinking, I want to use new stuff!!! I have tons and tons of new stuff in my room, and I have been kind of stuck with using my Dolce Vita palette and Cocoa Mirage so much lately.... and I went for the NAKED3 palette.. I think I haven't actually done a look that I posted on the blog at all with this palette... so here we go. 
I think the end results is a rosy toned yet quite brown smokey eyes.  I am not a fan of too rosy/ pinky shades on my eyes, so I made sure to define and smoke out the look using the warmer tones in the palette. 
Here's the overall look: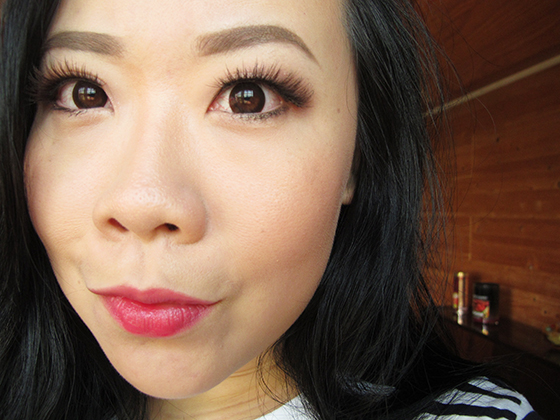 Stuff I used:  on the face, I used this whole group of items which I have been using quite often the past month.  
The Lancome Absolue foundation is just divine, and I also been starting to explore other foundations, like the Tarte one.. and I have a few more new ones which I need to try and review for everyone.   The ettusais mineral BB + powder sets my foundation beautifully, and the MAQuillage aura veil powder is something I just cannot do without.  
And speaking of face powders, I am making serious dentage in the Laneige sculpting natural blush, in No6.  If you are fair like me, and you want a very affordable nude tan shade - along the lines of Dior Nude Tan, Chanel Les Beiges Shade 30, you NEED THIS Laneige powder.  It is so soft, so easy to use.. this will definitely be in my travel bag, makeup bag if I want something light and handy to bring about.  It gives the most subtle healthy glow to my skin.  I LOVE IT.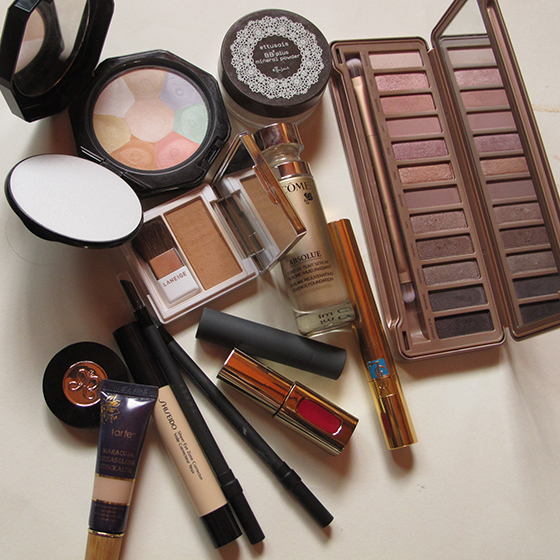 Just a quick rundown of the shades I used: 
1. I first applied the crease color and I used Limit, this gives me a guide as to how far I want to apply my lid color. 
2. And on the lids, I used Factory, one of the warm rich browns in the palette all over my lids.
3. I also used Darkside, just a bit to add more depth to the outer corners. 
4. Just blend out any harsh edges. 
I lined my eyes with THREE pencil liners in 03 on the upper eyelids, and 06 on the lower eyelids.  03 is a dark maroon red, while 06 is a rich golden shimmery shade.  I also lined my eyes with a black liquid liner closer to the lashline to help the lashes blend in more seamlessly.  
swatches of the two THREE liners in this entry here.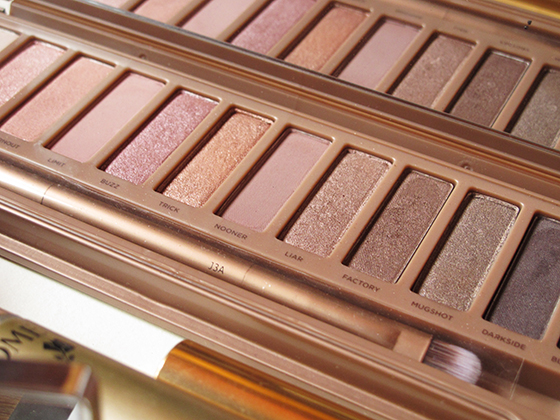 I like this look - even though it might look just like another neutral smokey eyes to most of you... but I think there's a definite rosy tinge to the colors.. and using the maroon red liner helps bring out that rosy tone even more.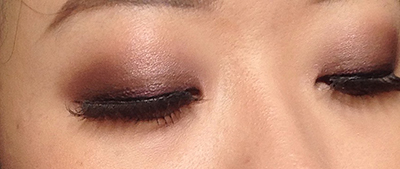 And next, let's talk about the lip combo - which my friend Michelle said it is the 'laid-back red' and she had that in mind when she gifted me the two lippies which she bought in  the US - the Loreal Color Riche Extraordinaire in 303 Rouge Allegro (which smells YUMMY) and the Bite Beauty Color Lip Balm in Cherry.  I applied the cherry lip balm which gives a decent stained red see thru lipcolor, and then topped off with the Loreal lipcolor.. both shades are of the juicy cherry red family... and they pair very well together. 
The end result is this pop of shiny but not stick at all kind of glossy red, very easy to wear and very moisturising.  It is also the kind of red that you don't have to worry about maintaining when you are talking and eating.  Very laid back indeed.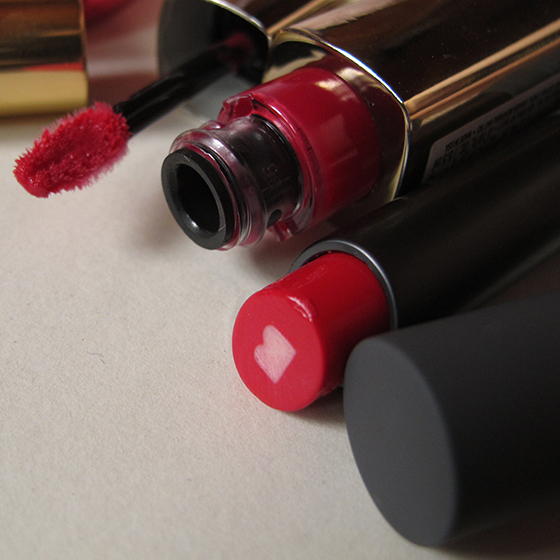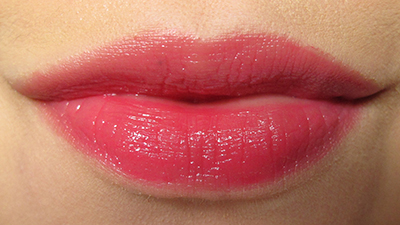 She (Michelle) also gave me the Physicians Formula Happy Booster Blush in Natural.. a light pink blush.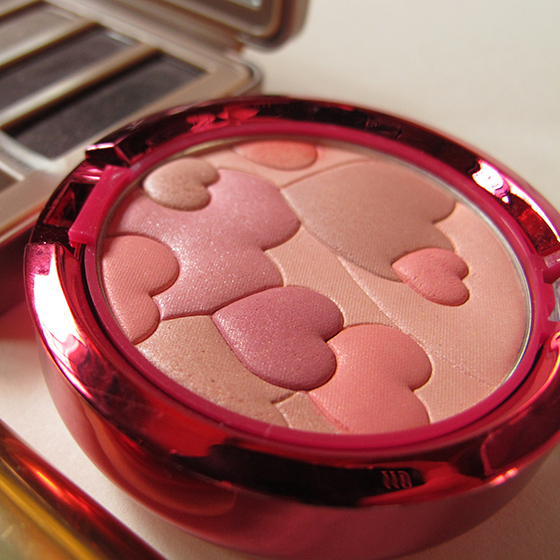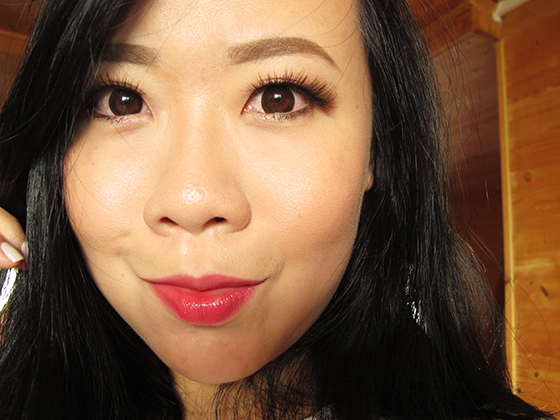 All products used: 
Face - Rachel K CC Renew in Light, Lancome Absolue serum Foundation, set with Ettusaid Mineral BB + powder
Concealers - Tarte Maracuja Creaseless concealer in Fair, Shiseido Sheer Eye zone corrector
Face Powders - Maquillage Aura veil powder, Laneige Sculpting blush in 06, Physician Formula Happy Boost blush in Natural
Eyes - Liners: THREE Flash Performance liners in 03 and 06, Heavy Rotation Liquid Liner, NAKED 3 palette
Brows - Anastasia Brow powder, MAC Beguile Brow Set
Lashes - Shu Uemura Farfarlina
Lower lashes - YSL Faux Cils Black
Lips - Bite Beauty Lip Balm in Cherry, Loreal Color Riche Extraordinaire 303 
That's all and hope you enjoyed this rambly LOTD!